One of my most popular posts on LittleMissKate is a Halloween post that I first shared a couple of years ago.  Halloween is a big event in our house – we decorate the house inside and out and have dreams of creating a full haunted house one day for our neighbourhood.  Costumes are of course a must with not only the kids dressing up but also Hubs and I as well.  So it is not surprising that we also have a lot of fun when it comes to making Halloween Treats, and the Halloween Mummy Oreo Pops have proven to be fun to make and VERY popular.  Here is a great list of silly and spooky Mummy treats and decorations to help you kick off your Halloween festivities.
Halloween Ideas – Mummy Treats
1. Yummy Mummy Treats – A sweet and salty treat that is super easy to get the kids involved with.  These Pretzel Mummy's would be perfect for a class treat.  And you can find the [easyazon_link identifier="B073X5G61J" locale="CA" tag="litmiskat-20″]Pretzel Rods[/easyazon_link] online or in bulk food stores.
2. Mummy Milanos – These cookie Mummy's will have everyone asking for more
3. Nutella Banana Mummy Rolls – Nutella – need I say more?  These Mummy's would make a tasty after school snack for the kids.
4. Pumpkin Cheesecake Truffle Mummies – Everything pumpkin is a hit this time of year, and this pumpkin cheesecake truffles are not exception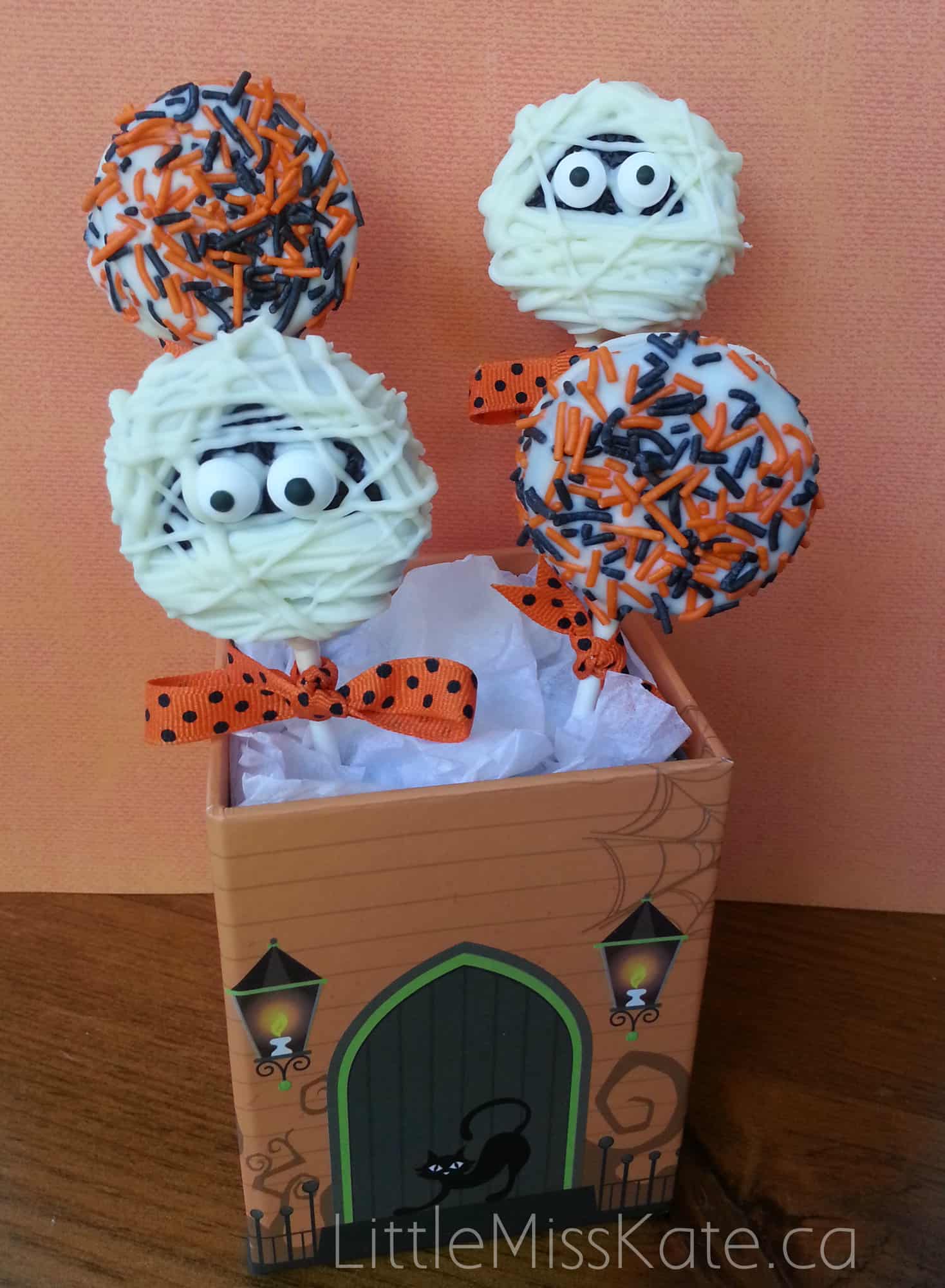 5. Mummy Oreo Pops – A tasty Mummy treat that the kids will have fun making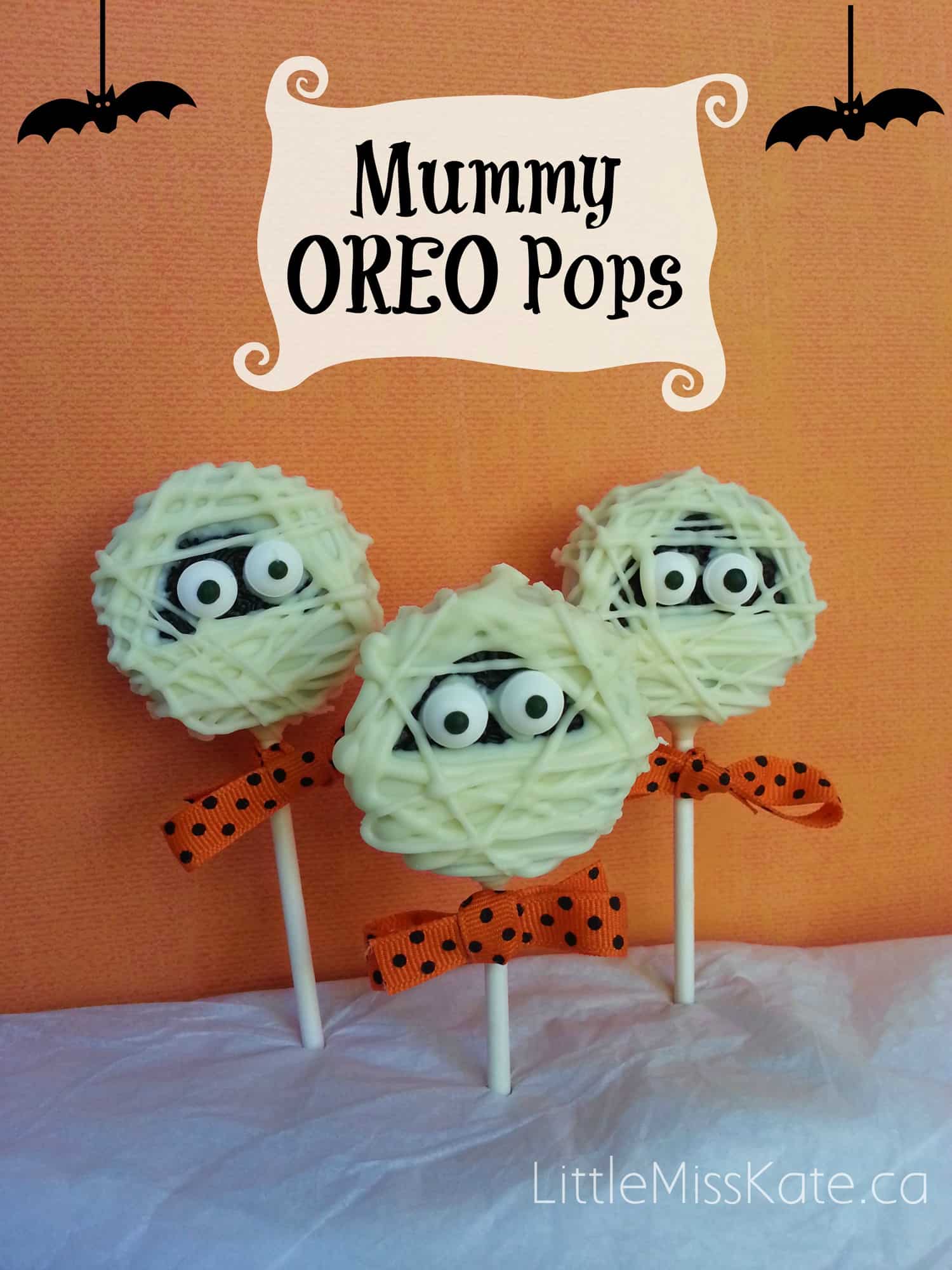 6. Meatball Mummies – now these would be an impressive addition to any Halloween Party menu
7. Quesadilla Mummies – An tasty Halloween dinner idea
8. Mummy Cupcakes – A fun dessert idea that would be perfect to take to a Halloween party or send to school as a class treat.
9. Mummy Mini Pizzas – A quick dinner idea for a Halloween Party that kids will love
Halloween Ideas – Mummy Themed Decorations
10. Mummy Mason Jars – Check out what you can make with spray paint, mason jars and some elastics!

11. Yarn Wrapped Mummy Craft – A cute craft for kids of all ages

12. DIY Mummy Trunk or Treat Idea – Ok, this might be the best idea for a Halloween car EVER!

13. Adorable DIY Mummy Door Decoration Craft – A cute DIY craft that you could make with scrap pieces of wood.

14. Mummy Pumpkins – A unique way to decorate your pumpkins without carving!  You can also create Mummy Pumpkins using plastic pumpkins that you can use year after year
15. Ghosts of Mummies Past Tutorial – A cute craft where you can use up scrap blocks of wood and create cute decorations that can be placed outside

16. Cheesecloth Mummy Lanterns – A perfectly spooky way to light up a porch or decorate a Halloween table
Don't forget to PIN this post for later.  Now that you have some Halloween Mummy inspiration, don't forget to check out our other Halloween Blog posts including:
Creative Halloween Ideas