I have a pet peeve that drives me crazy when it comes to Valentine's Day. Kids handing out Valentine's…. written by their parents. Nothing drives me more batty then to see a Valentine come home from school or daycare that looked like it have never been touched by the child giving it. Seriously, why bother handing them out if it was just "homework" for mom or dad?
Are you ever going to catch me writing Valentine's for my kids? No way, not in this house! Starting at 18 months when I sent Valentine's to daycare with Monkey we sat down and he coloured on each one. While yes, I did write the names on them but he had a hand in creating each and every one. Writing Valentine's Day cards is a project we could work on together, not just "homework" I did for him after he was in bed. Here are tips to help children write Valentines and keep it fun!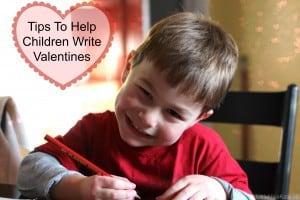 1 – Let them pick out the designed they like – There are so many options out there now, take your child to your local Walmart or order offValentine's Day cards for kids to pick out a pack of Valentine's Day cards that they love. Monkey and Little Bear went crazy for the Avengers set of Valentine's which was not too surprising to me, after all they did dress up like Captain America and the Hulk for Halloween.
2 – Start Early – Even if you don't have a class list of names yet you can get started by getting them to fill out the "From" portion of the Valentine, as that is half the work. By starting early you are able to do a few a day without the stress of having to get through a full class in one night. We broke it down and did between 4-8 a day, when it started not to be fun and become "work" we stopped and took it up again the next day.
3 – Give them a template – For children who are just learning to write give them template to work off of. Complete one of the Valentine's Cards to show them where they should start writing and to give them an idea of general spacing of the letters. For children who are not writing yet, sit down and colour with them to "sign" their name.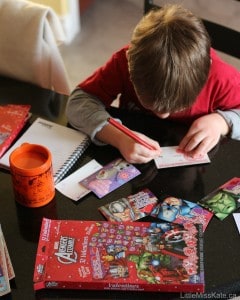 4 – Don't be too picky – Are the letters not in a straight line? Spaced out all wrong or even in the incorrect order? Don't sweat it, this is learning exercise and while you should encourage your child to use proper writing technique, writing Valentine's Day card should not cause major melt downs or fights.
5 – Don't make it complicated – It seems like more and more know celebrating holidays is becoming more complicated. Keep it simple, Valentine's Day cards don't need to be big and fancy, it is the time and thought behind them that counts. And PLEASE don't attach some toy that is just going to tossed in the garbage the moment it goes home. Not everything needs to have a gift attached to it, a Valentine's Day card is perfect all by itself.
Valentine's Day is a great opportunity to get in some extra writing practice with your child, but it should not end up as a battle. Keep fun in Valentine's Day with these tips to help children write valentines!