Halloween is always a big deal at our house, but this year the excitement is building more then ever. Not sure if it is because the kids are getting excited along with me about decorating the house and picking out costumes. Or if is because Halloween falls on a Saturday this year so we can have a full day of Halloween fun rather then needing to rush around after work to get out trick or treating.  Whatever the case – I.Can't.Wait.  Kids are set with their costumes and I know what I want for Hubs and I.  Costumes are a big part of Halloween but we can't forget the treats!  If you are heading to a Halloween party or need a easy Halloween dessert to send to school you need to make these Spooky Gooey Eye Cookies.  They don't take long to make, but taste sooooo good!
You only need 3 ingredients and less then 30 minutes to whip up these Halloween delights.  You kids will love helping to make them too, just keep an eye on your ingredients or you might find yourself short a marshmallow or two.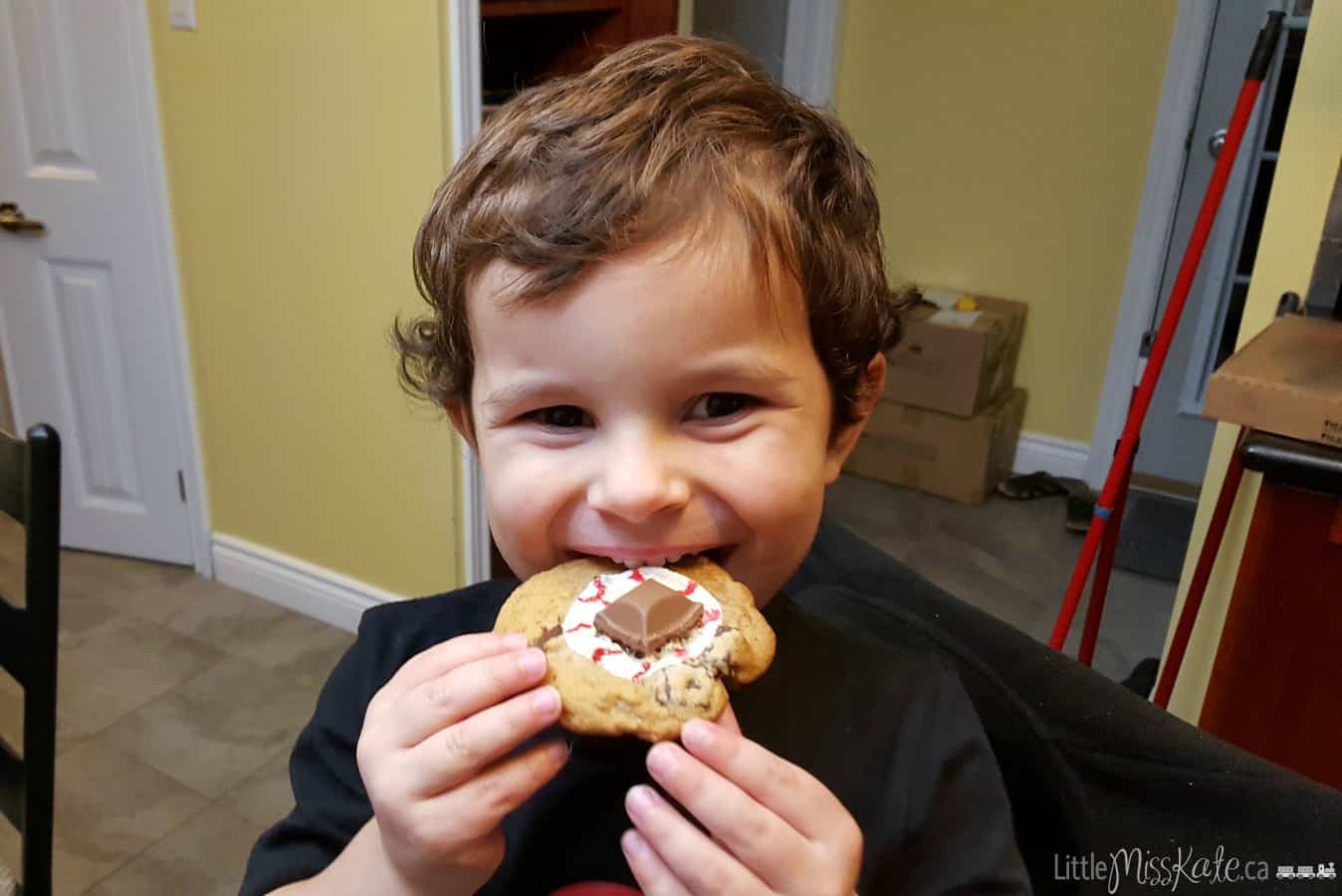 Spooky Gooey Eye Cookies
Spooky Gooey Eye Cookies
Ingredients
Prepared cookie dough

Jet-Puffed Marshmallows

Chocolate bar

Red food colouring

optional
Instructions
Cut the cookie dough into circles and place on cookie sheet. Bake as directed for approximately 6 minutes or until cookies are just over half baked.

Meanwhile, cut marshmallows in half, and break the chocolate bar into individual squares.

Remove cookies from oven and place 1 piece of marshmallow in the centre of each cookie. Place back in the oven and bake for another 2 minutes or until marshmallows are puffed and cookies are almost golden brown.

Remove trays from oven, and wait 30 seconds for marshmallows to fall a bit (so they won't cover the chocolate). Drop 1 chocolate square in the centre of the marshmallow on each cookie. Return to oven for 1-2 minutes, or until cookies are baked and chocolate is just slightly melted.

Remove from oven and cool.

Use a toothpick to "draw" on red lines into the mashmallows to give the look of blood shot eyes.

ENJOY!
These Halloween Gooey Eye cookies are perfect for busy moms.  You can buy prepared cookie dough from the grocery store, or if you have more time you can make your own dough from scratch.  I used a caramel filled chocolate bar, however you could use any variety of chocolate that you like and just break into small squares.
The countdown is all Halloween is almost here so start planning some mummy-rific fun.  These cookies would go perfect with Mummy Oreo Pops or Bat Oreo Pops too.  If you are looking for more spooktacular Halloween recipes check out the Kraft Canada Halloween Party Centre for lots of creepy (and delicious) inspiration.  Happy haunting!!!
Disclosure:  I am part of the Kraft Whats Cooking ambassador program.  All opinions are strictly my own.