Have a Halloween party to go to this week?  Why not whip up some Bat Oreo Pops to take with you!  These Halloween treats are the perfect companion to the Mummy Oreo Pops!  No baking required, just some creativity and a microwave.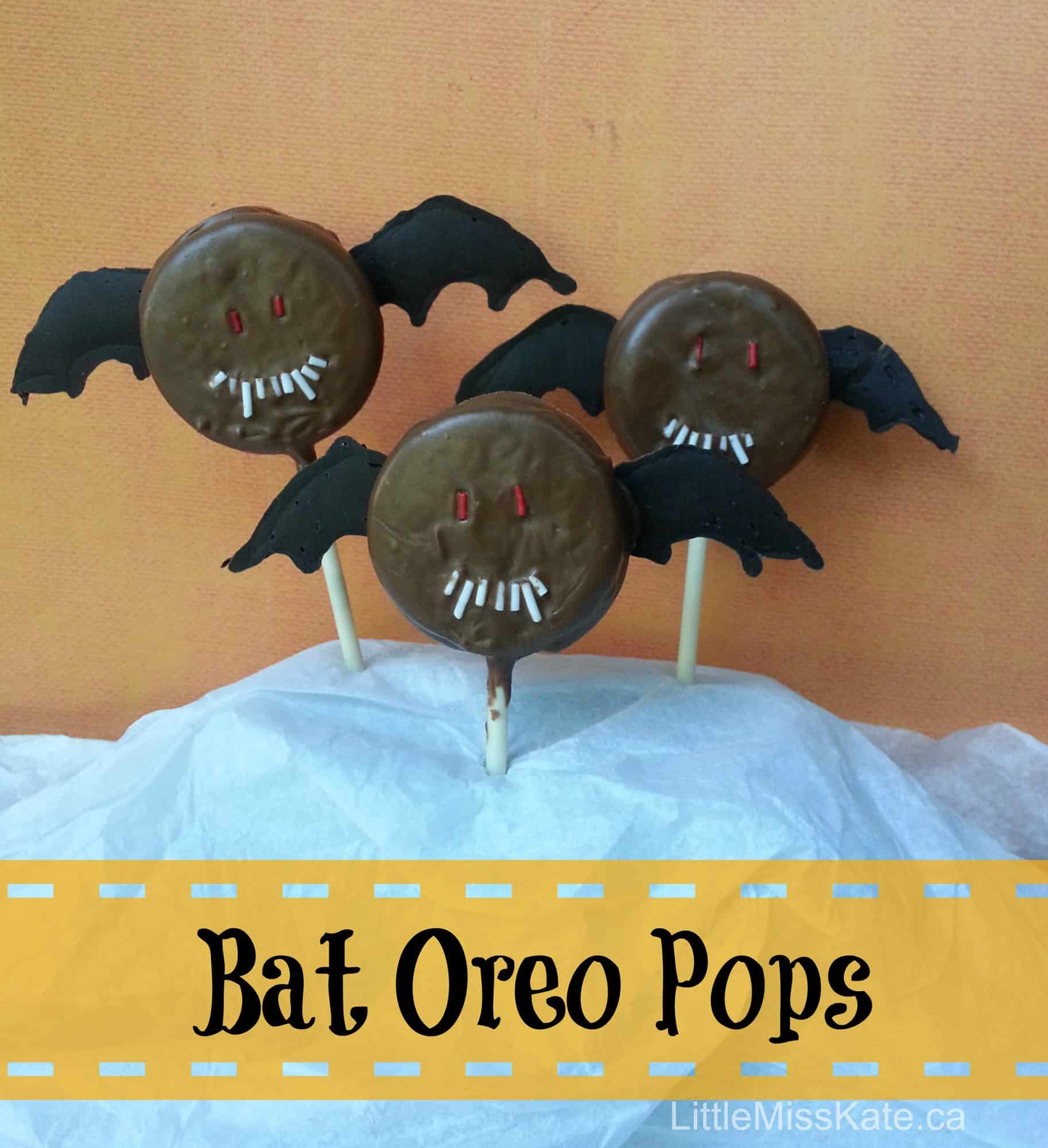 What you need to make Bat Oreo Pops:
Oreo Cookies

Sucker Stickers

Milk Chocolate Wafers – 3-4 cups

White and Red Sprinkles

Black Food Colouring
Directions
Open the Oreo cookies and press in the sucker stick. Secure with a little bit of melted chocolate and replace the other side of the cookie.  Allow to harden.
Melt 1 cup of Milk Chocolate Wafers at 50% power for 20 second intervals.  Stir and repeat until completely melted.  Holding the stick coat the Oreo cookie in melted chocolate.  Allow the excess chocolate to dip off and then place on a piece of parchment paper.
Before the chocolate hardens place 2 red sprinkles for the eyes, and create a "smile" out of white sprinkles with 7 shorter sprinkles and 2 longer ones for fangs.  To get the different lengths of white sprinkles I trimmed them shorter with a knife. Repeat for all remaining cookies, and melt more white chocolate wafers as needed.
To create the wings trace a wing shape onto parchment paper.  Dye the milk chocolate black with food colouring.  Using a piping bag or a sandwich bag with the corner cut to pipe out the black chocolate into the shape of a wing.  Allow to harden.
Attach the wings to the back of the bat using melted chocolate
Everyone will be going "batty" over these unique Halloween treats!
Need Supplies?
Hosting a Halloween party?  Don't forget to check out our other Halloween treat and decorating ideas!