Do you have a birthday party to plan? Brave hearts crave colorful action—and that's what a fireman/fire truck party theme offers. Decorations in flame-glow colors, fire trucks that make lots of noise, and the opportunity to imagine being a hero make this party idea popular with the younger crowd. You'll find ideas for all that—plus invitations, activities, favors and a sweet dessert table with birthday cake—right here!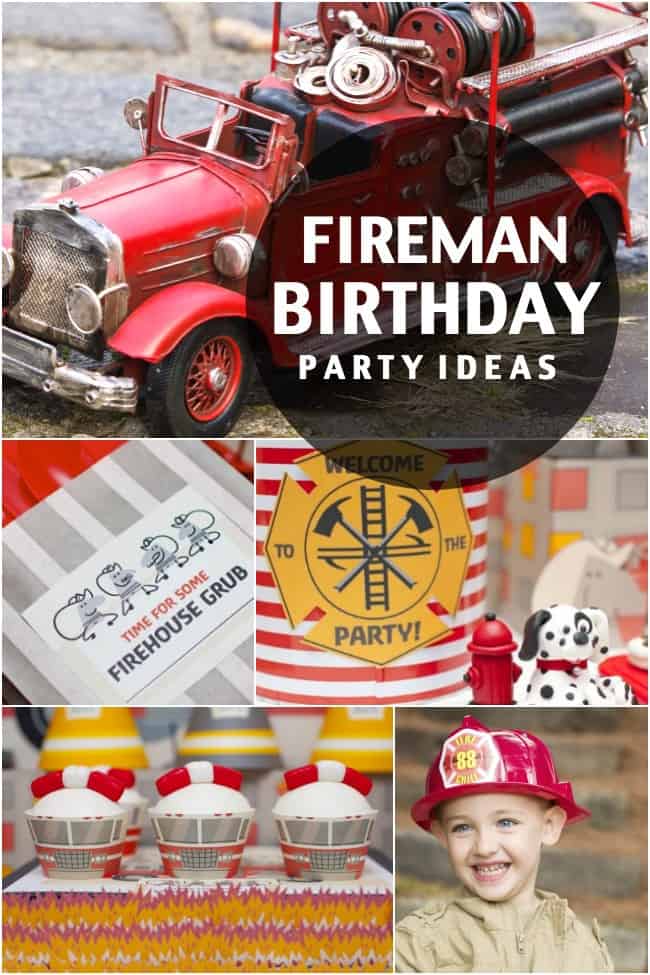 Kids love receiving mail so send an invitation to ramp up excitement for your party. Make it a shape like a fire truck or a Dalmatian and embellish the envelope, too. There are lots of colorful stickers and stamps to choose from in the craft store scrapbooking section.
 Local fire stations are popular birthday party destinations for this theme and it's a great party beginning. There are often opportunities to climb on a fire truck and sound the alarm as kids are educated about fire safety. You can imagine their excitement over that! Some stations even allow you to set up cake and activity posts.
Exterior decorations at your party venue will get guests grinning before they even step inside. Dalmatian paw print cut-outs on the sidewalk and up the entryway mark a cordial beginning. A pedal-push fire truck (or even a card-board version), a Dalmatian figure, or a fire hydrant make excellent front door welcomes.
Inside, red, yellow, orange and black are the most familiar colors used for this theme. Colorful pennant banners and balloons always say "there's a party going on"! Crepe paper or cardstock flames and cardboard or Styrofoam buildings look great on the dessert table. Use one of those burning buildings as a pedestal to display the birthday cake. Include iconic elements like ladders, Dalmatians, fire hose, and of course, fire trucks to add excitement to your display. If you have fire hats for the kids to wear, they will do double duty as decorations as well as take-home favors.
Include theme tie-ins with the menu choices. For example: flaming hot-dogs, hot tamales (but not too hot for kids!), 4 alarm chili. A simple beverage is ready for the party just by giving it the name "fire extinguisher". Dress up cupcakes with party medallions; black licorice is a "fire hose"; cinnamon red-hot candies add color.
Activities that keep the kids busy will channel all that kidlet energy into fun. Any game you relate to firemen will work.  A few options:
color fire station images

decorate a model fire truck

pin the tail on the Dalmatian (or fire hat on the Captain)

water bucket relay

obstacle course race (to get to the fire)

ring toss

Hot Potato game-using a red ball
Send the small-fry fire fighters home with trinkets like toy fire trucks, fire hydrant drinking cups, fire extinguisher squirt guns, or stickers. Red Hot cinnamon gum, candies and theme shaped cookies are popular, too. Your fireman/fire truck party will be a sure win!
Looking for more birthday party ideas?  What about a Thomas the Train Party or a Construction Party?