Any experienced mom can tell you there can be a lot of stress around introducing a bottle to a breastfed baby.  Will the baby even accept it?  When is the best time to introduce a bottle?  Which nipple will facilitate breast to bottle transition?  Will the baby have nipple confusion?  As a mom who has been there, twice, and successfully breastfed 2 babies well past the year mark while they enjoyed a bottle of breast milk a day from daddy I can say it is not as complicated as you may think.  You do need to consider that different babies like different bottles and different types of nipples.
There are several things you can do to make introducing a bottle while you are breastfeeding easier and having the Playtex Bottle & Nipple Gift Set on hand is a great start. For example, Erin tried out the Playtex Bottle and Nipple Set when she visited Vancouver with her daughter at 4 months as it was very convenient to bring when travelling and the liners made for less cleaning as they are disposable. Playtex Bottle & Nipple Gift Set is the perfect solution for new parents and makes a great baby shower gift.
The Playtex Bottle & Nipple Gift Set  includes 2 Playtex bottles (1 Drop-in Nurser and 1 Ventaire) along with 4 different nipples to try with your baby.  This set comes in both a slow flow and medium flow depending on your babies needs. The Playtex Bottle & Nipple Gift Set comes a variety pack with 4 different nipples including Naturalatch, Breastlike, Fullsized and Angled.  The Playtex bottle uses a liner that collapses as baby sucks and swallows which prevents extra air from mixing with the milk and making baby gassy. Less air results in less discomfort or colic. The different nipples promote a natural latch and mimic breastfeeding making it easy to switch between breast and bottle.

Here are some tips for introducing a bottle to a breastfed baby:
Use a wide mouth bottle – On recommendation from a friend I bought the Playtex Ventraire wide mouth bottles to use for Monkey when he came home from the NICU.  With a wide mouth bottle the baby needs to open their mouth in the same way they do when breastfeeding.  With standard bottle you do not get the same affect.
Find the right nipple – start off with a slow flow nipple, when nursing the baby needs to work to get the milk out, and it should be no different when having a bottle.  It may take a couple of tries to find the right nipple shape that your baby likes.  There are 4 different nipples including Naturalatch, Breastlike, Fullsized and Angled.  These nipples will fit on any of the wide mouth Playtex bottles (ventaire or nurser), so you can mix and match depending on your needs.
Breastlike shape – has a slope around the nipple to ressemble the regular shape of breasts.
Full sized – is developed for wider mouths and to mimic a larger breast size.
Nautralatch – This nipple is slightly textured and is most like a mother's breast.
Angled – This one is developed with the nipple of to an angle rather than in the centre.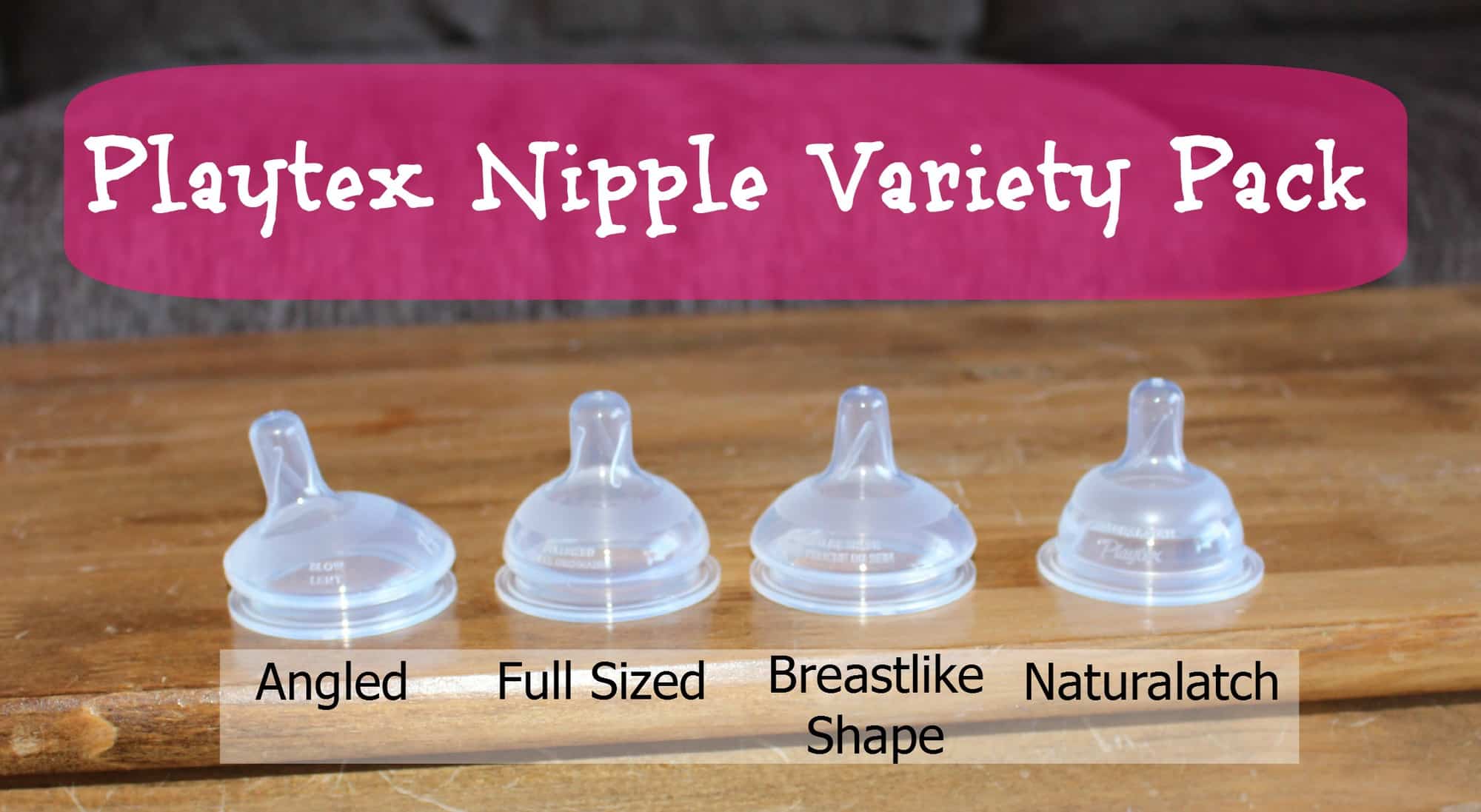 Pick your feeding position – It was recommended to me by a lactation consultant to feed Monkey in more of an semi-upright position.  This makes the baby work a little harder for the milk, as gravity is not pulling it into their mouth when bottle feeding.  Also feeding in an upright position has been shown to reduce ear infections.
Don't stress – If the first introduction of a bottle does not go well, wait a day or two and then try again.  Bottle feed is different from breast feeding and it can take a little getting used to.  Worried about the baby liking the bottle too much and not going back to the breast?  You are in control of what is offered to baby.  For me, my boys only got one bottle a day when they were home with me – no more, no less.
Disclosure:  I am part of the Mom Trust Program by Playtex.  All opinions are strictly my own.