One of the first major changes of your adult life is when you move away from home from the first for the first time. For most people this move happens when you are going away to college or university. It is a scary and exciting time for both parents and the kids. As excited as I was to embark on my "grown up" life at University I really appreciated the small gestures people did to make the transition a smooth one and to show that they cared. When my sister started university she was provided with a gorgeous care package made by a close family friend. It was such a thoughtful yet practical gift. A perfect way to help send her off to university. If you know someone who is moving out for the first time, maybe you will be inspired to put together a care package for them as well. Here is a look at a beautiful done up University Care Package.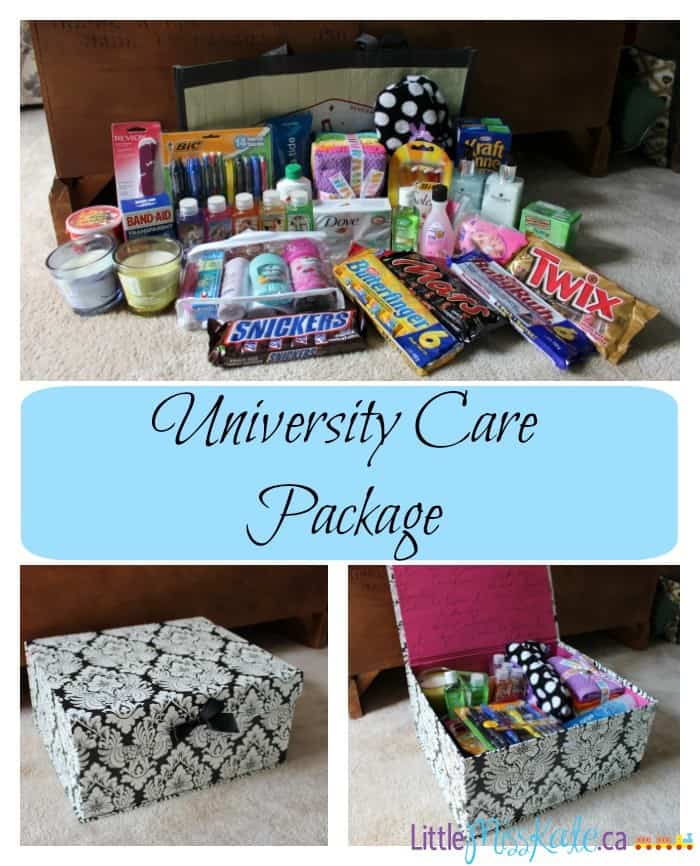 First thing is first, you need to decide what you are going to package your University Care package in. You could pick up a nice basket or re-useable bin that could be handy for storage in a dorm room. In this case a beautiful box with attached lids was used. It is so pretty you don't need to wrap the care package after everything is packed inside and would look beautiful on a bookshelf offering extra storage.
Need ideas of what to include inside the University Care Package? Here are some gifts that the new student will appreciate:
Hand sanitizer – help keeps those germs away

Pens, pencils and highlighters

First Aid supplies – bandages, polysporin

Beauty supplies – nail files, nail polish remover, soap

Body wash and body lotion

Toiletries – shaving gel, razors, tooth paste

Face clothes

Slippers

Candles

Snacks

Plastic Plates, cups, cutlery
Before picking up candles make sure that you know the policy for candles where they will be living. Many school housing do not allow candles with an open flame, and alternative to that is too buy battery operated candles that still gives the same effect without the flame.
Nothing will be appreciated quite as much as snacks. When completing reports writing essays and studying university student always seem to have snacks close at hand. You can include microwave popcorn, chips, chocolate or favorite snack food so they will have a stash to get them started.
Even if the student is living in a house with a meal plan where they will not be cooking their own food they will likely still have access to a shared kitchen area to prepare basic things like cereal. In that case they will need to provide their own dishware and cutlery as well as have a few cups to use in their room. Picking up some easy to wash plastic dishes is also a nice idea.
So if you know someone who is getting ready to move out for the first time why not put together a little care package for them to help get them started on the right foot and show that you are thinking about them.