Looking for a beautiful day trip idea in Ontario this summer? Then check out everything the stunning lavender farms in Ontario have to offer. You have likely seen photos of these gorgeous fields, and we have many located right here in Ontario.
From guided tours and picnics, to yoga sessions and family photos you can enjoy all the different experiences happening in your local lavender fields or make it a day trip with some friends to explore. Plus you will also have the opportunity to shop for all things lavender including food, bath product and more. You may also want to checkout Sunflower Farms in Ontario!
Lavender Fields & Lavender Farms in Ontario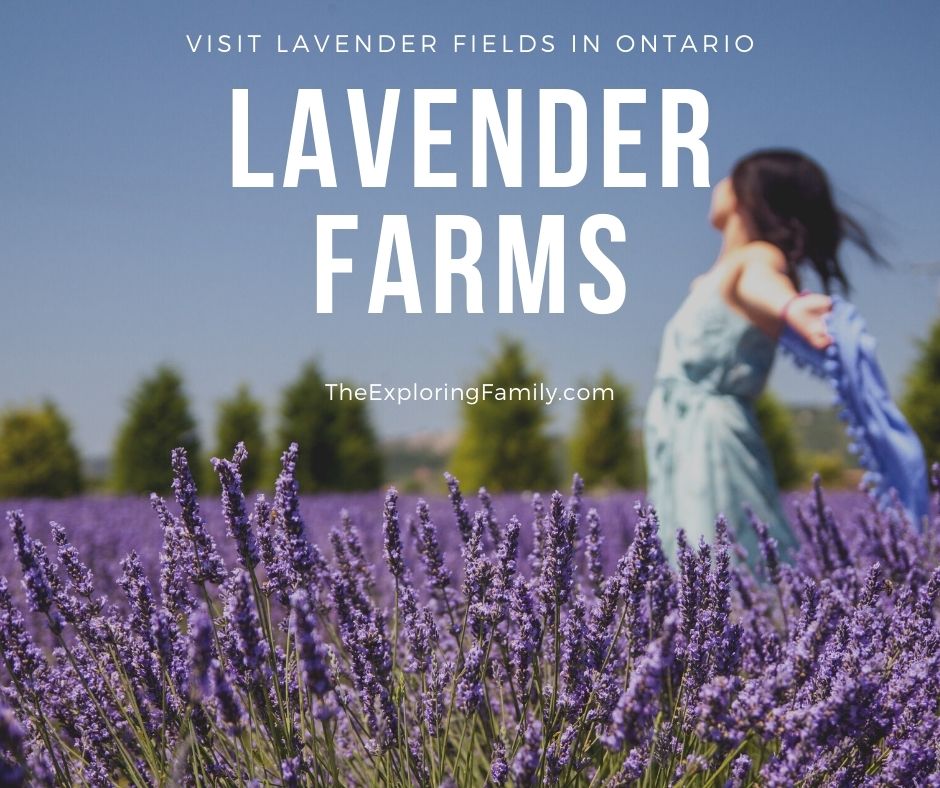 When can you see lavender fields in Ontario
Each lavender farm will have its own opening and closing dates, but the peak times to visit lavender farms in Ontario is late June to early August for the prime stunning purple blooms. Different varieties of lavender also bloom at different times, and can have different shades of blooms. So if you are looking for a specific variety make sure you call the farm directly to confirm the bloom status.
Lavender Fields Ontario
Scroll down for an interactive Google Map with all of the locations for the lavender farms
Lavender Fields Greater Toronto and Hamilton Area
Stonewell Farm
9762 Wellington Road 42, Erin, Ontario – Stonewell Farm is a family owned farm where you cannot only visit beautiful lavender fields, but also stay over in the 3 bedroom country guest house. The 93 acre farm offers tours of their farm, a variety of workshops and yoga in the lavender fields.
Terre Bleu Lavender Farm
They are taking exciting new steps by opening a retail store in downtown Elora offering in-store shopping as well as a lineup of workshops and events. And on the horizon for 2023 is a fabulous new farm experience. So stay up-to-date for news to look forward to.
Purple Hill Lavender Farm
7484 6/7 Sideroad Nottawasaga Creemore, Ontario – Purple Hill Lavender Farm is family owned farm located in the hills of Creemore. You can purchase your tickets online to visit the farm, bring a picnic, walk the trails, or snap photos among the sea of purple flowers.
Purple Hill Lavender is even offering small weddings of 10 guest at their farm. They also have a store on-site when the farm is open and online for the rest of the year where you can get candles, soaps, bath sets and more.
The Lavender Farm
769 Drumbo Road, RR #3 Ayr, Ontario – The Lavender Farm located just outside of Cambridge offers a stunning wedding video with both indoor and outdoor spaces for your special day.
Kelso Lavender
8649 Appleby Line, Milton Ontario – Kelso Lavender offers Upick lavender, and picnic tables if you want to stop for a snack while enjoying the different photo stops around the farm.
Lochland Botanicals
2468 25 Side Road Milton, Ontario – Lochland Botanicals is a pick-your-own herbs and flower farm that features farm tours, build a bouquet, workshops, 4 fields to explore and over 150 plant varieties. Bring your own picnic to enjoy at one of the picnic tables on the property.
The Giving Place
19618 E Townline, Mount Albert, Ontario – The Giving Place Lavender & Honey offers many unique events on their farm including Fields of High Tea, outdoor fondue Parties, create your own bird house workshops, and catered picnics. While at the farm you can also visit the bunnies, pigs, chickens and ducks as you stroll around the property which includes a pond.
Christel Lake Lavender
1381 Scugog Line 12, Greenbank, Ontario – Visits to Christel Lake Lavender are by appointment only. Check out their website for upcoming events.
South Bay Fields
7527 Nottawasaga 36/37 Sideroad, Collingwood, Ontario – South Bay Fields is an 18 acre farm that has both lavender and sunflower fields.
Lavender Farm Niagara
neob Lavender
758 Niagara Stone Rd, Niagara-on-the-Lake – Located in Niagara-on-the-lake neob Lavender offers walks in the lavender farm Niagara. Check their website to see if they are offering informative guided tours. The lavender fields are open for visits May 1 to Oct 31st, and booking your tickets ahead of time is recommended.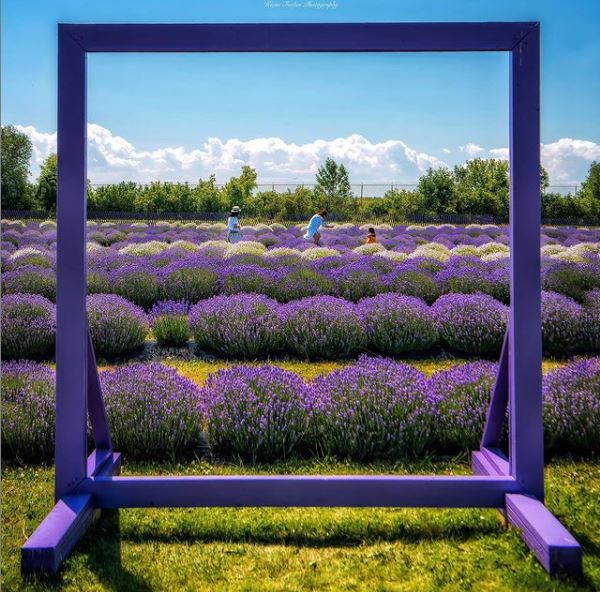 Terra Lavanda
2873 Doutch Lane, Vineland, Ontario – Terra Lavanda has 100 acre farm located in the heart of Ontario wine country. Take the in tranquility and beauty of the lavender plants that are organically grown and hand harvested.
Ridgeway Lavender Inc
3359 Third Concession 3 Rd, Port Colborne, Ontario – a family run farm with a wide variety of lavender plants including Grosso, Phenomenal, Hidcote and Munstead Lavender. Ridgeway Lavender offers tours, yoga, and an event space that is available for parties and weddings.
Lavender Farms Southwestern Ontario
Mingle Hill Farm
2625 Mountain Rd, RR#1, St. Ann's, Ontario – Mingle Hill Farms started as a sunflower farm and has expanded to include growing organic vegetables and flowers for essential oils, including lavender. They have a 1 bedroom suite that is available to stay if you want to extend your trip to the area. They also offer a variety of workshops, annual plant sale and have event space for weddings.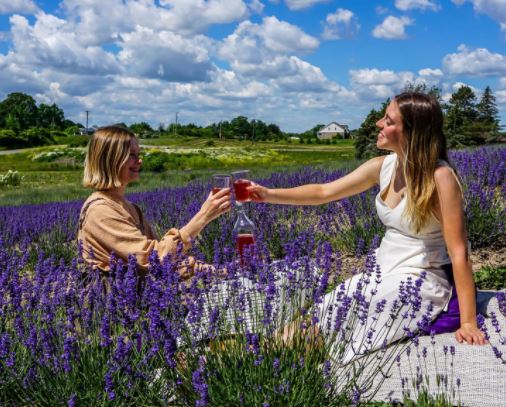 Bonnieheath Estate Lavender & Winery
410 Concession 12 Townsend, Waterford, Ontario – At the Bonnieheath Estate Lavender & Winery you cannot only enjoy the beauty of the lavender fields, bit also a a 10 acre vineyard. They offer tastings and tours of the 129 acre farm for your try out the many artisan crafted products they sell.
Apple Hill Lavender
1795 Windham Rd 11, Windham Centre, Ontario – Apple Hill Lavender opens the first weekend in May and stays open until Christmas Eve. The lavender fields are their most spectacular during the month of July. They offer special events like yoga, and you can pack a picnic to enjoy in the lavender fields or under an apple tree.
Steed & Company Lavender
47589 Sparta Line, Central Elgin, Ontario – The Steed & Company Lavender farm is part of a 45 acre horse farm. You can pick up a pint of lavender ice cream from their shop or stroll along the beautiful plants when in bloom.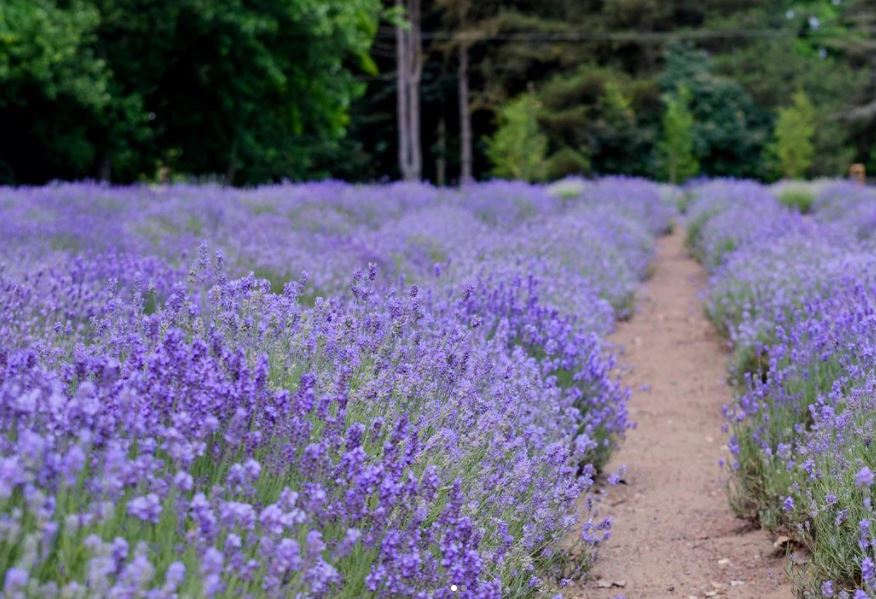 Lavender Hives
8499 Goosemarsh Line, Grand Bend, Ontario – Perfect combination of sweet and calm. Lavender Hives are home to bee hives and lavender plants, perfect for making lavender honey. Enjoy the sites and smells of the farm or take some time for bee watching in the "Bee Booth".
Grey Bruce Simcoe Lavender Farms
Essentially Lavender
1379 Concession 10, South Bruce, ON – The 96 acre Essentially Lavender Farm offers self guided or group tours with a staff member. There are also 3 unique bunkies available for overnight stays where you can walk the trails, fish and kayak/canoe.
Central and Eastern Ontario Lavender Farms
Laveanne
8667 Gilmour Road, Campbellcroft, Ontario – At Laveanne you can visit the lavender labyrinth which was designed for meditation and relaxation. Over 10,000 plants of both English and French lavender explode into a sea of purple in July each year.
Prince Edward County Lavender
732 Closson Rd, Hillier, Ontario – With an annual lavender festival Prince Edward County Lavender knows how to celebrate all things lavender with food, entertainment and activities each July. You can tour the fields and flower beds on the property and also stay over in one of the 3 rooms in the Bed and Breakfast at the farm.
LouLou Lavender
19918 Maple Rd, Williamstown, Ontario – LouLou Lavender check their facebook page for details on hours open to the public and pick-your-own-lavender opportunities.
Millefleurs
17461 Loyalist Parkway, Prince Edward, Ontario – At Millefleurs you can enjoy lavender, sunflower and dahlia fields. There is also a tasting bar where you can sample Mead on the terrace that overlooks these Prince Edward County Lavender Fields.
Lavender Farm Near Me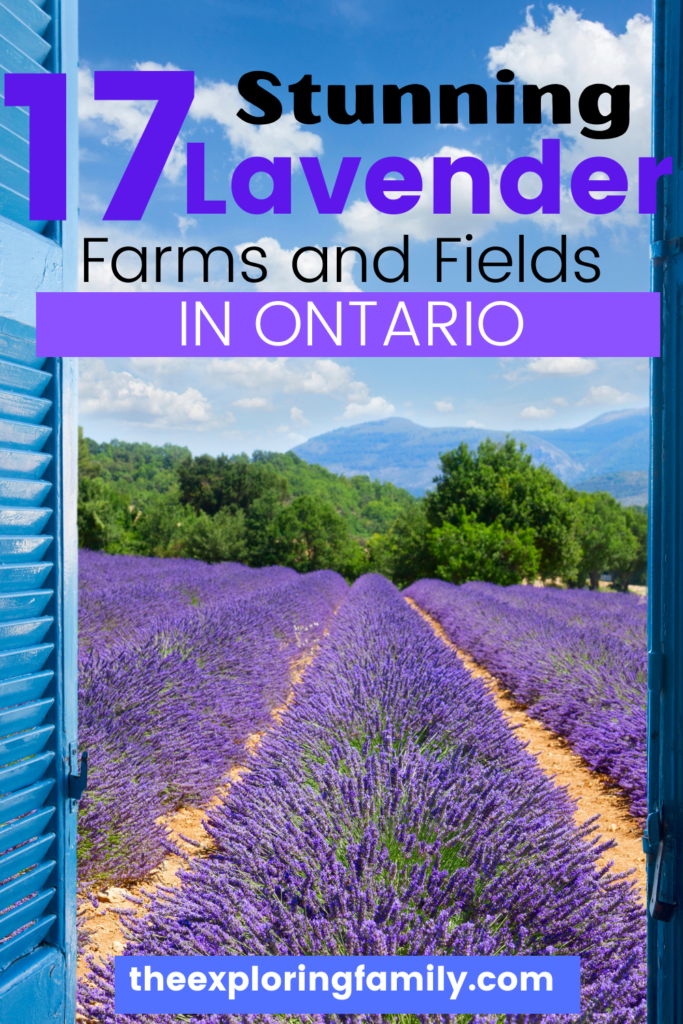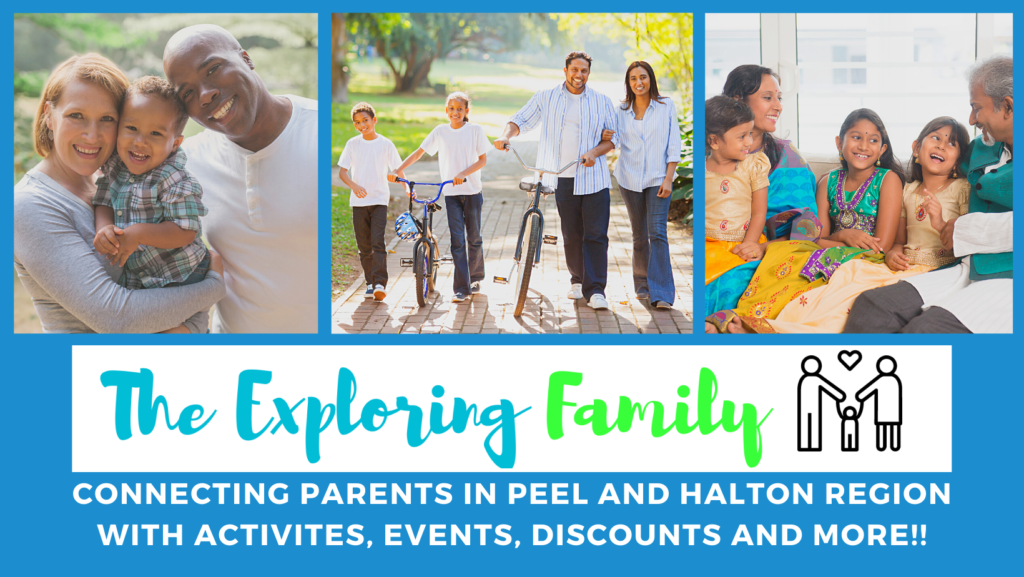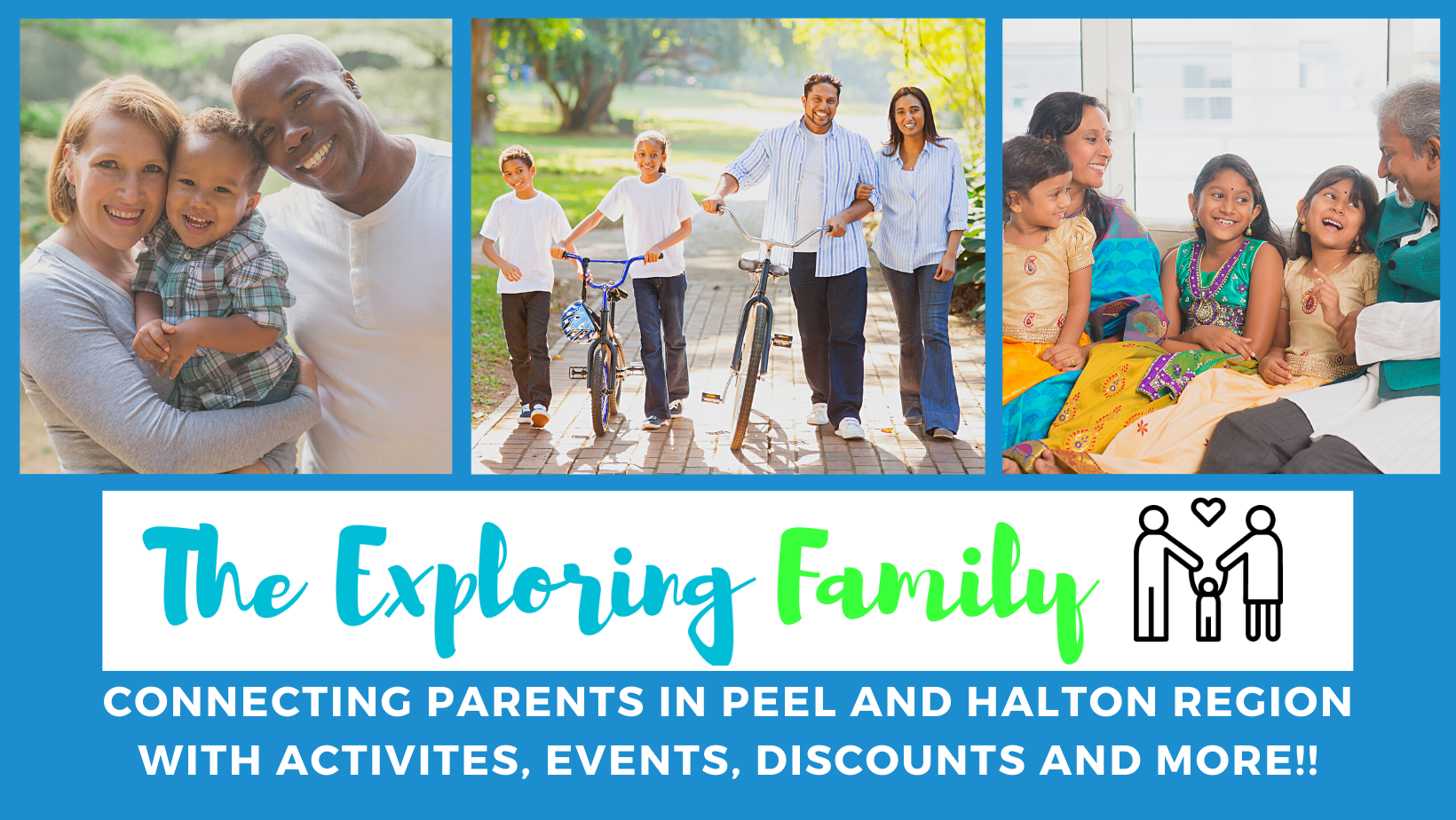 Can you help make this article better?
If you have noticed an error, have additional information or would like to share a comment you can:
E-mail us at info@thexploringfamily.com
Find us on Facebook: The Exploring Family
Find us on Instagram: @The.Exploring.Family