Sushi is a fantastic meal or snack no matter the occasion. Whether you are looking for the Best Sushi in Mississauga for lunch, snack or dinner, we have you covered. Sushi is fantastic to share with family and friends or enjoy on your own as a special treat. If you have been wondering where you can find the best Sushi in Mississauga, you are in the right place. We have compiled a list of the Best Sushi in Mississauga for you to enjoy. If you find yourself craving Sushi and wondering "Where can I find the Best Sushi near me?" Just come back here and check this list. From the best Sushi takeout Mississauga has to offer to the most plentiful all you can eat Sushi Mississauga has available, there is something on this list for everyone. We have the best Sushi restaurants in Mississauga ready for you to explore.  And if you are looking for the best pizza or best ice cream we have you covered there too!

Best Sushi Mississauga
Click on the links to jump down to details for each restaurant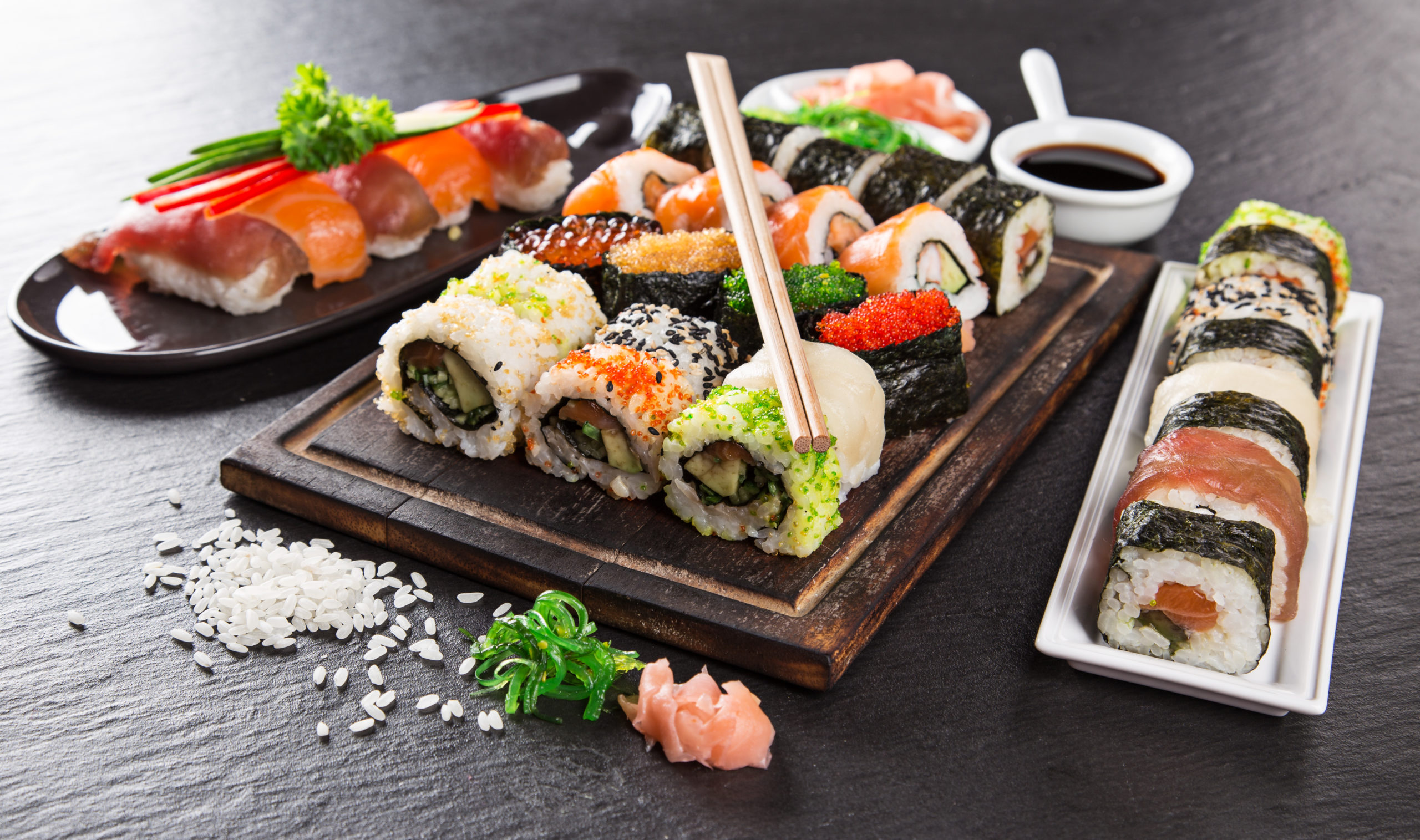 Map to Find Best Sushi Near Me
Mac's Sushi
5100 Erin Mills Pkwy, Mississauga, ON L5M 4Z5 - Mac's Sushi in Mississauga is located in the Erin Mills Town Center. They offer some of the best Sushi takeout that Mississauga has to offer. Mac's Sushi guarantees that all their Sushi is made fresh that day, giving you the best quality and freshness possible. Creating delicious and authentic Sushi is what Mac's is all about. In fact, in addition to takeout, they also do catering and service events like weddings, corporate parties and birthdays. Mac's Sushi is a fantastic option for sushi in Mississauga no matter what the occasion.
Sushi King
941 Lakeshore Rd E, Mississauga, ON L5E 1E3 - Sushi King is an amazing place to go for takeout Sushi in Mississauga. With several different menu options to choose from, Sushi King is sure to please. Looking for a quick takeout lunch in Mississauga? Give this amazing place a try. The good news? They are also available on Skipthedishes and UberEats.

Hinote Sushi
720 Bristol Rd W #4, Mississauga, ON L5R 4A3 - Hinote Sushi offers a romantic atmosphere to their dine in guests and takeout for those on the go. No matter if you choose to eat in and enjoy the ambiance or take your Sushi to go, your palate is sure to be pleased. Serving up a variety of creative rolls and hot food items, there is something for everyone at Hinote.
Sushi Masamune
Sushi Masamune
5200 Dixie Rd #8, Mississauga, ON L4W 1E4- Sushi Masamune is located in a quiet strip mall in Mississauga. Offering dine in, takeout and delivery, there are several ways to enjoy Sushi from this delicious place. With a variety of different rolls, combos and lunch boxes you are sure to find something that satisfies your craving for sushi.
View this post on Instagram
Sushi Omigoto
888 Dundas St E E-1, Mississauga, ON L4Y 4G6 - Sushi Omigoto is a fantastic Sushi place located in Mississauga. This awesome Sushi spot offers a few different menus to choose from. There is a lunch menu, main menu and even a vegan menu. Their dining room is open again now, but they also offer takeout sushi and even delivery sushi. If you are craving Sushi in Mississauga, this place is a great choice.

Sushi in Sushi
2310 Battleford Rd, Mississauga, ON L5N 3K6 - Sushi in Sushi has a variety of different Sushi types to choose from. If you are seeking takeout Sushi in Mississauga, this place offers several different options. Dine-in service is also an option if you are craving a night out to go with some fresh and delicious Sushi. Try their Spicy Salmon roll, it is a favorite of many who frequent Sushi in Sushi.

All You Can Eat Sushi Mississauga
168 Sushi
1520 Steeles Ave W #103, Concord, ON L4K 3B9 - 168 Sushi is an all you can eat sushi buffet located in Mississauga. If you are looking for the best all you can eat Sushi in Mississauga, many recommend visiting 168. Not only can you take advantage of their all you can eat menu, they also have dine-in, takeout and pick up, delivery and an a la carte menu to choose from. With so many options to enjoy great Sushi, you are sure to be satisfied with 168 Sushi in Mississauga.
View this post on Instagram
Best Sushi Takeout Mississauga
K&B Sushi
6400, 1 Millcreek Dr #1, Mississauga, ON L5N 3E7 - K&B Sushi offers a wide variety of Sushi in Mississauga. They have all you can eat Sushi, takeout, dine-in and delivery offers available for you to choose from. No matter which option you choose, you are sure to be pleased. K&B Sushi is firmly rooted in Japanese culinary traditions. This Sushi spot in Mississauga is committed to providing freshly served quality foods in a friendly atmosphere. Craving Sushi in Mississauga? This is a fantastic place to go.

Heart Sushi
815 Britannia Rd W #2, Mississauga, ON L5V 2X8 - Heart Sushi is an all you can eat sushi restaurant located in Mississauga. If you aren't feeling the all you can eat atmosphere, they also offer takeout and delivery to satisfy your sushi cravings on the go. Going out with someone who doesn't want Sushi? Heart Sushi also offers a variety of other dishes to choose from. You are sure to find something you love at Heart Sushi.

Tomo Sushi
4040 Creditview Rd, Mississauga, ON L5C 3Y8 - Tomo Sushi offers a warm and relaxed atmosphere for you to enjoy some fantastic food. Tomo Sushi has original sushi rolls, sashimi and several Japanese entrees to choose from. In Japanese "Tomo" means "Friend" and that is how the great staff at Tomo want you to feel when you enjoy their delicious fare.
Now that we have gone through some really amazing Sushi restaurants in Mississauga and you can go out and try them for yourself. Make sure that you tag us or tell us what you think the Best Sushi in Mississauga is. We want to hear from you.
Want to stay in the know with all things local?  Don't forget to join our locally focus Facebook group:  Peel Parents Resource
Please Note: 
We do our best to ensure the information on The Exploring Family is accurate, however information and events are subject to change. 
Can you help make this article better?
If you have noticed an error, have additional information or would like to share a comment you can:
E-mail us at info@thexploringfamily.com
Find us on Facebook: The Exploring Family
Find us on Instagram: The.Exploring.Family