I love mason jar gifts, they look so pretty and are fun to make. I have made "Cookies In A Jar" before to give out as a Christmas gift to friends and family. I think handmade, or in this case hand assembled gifts are a cute idea any time of year. This Hot Strawberry Drink Mix is easy to make and fun for the kids to assemble. A perfect way to warm up after a day playing outside in the snow the Hot Strawberry Drink will be a hit with kids and grown ups.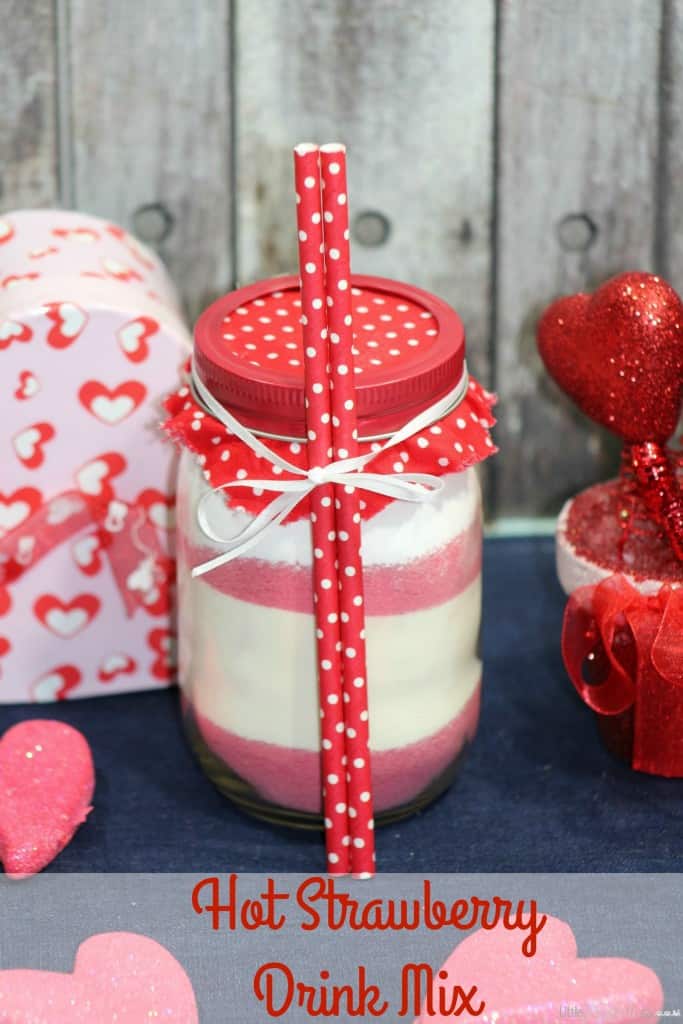 Top your beverage with whipped cream or marshmallows for an extra special touch. This drink would go perfectly with a special Valentine's day brunch of Red Velvet Waffles too. When making up a batch for yourself make up an extra jar or two to give away. I think this mason jar gift would be a super cute teacher gift idea or pair it with a plastic mug to give to a little Valentine in your life. Want to make this mason jar gift idea yourself, here is what you need for Hot Strawberry Drink Mix: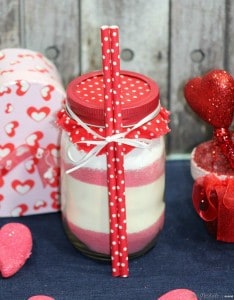 Hot Strawberry Drink Mix
Ingredients:
2 cups powdered sugar
1 cup Strawberry Drink Mix
1 1/2 cups powdered milk
1/2 cup powdered non-dairy creamer
Mason Jar with lid (8oz size)
Directions:
Whisk together the the powdered milk and powdered non-dairy creamer in a bowl.
Have the mason jar ready.
First layer (bottom layer): 1/2 of the dry strawberry drink mix in the bottom of the mason jar
Second layer: Powdered milk and creamer mixture
Third layer: second half of the dry strawberry drink mix.
Top or last layer: powdered sugar.
Instructions for use:
Stir all ingredients together.
Store in the lidded mason jar.
Combine 1/2 C of mix with 1/2 C hot water in a cup. Stir well.
Top with whipping cream or marshmallows.
Decorate the jar with some ribbon. Check out your local dollar store to see if you can find some matching paper straws to include as well. I have had great luck finding them in all different colours. Have fun making this tasty mason jar gift, and enjoy your Hot Strawberry Drink all winter long!
Save