OREO Dessert – it should probably stand for OUTSTANDING RECIPES TO EAT OFTEN, the possibilities of desserts with oreos that you can create is endless! Calling all chocolate addicts who love OREO cookies, I have created a round up of the Best Oreo Recipes for the Holidays. Now Oreo Desserts Recipes are endless as you can turn an Oreo into a baby rattle, turkey, or snowman. Oreo dessert recipes include oreo cookies, oreo cupcakes, oreo cheesecake, oreo balls, oreo pops, oreo cake recipe and even oreo pudding – these are all mouth watering tasty deserts that can me made out a simple cookie. Now these recipes are dangerous as once you make one you will be inspired to try many others, and while delicious I can't claim they have any health benefits unfortunately. My favourite part is that you can create a different Oreo cookies dessert for every holiday from Halloween to Easter and many others.  Similar to Kit Kat, the merchandising gods have designed and created new oreo flavors so you don't have to stick to the original chocolate. There are all great recipes to add to your recipe box for desserts.
Unique Oreo Flavoured Cookies
Holiday Inspired Oreo Creations
Thanksgiving:
Oreo Pumpkin Pops: These are great treats to make anytime in the fall whether you are celebrating Thanksgiving, or Halloween.
Halloween:
Mummy Oreo Pops: Oreos are a favourite cookie for many, but I decided to give them a little face lift to get them in the Halloween spirit.

Bat Oreos: These Halloween treats are the perfect companion to the Mummy Oreo Pops!
Easter:
Spring Chick Oreo Pops: turn your oreos into these cute chick creatures, perfect for any March or April Easter gathering.

Easter Oreo Balls:  This no-bake recipe will be a hit with the whole family.  Kids will have fun decorating these delicious edible eggs. 
Oreo M & M Flowers: Using oreos and m&ms you can simply create this heavenly oreo dessert which makes a great spring treat.
Oreo Easter Bunnies: You can't celebrate Ester without a bunny rabbit, so add some bunny ears and a nose to the oreos to create this yummy treat!
Christmas:
Santa Belt Chocolate Covered Oreos: Celebrate Christmas and Santa with these cookies that look like Santa's round belly with belt.

Santa Hat Oreo Recipe: Create a hat for Santa with this 3 ingredient oreo dessert using layers of Oreos and strawberries, and chocolate which is always a great combo!

White Chocolate Oreo Christmas Wreath Cookies: These make great gifts for teachers, babysitters or really any one!
Snowman Oreo Pops: These are a great way to celebrate snowmen and the beginning of the winter season.
Valentine's Day:
Love is in the Air Oreo Pops: Yummy no bake oreo dessert perfect for Valentine's day treats only requires 3 ingredients – Oreos, white chocolate and sprinkles.
Baby Showers: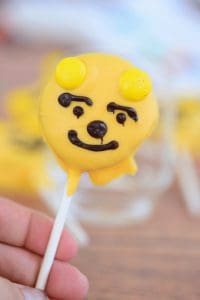 Winnie the Pooh Oreo Pops: These cute Pooh Bear inspired pops are super tasty and super cute!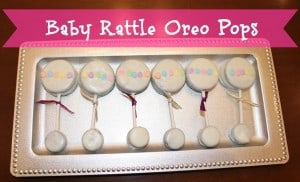 Baby Rattle Pops: Turn your oreo cookie into a baby rattle, perfect for any baby shower. Everyone loved eating these at the Baby Shower that Kate created them for!
Oreo Cheesecake Recipes: There are many oreo desserts no bake including cheesecake, which make them a super fast Oreo desserts recipe and easy to make which is super great if you are short on time but want to wow your guests!
Oreo Cheesecake Fudge:  Put a twist on traditional cheesecake with Oreo's, and create Oreo birthday cake! 
Oreo Cookie Balls Recipe:  Oreo cheesecake balls are so easy they can be made in under an hour and oreo dessert balls are a great treat at any party! This is an oreo dessert recipes no bake.

Easy Oreo Cheesecake:   This easy Oreo Cheesecake offers both chocolate and the rich cheesecake flavour, creating a dessert to die for!
Oreo Truffle Recipes:
Peppermint Oreo Truffles: These are fun to make with the kids, and travel well to take for baking exchanges or dinner parties.
Oreo Truffle Balls: These are easy to make as they are no bake, oreo dessert balls melt in your mouth!
A Healthy Oreo Biscuit:
Homemade Gluten-Free + Vegan Oreo Cookies: These copy cat Oreo cookies are free of the top allergens and are sugar free making them a healthier option with a great taste!
Oreo Ice Cream Recipes:
No Churn Oreo Ice Cream: A simple frozen oreo dessert recipe with only 4 ingredients and no ice cream maker needed. This is a super great recipe for July and August when you have a summer BBQ to attend. 
Chocolate Oreo Ice Cream:  If you love ice cream but wan't more of a chocolate taste than this is for you, you could even add chocolate chip if you need more chocolate flavour!
Other Oreo Desserts:
Oreo Caramel Apples: Using a food processor, simply create crushed Oreo cookies to make oreo crumbs which are a great topping for these caramel apples.
Oreo Bark: This bark has oreo crumble in it and is great for all Halloween Parties.
Emoji Cookie Pops: The perfect treat for any school bake sale or June end of year event!
Oreo Pudding Birthday Cake:  Just messy but so delicious this oreo cookie cool whip dessert is even better if you make this dessert with more whipped cream! This oreo dessert with cool whip is a favourite birthday cake request! Using instant chocolate pudding and creating a pudding layer on tops of a brownie – this is my next birthday request!
Oreo Brownies: A twist on your traditional chocolate brownie.
I think this is a pretty great list of Oreo inspired desserts, now the only thing that is missing is a cream cheese oreo dessert which I have yet to find! So if anyone knows of a great oreo dessert with cream cheese, whether it be a cream cheese layer, or a cream cheese mixture, let me know so I can add it to my list of Dessert recipes oreos in my recipe collection.
Don't forget that Oreo Desserts are best served with a cold glass of milk! I hope you found some awesome suggestions on how to use Oreos to create an Oreo Dessert.