Re-sharing this post again as these DIY Personalized Photo Valentine's Day Cards with Peanut Butter cups are just to cute. Hope you have fun making them too! This year we decided to get creative with some of the Valentines we will be giving out. I don't know about you, but nothing brings a smile to the face of Monkey & Little Bears Grandparents like a new photo they can hand on the fridge. For the Grandma's we created these adorable photo Valentine's Day cards complete with Mini Reese Peanut Butter cups.
DIY Personalized Photo Valentine's Day Cards with Peanut Butter Cups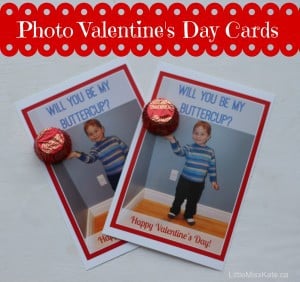 These took less than 30 minutes to create, as I printed the photos at home on my HP PhotoSmart Printer. I found the mini peanut butter cups at my local dollar store in packages of 4/$1 making this an inexpensive Valentines Day craft to do with the kids.
Here is what you will need to create your own Reese Peanut Butter Cup Valentine's cards
1 – Take a picture of your child while they have their hand held out to the side like they are holding up something. I had Monkey pretending to hold a rock up in the air. DSLR or cell phone picture –both will work just fine for this craft.
2 – Transfer the photo to a computer and use an editing program to add in your text and other embellishments such as boarders or graphics. If you have a program like photoshop you can use that, but if you are looking for a free and easy program try picmonkey – it is my go too program for photo editing.
I added in "Happy Valentines Day" and "Will you be my buttercup?" on ours. You could also put your child's name on it or personalize it anyway you would like
3 – Print out the 4×6 photo, I did this right from home on my HP Photo Smart Printer which was fast and easy. You could also print in a lab if you needed to.
4 – Attach the mini peanut butter cup to the photo with tape so it looks like the child is holding it up.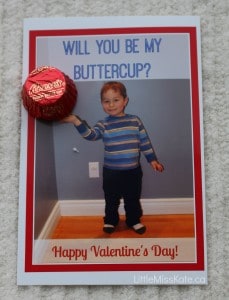 Let the kids have fun handing out these sweet treats to Grandparents and friends – they will love these personalized photo Valentine's Day Cards!
Save