Throwing Baby's 1st Birthday party is a momentous occasion as it not only celebrates the first year of your child's life but is also a celebration of surviving the first year of parenting! Your child will only celebrate one first birthday celebration so you want to make it one that you will remember for years to come! You want to make babys first birthday amazing but as a new parent you don't know where to start in terms of planning. Birthday parties are a yearly event to gather family and friends together to celebrate another amazing year of memories!
Life gets super busy right as your planning baby's first birthday party  and celebrating babies 1st birthday as you have just returned to work and are trying to accomplish the balance of work and home life! I have created a list of tips and ideas for the first birthday to help you stay organized, and plan a 1 year old birthday party without fearing you are going to forget something! These tips will guide you through how to plan a 1 year olds birthday party without the stress! Check out our ideas for easy birthday themes below, and follow these ten tips for  first birthday party ideas and make sure the day doesn't end in disaster and meltdowns from the birthday boy or girl!
Now when planning a kid's birthday party I like to support local businesses in my community. So this year everything I purchased supported Canadian businesses big and small as I believe it is important to support local. Part of our goal at Little Miss Kate is to promote our own community of Peel Region so I felt it was important to support the businesses as well when coming up with ideas for 1st birthday party. Not only were all of these businesses exceptional to work with, but many of them have offered exclusive special to our Little Miss Kate Readers. The following are tips for baby's first birthday ideas:
Pick a Theme
The first step when planning a baby birthday party is to pick a theme that is fun, creative and enjoyable for all guests at the first birthday party, there are lots of birthday party themes to choose from on Pinterest. Enjoy that this may be one of the only years you get to choose the theme as your little one isn't yet aware of what a birthday actually is, and won't have an opinion on the theme yet!
Now my daughter was born Feb 11, the day after a crazy snowstorm in Brampton last year and this years weather is no different as I sit writing this we are having our THIRD snow day in three weeks! For us picking the theme of Winter and Snowflakes was simple, and then after a quick Pinterest search we decided on a Winter Onederland themed party! Now when I think winter I think snowballs, snow, and the colours blue, white and purple. There are lots of baby girl first birthday ideas but they all revolve around the colour pink and I am just not a fan of Pretty in Pink as you may call it. I found that baby boy first birthday ideas had a bigger range of colour options. With the theme you can decide how much or how little you want to include in terms of 1st birthday decorations, and food themed.
We tried to keep our decorations very simple and stuck with balloons, and two banners: Winter Onederland and a Monthly photo banner. I had the pleasure of working with CMVE Designs which is a local Brampton business that creates unique custom banners for parties, custom clothing, handmade paper flower backdrops, photo props and  much, much  more! Eliana was great to work with and delivered a high end product that worked perfectly for our Winter Onederland Theme. 
Some baby girl birthday themes are: Disney Princess, Donut Theme, Up Up and Away Air Balloon, Minions, Minnie Mouse and Unicorns. Some baby boy birthday themes are: Safari, Jungle, Dr. Seuss, Thomas the Train, Construction Trucks, Dinosaurs
Like CMVE Designs Facebook Page and Mention LittleMissKate to receive 10% off your custom order.  
Invite the Guests
Choose whether you are going to send out a paper invite or e-vite and then select a design.  There are lots of unique first birthday party ideas and card designs that you can find on Etsy or Pinterest. Invite those who have been an important part of your child's first year of life including friends and families. Invite people your baby loves and enjoys spending time with! Don't forget to invite the babies and other parents you made connections with while on maternity leave to baby's first birthday. We choose to keep it simple and sent out an e-vite as it is much faster than mail. You can choose to limit the guest list and keep it small a simple for a first birthday by only inviting family, however we choose to do one BIG birthday party for ONE and plan to keep future years smaller.
Here are some [easyazon_link keywords="First birthday invitations" locale="CA" tag="litmiskat-20″]First Birthday Invitations[/easyazon_link] to consider. 
Choose a Location and Time
When choosing a location for baby 1st birthday, make sure you consider how many guests you are inviting and how much room you will need. If you are expecting a large number of people consider renting out a restaurant or community centre as it may be a much easier option in terms of clean up and space. If you decide to have the party at home make sure you have enough seating and that you have people to help you clean up afterwards. 
When choosing a date, I urge you to consider the following tips to ensure your party is a success! First, don't plan the birthday for a long weekend or any holiday weekends as it will make it harder for everyone to attend as many people already have plans. Second, try to give at least a month notice for people to ensure they can be available. Lastly, don't plan the birthday party for right after your babies 12 month shots as they will often become cranky or sick after their one year appointment and you don't want this to ruin the hard work you put in for their party.
Since we decided to invite 5 other young children all under age 3, it was important to consider how we would ensure their safety in terms of baby proofing the room. The community rental room we used made this easy and we just brought some foam mats and a few toys to create a baby/toddler area for the kids to play. Toys I suggest to bring are: activity table, baby walker, and any other toys that make noise.
Where to have 1st birthday party?
If you have a lot of children coming you may want to consider a play place as a location for the party as it will keep the children entertained. If you are not interested in a play place you  can consider a restaurant, or community room rental. We didn't have many older kids so we kept it simple and rented a local community room through the City of Brampton Facilities Rentals. The cost was very affordable and they provided all the tables and chairs and were responsible for the clean up afterwards.
Plan around Baby's Naptime if Possible
Evening events are normally the best social times for adults however this does not work well for young children so you should consider this when picking a time for the baby parties. Try to consider you infant's nap schedule if possible as it will make for a happier birthday girl or boy. Plan for earlier in the day is often best and limit the party to about two hours as young children and toddlers will get bored and overwhelmed by sensory stimulation and social time if it is too long! We planned our party for 2-4PM figuring that allowed most parents of our toddlers guests to put them down for even a short nap after lunch before heading to the party.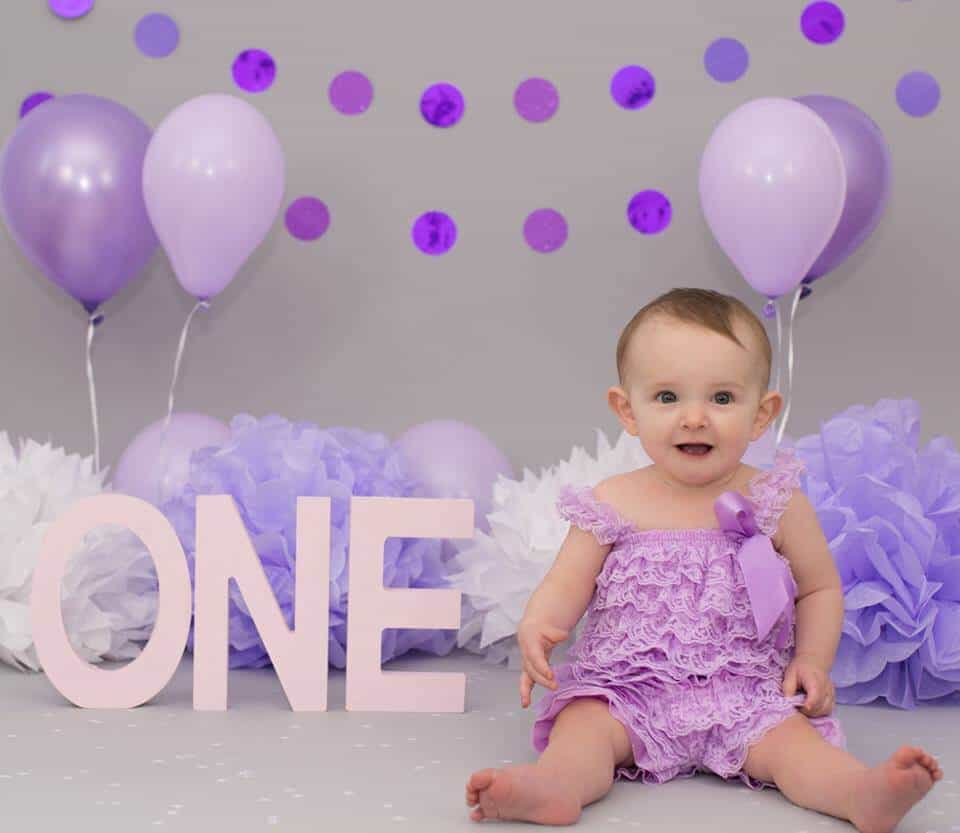 Choose a Photographer
It has become tradition to get a 1st birthday baby photo shoot known as a Cake Smash done as a way to celebrate and to keep as a memory. A Cake Smash is exactly what it sounds like, it is an opportunity for babies to explore and smash a cake that you put in front of them. A Cake Smash creates a cute scene for photos as your baby smashes the cake and makes a giant mess!
I loved the idea of a Cake Smash and really just the idea of updated photos to celebrate that our little peanut is turning ONE! I found local photographer Melissa Ann Photography who was great working with babies and was able to create the perfect images for our family. I simply arranged the whole photo shoot by email with Melissa, which was so simple as she provided everything except the cake. She picked out the perfect outfit and backdrop for our photo session all based on the colour theme I choose. The photos turned out amazing and will be memories we can cherish and look back on every year as she turns a year older!
Melissa Ann Photography does Holiday Photo Sessions, Cake Smash Photos, Engagement Photos, Family Photos, Maternity Sessions, and Newborn Photography. She can cover any of your families photo needs and is located just outside of Brampton. I would highly recommend her and definitely plan on using her photography services for my next holiday photo session.
Since I needed to provide my own cake I had one of my friends Lindsay create a beautiful cake for me in our colour scheme of purple. Lindsay creates cakes from her own home in Brampton as a small side business, if you are interested in getting a cake made for an affordable price at an outstanding quality and taste then send me a message for her information. 
If your photographer doesn't have any [easyazon_link keywords="Cake Smash Outfits" locale="CA" tag="litmiskat-20″]Cake Smash Outfits[/easyazon_link] you can buy some online.
[easyazon_image align="none" height="160″ identifier="B077D81BH1″ locale="CA" src="https://theexploringfamily.comwp-content/uploads/2019/02/41VYiUKfsKL.SL160.jpg" tag="litmiskat-20″ width="160″]
[easyazon_image align="none" height="160″ identifier="B075FR7SRW" locale="CA" src="https://theexploringfamily.comwp-content/uploads/2019/02/41JQwnbCbHL.SL160.jpg" tag="litmiskat-20″ width="160″]
Choose a Birthday Outfit
Baby is the center of attention for the party so why not take this opportunity to dress them up in a super cute outfit to celebrate their big day! Baby first birthday outfits can either be formal or can be a little more casual and can be anything from a baby tuxedo or dress to more simple like a onesie. Dress for babies first birthday can even go with the theme, or can just simply be a formal outfit that will make for great photos. Don't forget to also find a bow tie for boys or a headband for girls.
I worked with Tiny Posh Bowtique who created the perfect custom baby first birthday for our daughter. I wanted a onesie with a Penguin on it to fit the Winter Onederland theme and the number 1 as well as her name. Tiny Posh Bowtique had no issue and created exactly what I wanted and offered above and beyond customer service as she even delivered it to my home. I didn't want the traditional tutu so she provided me with multiple color options for pants to be worn with the onesie. Now the outfit would not be complete without the perfect head band to match and again this is Tiny Posh Bowtiques specialty. They were a pleasure to work with and offered a high quality product that I was able to customize to exactly how I wanted. 
Like Tiny Posh Bowtique and Mention LittleMissKate to purchase 3 headbands or clips (mix and match if you like) for only $10!
Choose a Cake
Birthday Cake is the best part of any birthday party, whether it is chocolate or vanilla. Now you need to determine an approximate number of guests you will have so that you can buy a cake size that is big enough to feed all of your guests. You can opt to go for a fancier cake designed by a bakery or DIY yourself such as kit kat cake that you can simply make at home. You may also decide you want a separate cake or cupcake for your child to smash at the party to make for a good photo! Often when planning a party families will choose to go with a cake that matches the theme of the party.
We choose to buy a cake from a fabulous local bakery in Brampton called Occasion's Treats Parlour. I was able to custom design exactly what I wanted to match our Winter Onederland theme, and not only did they create what I had asked but they made it even better than I had imagined. I asked for a simple rectangular cake with "Happy Birthday Aria" on it and winter figurines of a polar bear and penguin. You can see for yourself in the picture below that the cake was so much more! It had amazing creatures made out of fondant and even had an igloo for the penguins and polar bear.  Scattered all over the cake were uniquely cut out snowflakes that added to the winter theme. Now the cake was not only beautiful but was super delicious and complimented by many guests, as well as my co-workers as I brought the extras into work on Monday.
I would definitely work with Occasion's Treat Parlour again as they were professional, easy to communicate with and created a delicious cake. They were very accommodating and even opened up a special time for me to pick up the cake so that I didn't have to store it overnight.  
Plan out the Food 
First you need to think about how many guests are coming to the party, consider any allergies and finally consider how old some of the children are and what they are capable of eating.
Accommodate all ages
If your guest list includes lots of toddlers and babies then make sure you have baby safe and toddler approved food options. When planning food for our party we decided to keep it to snacks as based on the start time of 2PM everyone should have already ate lunch. We had chose to keep our food options themed with the party so we had the following:
Snowman noses (assorted vegetables)

Snow covered fruit (fruit with yogurt dip)

Snowballs (oreo dessert balls)

Snowflakes (Smartfood popcorn)

Snowman arms (pretzles)


In terms of baby and toddler approved snacks we also offered Baby Gourmet Slammers and Squoosh Pouches that are jam packed with healthy fruits and vegetables. I choose Baby Gourment pouches as they are healthy for growing kids, tasty, easy to clean up and toddlers love them and can feed themselves. Thumper loves the taste of these as they are her favourite snack option especially on the go! Since they are Thumper's favourite foods we even included some in the loot bags for each child to take some home to try out!
Plan entertainment or games for the Children 
Many wonder "What do you do at a one year old birthday party?" and the answer is simple: you eat, chat, drink and celebrate! 1st birthday party activities all depend on the age of the other guests attending the party.  
Ideas for first birthday party entertainment are: ball pits, slides, anything that young children can crawl over (foam ramps), and really anything babies can explore will keep them entertained. Adults will simply be happy chatting and catching up with friends and enjoying some food and cake.
I kept it simple and just brought a few toys and bought some really cool plush snowballs that fit the theme and kept the kids entertained as they could throw them or just play with them. The adults jumped in too and were ready to have an indoor snowball fight!
Start Planning Early
There are lots of 1st birthday party ideas to consider when planning for the big day! If you are returning to work around the same time or even before the party I would consider organizing and planning the major details way ahead of time to ease some of the stress involved. You also need to consider giving your baby a few weeks to get adjusted to their new routine of daycare and earlier wake up times may affect their sleep schedule so allow a few weeks to adjust before throwing the party as it will make it less emotional for all involved. I knew that I was returning to work at the beginning of January so I booked the location, choose the theme, and planned out the decorations and cake all before returning to work. This made it easy as all I had to do the week of the party was go out a buy the food needed, as everything else was already organized and ready to go.
Don't forget to have Fun and Take Photos – Set Realistic Expectations
You spend so much time on baby first birthday ideas and  making sure that the party looks perfect that sometimes we get caught up in the party once it starts and forget to take photos. After you have the party set up take some photos of the decorations, cake and most importantly the BIRTHDAY Boy or Girl! You may also want to try and get a family photo taken early in the party before baby is a big mess of cake.  Once your guests arrive you will be too busy mingling and catching up to remember to take the photos that you will want as memories later! Also ask friends to share any photos they take at the party.
In terms of gifts parents have the tendency to go overboard and buy many gifts or a high price tag item however at this age what kids really want is simple. Thumper was overwhelmed with gifts for her first Christmas only 7 weeks prior, some which we still haven't even opened as we introduced a new toy a week so she is not overwhelmed and to keep things new and interesting. So we decided we wanted something simple and yet custom to remember her first birthday. Creatively Carved Designs is an amazing local husband and wife business in Brampton that creates custom word working and where the perfect fit for my gift idea. They were able to create a beautiful handcrafted and painted name puzzle for Thumper using her real name. Now Thumper will have a keepsake puzzle to remember her birthday and this also offers her exposure to a simple puzzle for the first time! I loved that the puzzle is custom to her name and also allows her to practice fine motor skills of placing the pieces back into the correct spot. I was able to choose the colours, and font for the puzzle making it entirely custom to my liking.
Creatively Carved Designs offers custom name puzzles, beer openers (great father's day gift idea), custom signs, cutting boards, wood guest books and so much more! Creatively Carved Designs were quick to complete the project as I gave them less than a week notice, and the puzzle was handcrafted and great quality that can be compared to expensive Melissa and Doug Toys, however Creatively Carved Designs is very affordable especially considering the item is custom designed.
Lastly, it is easy to get caught up in having a Pinterest ready looking party and spending excessive amounts of money to have beautiful table décor, backgrounds and much more however none of this is needed especially since the birthday child has no idea that it is their birthday. We decided to set realistic expectations and keep the party costs frugal instead of overspending. You will remember the moments of them playing with their first birthday gift and smashing their piece of cake! Make the goal of the first birthday not to be the most Pinterest approved but rather a memorable event with friends and family that love your little one as much as you do!
Interested in more Party Planning Tips: Checkout our Guide to Kids Birthday Party Themes