Mom forums are full of the question "Which breast pump should I buy? Which breast pump should I use?"
Now the Canadian Marketplace has many options for Breast Pumps, however I feel that Medela is the Best Breast Pump available for a variety of reasons which I will explain below. Now moms choose to use breast pumps for a variety of reasons including: latching issues, returning to work, NICU babies, exclusive pumping, creating a storage of breastmilk for a partner to help share some of the workload of a newborn. So no matter the reason you have choosen to use a Breat Pump its important to remember that Fed is Best regardless of how you have to feed your child.
For myself, back in 2018 I relied on the Medela Breast Pump cause despite my best efforts Breastfeeding didn't work out for me and my daughter but I still wanted her to have the benefits of Breastmilk so I exclusively pumped with the Medela Pump in Style for 4 solid months. Kate also used the Medela Pump in Style and completed a full review if you are interested in learning more about the Medela Pump in Style Double Electric Breast Pump or Erin's Review of the Medela Pump in Style Max Flow.
Reasons I Choose to use the Medela Pump for a Second time:
Customer Service – Last time, after about a month and a half of using my pump I noticed that while it was working effectively it was super loud so I gave a call to Medela Customer Service and within 24 hours they had a brand new much quieter pump sent to me. They couldnt send me the same diaper bag style so they sent me the back pack style and told me to just keep both bags and just mail back the loud pump at their cost. It was simple, convenient and easy to access service for the pump. 
Effectiveness – All Medela Pumps are super effective
Sound – Noted by many moms as very quiet, I found I could pump right beside my daughter and she would sleep right through it.
Cleaning – I found that all of the Medela pieces very easy to clean by hand or by the dishwasher and that they all held up very well and didn't wear due to cleaning.
Portability – Medela thinks about moms on the go when they created their pumps as they are very easy to take with you and many of them offer both a power source option as well as a rechargeable choice.
Which Medela Breast Pump Should I use and Why?
First of all, I would advise all new moms wait to purchase their breast pumps as first you need to discover what your needs are and you cant really do this until baby has arrived as you want to choose the right pump for your circumstances. Another warning to first time moms especially is dont be surprised that it can take up to 5 days for full milk to arrive which can seem frustrating however babies tummies are the size of a cherry and can rely on colostrum for the first few days which is actually much easier to hand pump rather than using an electric pump if your baby is having latching issues.
Thumper started her life in the NICU with a 4 day stay to be monitored for swallowing meconium and then had latching issues so I started by hand pumping colostrum the first few days and supplementing with formula. I didnt buy a pump before she was born as I wasnt sure I was going to need one and they are a big investment, however I do still suggest you research which pumps you may be interested in before hand as this made it easier for me to show my husband a photo and give him the name Medela Pump in Style and off her went to Toys R Us to purchase.
Successful Breastmilk production is all about SUPPLY and DEMAND in order to maintain your milk production. A personal pump can be so helpful to help you establish a good milk supply during the first month especially if baby is not feeding off the breast immediately.
Medela has multiple options in terms of breast feeding from Double Electric Pumps to Single Hand Pumps and everything in between, so it is important when deciding to think about the potential needs of breastfeeding moms: portability, number of breastfeeding sessions, daily or occasional use, initiating breastfeeding with premature babies using their hospital grade breast pumps. An important feature that most of their pumps have is the 2-Phase Expression Technology with mimics babies natural sucking rhythms, which helps produce more breastmilk in a shorter amount of time. 
Double Electric Breast Pump Options – Descriptions taken from Medela Canada Website
***All of the opinions including pros and cons were gathered from a Canadian Moms Group that I am apart of as well as my own opinion for the pumps that I have tried**
Sonata™ Double Electric Breast Pump: is smart, quiet, and responsive. Smart Solution™ connects Sonata to our MyMedela® app, your breast milk feeding resource, for an instant connection to your personalized pumping dashboard. The MyMedela app offers real-time tracking of your baby's growth, your pumping sessions and includes unlimited access to evidence-based lactation information. The content is personalized and designed specifically for you, to help you reach your breast milk feeding goals. Now includes PersonalFit Flex Breast Shields for maximum comfort and 11% more milk.Now includes PersonalFit Flex Breast Shields for maximum comfort and 11% more milk." 
Buy Now ->
Pump In Style® MaxFlow™:  Medela introduces the completely NEW Pump In Style® with innovative vacuum mechanism that combines our research-based 2-Phase Expression® technology with MaxFlow ™ technology. The new advanced motor generates vacuum with micro-vibrations for effective breast milk expression.

See my Full Review of the Medela Pump in Style Max Flow.
Buy Now ->

Older Version: Pump in Style Advanced: (Both Kate and I used this pump and loved it)
Pros:
Double Pump that can be converted to a single pump easily.

Backpack Style for easy storage and transport, tote style also available

Comes with Battery Pack for portable charging.

Comes apart for easy cleaning.

Came with cooler bag for milk storage, fits in backpack
Cons:
Very rarely milk can get into tubing.

Small valve cover, need to be careful washing. However if you lose it 

Medela Spare Membranes

 are easy to find on Amazon

Buy Now -> 
Freestyle Flex™ is an electric breast pump designed to fit into your life: its light, compact design and USB-chargeable battery gives you the flexibility to express wherever and whenever you like, with no compromise on pumping performance.

Mom Sabrina shared her thoughts of the pump:

Pros:
The double pump with the Medela Pumping Bra allows you to be hands free 

It gave me my breastfeeding relationship with my daughter. Most would have given up given all the challenges I had. I'm super thankful for this pump. It allowed me to Exclusively Breast Feed and continue Breastfeeding until she was 3. I was also able to help tons of mommies who need breastmilk for their babies and couldnt breastfeed themselves.
Cons:
 When you are done pumping – if u don't have the little yellow "feet" that comes with it- it can easily tip over. I've done have too many times.

Buy Now ->
Double Electric Breast Pump Options – Hospital Grade
Symphony Double Electric Breast Pump: Rental available: The research-based Symphony breast pump has been developed specifically to support moms throughout their breastfeeding journey: to initiate, build and maintain an adequate milk supply. The hospital-grade Symphony pump is available to rent for continued use after hospital discharge. Symphony is ideal for long-term and frequent pumping. You can continue using the hospital-grade pump you used in the maternity unit and decide later which personal pump to buy. With the Medela pump sets, you can express your breast milk from the comfort of your own home using your Medela Symphony rental breast pump. The pump sets provide you with everything you need as a breastfeeding mom.
Single Pump Options – Electric and Non Electric
Swing single electric breast pump: The Swing breast pump is Medela's smallest and lightest 2-Phase pump. Set the Swing on a tabletop, attach it to your pocket or belt with the clip or hang it from the neck/shoulder strap for the most convenient and comfortable position for you.
Mom Candace shared her thoughts and said she actually prefered this one too the Pump in Style for the following reasons:
Pros:
Suction is just as good as the double

Very easy to use, lightweight and easy to take with you as well.
Cons:
 Doesn't come with a huge bag like the doSuction is just as good as the double, very easy to use, lightweight and easy to take with you as well.uble, just a small pouch so I use a little $5 lunchkit insulated tote bag for milk storage while out for the pump and accessories.

It is only a single pump so if you prefer to do both breasts at the same time that would be a downside. 
Harmony® Manual Breast Pump with PersonalFit Flex™: is a single, manual (hand-powered) breast pump designed for occasional time away from your baby. This breast pump is a great option for travel or as an occasional back-up to your double electric breast pump. A small, lightweight, and portable design makes transport easy and discreet for convenient pumping at home, at work, or on the go. Best of all, an included PersonalFit Flex breast shield means more milk faster, when compared to the traditional 90° breast shield. These shields are designed to reduce pressure on the breast and optimize milk flow, giving you more milk faster.
Buy Now -> 

Medela has all your nursing needs covered including:

Purelan™ – Lanolin Cream: This cream is perfect for women who are experiencing nipple dryness and cracking, even during pregnancy as it gives fast relief for sore nipples and dry skin and is 100% natural and baby safe so you don't have to worry about wiping it off before breastfeeding.
Safe & Dry™ Disposable Nursing Pads: stick into your bra or nursing top and the Medela ultra absorbent disposable nursing pads will keep you dry during day and night and avoid any embarassing leaking onto your shirt.
BRAND NEW TO MEDELA: 
The Original Pacifier:  Lightweight orthodontic pacifier made in Switzerland. Developed with a team of specialists and was created with size, form, weight, tongue, lip and jaw movements in mind to create this pacifier with enhanced airflow. The full pacifier collection including day and night pacifiers, newborn pacifiers, and soft silicone pacifiers. Comes in 3 sizes (0-6)(6-18)(18+), multiple colours and multiple styles.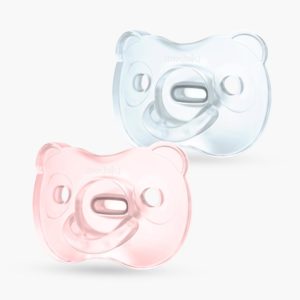 Comfort Nursing Bra: The most comfortable bra especially during pregnancy… I have been wearing it non stop since recieving it and it super comfortable and stretches to adapt to your changing breast size even for heavier chested mamas like me who can never find proper fitting bras. It also includes the clasps for nursing use as well – this is a MUST HAVE in my opinion.
Easy Expression Bustier: This is a must have for pumping mamas as it allows you to be hands free which can allow you to feed baby by bottle and pump at the same time – saved me 20 minutes each pump/feeding session during my last breastfeeding journey.  The Bustier features Medela's Adaptive Stretch™ Technology for exceptional fit and comfort. Reinforced openings offer best in-class support during pumping, even when bottles are full. Again if you are heavy chested this will work for you 🙂 I tried multiple pumping bras and this was the only one that was comfortable, durable and an appropriate fit.
This post was brought to you by Medela Canada. However my opinions are honest and true and not influenced by the partnership. At The Exploring Family we believe in honesty and only recommending products that we personally use and love! This post contains affiliates.