Are you looking for the picture perfect gift this holiday season? Or do you want to be the curator of your own home art gallery filled with precious memories of family photos? Do you take way too many photos of your pets and kids and do nothing with them? There are lots of different ways that you can display your photography talent, and family memories you just need to find the right inspiration to get your home decor project started. With photos you can create photo books, wall art, framed photos, blankets, cushions, phone cases, mugs and many more options. I thought I would give you a Best Canvas Review – and how I enjoyed the process!
Now I have taken 1000 of photos of Thumper and Little Squeaker and want to show them off in our home. I decided to use Best Canvas for my home decor project, as they produce high quality canvas customized wall decor and photo gifts, such as canvas prints. My husband and I decided to decorate our home with custom canvas art of our family including our daughter Thumper, our son Squeaker and our dog Nala – we originally used Best Canvas in 2018 but now that we are a family of 4 we are ready for a Photo Wall Update.
Now we have lived in our new home for 2 years and while we have Canvas Prints up from 2018 it feels like its time for an update to add that personal touch and feeling of "home" so we decided that we wanted to create a NEW home decor display of family photos  in our living room using canvas printing. We are guilty of spending a fair amount of money on wedding and newborn photos and so far doing nothing with them other than storing them on the computer. I decided that now was a great time to upload the images and order some amazing wall art.
BestCanvas.ca makes it super easy to turn a picture to canvas and create beautiful canvas wall art display and poster prints. Canvas photo prints are a great option as you can use them with or without a frame in any location in your home. You can create custom canvas in either portrait or landscape canvas prints using their easy online website for custom canvas prints. The website allows you turn any photo into easy canvas prints that will create a beautiful display.
Why you should Order from Best Canvas for Canvas Prints Canada:
Affordable:

USE OUR READER CODE EXPLORING25OFF using the BUY NOW button

– 

Using this code they will get an additional 25% OFF (when spending C$50) on top of the already discounted BestCanvas.ca product range (except face masks and MIXPIX®photo tiles) – in total saving more than 90%.
Durable: We have had our current Canvas Prints since 2018 and they still look brand new – there is no wear and tear or fading. We are excited to update the photos to include our now bigger family as we are now a family of 4.
Excellent Quality: You can not beat the quality: the images turn out bright, colourful, clear and pleasing to the eye all at a super reasonable price – it makes it easier to continue to order new canvas prints as our kids grow up and change in appearance.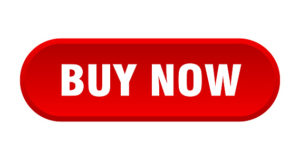 The Ordering Process for Canvas Prints
If you are Ready to order you can go straight to Best Canvas by clicking here. If you want to learn more about the ordering and shipping process as well as a review of the product – keep on reading!
Step #1: Choose your Canvas Type
BestCanvas.ca has 3 categories of products in their online shop: wall decoration, home and lifestyle, and photo gifts. Best Canvas made it simple as I just clicked on wall decoration and was brought directly to the right page to order canvas prints. Now for canvas prints, you have a choice of 5 different types of frames:

Photo on Canvas – Create the best canvas prints you can get using photo reproduction. Photo on Canvas uses high quality canvas that is stretched over a spruce wood frame.
Frame Photo with Passe-Partout – An upgraded option that prints your print on museum quality cardstock and uses a frame with polished acrylic glass to create museum quality wall art.
Photo on Acrylic – These prints use sharp visuals and depth effects and has a glossy sheen that protects the image from light and water. Each photo is laminated onto acrylic class and appears very modern and sleek. The almost invisible hanging system creates the effect that the canvas print is floating on your wall.
Photo on Metal – Metal prints are printed onto aluminium sheets with black plastic core and are super durable.
Photo on Forex – A lightweight budget friendly option that prints images onto photo paper with a protective film to prevent fading and scratches.
Now for our picture perfect family gallery project we choose Photo on Canvas as we already have some other Canvas wall art in our home so we figured this would be the best option to keep our images looking similar to existing wall art. Now that we choose Canvas for our photos we started the Creation Process. 
The Video gives a better idea of exactly what your Canvas Print will look like using a 1.5 inch frame.
Step #2: Choose the Individual Edge Design
For Canvas Print you have the following 5 choices for the edge: folded edge, mirrored edge, stretched edge or white edge. We choose to go with Stretched Edge which distorts the pixels at the edge of your photo and stretches them lengthwise which I feel is the most subtle option not to draw attention from the actual image.
Step #3: Choose the Format:
Best Canvas offers a large variety of sizes from as small as 8″ by 8″ to as large as 40″ by 40″, for our project we choose a variety of different sizes depending on location. For each location we choose to use the same size for all images in that space, such as in the hallway we selected 3 images that were all square and 12″ by 12″ in size.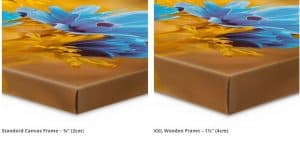 Step #4: Choose Frame Thickness and Frame Type
For Canvas art you can choose standard at .75″ or XXL at 1.5″, or you can choose to upgrade your image and select a premium or decor frame for a additional cost. We choose to stick with the simple XXL wood frame just to keep the project affordable as we were printing so many images as we ended up ordering 11 images for our home.
Step #5: Choose Effect
You can choose either none or Black and White if you would like to change the look of your images. I choose to leave my images in their original form as I personally prefer color images over black and white photography.
Overall I found the ordering process to be very simple and easy to follow and it allowed me enough options to customize my project to exactly to my specifications. I found the pricing to be very affordable especially when completing a larger project such as ours. You can also add text to any of your images if you choose which I thought was a very neat feature, especially if you wanted to add dates of special moments onto the photos.
Step #6: The Shipping Process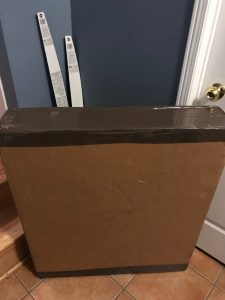 Now the whole process was super quick as it took just 1 week from ordering for my package of Canvas prints to arrive at my front door. If you spend over $150 shipping is free! Now with an item that is delicate such as our photo prints I worried about them being shipped in the mail however was relieved as they arrived in a large box that was double layered.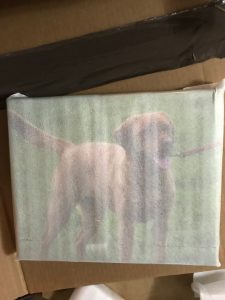 In addition each photo was individually wrapped in a foam layer to ensure they were not scratched or damaged in the shipping process. Overall I was super impressed with the speed, efficiency and quality of the entire process from start to finish. When I opened up the wrapping to see the images I was super impressed with the quality of material, the brightness of colours and the overall appearance. I will definitely be ordering from BestCanvas.ca again once I need to update our family photos.
Examples of our Wall Art Home Decor Project using Best Canvas Canada
Just a glimpse into how we decided to display our amazing new photos! You can order some of your very own at a Discounted Price for Christmas by Clicking here.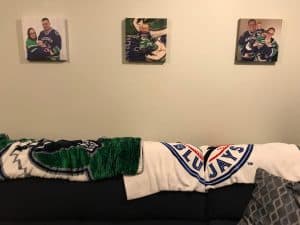 Basement: We choose to include images with a Sports theme that match the overall design of our "man cave" basement, newly turned kid friendly play area. We love the Canucks in our household so we selected images of all of us sporting Blue and Green Canucks Fan Wear. I really liked that we had a newborn photo and then recently took an image when we went to the Canucks game in Buffalo back in November, as it is cool to see how much our daughter has changed in a matter of 9 months.
Hallway: For our hallway we choose to keep it simple and select a photo of myself and my husband, one of our daughter, and one of our beloved dog Nala. This wall will act as a gallery of our family and can be added to if we have any more children or pets down the road.
Thumper's Room: Now Thumper has one of the best gummy smiles I have seen, however as mom I think I am a little biased. We choose a newborn photo and a more current photo so that we could be reminded of her first year of life, and all the milestones we have achieved as a family.
We also decided to order a few extra photo canvas prints for some family members as gifts for Christmas and for our family cottage decor update.
Don't forget to get your own Family Photo Wall Art Project started using BestCanvas.ca!
Disclosure: This post was brought to you by BestCanvas.ca. The opinions and recommendations remain my own. Originally Posted in Dec 2018, Updated in Nov 2021.