The Planning a birthday party doesn't have to be overly complicated. Especially when you have some fun games with Nerf guns lined up for your next Nerf Wars Party. One of the most important aspects of a birthday party is the games that you have lined up. Entertainment is huge when it comes to planning the best birthday party ever and you are going to want to be sure to choose the best games. If you and your children are huge Nerf fans like we are, these games are sure to keep you entertained and having fun. Check out these Nerf Party Ideas:
Fun Nerf Games with Nerf Guns for A Nerf Wars Party
The These games are all perfect for your Nerf-themed party. There are several different Nerf Birthday Party Games to choose from. You can pick a few of the ones that seem most interesting to you, or you can do them all. The sky is really the limit. Especially since the goal is to ensure that everyone attending your little one's birthday party is entertained and having fun. Everyone loves a good party game, no matter their age.
Nerf Gun Birthday Party Games
Nerf Target Practice
Spinning Targets
Hanging Targets
Moving Targets
Punch Cups
The Full details for how to make your own Nerf Games is below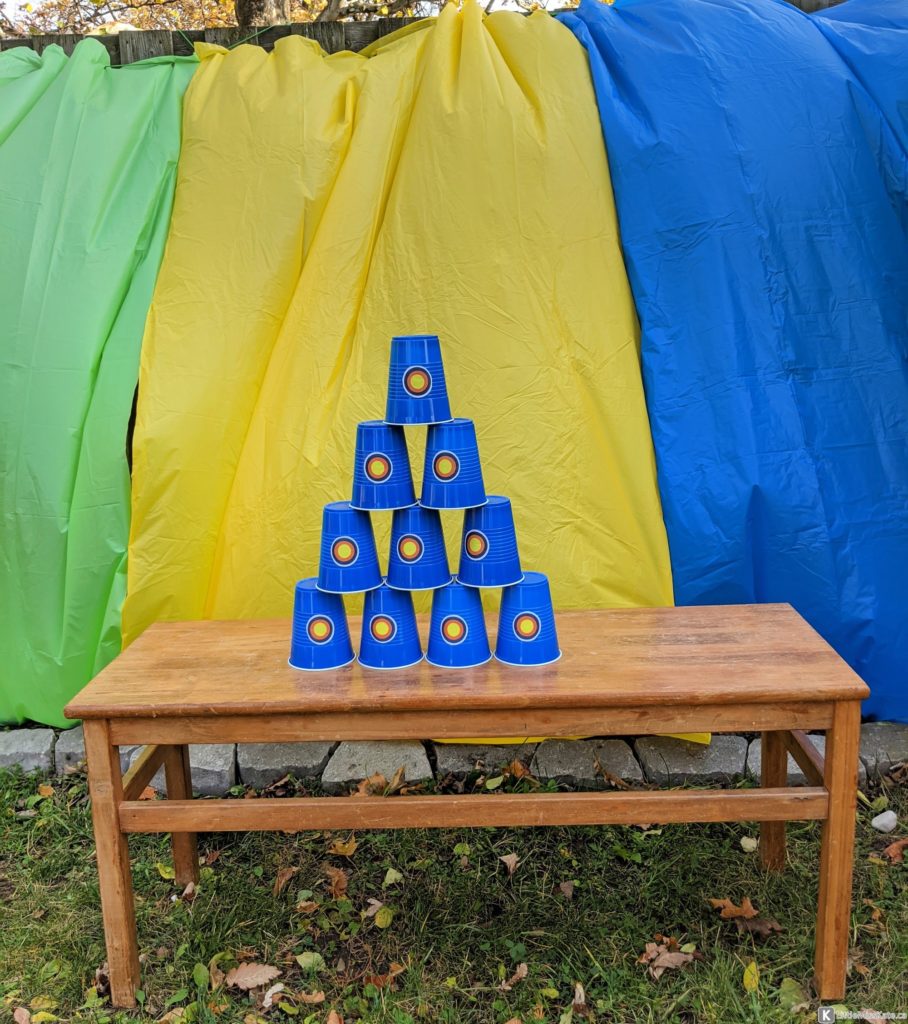 1 – Nerf Target Practice
What you need:
Blue Solo Cups
Scissors
Glue
Table
Nerf Guns & Ammo

The This game is super simple to set up and easy to complete. Simply print out some small targets and glue them to your blue solo cups. Then, set your targets up on a table in any fashion you like and have the kids take turns trying to knock them over.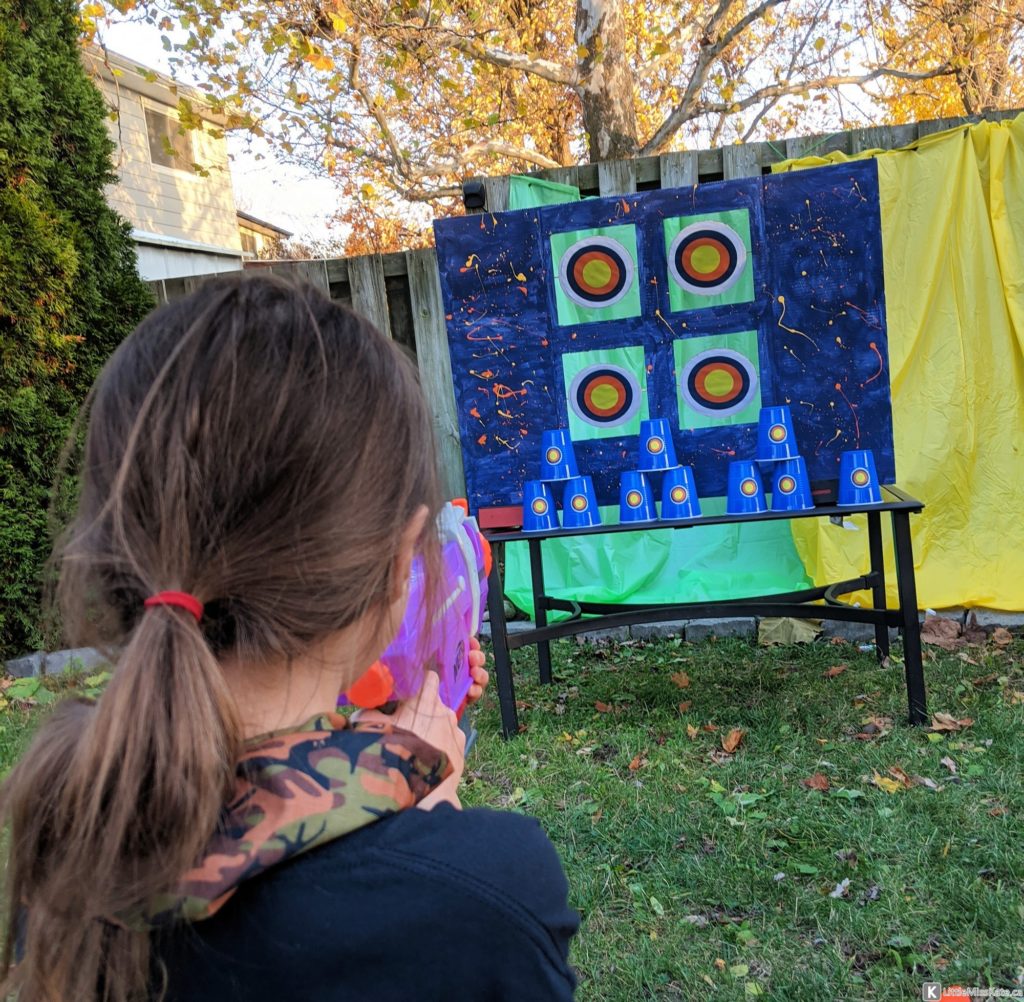 2 – Spinning Targets
What you need:
Tri-Fold Display Poster Board – I got mine at Dollarama
Paint
Scissors
Glue
Cardboard
Straws
Nickle
Wooden Skewers
The This Nerf Birthday Party game is a little more work to set up, but it is totally worth it. Use tri-fold presentation poster board and paint it to decorate. I pained blue as the background and then splattered on orange and yellow. You will want to make it fun-looking so the design is totally up to you.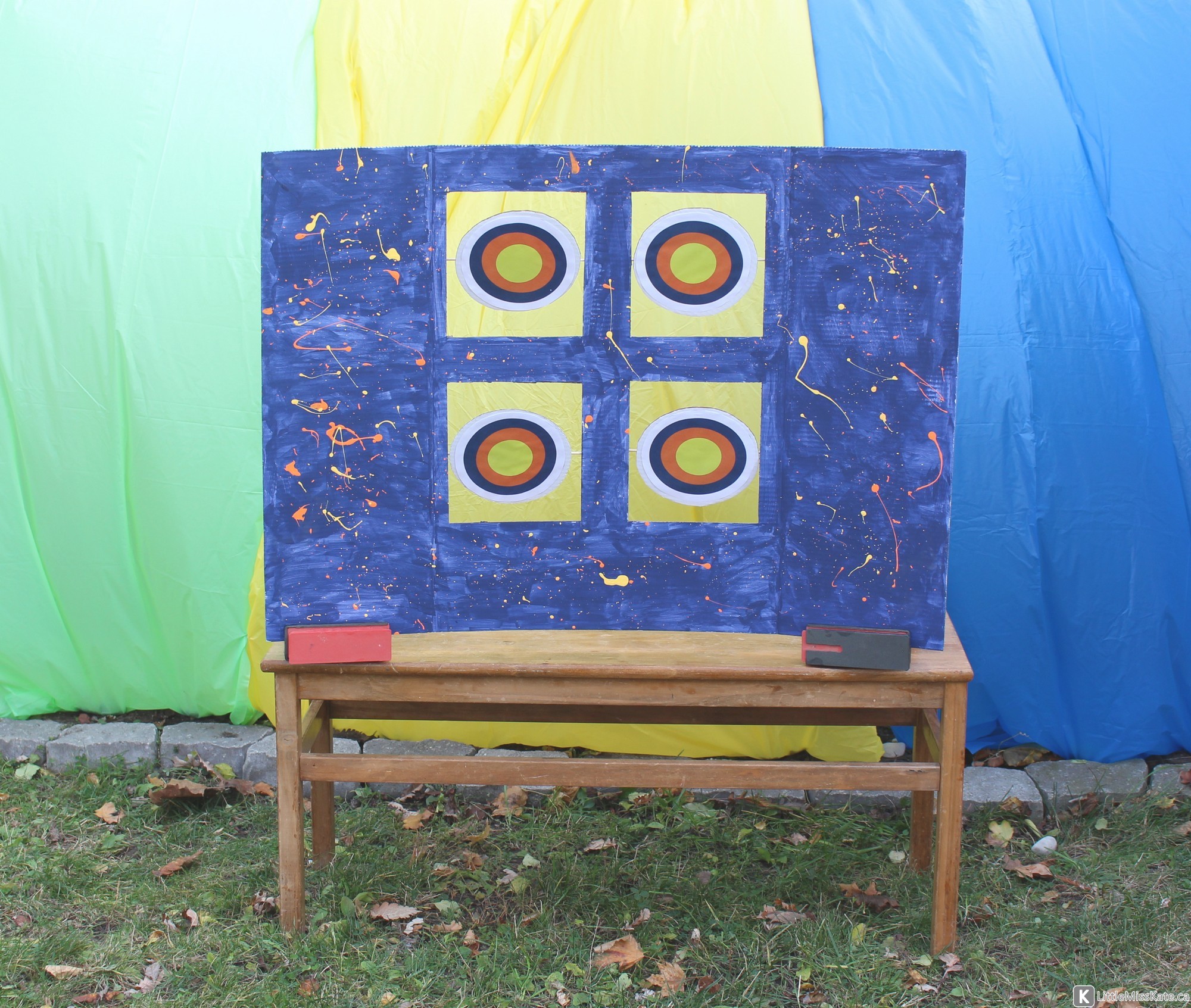 Cut out 4 large squares from the middle panel, print out 4 large target circles and glue them onto the squares you cut out from the middle. Add a straw across the back of the target.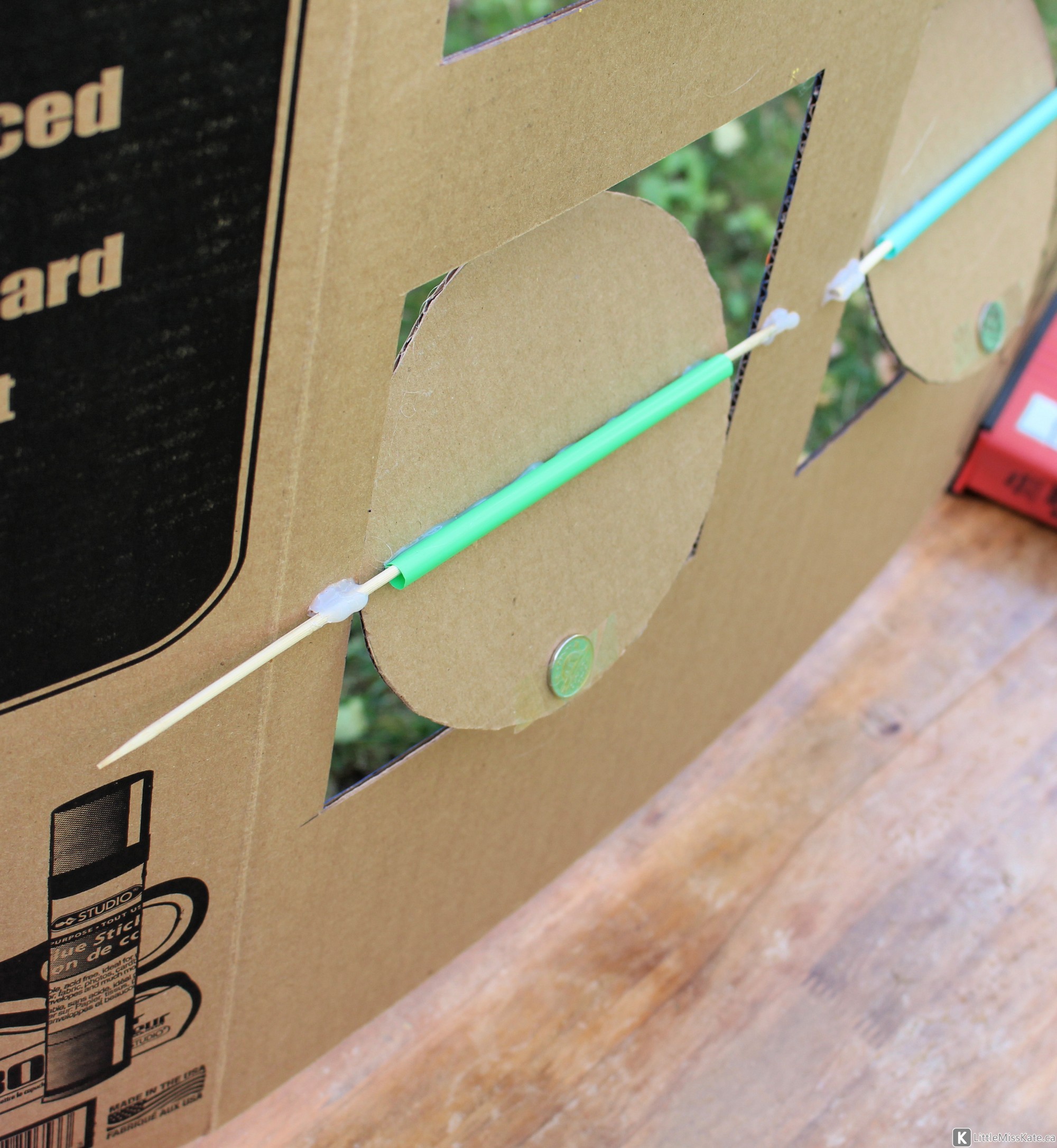 The Tape a Nickle to add a bit of weight by adding it to the middle back of each target. Put your wooden skewer through the straw and glue it to the middle of each cutout square to create the target.
The Ready, aim, FIRE!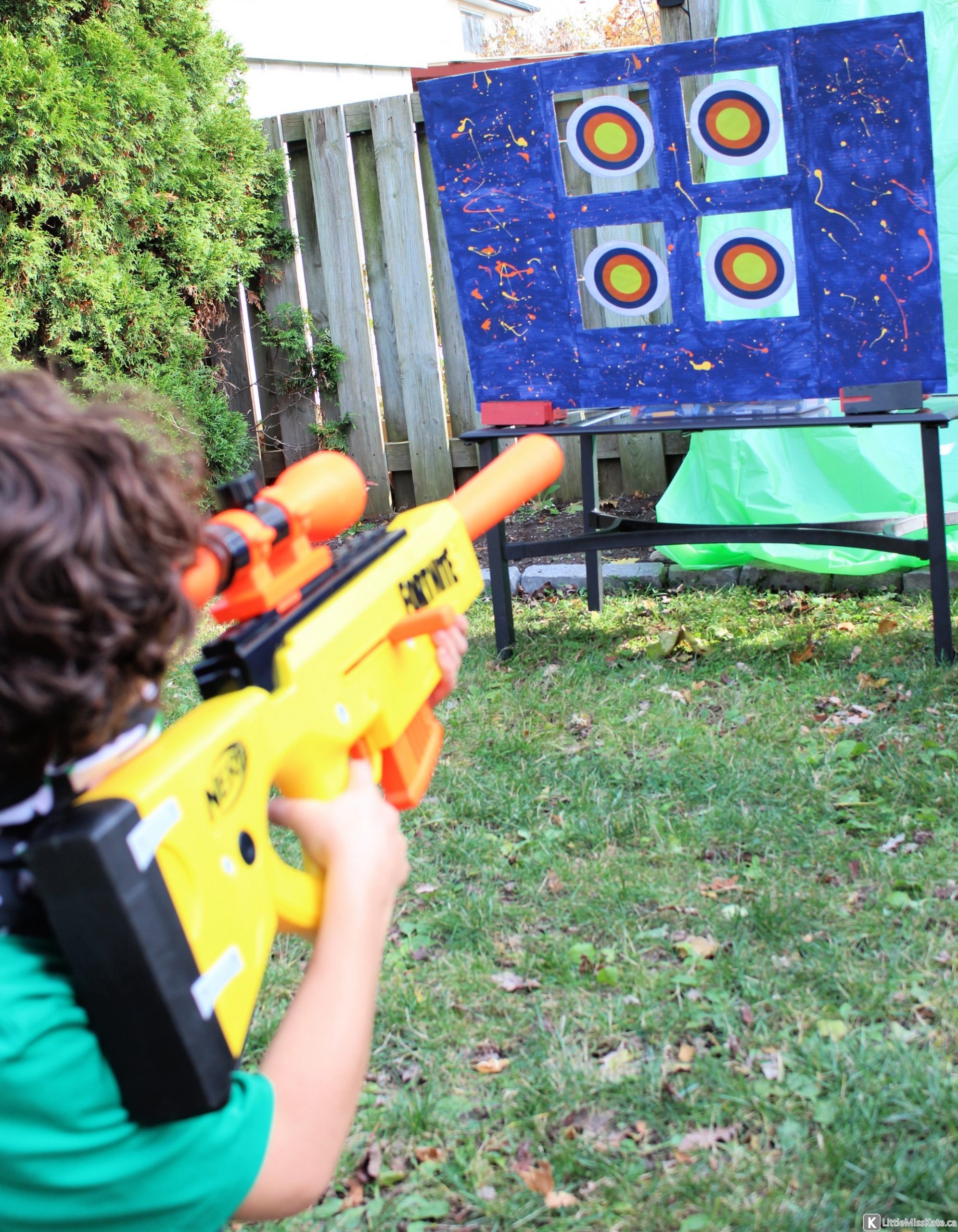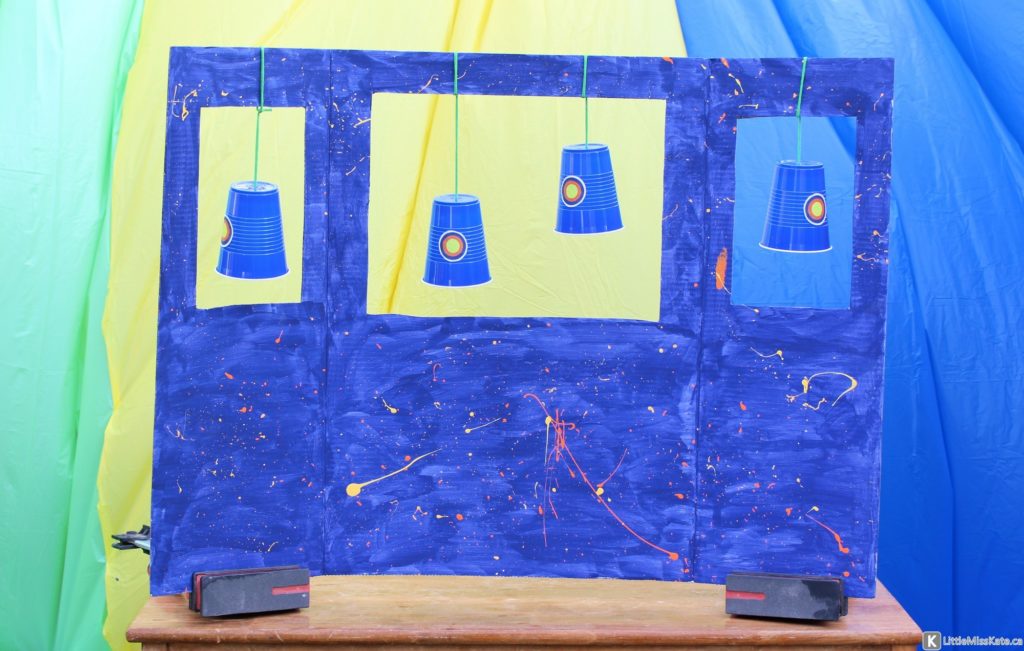 Fun Games with Nerf Guns
3 – Hanging Targets
What you need:
Glue
Scissors
Tri-Fold Poster Board
Paint
String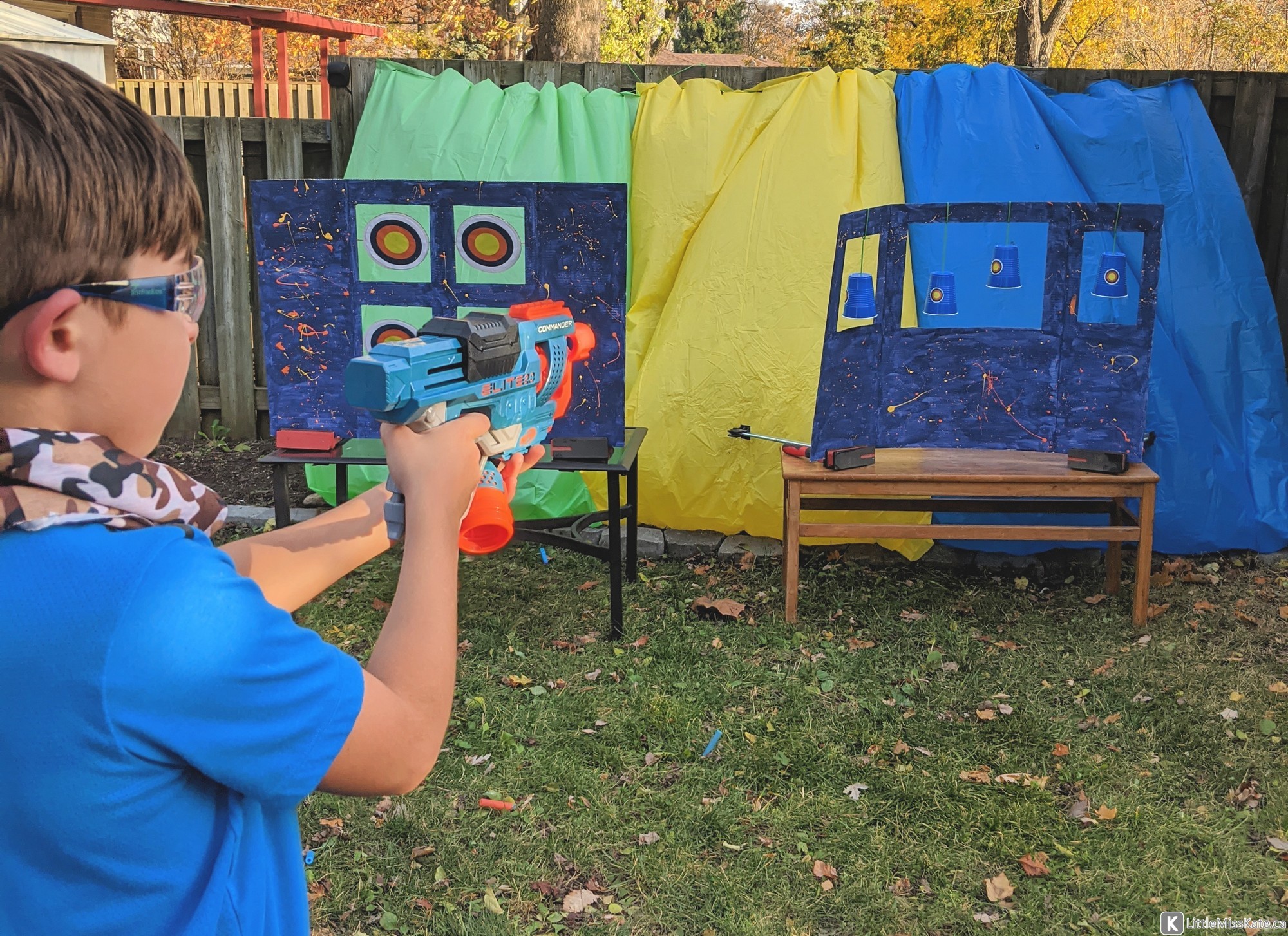 The To create these fun hanging Nerf Targets, you will want to print out the smaller targets and glue them to your blue solo cups. Poke a hole in the top of your cup. Insert a piece of string through the cup and tie a knot. Cut the string to the desired length to leave you enough to tie the cup to your poster board. Using tri-fold poster board (painted and decorated to your liking) cut out holes where the cups will hang. Simply tie your cups into the holes are you are ready to go with this fun Nerf Ward Birthday Party Game!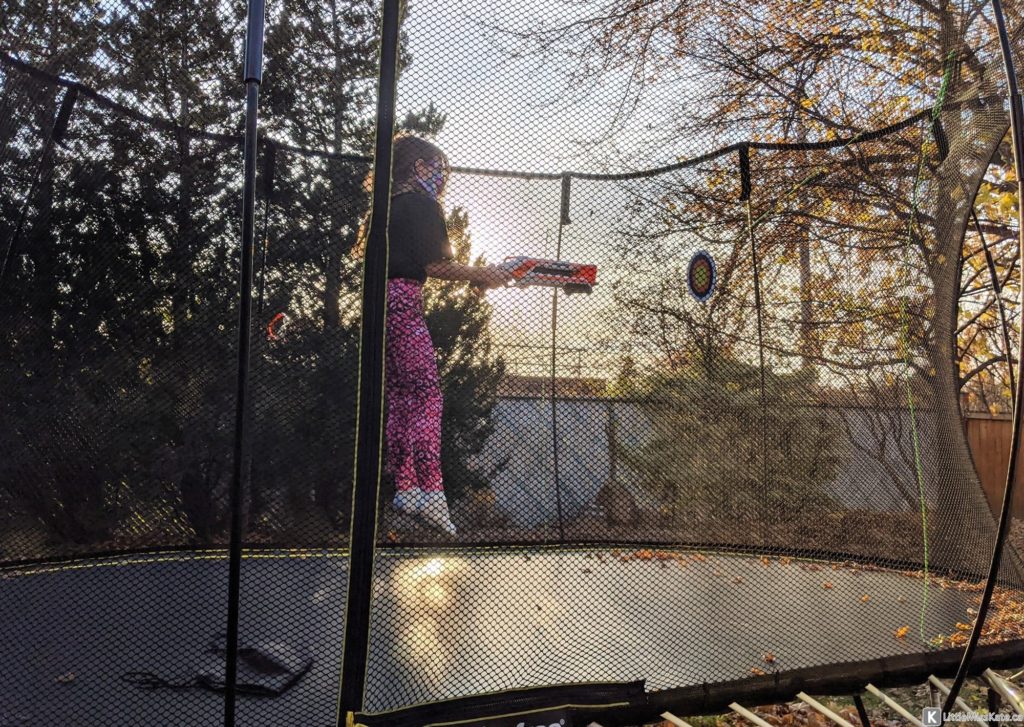 4 – Moving Targets
What you need:
The This Nerf Birthday Party Game is super simple to throw together. Simply print out a large target and glue it to cardboard. We attached ours to a trampoline for the kids to try to hit while jumping. You could also attach to a tree and swing it.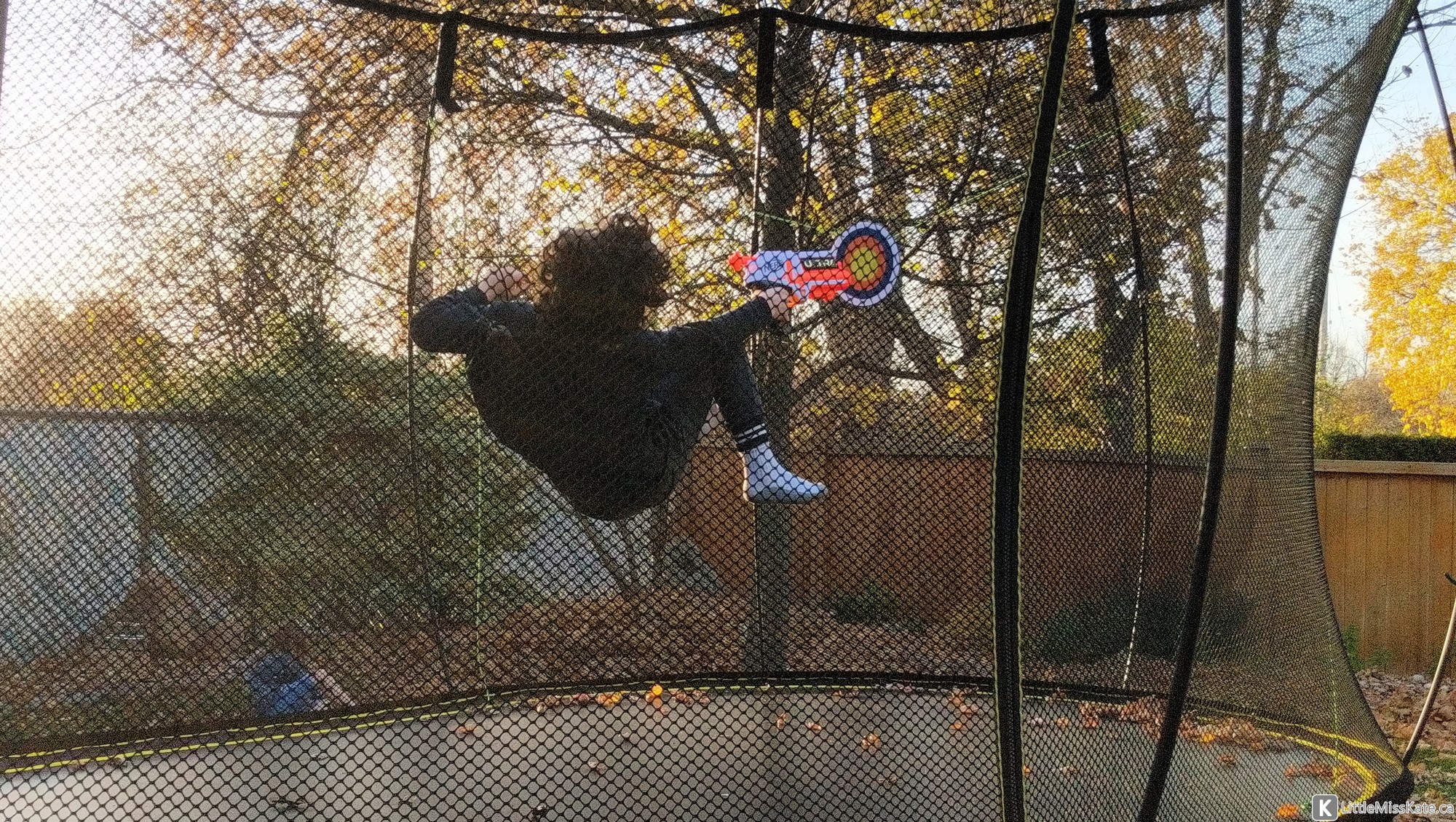 Nerf Party Games and Activities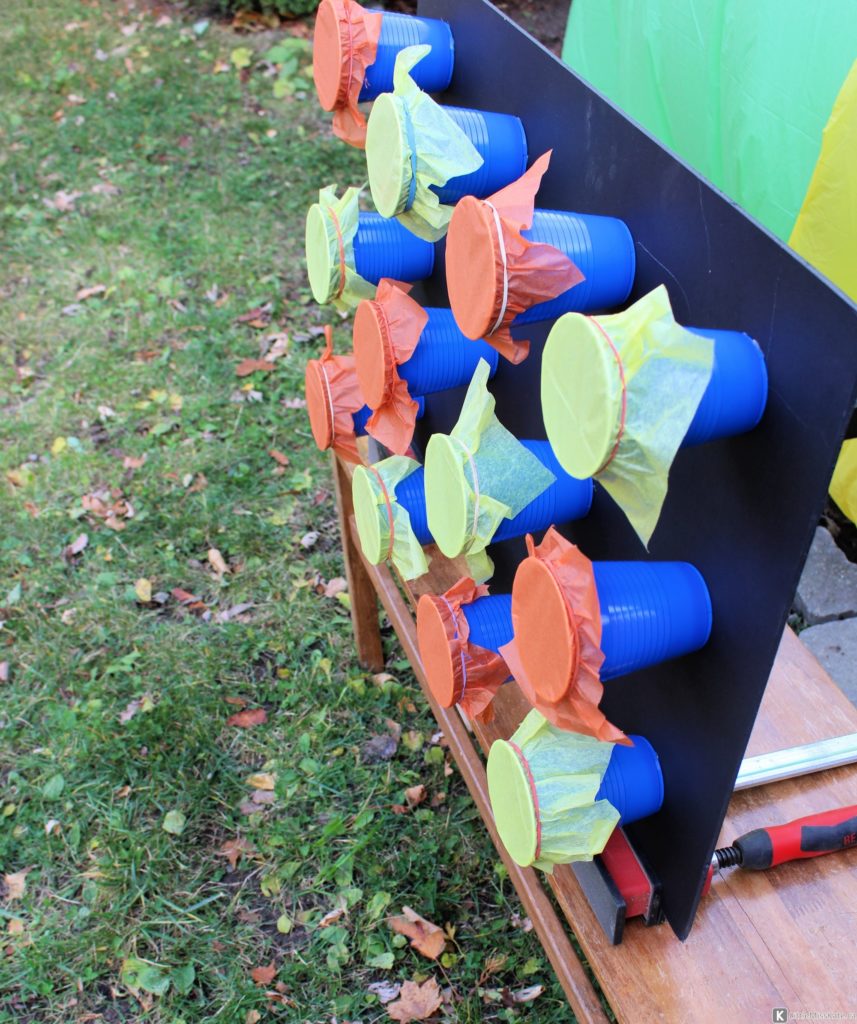 5 – Punch Cups
What you need:
Cardboard
Glue
Scissors
Treats (Halloween Candy works perfectly)
Tissue paper
Elastics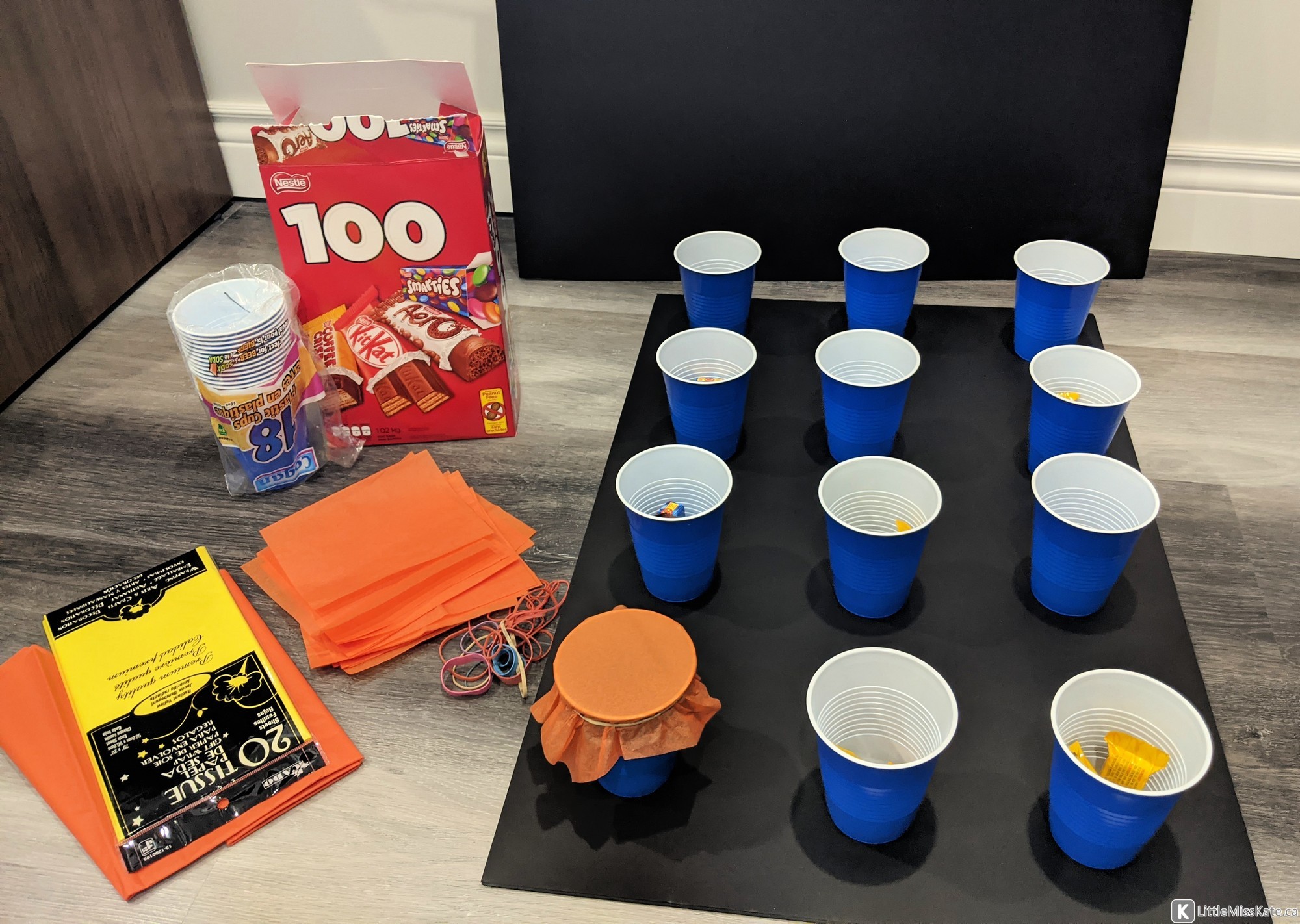 The Punch cups are always a fun Birthday Party Game with a sweet prize. To create this fun game all you have to do is glue your blue solo cups to your cardboard. Fill the cups with a treat or two. Cut squares of tissue paper that are large enough to generously cover the opening of the cup. Put two layers of tissue paper over the top of each up and secure with an elastic. Voila! Punch cups complete.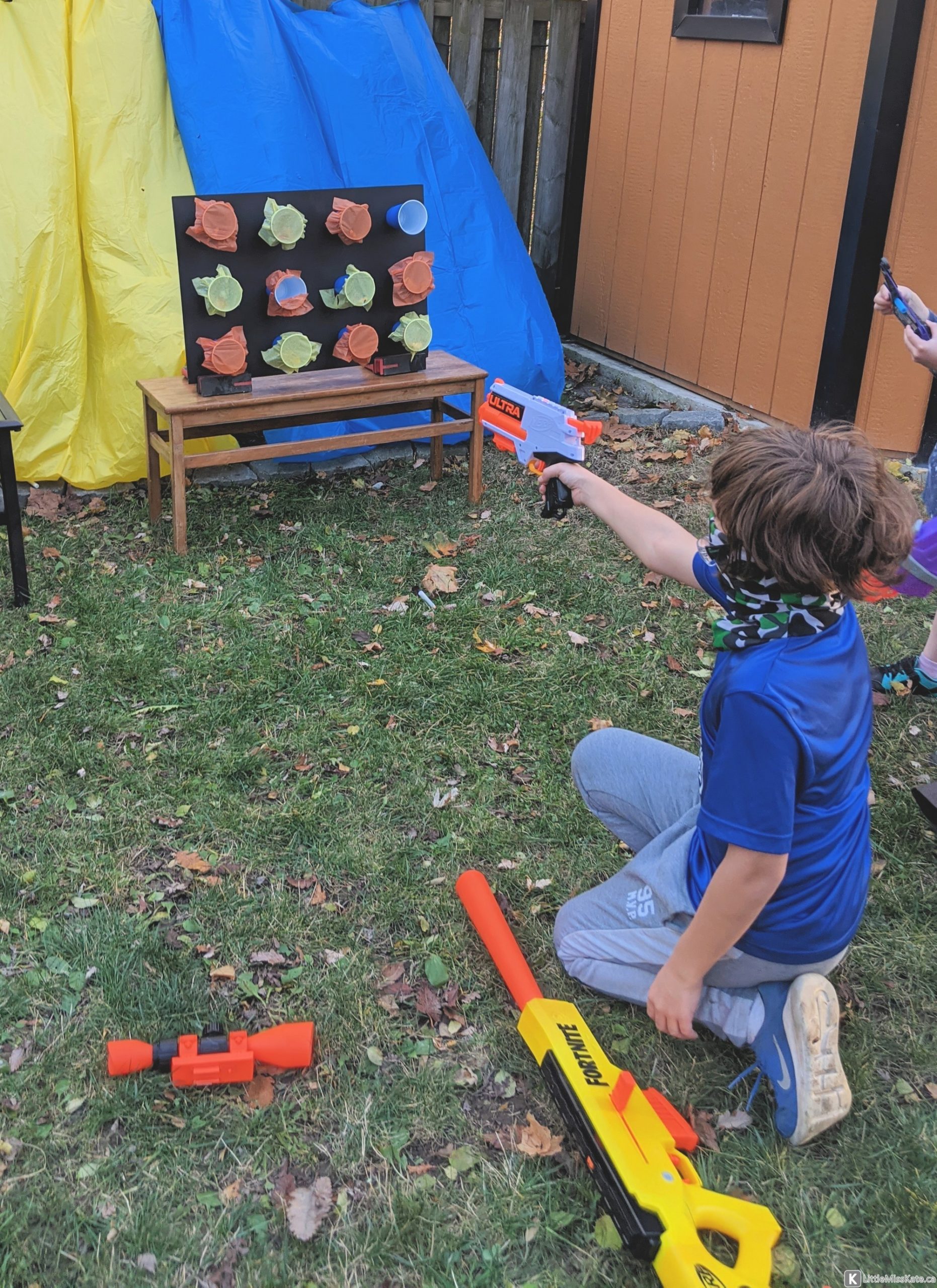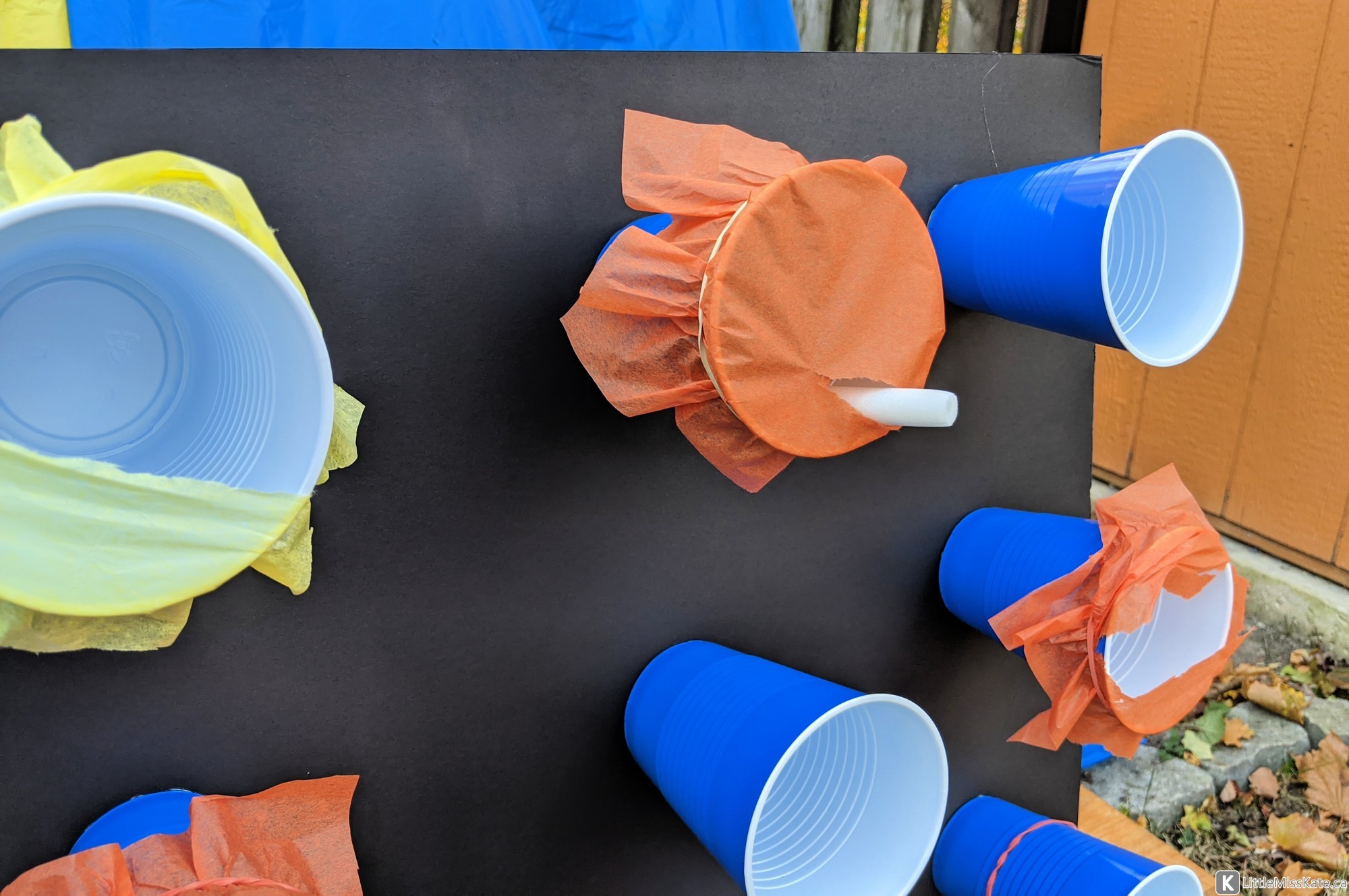 The These Fun Games with Nerf Guns are sure to provide hours of entertainment for everyone attending your celebration. These games are not only fun, but they are also competitive, exciting and great for your kid's hand-eye coordination. Want to complete your Nerf Themed Birthday Party? Make this Easy Nerf Gun Cake to go along with the Nerf Birthday Party Games.
Some More Great Birthday Party Ideas
Looking for some more great Birthday Party Ideas? We have quite a few. Check them out!