Easy fun cakes are a staple around our house for birthdays and this Easy Nerf Gun Cake is no exception. This Kit Kat cake is always a hit and perfect for any Nerf War Birthday Party.
A Nerf Gun Birthday Party was the perfect theme for my 8 year old son's birthday party. Need more Nerf Birthday Party ideas then make sure you check out the free printable Nerf Birthday Party Invitations, and Nerf Wars Party Games and Favours.
How to Make an Easy Nerf Gun Cake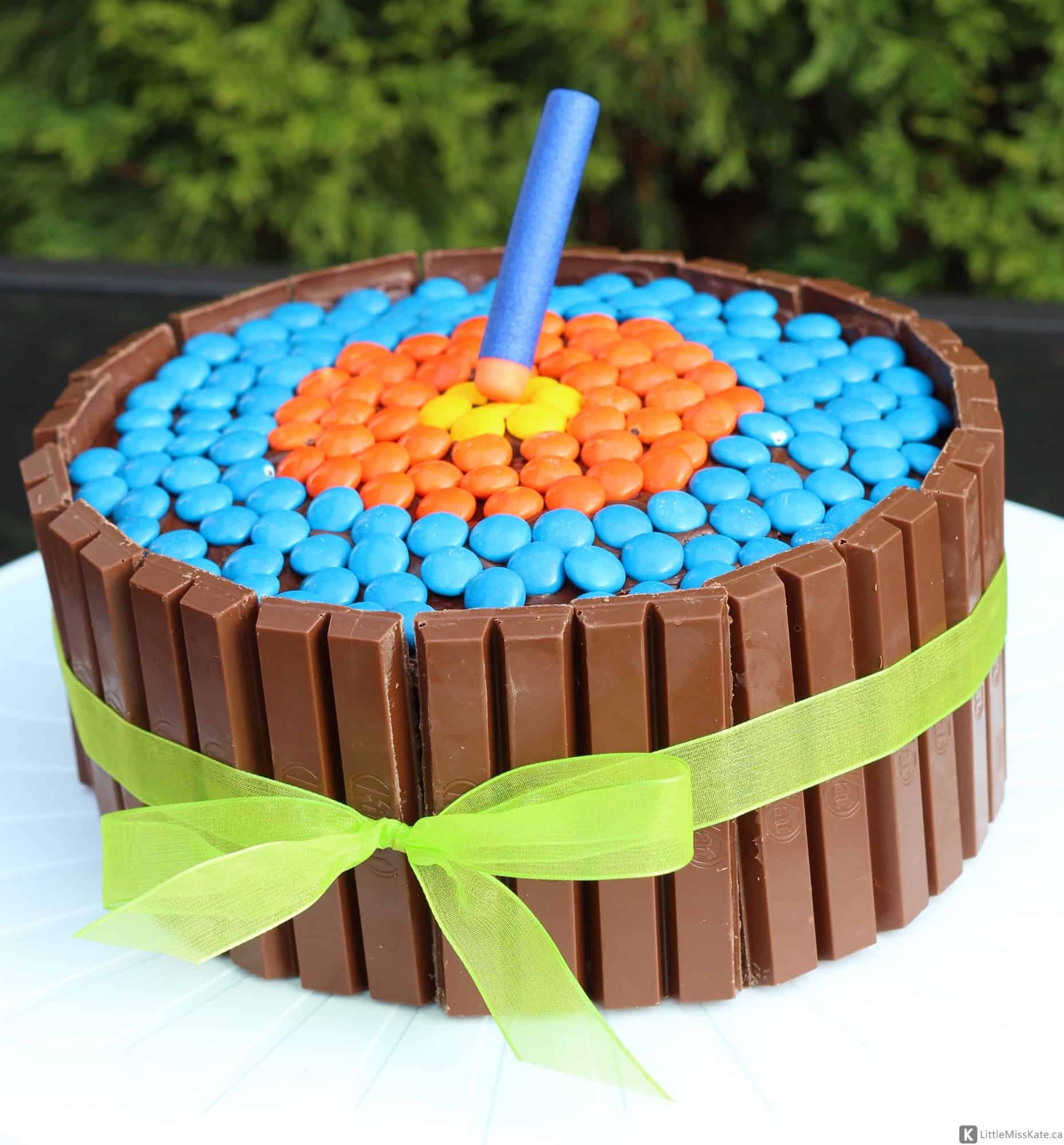 Disclosure: This blog post may contain affiliate links. What does that mean? I get a little commission if you purchase using my link, at no extra cost to you.
This cake mix birthday cake is impressive and feeds a crowd. You read that right, this delicious looking cake is made with box cake mix. If you want to bake 2 – 8 inch round cakes from scratch by all means go for it, but I am a box cake mix kind of mom. And you can make amazing cakes from boxed cake mix, including this adorable Triceratops Dinosaur birthday cake.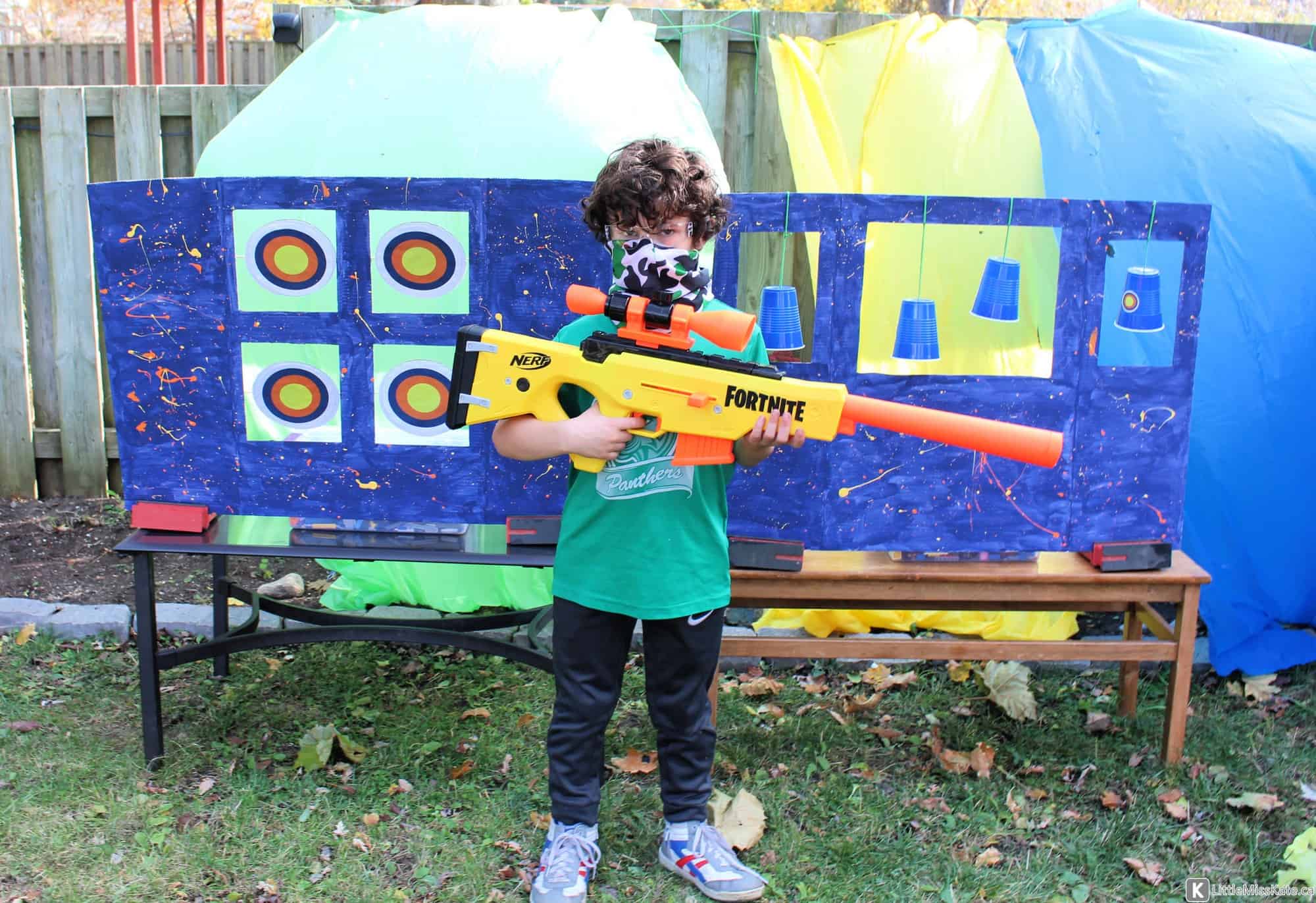 Now that you have your Nerf Cake picked out, if you need some Nerf guns here are some of the ones my kids loved:
Don't forget to pick up any Nerf Birthday Party Supplies that you need Amazon Canada and Amazon.com have a good selection.
What you need for an Easy Nerf Gun Cake:
Box of cake mix baked into 2 – 8 inch round cakes

2 containers of frosting, I used chocolate

12 Kit Kat Bars

400g Bag of M&Ms

Nerf Dart (a clean one!)

Toothpick

Ribbon
How to Make an Easy Nerf Gun Cake
Bake the two 8 inch round cakes according to package instructions. Allow to cool before icing

Place 1 cake on your cake board, I put strips of wax paper around the edges so that I can slide it out once it is iced and keep the cake board clean. Iced the top of the first cake.

Add the second layer on top, and frost the entire cake liberally.

Break the Kit kats in half so each piece has 2 "sticks" of kit kat. Carefully place the kit kats around the cake. Press gently into the icing on the sides of the cake. Tie a ribbon around the kit kats in a bow.

Separate the yellow, orange and blue M&Ms into bowls

Start in the centre and make a small circle using yellow M&Ms

Continue a to decorate the top of the cake with a ring of Orange M&M's

Finish off the top of the cake with blue M&M's

Using a strong toothpick or skewer push into the foam part of the dart and place into the cake

Serve and enjoy by cutting into slices with 2 kit kats per piece.
If you are looking for a Nerf Gun Birthday Cake then look no further. This cake makes at least 20 servings when cut into 2 kit kat sticks per slice. This cake is EASY, there are no special pans or tools required. Watch for sales leading up to your Nerf wars party to pick up the Kit Kats and M&M's .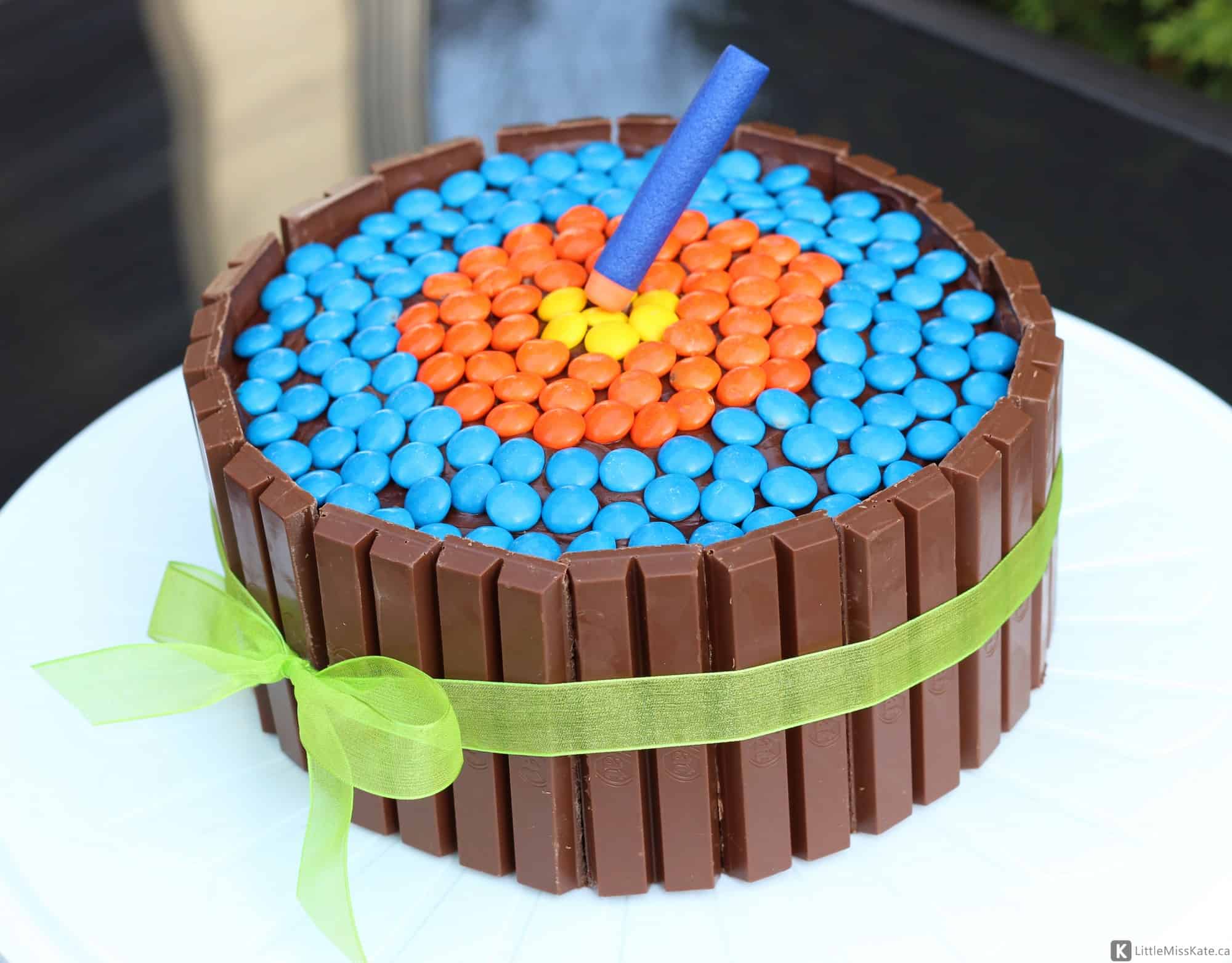 Those left over M&M's make for a great after party snack or can be baked into cookies or other goodies.
And the Nerf Cake Topper can't be any easier then the one on this cake! Make sure you have a clean dart or grab one out from one of your new nerf guns to use before the kids start sending them flying.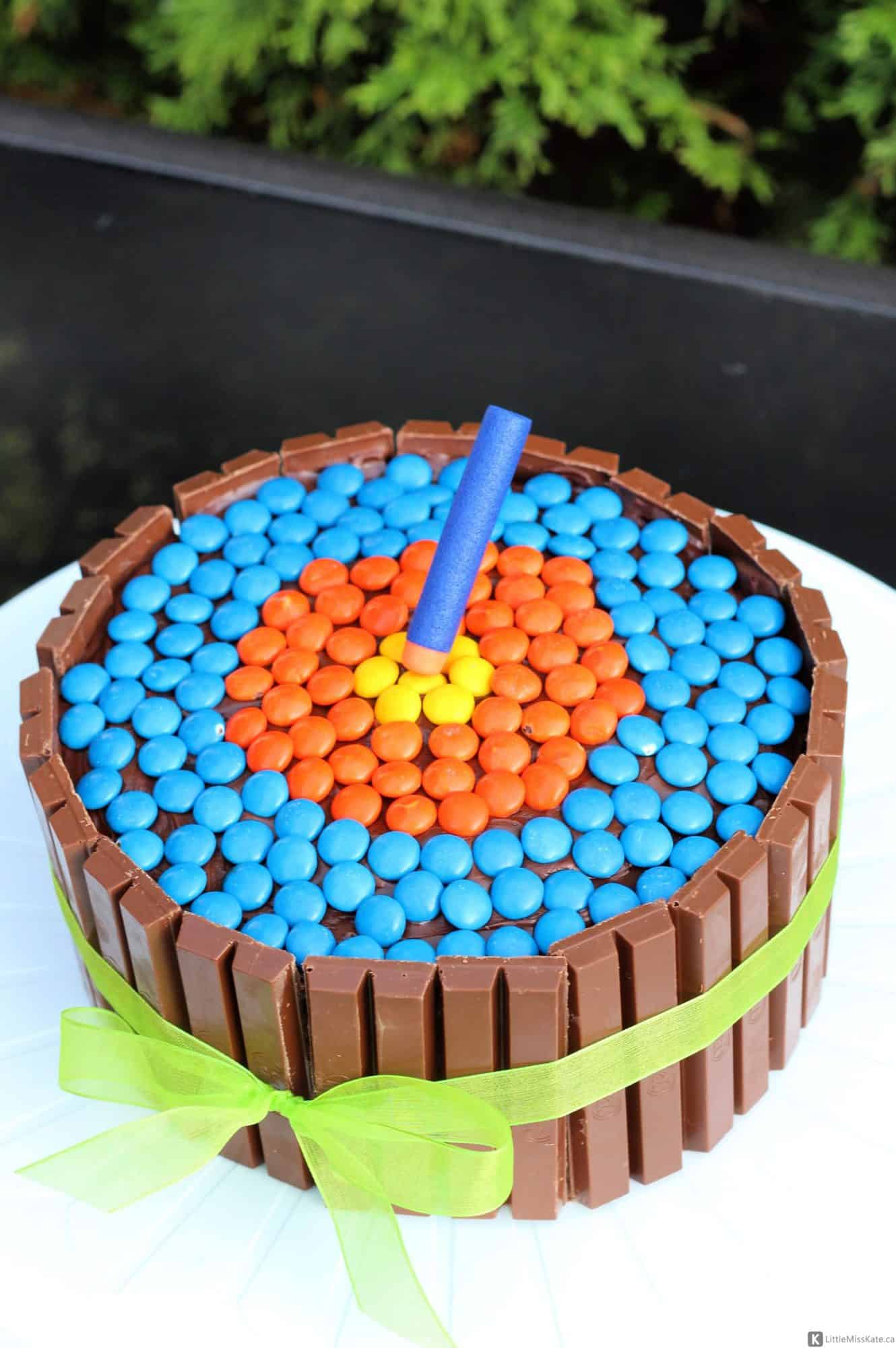 Kit Kat Cakes are versatile and can be be turned into so many different themes including a Canada Day Cake, or Easy Elegant Birthday Cake.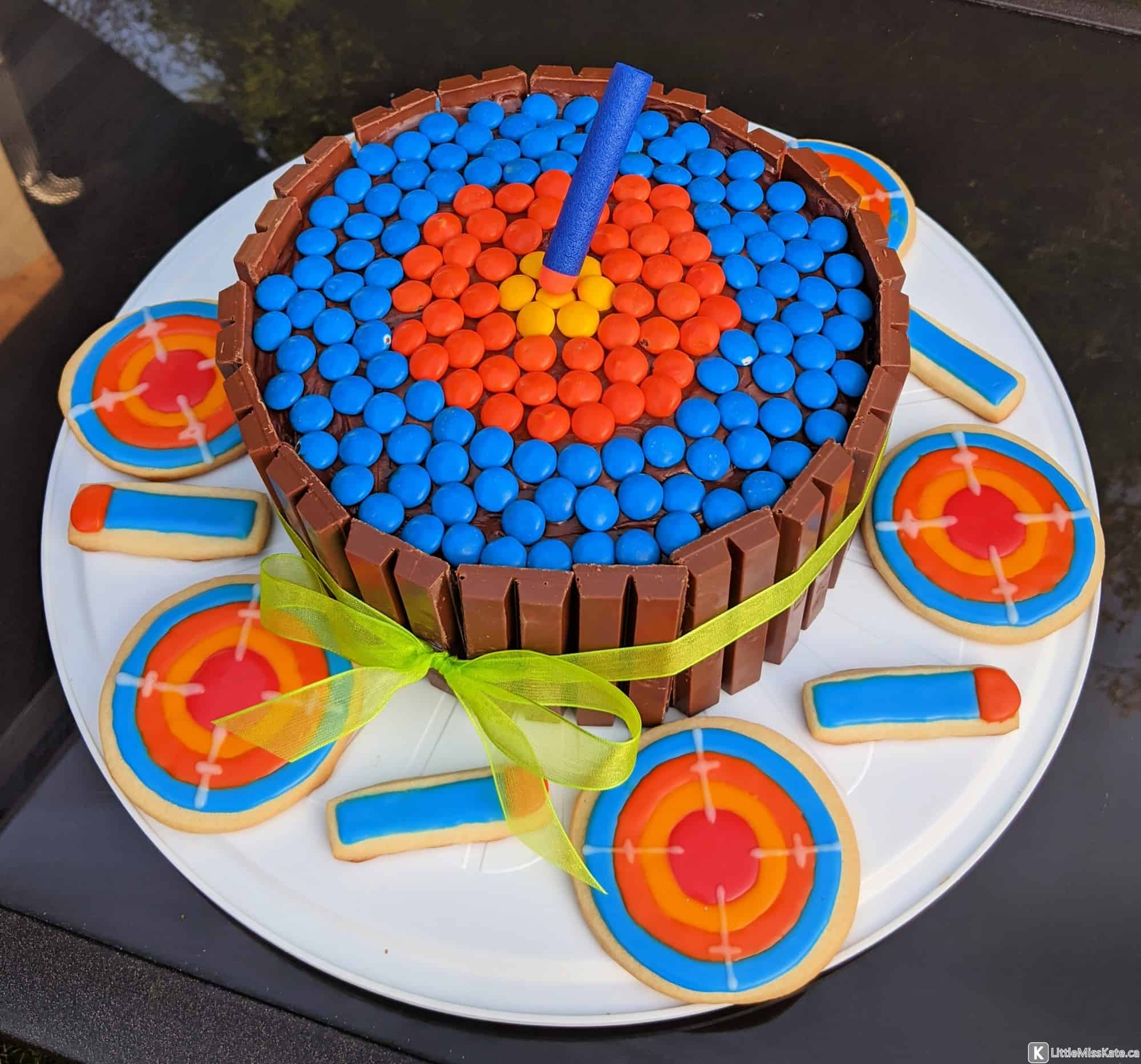 I also ordered some Nerf themed sugar cookies to go with our cake and for the children to take home as a treat.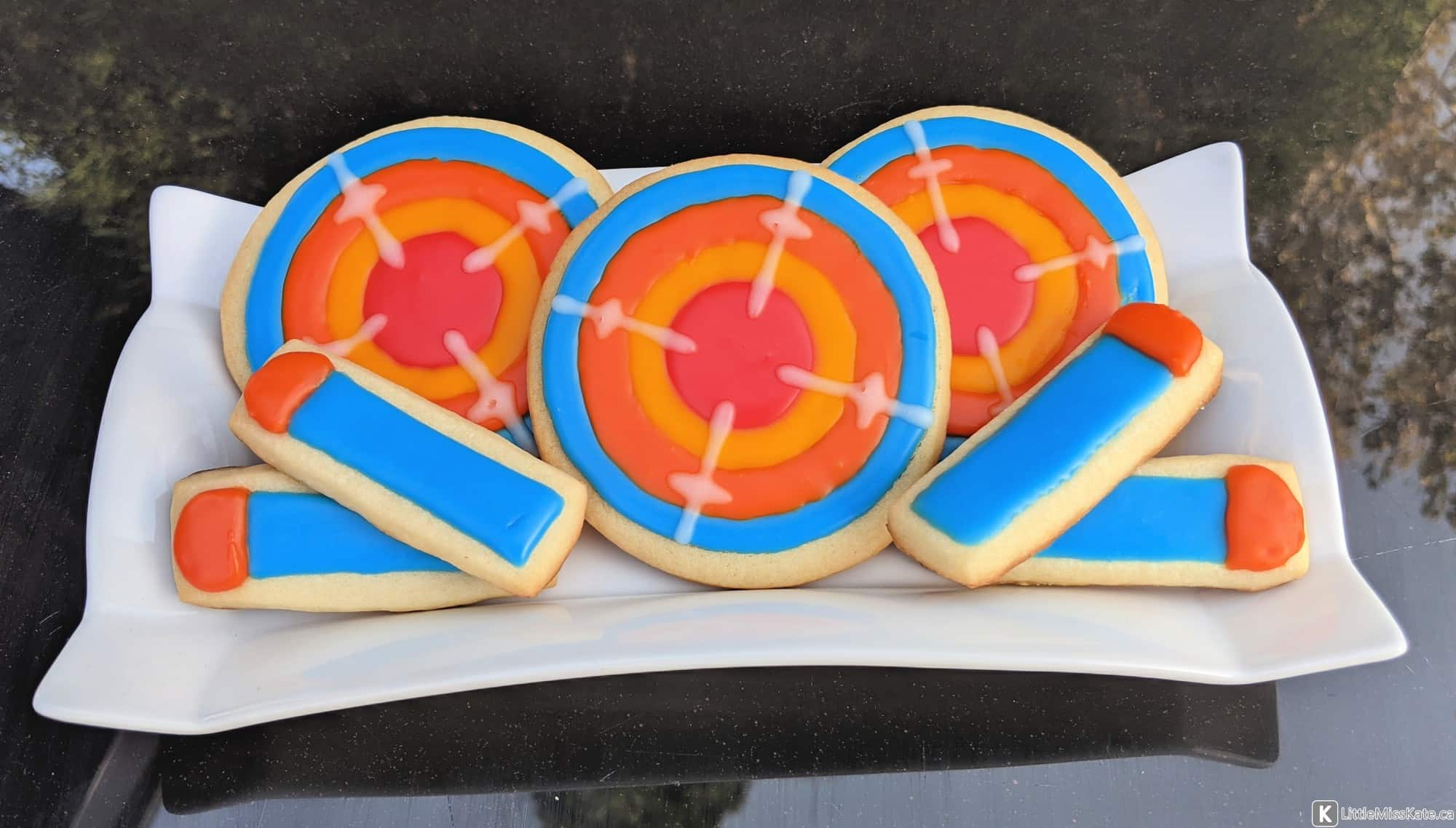 This post was brought to you by Hasbro. All opinions are strictly our own.