A Nerf Wars party is a fantastic way to celebrate a birthday or any other special occasion or milestone. If you have been planning a Nerf Wars Party, there are so many fantastic ideas that you can use to make your party a success. When it comes to planning a party one of the most important aspects is the invitations. We have created some really neat free Nerf Party Printables Invitation to help with your planning. Need fun games for a Nerf wars party? We have those too. Planning on serving a Nerf themed cake? We also have a recipe for that. No need to spend money on invitations these Nerf Wars Party Free Printable Invitations will help keep your party budget down. Let us help you make your Nerf party a real BLAST!
Nerf Gun Party Invitations Printable Free
We have created a FREE Nerf party printable invitation for you to print off and send out to your guests. These Nerf Wars invitation printables are customizable to add your child's name. You can also add in the information for the party, including the time, date, location and a phone number/email for people to RSVP to. These free printables will make it easy to invite everyone to your awesome Nerf party. Simply download the Nerf Wars Party Free Printable Invitation, you can fill in the information on the computer and then print out, or print off the free pdf and fill in your information on the paper and send them out.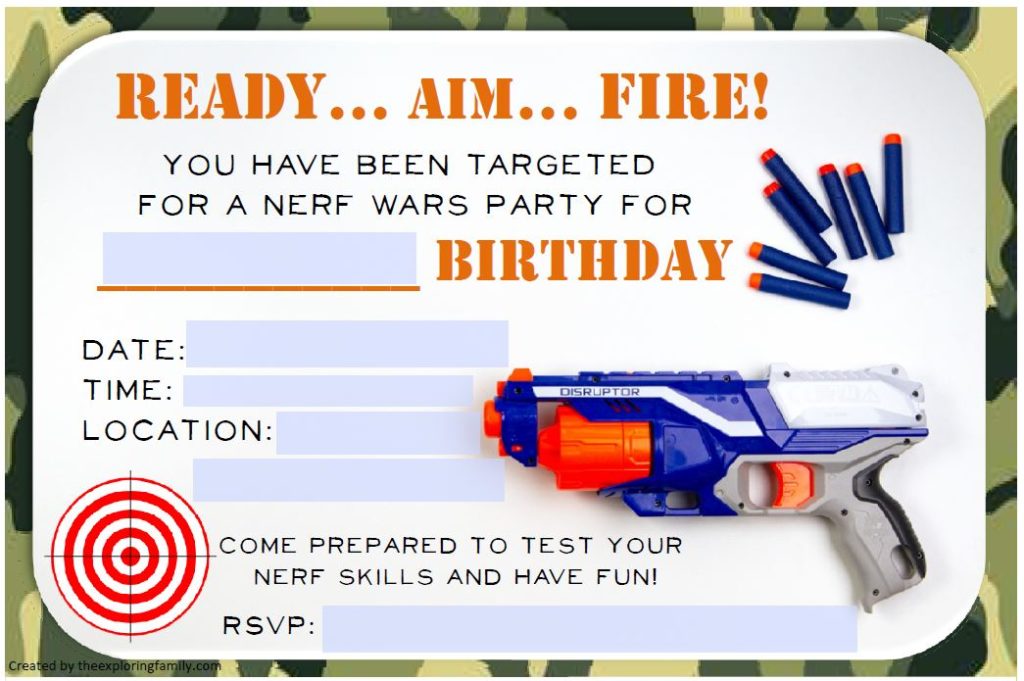 Nerf Party Supplies Canada
If you are looking for great ideas to use as Nerf party supplies, you are in the right place. The best part? These supplies double as Nerf party favours/goodie bags that all the party goers in attendance can keep and take home after the party. The fun doesn't have to stop just because the party is over.
Nerf Sugar Cookies
These adorable Nerf Sugar Cookies are a fantastic addition to your party. You can have these for the guests to enjoy at the party or have them individually packaged for guests to take home. Not only are they fitting for the theme but they absolutely hit the target when it comes to party favours. If you are feeling really adventurous you could try to make them yourself…. or if you are like me you can find a local sugar cookie maker and order from them. These easy Nerf sugar cookie designs use simple shapes of circle and rectangle, so no fancy cookie cutters needed.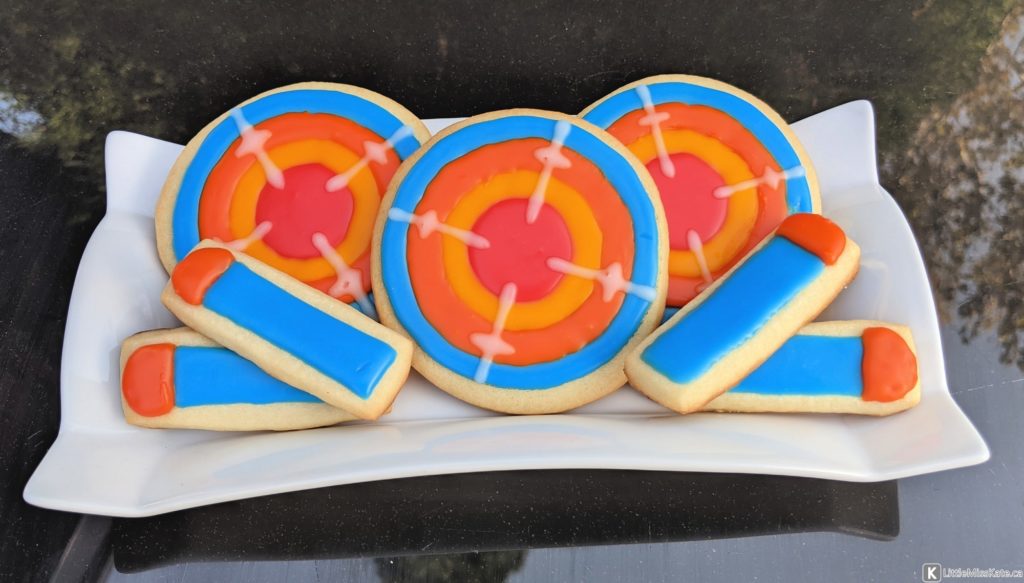 Drawstring Backpack
This cute camo drawstring backpack is perfect for holding each guests' party supplies and favours. They are great for carrying around their supplies during the party and perfect for transporting everything home when the party's over. We of course opted for the camo print to build of the Nerf Wars them. Once the party is over these bags are great for kids to use for carrying books and toys when going on a car trip, or a water bottle and a towel when going to the beach.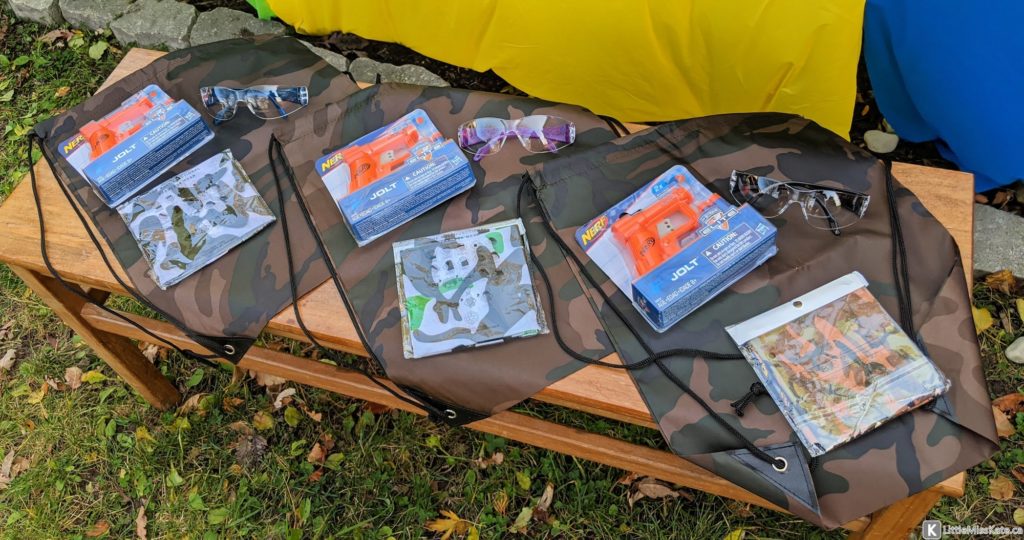 Bandana
Bandanas are perfect for Nerf parties! They can be used as a face covering during the party, and then taken home and worn when they have Nerf Battles. And hey they double as a mask during COVID times.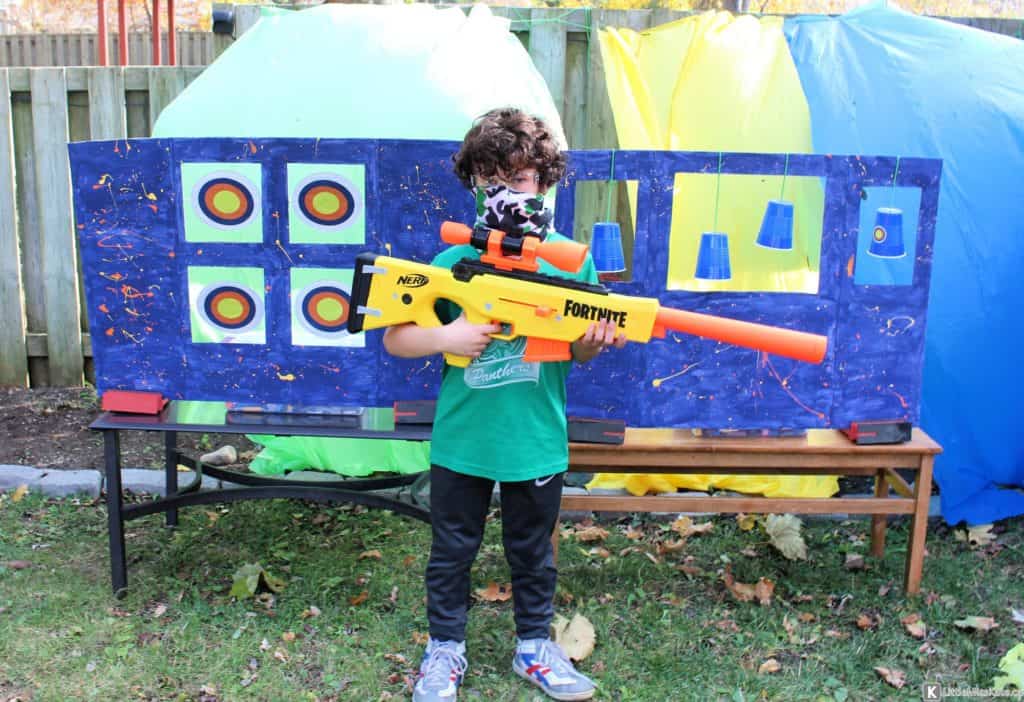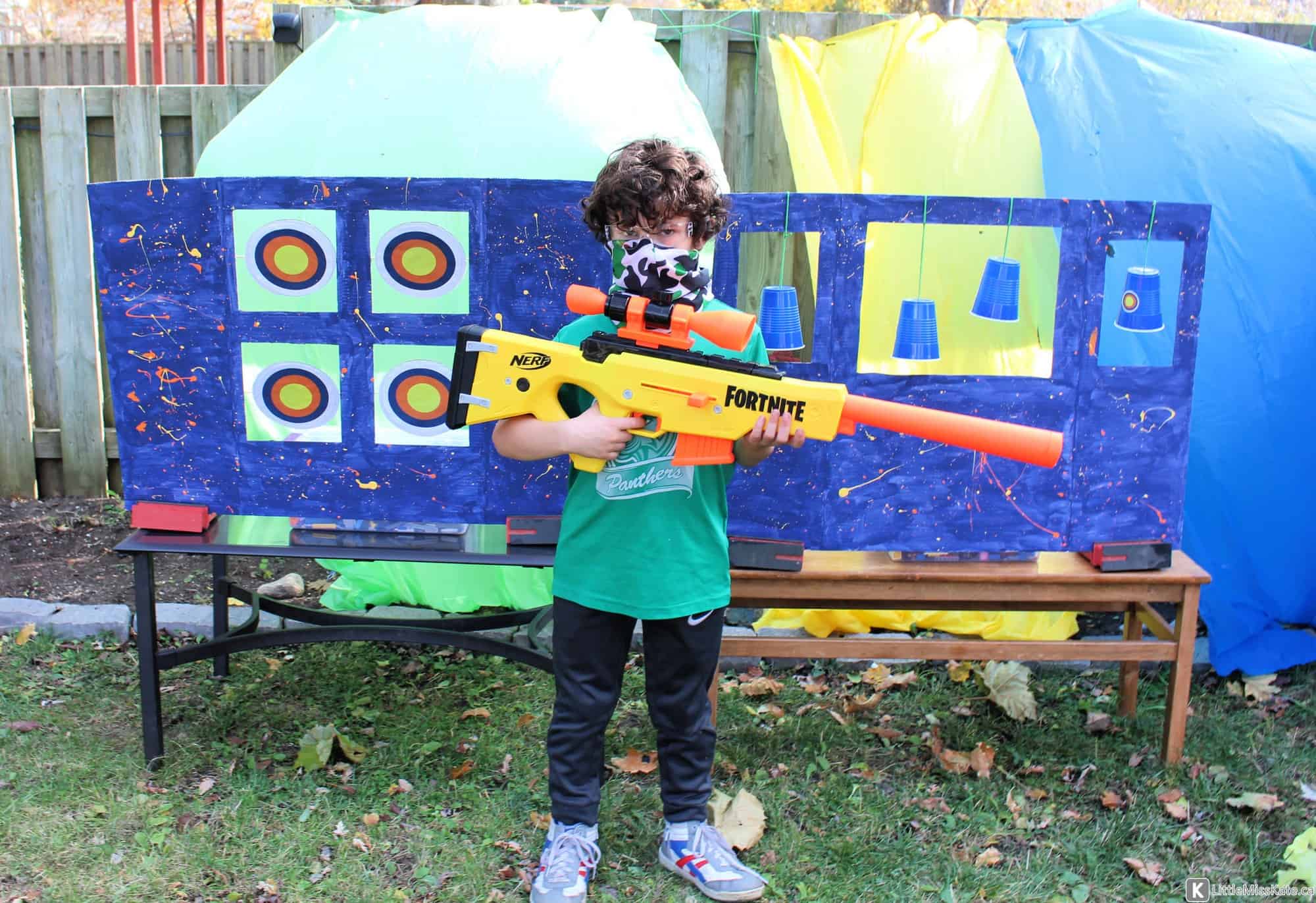 Glasses or Eye Protection
Eye protection is always a good idea when playing with Nerf Blasters. After all, safety always comes first. Including these as party favours is a great way for guests to keep their eyes safe during the party, and after.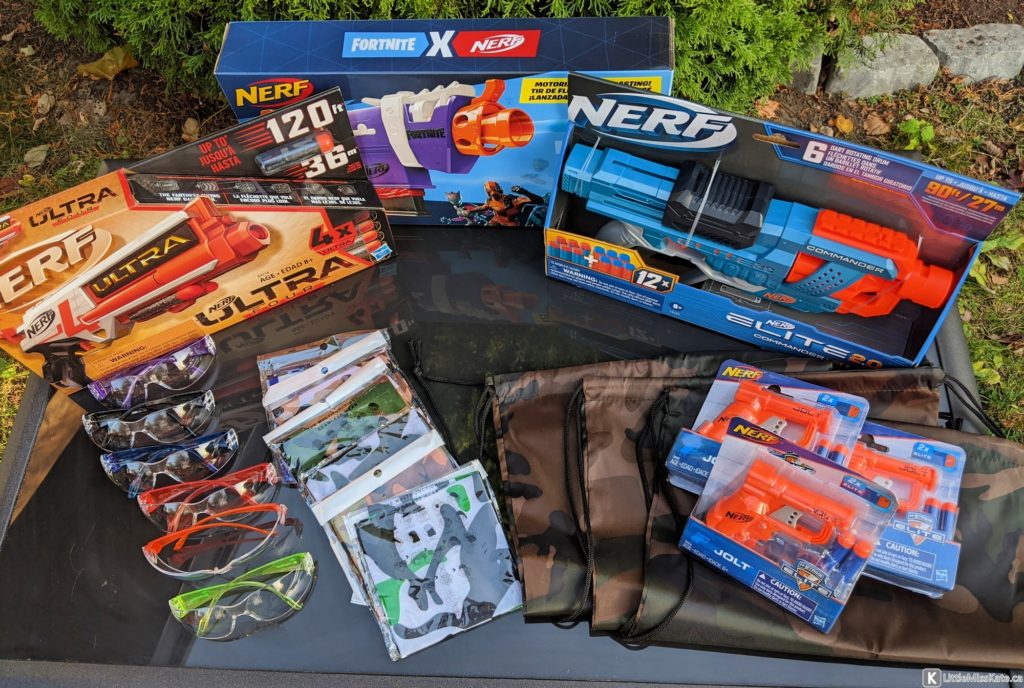 Mini Nerf Blaster
The most important party favour of all is a mini Nerf blaster that guests can take home. The fun can then be continued at home, reminding guests of the fabulous time they had visiting your party. This is the perfect addition to your drawstring bag so that guests have everything they need to have their own mini Nerf fun at home.
If you have been considering throwing a Nerf Party, we have everything you need from printables and games, to cake and party favours. A Nerf party is such a fun way to celebrate any occasion for anyone of any age. Plan a Nerf Party for your next get together and kids of all ages are sure to have a blast. Bullseye.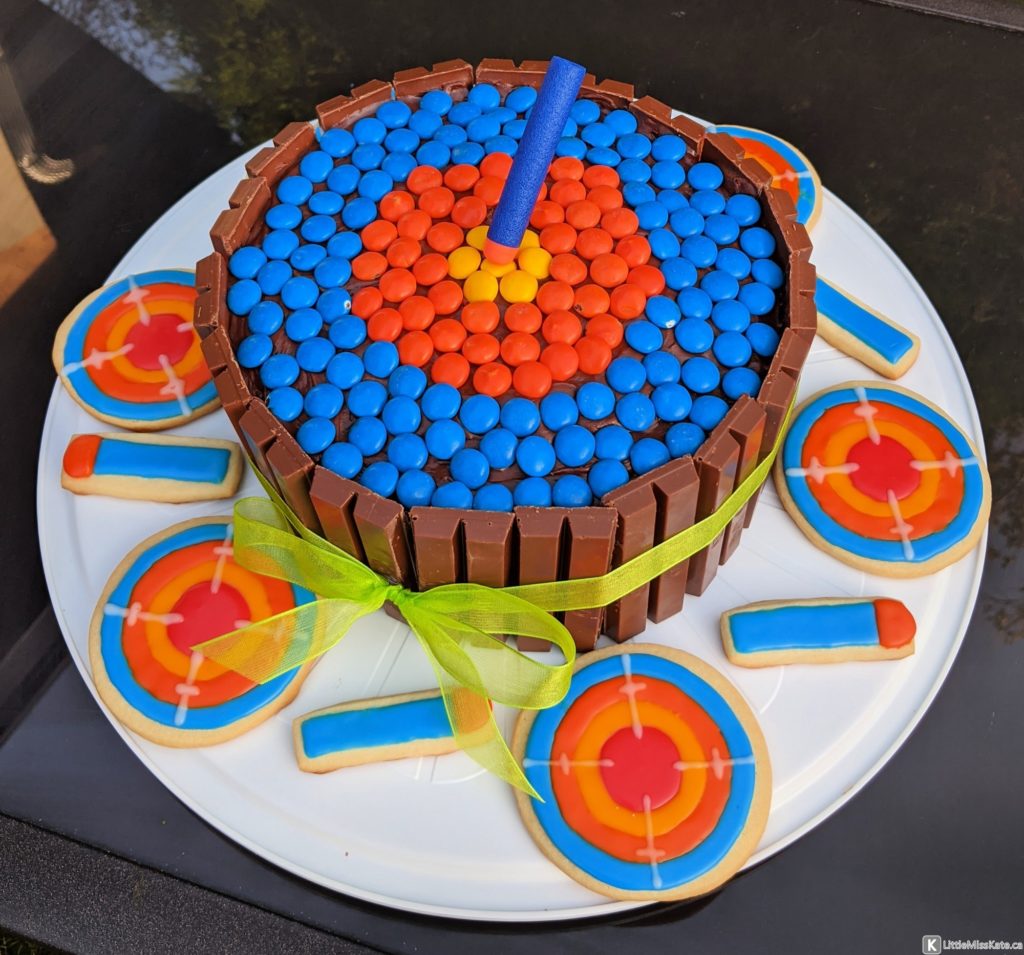 Get planning your party with the Nerf Wars Party Free Printable Invitations. We also have free printables to help you set up your own fun Nerf Wars games for hours of fun