Dinner time is already challenging with a baby who is starting to crawl and an almost 4 year old that wants attention after daycare so having a Healthy Meal planning and doing some Meal Prep for wieght loss ahead of time makes the 5-6PM hour much more manageable in our household. With so many options it is hard to get started so I created a list of meal prep lunch ideas for weight, and meal prep dinner ideas that can help with weight loss and can keep you on track at any time of the year. Enjoy!
What is Meal Prep?
Meal prep simply means to prepare your meals ahead of time at the beginning of the week making life easier! You may choose to meal prep breakfast, lunch, dinner, snacks or all of the above… it's completely up to you. We get so focused on losing weight and finding new recipes that the whole process becomes over complicated and you give up before you even get started… im definetly guilty of this. I have gathered these meal prep recipes for weight loss from our own website, they are all recipes that Kate has made over the years but some are dated so I have decided to bring them back to life by trying them out. I have searched through our website and found healthy recipes, that are tasty and use healthy ingredients.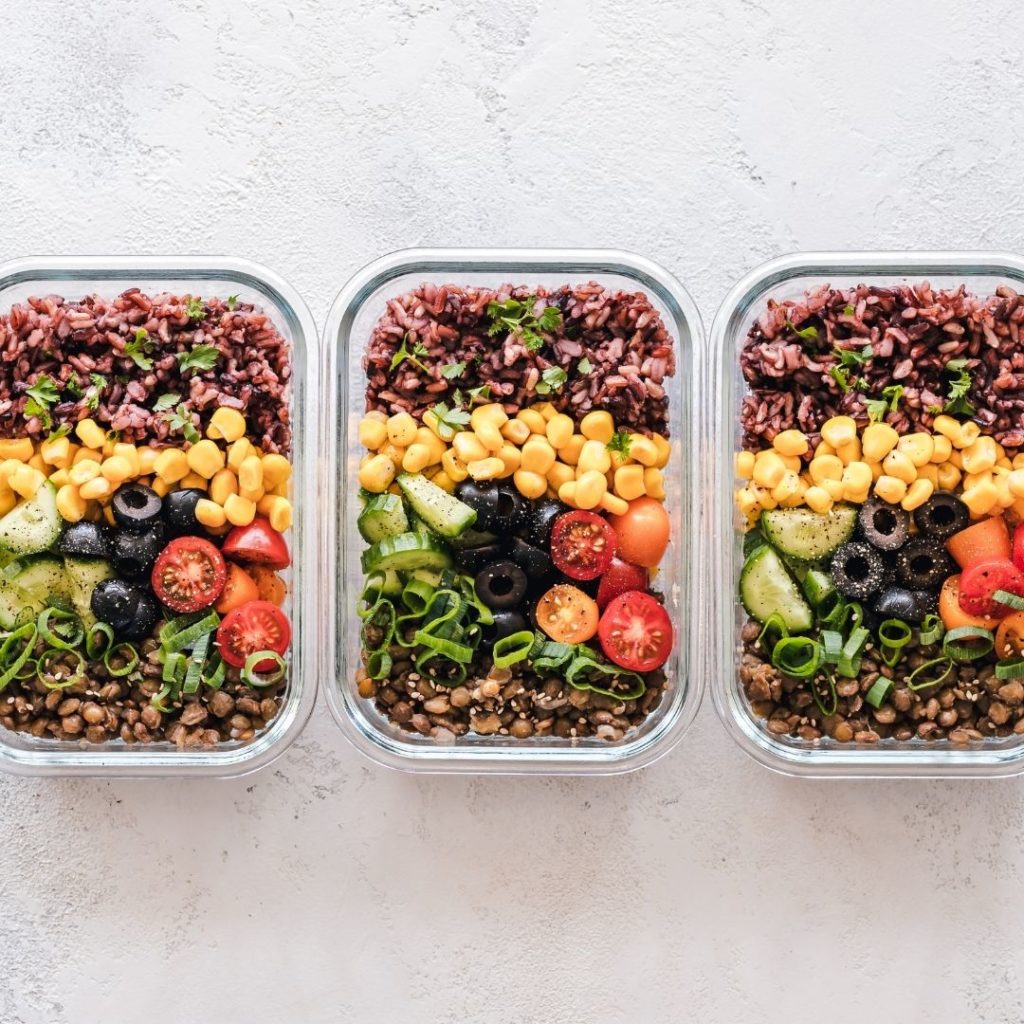 Tips for Meal Prep:
Start out Small: Choose one meal a day to prep ahead of time to start as it makes the process feel much more manageable. Try out a few simply recipes for lunch for example and meal prep all your week day lunches ahead of time.

Pick Your Favourite Meals: Choose meals that you love and make larger portions so that you can eat it for dinner one night and lunch the next. Since meal prep leads to eating the same recipe multiple times in a week – choose recipes that you love!

Choose Durable Containers: My favourite meal prep container is microwaveable, dishwasher and freezer safe – making it simple to use! You don't want to be stuck washing containers daily, so choose a container that comes with multiples that you can throw in the dishwasher.

Find a Good Time to Prepare: Most people have more time on the weekend, so set aside time to meal plan and meal prep to start your week off on the right note. For our family sunday's are normally the day for cleaning, laundry, grocery shopping, meal prep and meal planning, etc.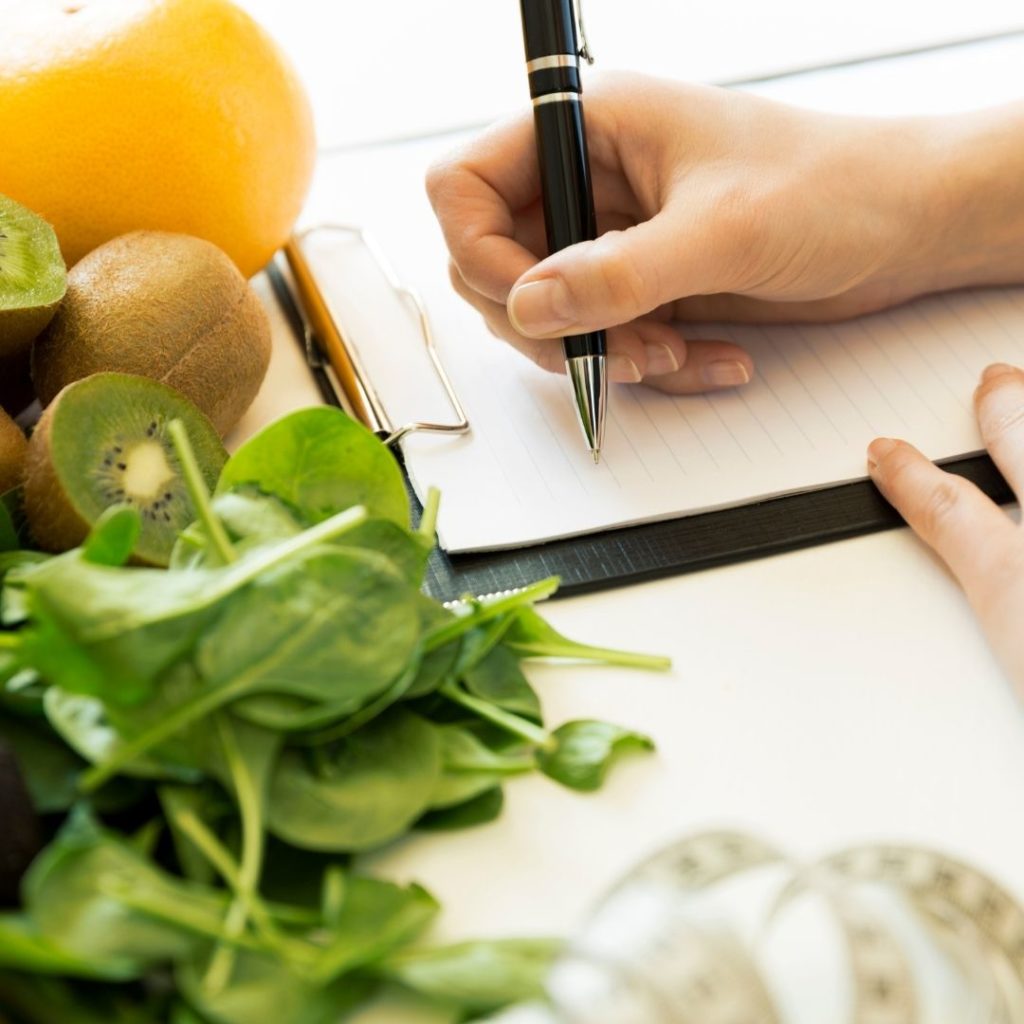 What is Meal Planning?
Well folks, we're at the New Year again and rolling into 2022, it's time to get our meals organized rather than caotic. Meal planning is asking yourself the question, "What's for dinner?" once a week instead of nightly and coming up with a plan, grocery list and maybe even doing some meal prep. Meal Planning simply means sitting down and planning out your meals ahead of time rather than coming home and saying "what are we having for dinner tonight".
Why Meal Plan?
As I create my weekly meal plan, I try to keep in mind that the whole goal of meal planning for me is to save some money especially since grocery prices are set to go up in 2022. As families can expect to pay an extra $966 a year on groceries in 2022 according to the Canada Food Price Report. Meal Planning will also help me save some time, and make the transition from getting home to having dinner as more smooth process as its challenging with two little kids.

Since we've been meal planning, our grocery bill is a hundred or so dollars a month lower than it used to be (shopping more carefully for just what we need), we spend less money on take-out, we create less food waste from perishables purchased but not used, we eat a greater variety of foods, we save loads of time by avoiding last minute stops at the grocery store on the way home from work, and in the end, we actually spend less time thinking about what to cook.

Are you convinced yet? Ready to try it for a week or two? I mean, the whole point is for things to be easier, right? So, have a look at what I do but then modify it to make things simplier for your family.
Tips for Healthy Meal Planning:
Step #1: Plan out Your Meals -> I write out the days of the week and then take a look at my schedule. I automatically assign one day to take-out night – around here that's usually Friday, a reward for a long hard week. I have a sort of repertoire of 'easy', low-prep dinners too. I'll usually pick one (dinner that can be made in the crockpot) and assign that to the night that is the busiest night (when my kids have activities).

In fact, if you can help it, just plan dinners. Make enough food at dinner for everyone to eat leftovers for lunch the next day. Pick one, two, or three basic things to eat for breakfast each week and just stock those items. One of my friends actually eats the same thing for breakfast 5 days a week (Monday to Friday) but changes it up A LOT from week to week. This might not be for you, but the less you have to think about it, the happier your life will be and the speedier you'll get out the door in the morning.

Since we almost always take leftovers for lunch I'm not embarassed to have "lunch" for dinner. What I mean is, if I know that I've got a really busy week ahead, we'll have sandwiches and soup or sandwiches and salad or in the summer, maybe grilled chicken breast and salad. Since we haven't been eating sandwiches all week long they seem like a treat when we have them for dinner.

Ok, so I've gotten a few meals taken care of. I then tend to assign one night a sort of 'leftovers' or 'pantry' night, a dinner that could be made by using up some of the odds and ends that I don't want to spoil. Frittata, quiche, curry, stirfry, pizza, and pasta bake will usually fit the bill. I don't do this every week, I kind of make a judgement about this on Saturday when I'm preparing the menu and see what odds and ends are floating around.

For all the days that are left, I mostly follow the basic meal assembly system of protein, carb, veggies. If you're new to meal planning you might want to write down in three columns all of the carbs, protein, and veggies that your family will eat. I do it just off the top of my head.

My protein list goes something like this: poultry (chicken or turkey), beef (roast, ground, steaks, ribs), pork (chops, ribs, roast, pulled), fish, shrimp, tofu, eggs, legumes or none (sometimes we have vegetarian nights that don't have a protein).
My starch list goes something like this: potatoes, rice, bulgar, polenta, quinoa, and bread/pita/wraps/taco shells.
My veggies list is too long to list, but you get the idea.
Ok, so now, I just pick something from each list and then try to turn it into some kind of meal. Since I like variety and have 'moods' about food, I don't do it entirely randomly. You could, but I don't.
Step 2: Choose a Grocery Day -> Grocery day here is usually Sunday. Sometimes Monday. That means that I usually end up working on the meal plan on Friday or Saturday. If I can, I do it in the most comfortable location possible. With maybe some tea or a glass of wine… so it doesnt seem like such a process!
A Tip for Spouses: My husband and I like to both contribute to the meal planning and to the grocery list. We do all of our planning online, in a shared Google document. I enter in all the meals as I think of them and my hubby has editing capability or he can put in some of this own meal suggestions. We keep a running grocery list through the week in the same shared Google document (for things like laundry soap, if I happen to notice that we're running low, on say, Wednesday).
Tip 3: Do incorporate some flexibility. Did you have to stay late at work unexpectedly and now you don't have time to make the roasted chicken like you thought? Did your lunch meeting have free pizza and now you don't really feel like eating pizza again for dinner? Did you rush out in the morning forgetting to turn on the slow cooker? It's ok – you have a plan but you don't have to be militant. You can move things around to suit your needs (including take-out night) as the week unfolds.
How does Meal Prep and Meal Planning Help with Weight Loss?
Meal Prep and Meal Planning helps with weight loss as your not left thinking, "What am I going to eat?", when we leave ourselves with answering this question we often find ourselves making unhealthy choices and for me often buying takeout which is unhealthy and expensive!
Healthy Easy Meal Prep Recipes For Families:
I plan to continue to add recipes to this post over time, but heres a few ideas to get you started. Checkout more Meal Prep Recipes.
Healthy Easy Meal Prep Breakfast Ideas
ABC Muffins
These ABC muffins are made with three simply ingredients – appple, banana and carrots and area great way to sneak vegetables and fruit into your child's diet with these yummy muffins! These muffins can be freezed which makes them great to meal prep as you can make a large batch and then pull out a few when needed.
Yield: Makes Approximately 18 muffins
Weight Watcher Banana Muffin Recipe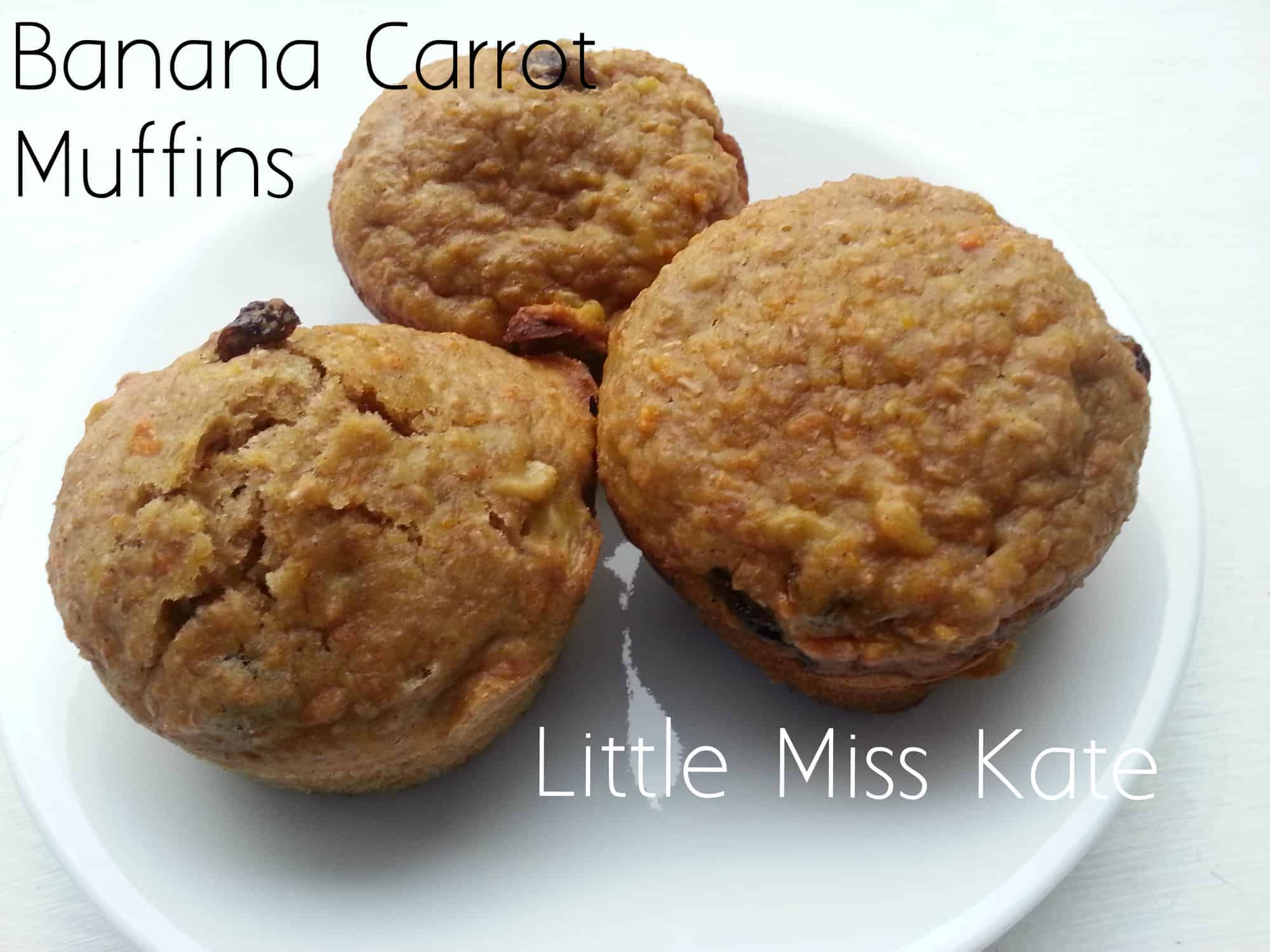 Ingredients
3/4 Honey
3 Eggs - at room temperature
1/2 cup coconut oil, liquidifed
2 1/2 cups Whole Wheat Flour
1/2 tsp Baking Soda
1/2 tsp Baking powder
1/2 tsp Salt
1 tsp cinnamon
1/2 cup Apple Juice
1 cup Mashed Banana
3/4 cup Grated Carrots, I used my food processor
1/2 cup Raisins (optional)
Instructions
1 - Beat together the honey and coconut oil. Add eggs one at a time. If the eggs are too cold they will harden the coconut oil, so bring them to room temperature before starting.

2 - Add flour, baking soda, baking powder, salt and cinnamon. Mix until well blended.

3 - Mix in apple juice, banana, carrots and raisins. Adjust the amount of apple juice to get a batter that you can pour, but is not too soupy

3 - Spoon into greased muffin tins and bake at 350oF for 25 minutes or until golden brown

Notes
These muffins are moist and taste great.  They also freeze very well, so make a double batch so that you will have a healthy snack on hand!
Nutrition Information:
Yield:
18
Serving Size:
1 muffin
Amount Per Serving:
Calories:

155
Total Fat:

7g
Saturated Fat:

5g
Trans Fat:

0g
Unsaturated Fat:

1g
Cholesterol:

31mg
Sodium:

129mg
Carbohydrates:

20g
Fiber:

2g
Sugar:

6g
Protein:

4g
Healthy Easy Meal Prep Dinners and Lunch Ideas
Pesto Pasta Salad
This is more than just a typical salad… it's deliscious. This Pesto Pasta Salad is perfect for lunch as it is filling and healthy and can be made with fresh ingredients including: tomatoes, asparagus and green beans. The last time I made this salad, I made it the same day as I made a potato salad. I made them each in a very large quantity and then we slowly ate them, alternating days, over the course of an entire week as a side option for dinner to fish, chicken, etc. or it can be eaten on it's own as a meal.
Pesto Pasta Salad Recipe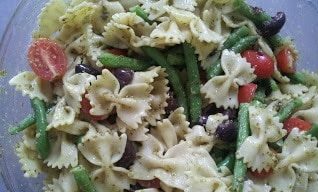 Ingredients
450g of pasta, bowtie, spiral, rotini, penne are best
1 bunch of asparagus
250 g of green beans
2 pints of grape or cherry tomatoes
200 g of pitted black olives 
1/2 cup pesto
Black pepper and parmesan cheese, to taste
Instructions
1. Bring a large pot of salted water (use around 1 – 2 tablespoons of salt) to boil. Meanwhile, roughly chop the tomatoes, olives, and trim and chop the beans and asparagus. As a rule of thumb, you want the chopped 'additions' to be just about the same size and shape as the pasta itself.
2. Once the water is boiling, add the pasta and return the pot to a boil as quickly as you can. After about 4 or 5 minutes add the chopped green beans and asparagus to the pot. Cook until the pasta is 'el dente', as they say, and the veggies are firm but no longer raw. Err on the side of caution here and stop the cooking when the pasta is ready (don't wait for the veggies to get soft). Even the raw veggies would be edible so you don't have to cook them a tonne. For bow ties, I think this takes about 9 minutes of total cooking time. Pour the pasta and the veggies into a strainer and rinse with cold water until the pasta has cooled (prevent overcooking). Normally, rinsing pasta is a bad idea because you want to preserve the starches for thickening, say, a light tomato sauce. This is not one of those times. Rinse away.
3. Toss the pasta, beans, asparagus, tomatoes and olives into a bowl. Add the pesto and stir. Stir in more pesto if you feel it needs some more sauce. Add a bit of pepper or parmesan cheese to taste. Et, voila!
Quinoa Wraps with Black Bean and Corn
This yummy quinoa wrap with black bean and corn is the perfect option for dinner or lunch. Can be served hot or cold. Keeps well in the fridge for about 5 days. This recipe makes about 6-8 wraps making it a great option to meal prep and use for lunch and sides throughout the week – I like to top mine with cheese and salsa. You could also add a little sour cream if you like! It is sooooo good.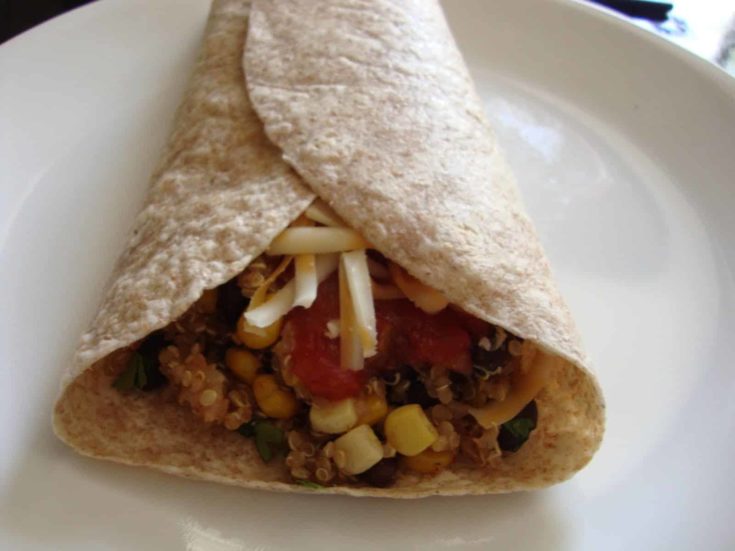 This wrap is tasty, filling, and easy to prepare!
Ingredients
1 tsp vegetable oil
1 onion, chopped
3 cloves of garlic, chopped
3/4 of uncooked quinoa – I pick mine up at the bulk barn
1 1/2 cups of broth (I use no salt added chicken broth, but you can use vegetable as well)
1 tsp ground cumin
1/2 tsp Cayenne Pepper
1/4 tsp of pepper (or to taste)
1 can of corn kernels
1 (19oz) can black beans, rinsed and drained
1/2 cup fresh cilantro, chopped
1 tsp lime juice
Instructions
1. Heat oil in saucepan over medium heat - cook onion and garlic until lightly browned.

2. Add quinoa, broth, cumin, cayenne pepper, and pepper. Bring to a boil, cover, reduce heat and simmer for 20 minutes.

3. Stir in corn and beans and continue to simmer for another 5 minutes.

4. Mix in cilantro and lime juice - and serve!
Healthy Easy Meal Prep Snacks
Home Made Granola
One of my other food goals for this year is to increase the number of things that I make instead of buy. When I stumbled across a recipe for homemade granola bars I wanted to give it a try. They're so yummy and chewy and satisfying. The next batch I make might be nut free so that I can share them with our littlest peanut. Then, go put them in your kids' lunch boxes. Hopefully, they'll enjoy them as much as we do. And hopefully they won't complain, like my pre-schooler did, that they don't come with wrappers!
Homemade Granola Bars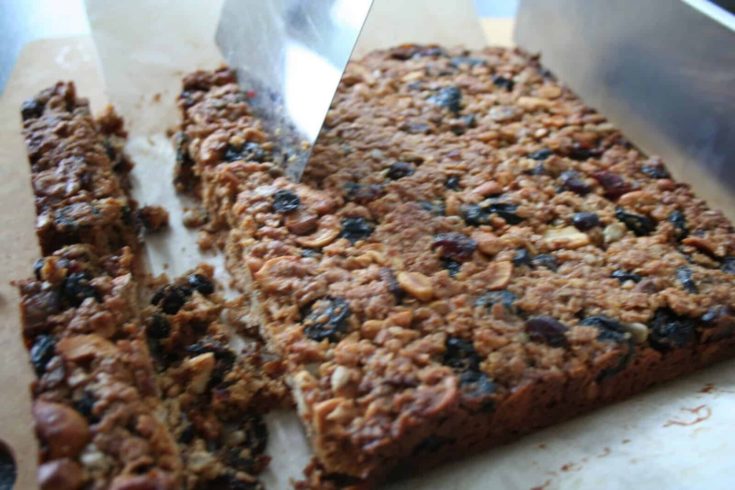 The recipe has a lot of flexibility in it, as you can see. I used a mixture of roasted cashews, dried cherries, dried cranberries, and roasted sunflower seeds for the dried fruits and nuts. When it comes to granola, what you're looking for is a basic mix of chunky (nuts, dried fruit) to sticky and the rest can be flexible. My recipe is inspired from the Smitten Kitchen.
Ingredients
1 2/3 cups quick rolled oats
2 1/2 cups Total - Ratio of 0.5 parts sunflower seeds, 1 part dried cherries, 1 part dried cranberries, and 2 parts cashews.
1/3 cup Peanut butter (If you want your kids to take them to school, you should substitute apple butter for some other school-safe butter)
1/4 teaspoon ground cinnamon
1/4 to 1/2 cup of sugar or you can substitute honey
1 teaspoon vanilla extract
Instructions
1. Stir together all the ingredients until the mixture is crumbly. Spread the granola into a square pan and push down until it is flat and molds to the pan.
2. Use a square pan lined with parchment paper, and use non stick spray to make sure it doesn't get stuck.
3. Cook at 400F for 30-35 minutes, or until the edges are brown.
4. Take out of the oven and place on a wire cooking rack for 20 minutes to cool. Once entrirely cool you can cut into whatever size pieces you would like. I choose to cut into 12 pieces.
Notes
They're so yummy and chewy and satisfying, but are a little crumbly than a traditional granola bar.
Nutrition Information:
Yield:
12
Serving Size:
1
Amount Per Serving:
Calories:

178
Total Fat:

7g
Saturated Fat:

1g
Trans Fat:

0g
Unsaturated Fat:

5g
Cholesterol:

0mg
Sodium:

396mg
Carbohydrates:

26g
Fiber:

3g
Sugar:

10g
Protein:

5g