My sister's birthday is in the spring, so often we do a double celebration of birthdays and Easter when the who family gets together. I was tasked with bringing a birthday cake to our Easter family celebrations as we were doing a joint celebration while all the family was together. I went to Pinterest for Homemade Birthday Cake Ideas and saw a couple different kitkat cake designs, but I decided I wanted to create my own kitkat inspired cake. I decided on making a version of the Kit Kat Cake for my sister's birthday as it was simple, quick to make as it took less than an hour. Kit kat is my favourite candy bar and is one of the main ingredients which many family members love. This simple birthday cake idea is one of my favourites as it is easy to make and everyone loves how pretty it is. What do you think? Like how it turned out?
Homemade KitKat Cake Recipe Instructions
A homemade chocolate Kitkat birthday cake is simply a birthday cake with frosting that has about 40ish Kit Kats wrapped around the side and all held together by ribbon and can be made in a simple 60 minutes. Most people make this cake with chocolate kit kats however you could make a vanilla version of this cake sing vanilla kit kats. If your interested in other KitKate Cake Designs checkout our Show Stopping Kit Kat Cake Recipe Round up or our Canada Day KitKat Cake.
You can add extra ingredients on top and create a kit kat and m & m cake if you wish but I thought that was too much candy for one cake so I stuck to adding just a few chocolate mini eggs. Now there are lots of different options for kit kat birthday cakes you can make, I have even seen recipes for kit kat ice cream cake if you are more adventurous in the baking department but I was on a time crunch due to a busy weekend so I decided to keep it simple. I also enjoy creating other cake ideas with the kit kat recipe so I have also created Kit Kat Canada Day cake you can check out! Kit Kat desert cake is a family favourite as is awesome as there are so many different ways you can use the kit kit bar, maybe next time I will try using kit kat chunky. Lastly if you are looking for a sugar rush consider a kitkat and m&m cake, its sure to taste great and give the kids a sugar high!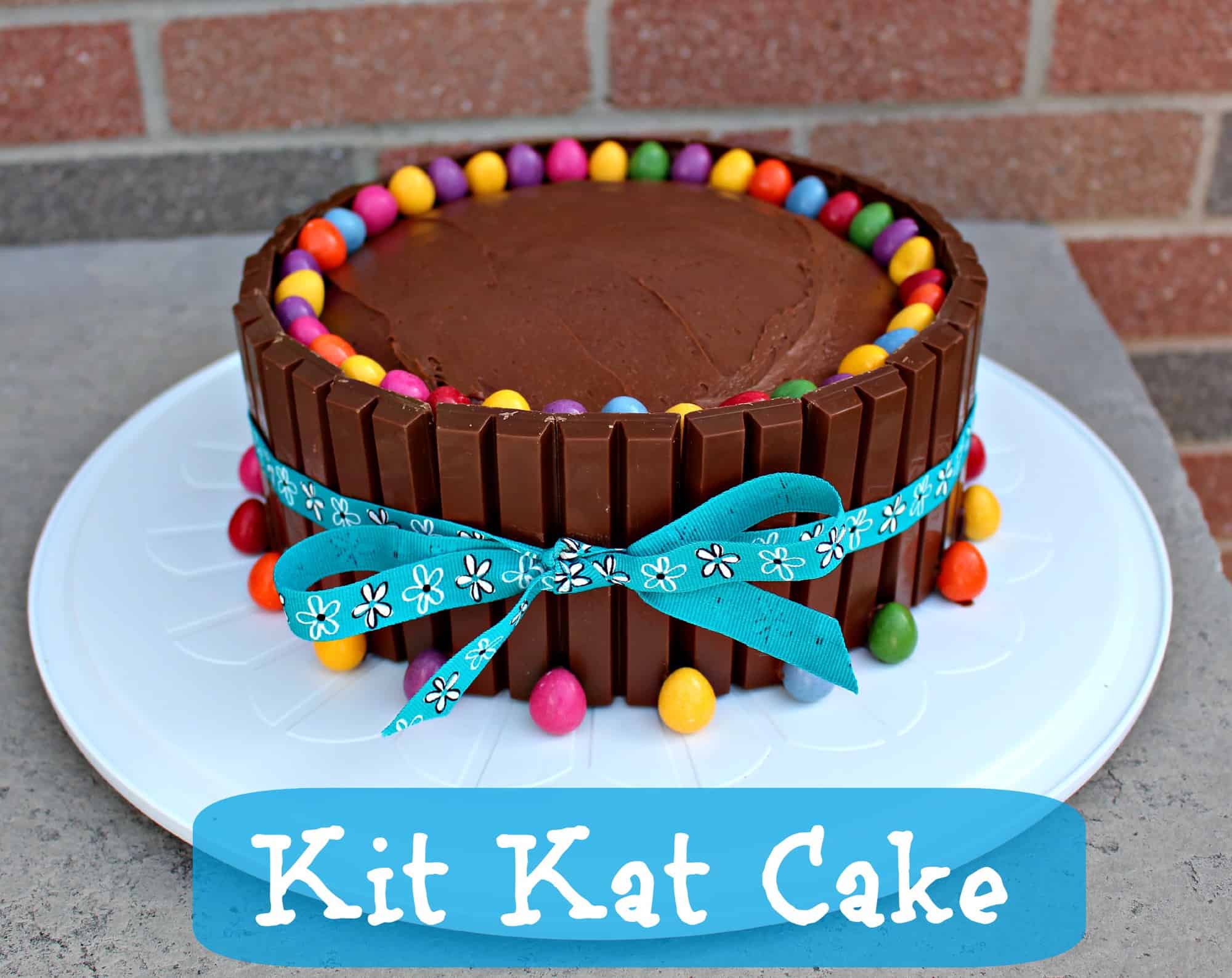 Birthday Cake Ideas – Kit Kat Cake Recipe
This blog post may contain affiliate links. What does that mean? I get a little commission if you purchase using my link, at no extra cost to you.
I got so many compliments on how impressive the Kit Kat Cake was, if only they knew how easy it is to make! Some other impressive birthday cakes ideas I have made are my Dinosaur birthday cake, and a Thomas the Train birthday cake. I use boxed cake mix because it is fast, and I love the taste. If you are feeling up to making icing you could make homemade Swiss meringue buttercream icing or go for store bought like I did here. And choose the flavours you enjoy the best, as you can see we like chocolate in our family. Get your kit kat ingredients delivered right to you door, even the chocolate kit kat:
Easy Birthday Cake Ideas – Kit Kat Chocolate Cake Ingredients
Want to make a kit kat birthday cake for your next celebration, here is what you will need to make a chocolate cake with kitkat border:
– 1 Box of cake mix or you can make a 9 inch cake from scratch
– 1 Tub of Icing of any flavour
– 11 Kit Kat Bars chocolate or you could use white chocolate if interested in making a white chocolate kit kat cake recipe
– Mini chocolate eggs, or m&ms if you want to create a kit kat m&m cake
– Decorative ribbon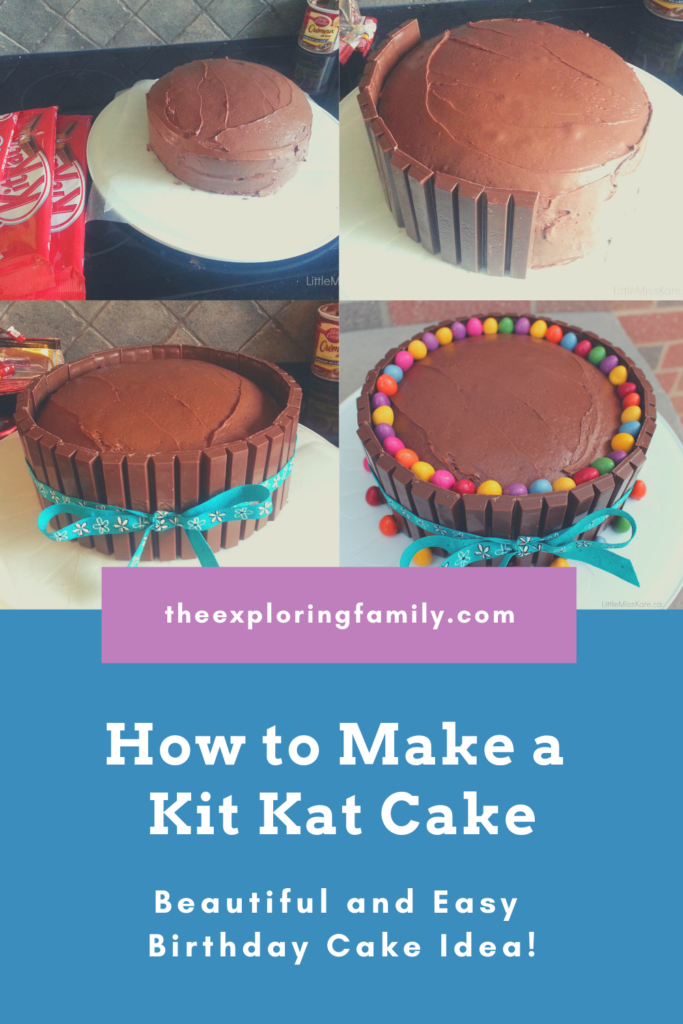 How to make a Kit Kat Cake?
How to make a Kit Kat Cake 2 Layer Cake – Step by Step Pictures or Print Recipe above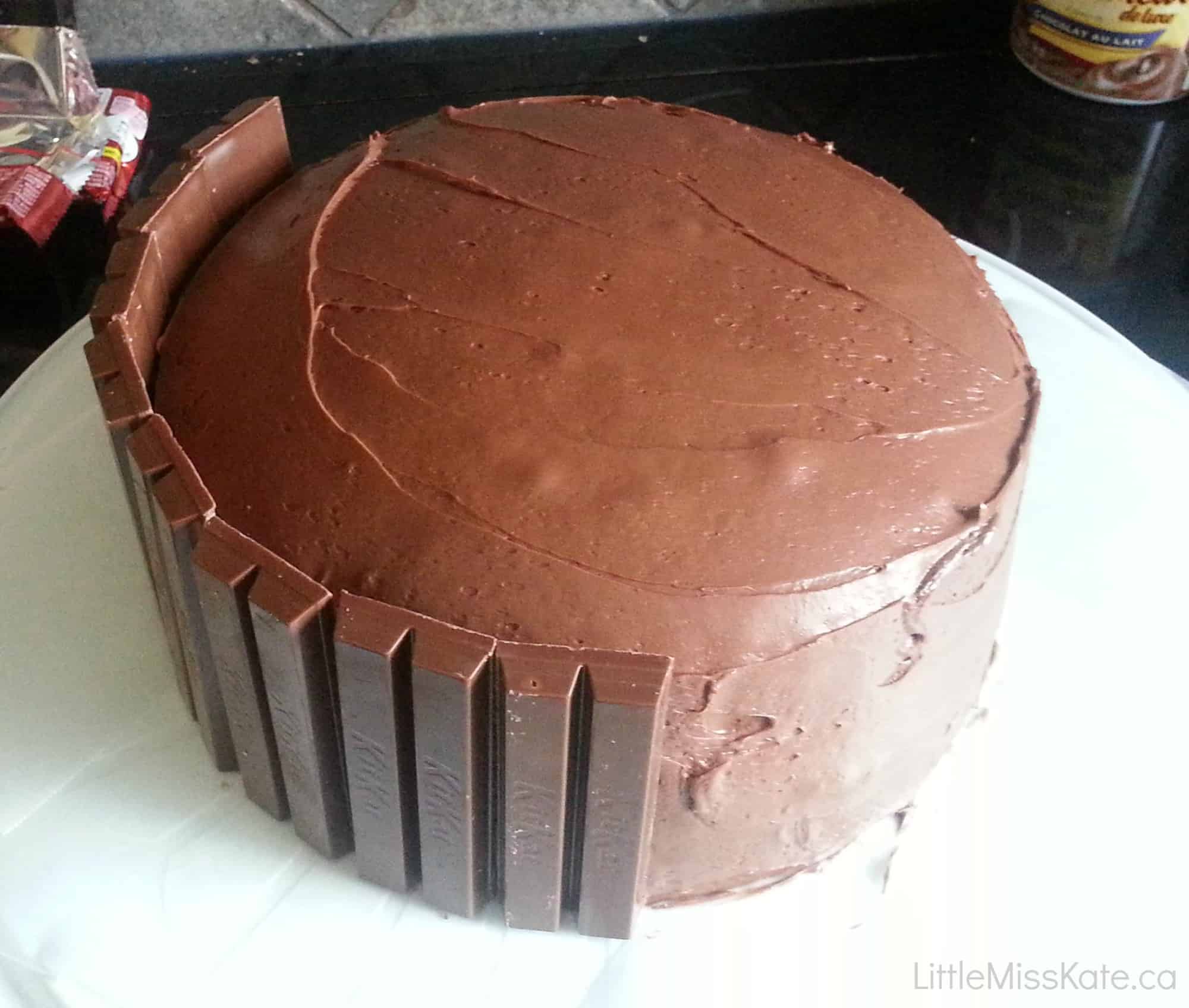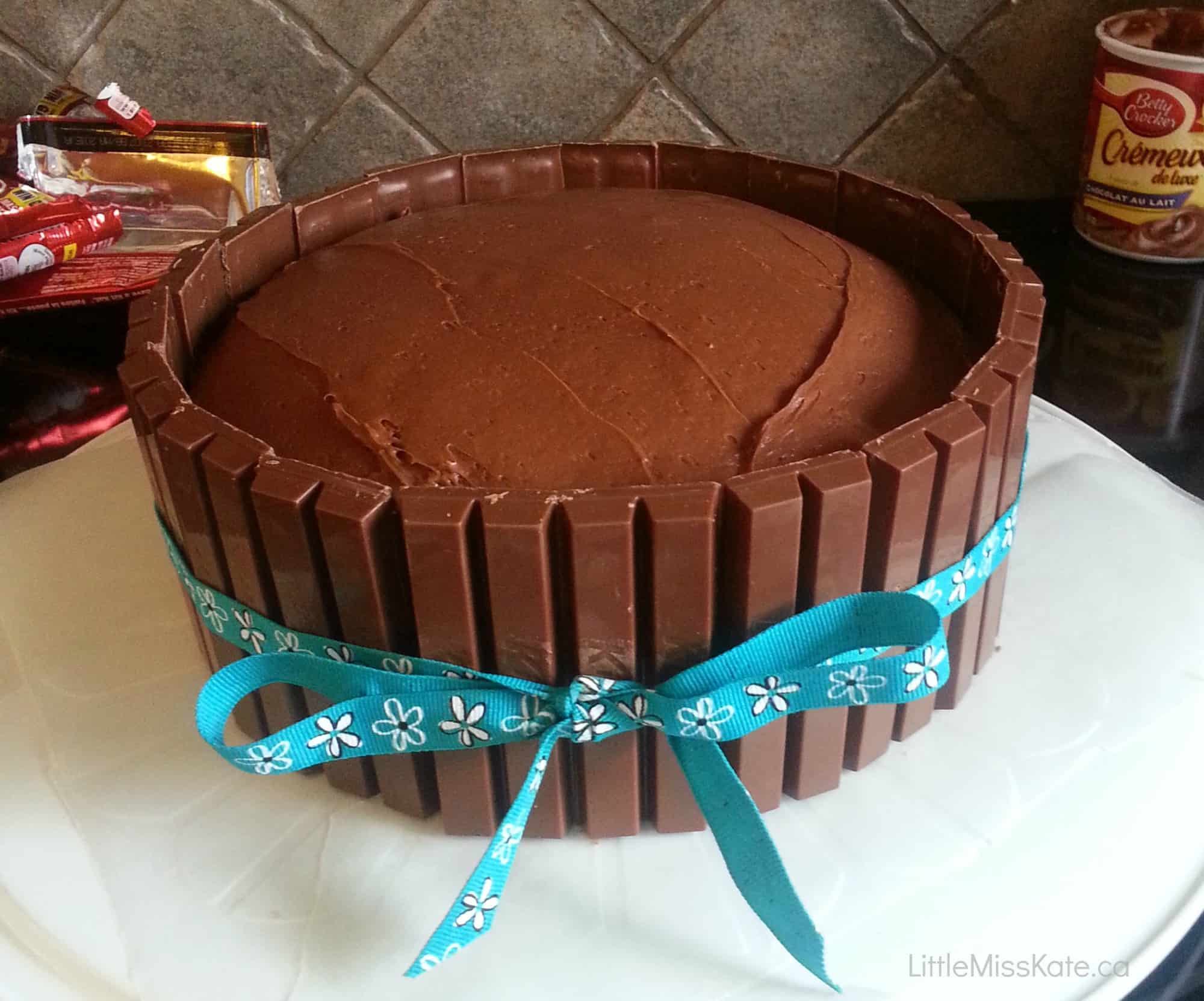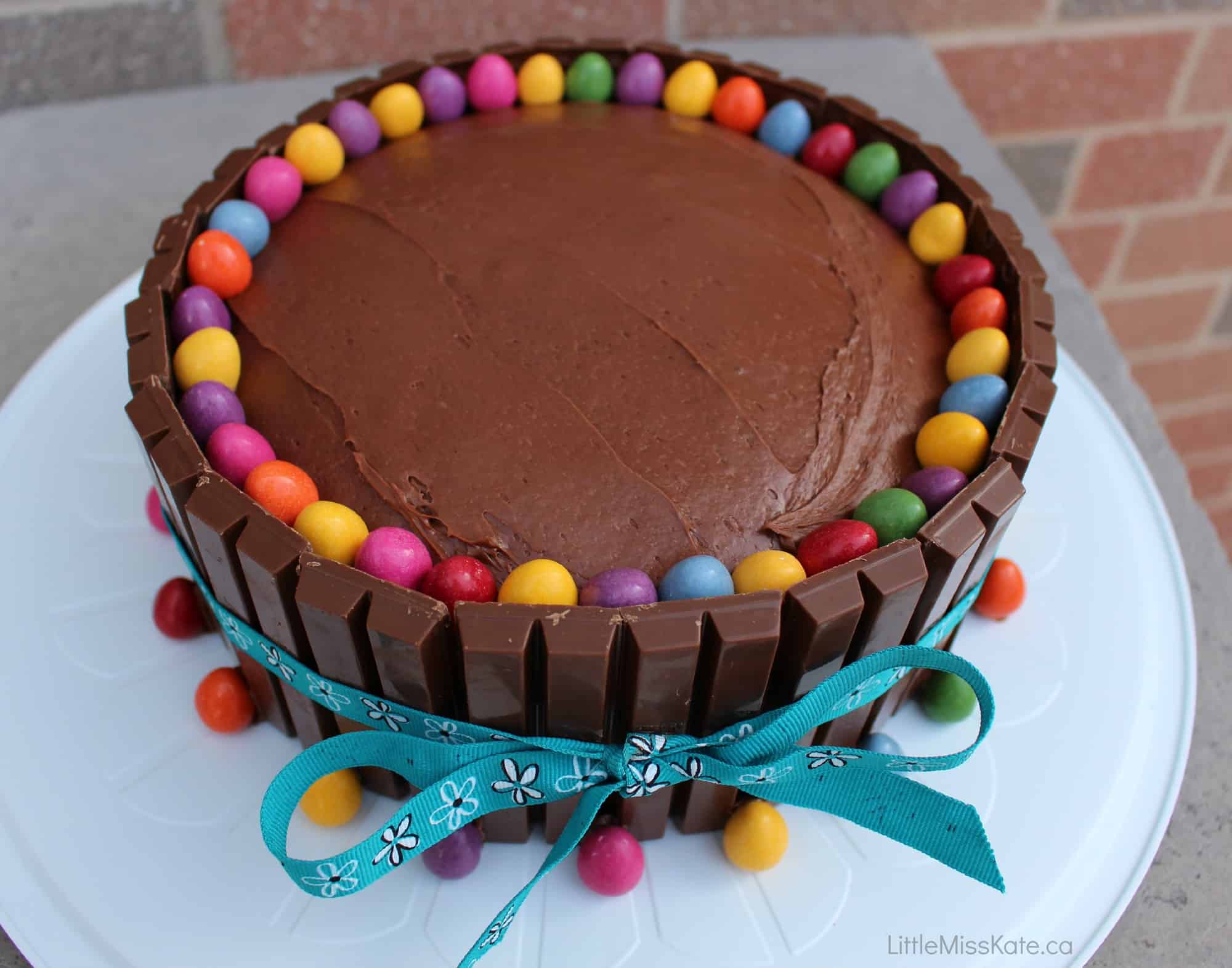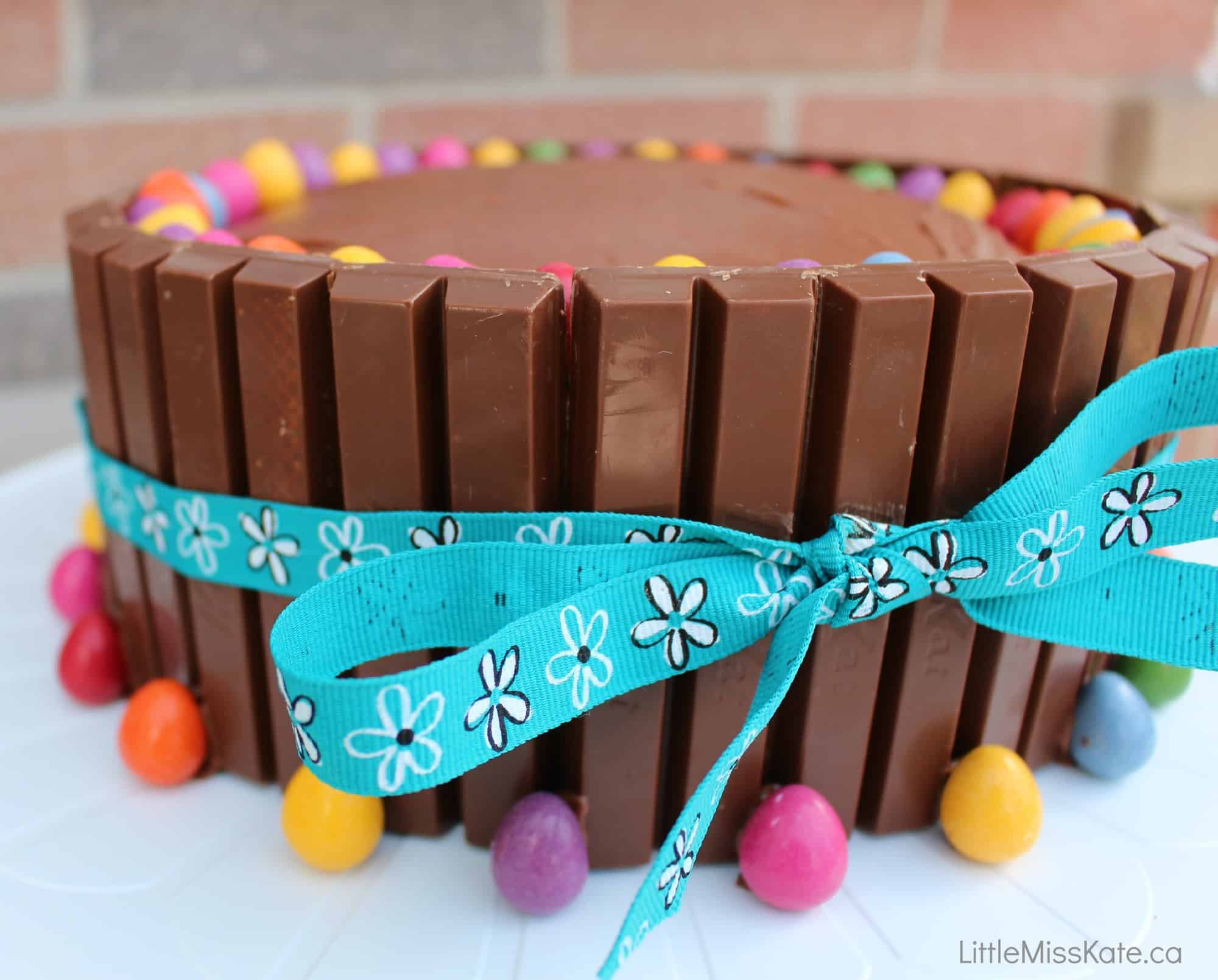 Kit Kat Cake
Ingredients
1

box of Cake Mix

any flavor, baked into 2-9" round pans

1

Tub of Icing

any flavor

11

Kit Kat Bars

Mini chocolate eggs or other decorations as desired

Decorative Ribbon
Instructions
Bake 2 – 9" round cakes, remove from pans and cool on a wire rack.

Place 2" strips of wax paper on the serving tray you are going to be using for the cake in the approximate size of the cake. Place 1 of the cakes on top. Make sure the wax paper sticks out from the cake by about 1". This is to protect the tray from getting any icing on it while you are decorating and will be removed prior to serving.

Ice the top of the cake on the tray, and place the second cake on top.

Continue to ice the top and sizes of the cake until the cake is completely covered. Reserve 2-3 tbsp of icing for later

Unwrap the Kit Kats and break the chocolate bars in half so that you have pieces with 2 sticks Kit Kat. Resting the piece of Kit Kat on the tray gently press into the side of the cake. The pieces should be held up with the icing.

Continue placing the Kit Kat pieces until you have covered the entire outside of the cake.

Using a decorative ribbon tie a bow around the outside of the cake, making sure it is snug enough it will help support the Kit Kats and wont slide down over time

Remove the wax paper strips from under the cake by sliding them out gently

Decorate the cake with mini chocolate eggs, sprinkles, or any other decorations you like. I used Smarties lil' eggs to decorate the top and around the bottom of the cake. I secured the bottom chocolate eggs using a little bit of icing that I had reserved.

Serve and ENJOY!
Now over the years Nestle Kit Kat has come out with some awesome varieties that you could use if your prefer a kit kat cake with a different type of kit kat bar.
For this Kit Cake I went all chocolate – chocolate cake, chocolate icing and chocolate eggs. However this is a very adaptable cake and you can use any flavours and decorations you would like, you can even create kit kat cheesecake if you wish. When serving, use the pieces of Kit Kat as your guide for cutting. A piece with 2 Kit Kat sticks will be plenty for this rich and delicious cake, so this 9 inch round cake will serve approximately 20 people. You can find lots of fun and creative ways to decorate Kit Kat Cakes on our other blog post.
So next time you need to make a large birthday cake give the Kit Kat Cake a try, trust me you will get tons of compliments on this one without slaving for hours to make it, or you could try and make Kit Kat cupcakes. If you are traveling with this cake, which is easy to do as it is sturdy, make sure you have a cake caddy with a lid. I have put a few of my favourites below they make transporting a cake or keeping leftovers fresh super easy.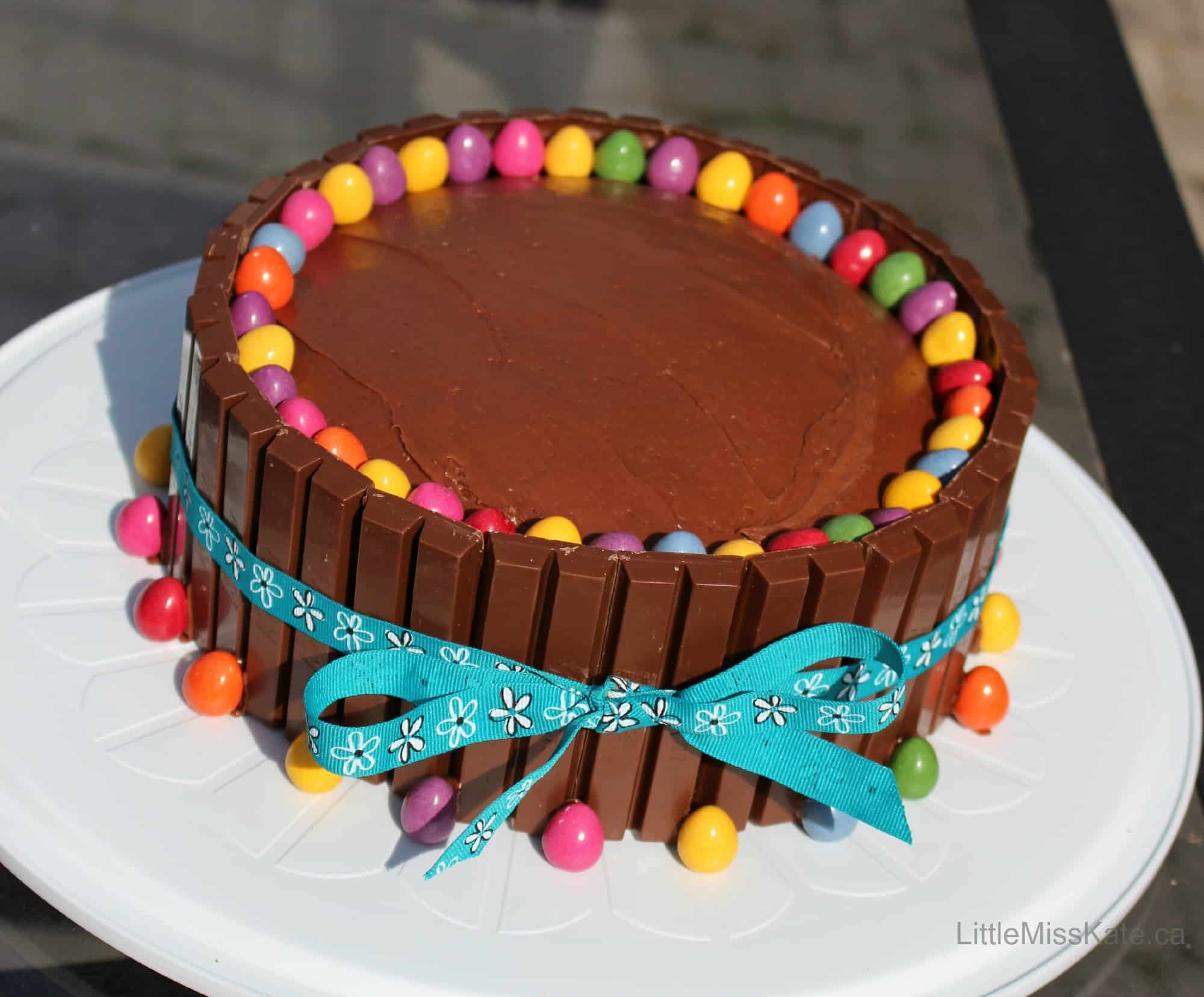 If you need more KitKat in your life checkout this full Kit Kat Recipe Ideas! Chocolate lovers can soon create their own KitKat Creations at the Kit Kat Chocolatory opening Fall 2019 at Yorkdale Mall, here are 5 Tips for your Visit!
More KitKat Cake Design Ideas



The awesome thing about the kit kat cake is that it is super versatile as you can make changes and use it for any holiday, or occasion that you need a festive cake as there are lots of kitkat cake ideas. You could add seasonal m&ms to the top of the cake and create a candy cake suitable for any holiday just by simply adding different colored candy to the m&m kitkat cake that would fit with your seasonal theme. If you purchase red and green m & ms then you can easily make a Christmas Kit Kat Cake or use pink and red to make a Valentine's Day Kit Kat Cake, the simple colour changes make the possibilities endless.
Birthday Cake Designs for Kids: Candy Cakes
If your thinking about your kids next birthday party and want a cake to WOW and impress guests than choose this simple and super easy Kit Kat Birthday cake. This cake is colourful, fun, eye catching and can be changed to match the theme of any birthday party to create a candy birthday cake and plus the kids are getting cake and a chocolate bar at the same time, I doubt you will hear any complaints. I am hoping to maybe try to make a kit kat pig cake for my daughters next upcoming birthday as sometimes living life with a toddler is like living with a dirty little piggy especially when we went camping this summer. Kit Kat cakes are simple to make and perfect birthday cake designs for kids as you could even get them involved in the process of making the cake as its simple enough and kid friendly. Parents are always looking for easy birthday cake ideas to make themselves rather then spending a fortune on the custom fondue cakes that while pretty are not cost effective on your wallet.
Originally posted April 2014