I love birthday cakes that are EASY to make at home. For Monkey's 3rd birthday he came home from daycare and announced to us that he was going to have a Train Party for his birthday. This was news to me, as we had not talked about his upcoming birthday at all.
But he seemed pretty set on the idea, and since I didn't have any other plans I decided to take the Train Party theme and run with it. We all know that show stopper of any birthday party is the cake so I decided to create an easy Thomas The Train Cake!
Thomas The Tank Engine Cake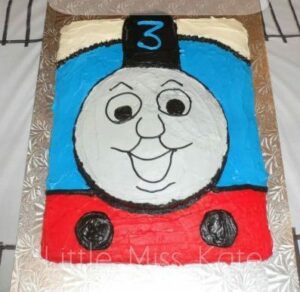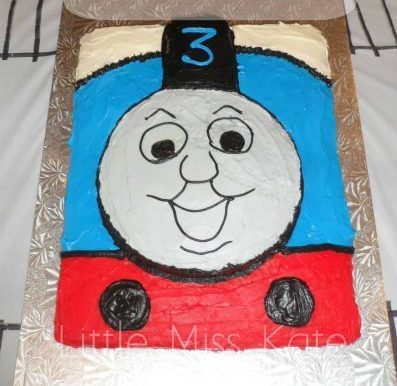 This blog post may contain affiliate links. What does that mean? I get a little commission if you purchase using my link, at no extra cost to you.
Do you have a little train lover that would go crazy over this cake? You can make it too, it is not that hard! Here is what you need for a Thomas The Train Birthday Cake:
Thomas The Train Birthday Cake
Ingredients:
2 boxes of cake mix and required ingredients, you decide the flavour – I did 1 vanilla and 1 chocolate

1 tub of chocolate icing

2 tubs of vanilla icing

Food colouring – black, blue and red. Or if you are like me you can cheat and buy the premade colours, that is what I did for the red and black.
How to make a Thomas The Train Birthday Cake



Step #1: Mix each box of cake mix according to the package directions. Remove 1 cup of batter and place in oiled 9 inch round pan. Pour remaining batter into oiled rectangle 11×13″ or 9×13″ pan whatever you have on hand.
Repeat for the second box of mix, this time add the 1 cup of batter to the same 9″ pan as the first, pour the remaining batter into oiled rectangle pan. You will end up with 2- rectangle pans and 1-9″ round pan.
Step #2: Bake as directed. Remove from oven and cool for 5 mins, run butter knife around the edges to loosen. Cool for another 10 mins then remove from plan and allow to cool completely
Step #3: Arrange rectangle cakes on a cake board like this: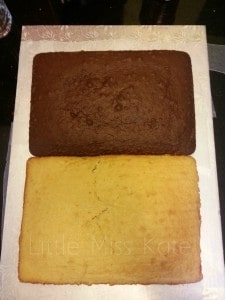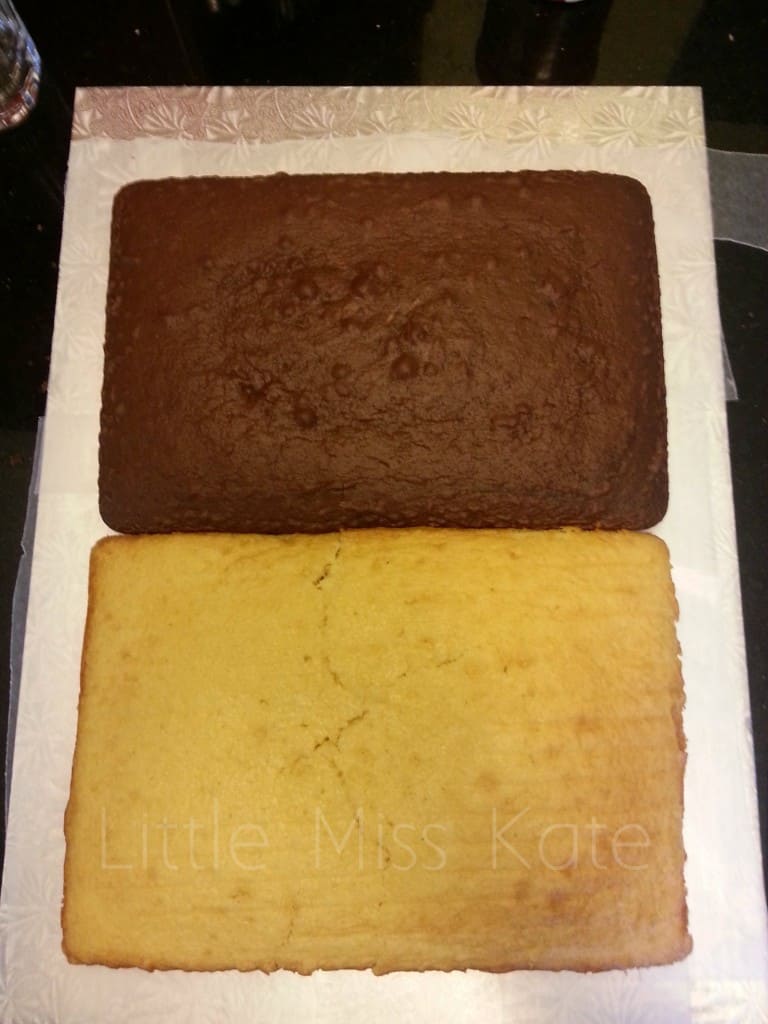 Step #4: Place the icing on the rectangle cakes where the round cake will be placed. This should be slightly offset towards the bottom of your Train Cake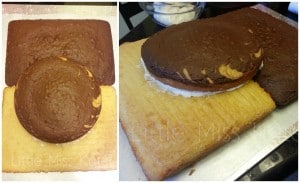 Step #5: Cut a 1.5″ strip off the top of your cake to create the smoke stack. I used 2 pieces of the strip side by side to create mine. Attach them with icing.
Step #6: Now it is time to start decorating! To make the grey for the face use a portion of the white icing and mix with a little bit of black food colouring. You can always add a little more if you want it darker, but it is much harder to lighten up. Cover the surface of the round cake with the grey icing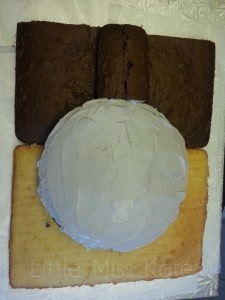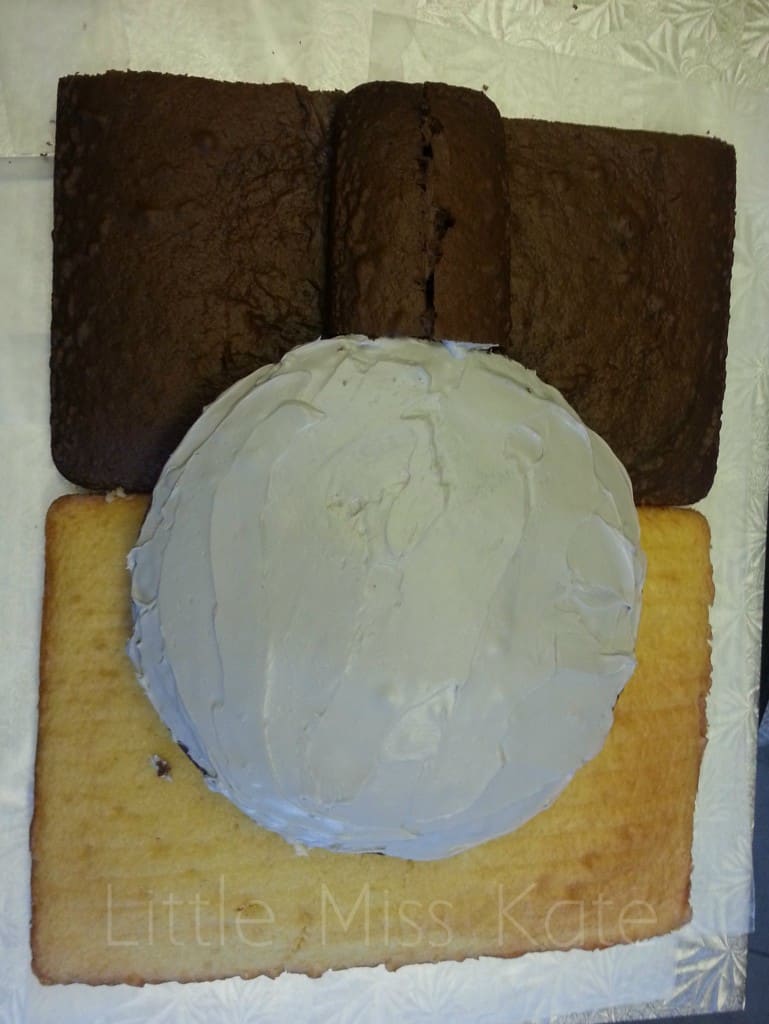 Step #7: I bought a tube of pre-made red icing, ad I have had trouble getting a true red icing previously. To make the blue icing I mixed blue food colouring into white icing. Continue icing the rectangular cakes with white, blue and red icing as shown in this picture.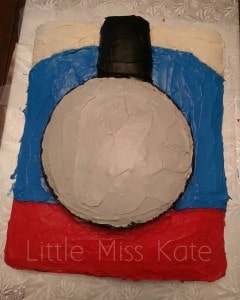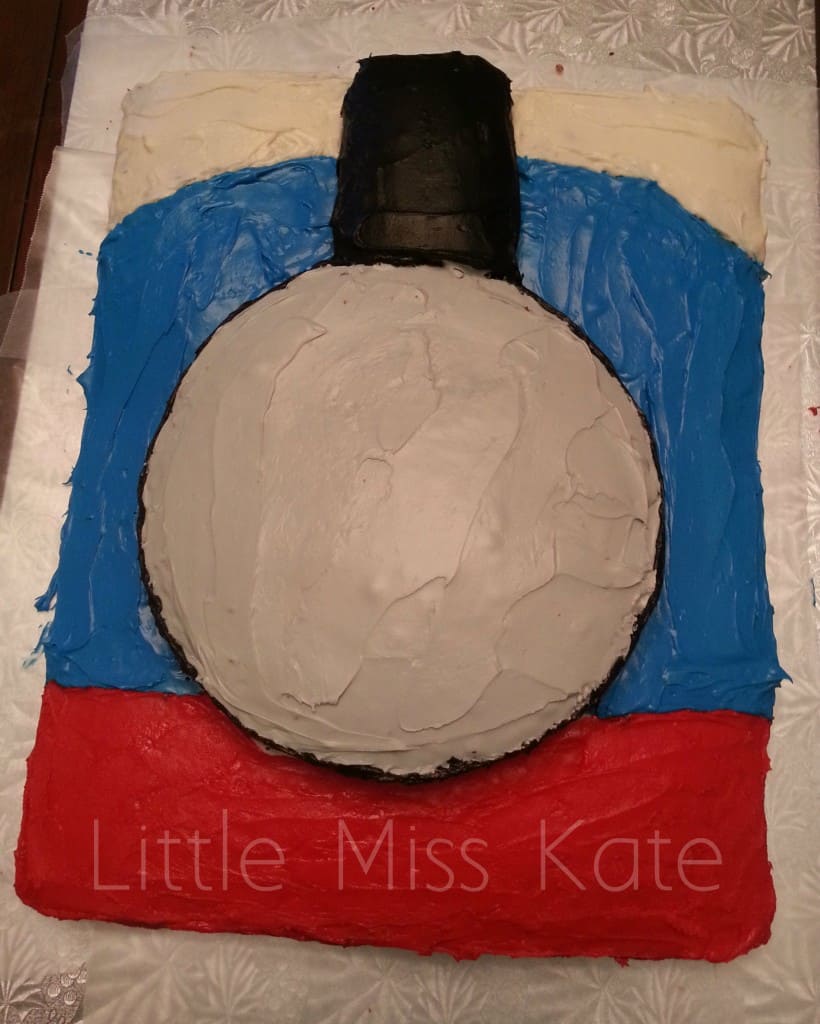 Step #8: To make the black icing – mix black food colouring into a portion of the CHOCOLATE icing. Use knife to spread the black icing on the sides of the round cake and smoke stack. Use a piping bag with a round or a star tip for the facial features and details.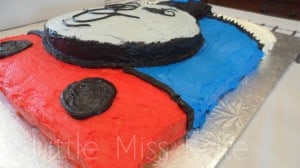 Viola! An easy Thomas the Train Cake fit for any engineer! Hope you enjoy, and don't forget to Pin this post so you can find it later.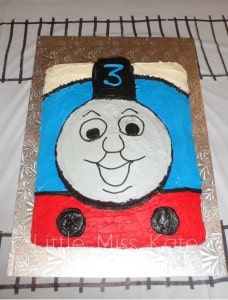 Here is a video with step by step instructions to make this Thomas The Train Cake:
Thomas The Tank Engine Party Ideas
Thomas The Tank Engine Birthday Party Decorations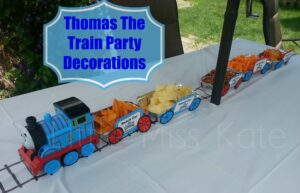 Thomas The Train Game – Ride-In Engines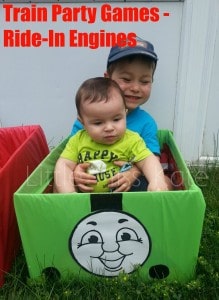 Thomas The Train Birthday Party Ideas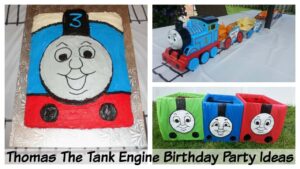 This post was originally published in July 2013
Save