Are you looking for an Easy Construction cake for a birthday boy? Make this easy DIY construction cake for your little construction workers birthday party! From kiddos who love visiting a construction site to watching the garbage truck go by, this is a timeless cake designs.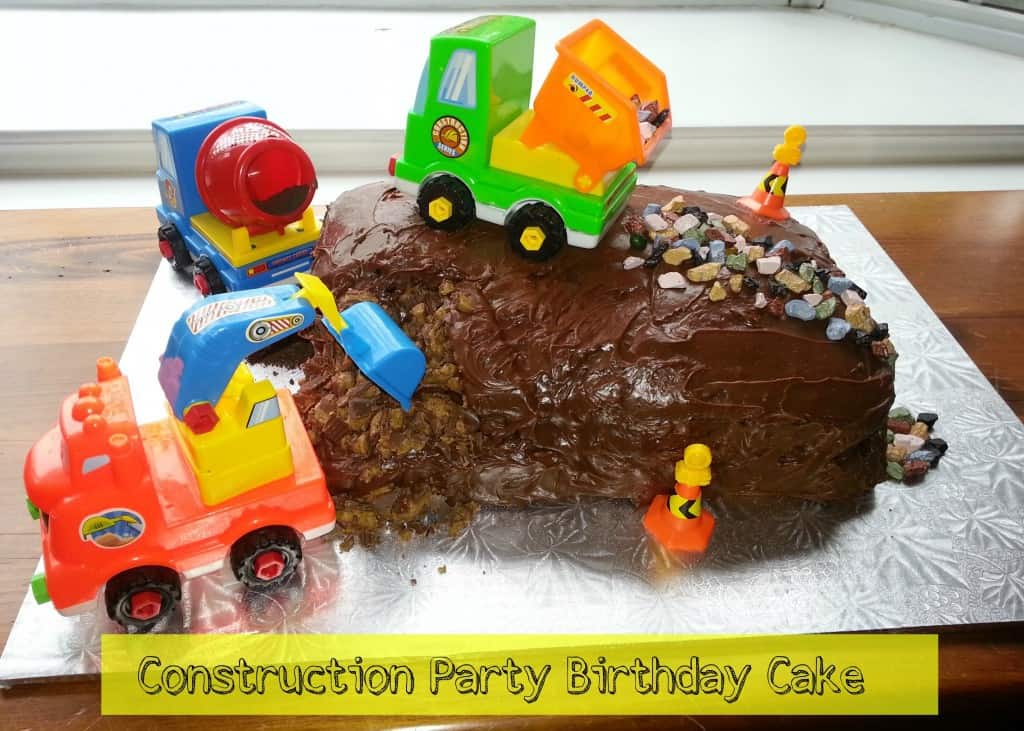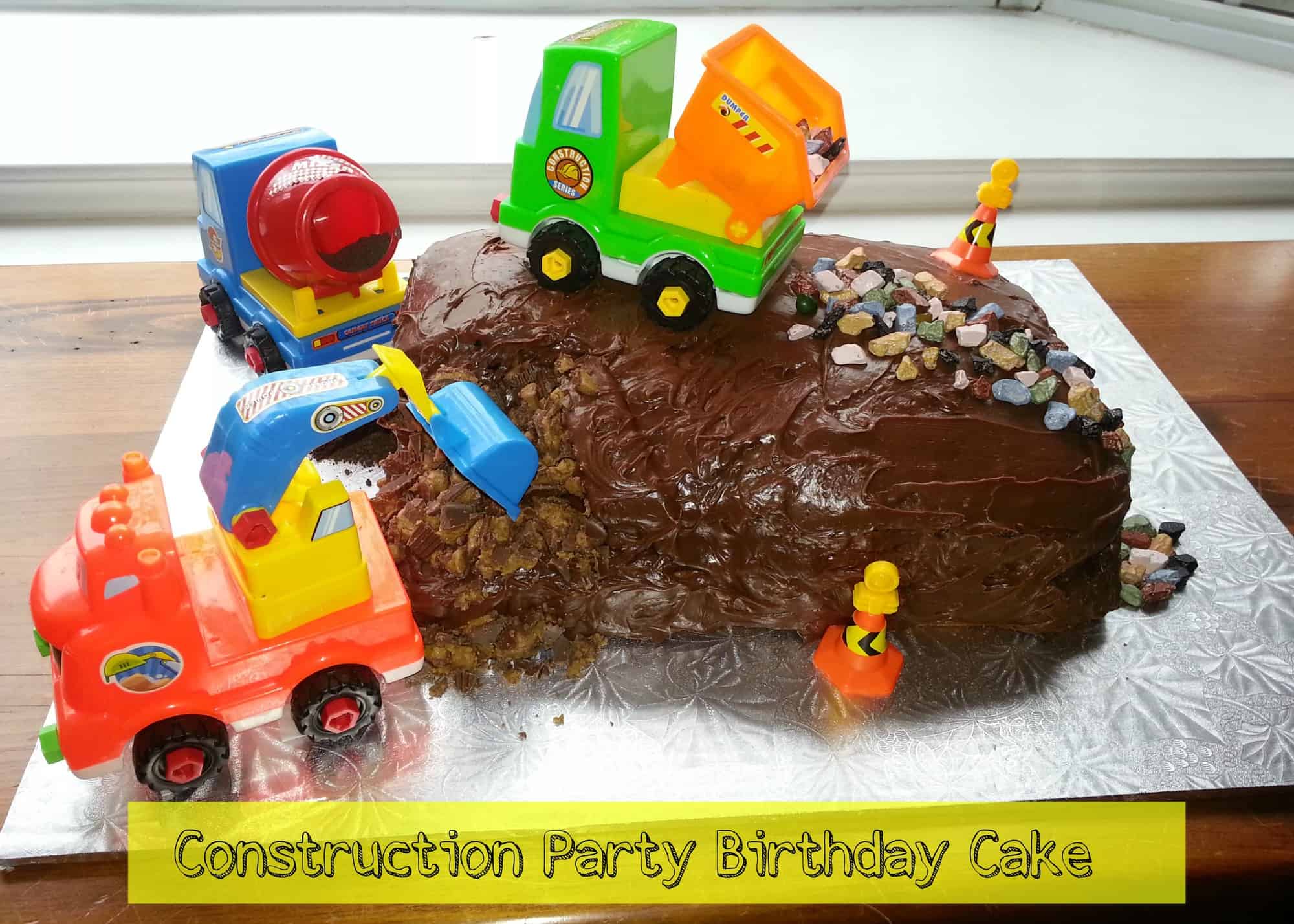 Birthdays are a very special occasion, but birthday cakes don't need to be stressful. This construction party cake is quick and easy to make – use boxed cake (like Betty Crocker) mix and you can have this cake decorated in 10 minutes. And for all of your construction party needs we have ideas for Construction Birthday Party Food, Construction Party Games and Activities, and Construction Party Favours.
DIY Construction Cake
2 – 9×13″ slab cakes or sheet cakes (2 boxes of cake mix – your choice of flavour, we used chocolate)
2 tubs of icing – I used chocolate frosting, but vanilla buttercream would also wor
6 Reese Peanut Butter Cups Chocolate Bars – chopped coarsely
1/3 cup Chocolate Cookie Crumbs
1/2 cup Chocolate "Rocks" – available at the Bulk Barn and other confectionary stores
Construction Toys – like cement mixers, dump trucks, excavators and caution cones (washed and cleaned)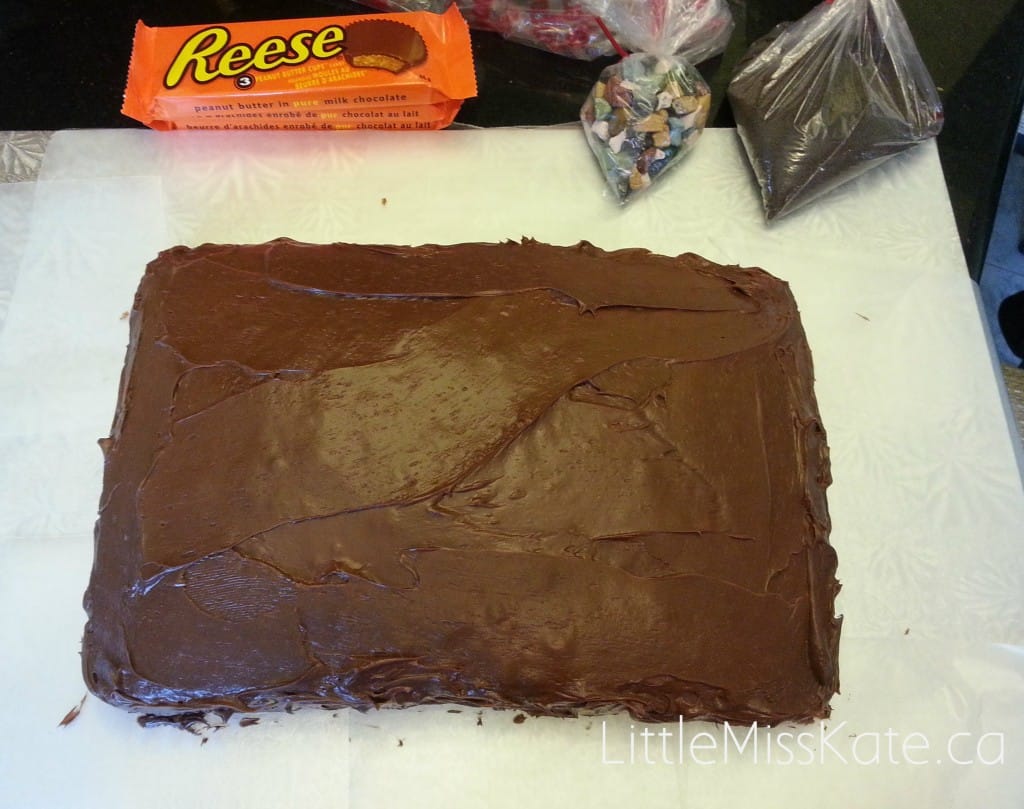 Construction Theme Birthday Cake
How to Bake DIY Construction Cake
The cake flavor you use is really up to you, we enjoy chocolate cakes, but use the flavour you will enjoy.
Use 2 — 9×13 cake pan to bake the chocolate cake. Use a cooling rack to allow the cakes to cook completely prior to icing. The cakes should be room temperature before you try to ice them.
You could also use round cake pans to create the perfect cake if that is what you have on hand. This design is very flexible to allow you to create the size and tier cake that suits your needs for your celebration.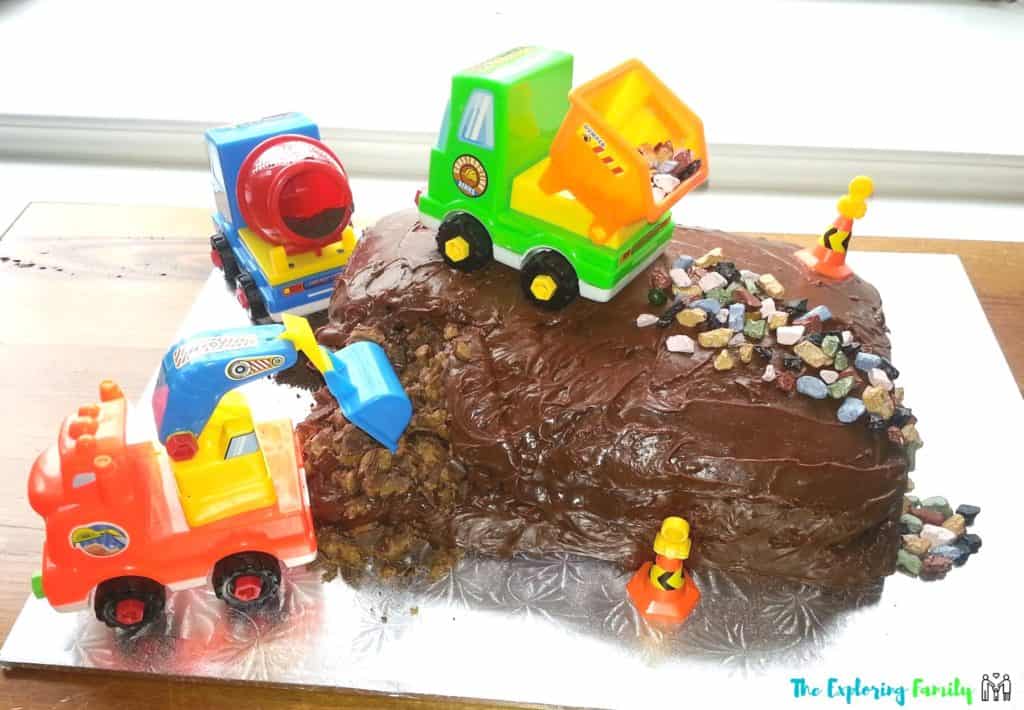 Decorating your Construction Cake Design
Place one slab cake on a cake board. Put 2" strips of wax paper around the edges if you are worried about getting icing on the serving tray.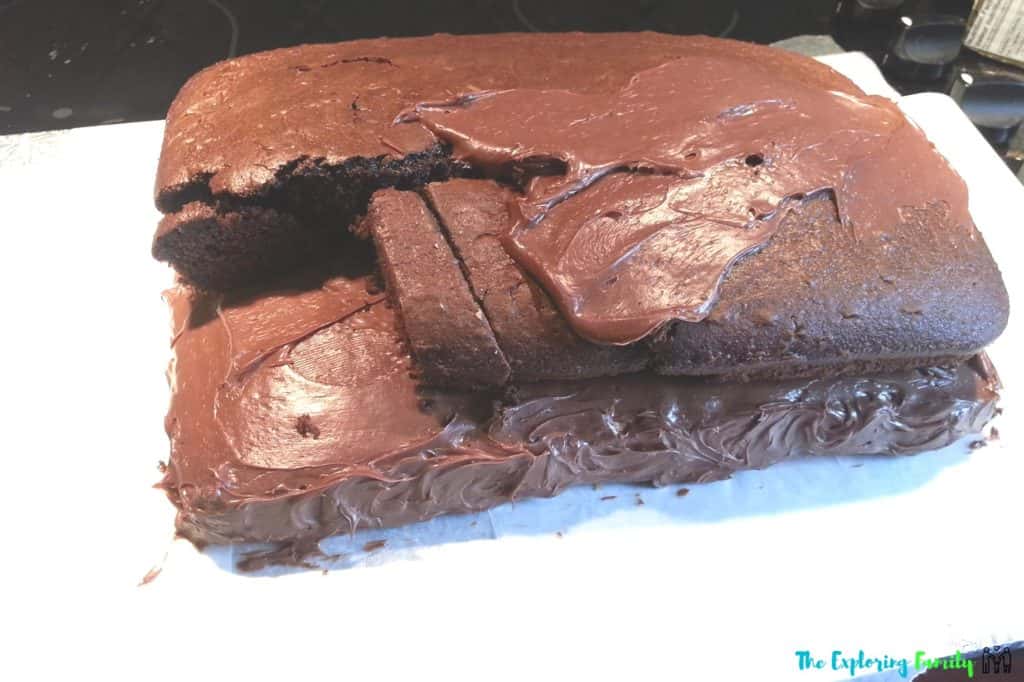 Ice the top and sides of the cake with chocolate icing. If you like hiding special surprises (Smarties, chopped Reese Pieces, money) inside the cake now is the time to place them on top of the first layer.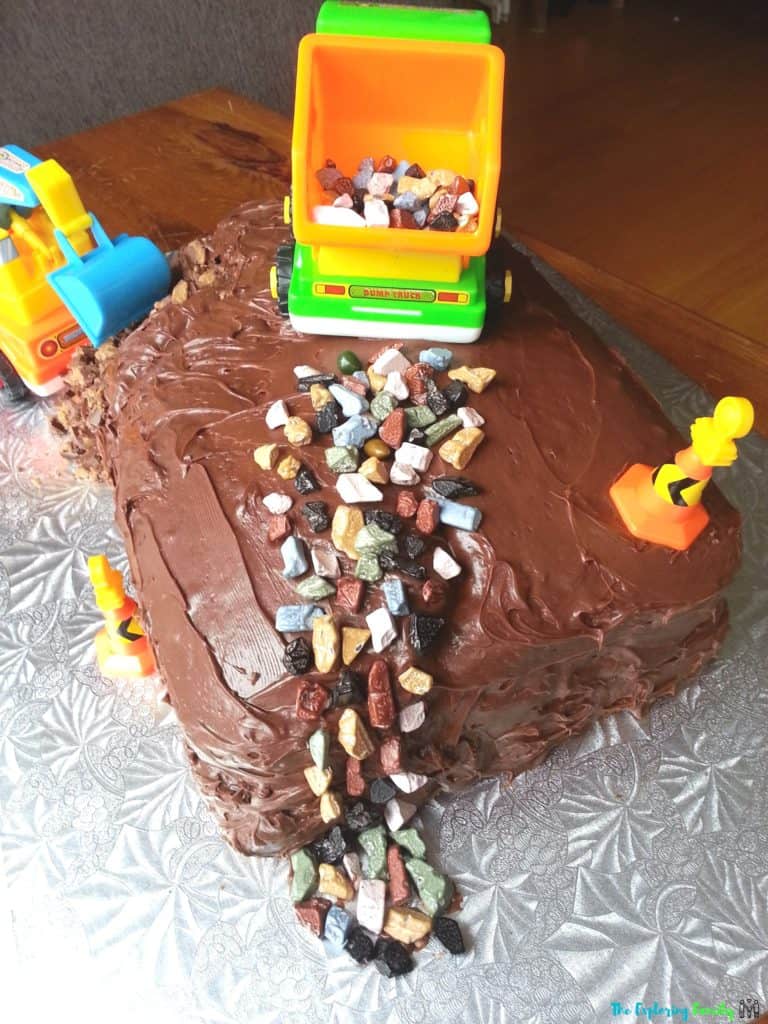 Before placing the second cake on top cut out (or break off) a corner of the cake. This will be the part where the excavator is "digging". You can save this piece and ice it for a small personalized cake for the birthday boy/girl. Place the second slab on top of the first. Ice the entire cake, be generous in the area you cut to make it easier to spread the icing.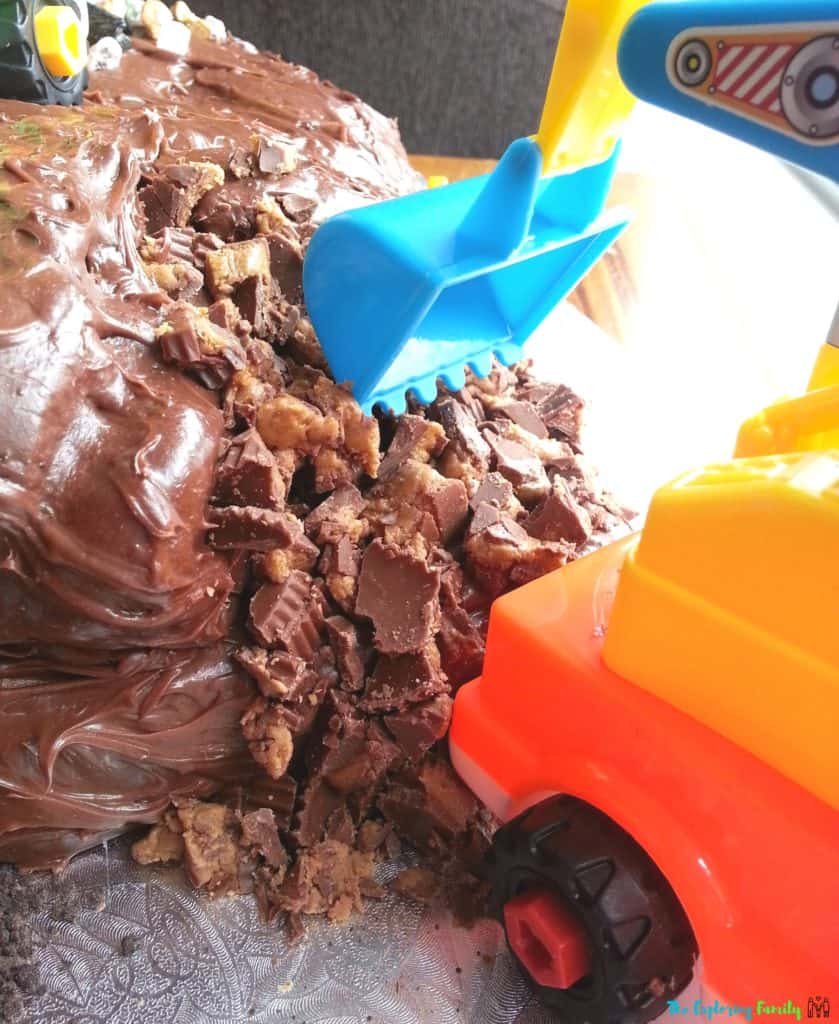 Once the cake is iced it is time for the fun part – decorating the top of the cake! You don't need a fancy or expensive cake topper for this construction zone cake. I found toy trucks from my local dollar store that worked perfectly. For my cake I placed the dump truck on top with a trail of chocolate rocks falling down the side of the cake.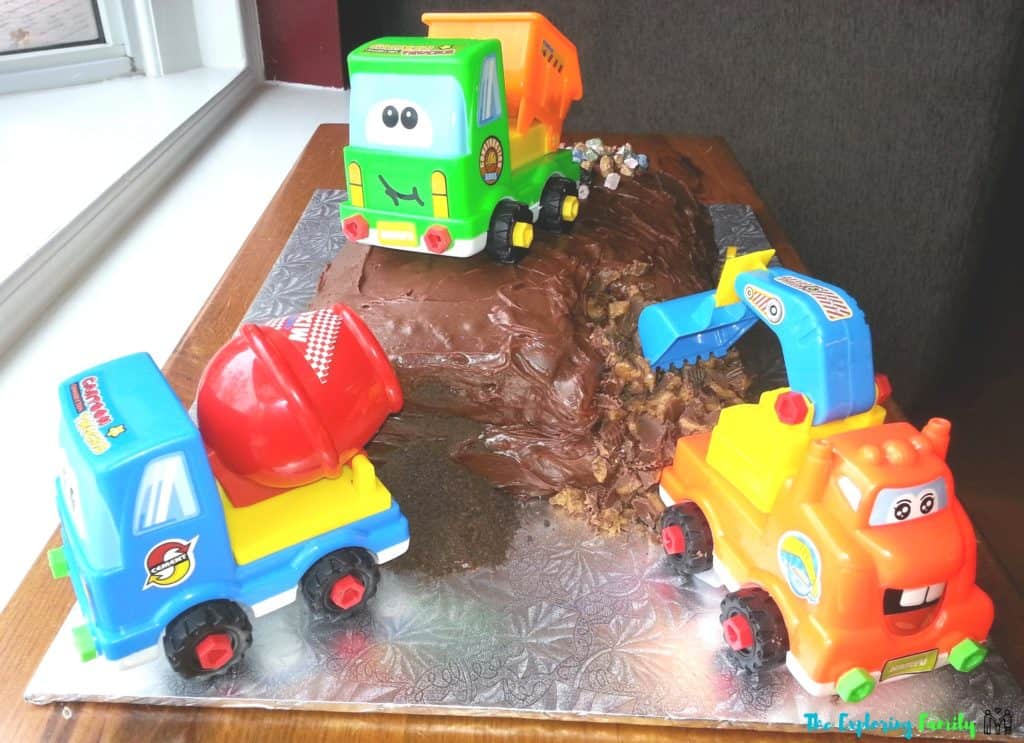 Place a tablespoon or two chocolate cookie crumbs inside the cement truck and pile some down as if has poured it out.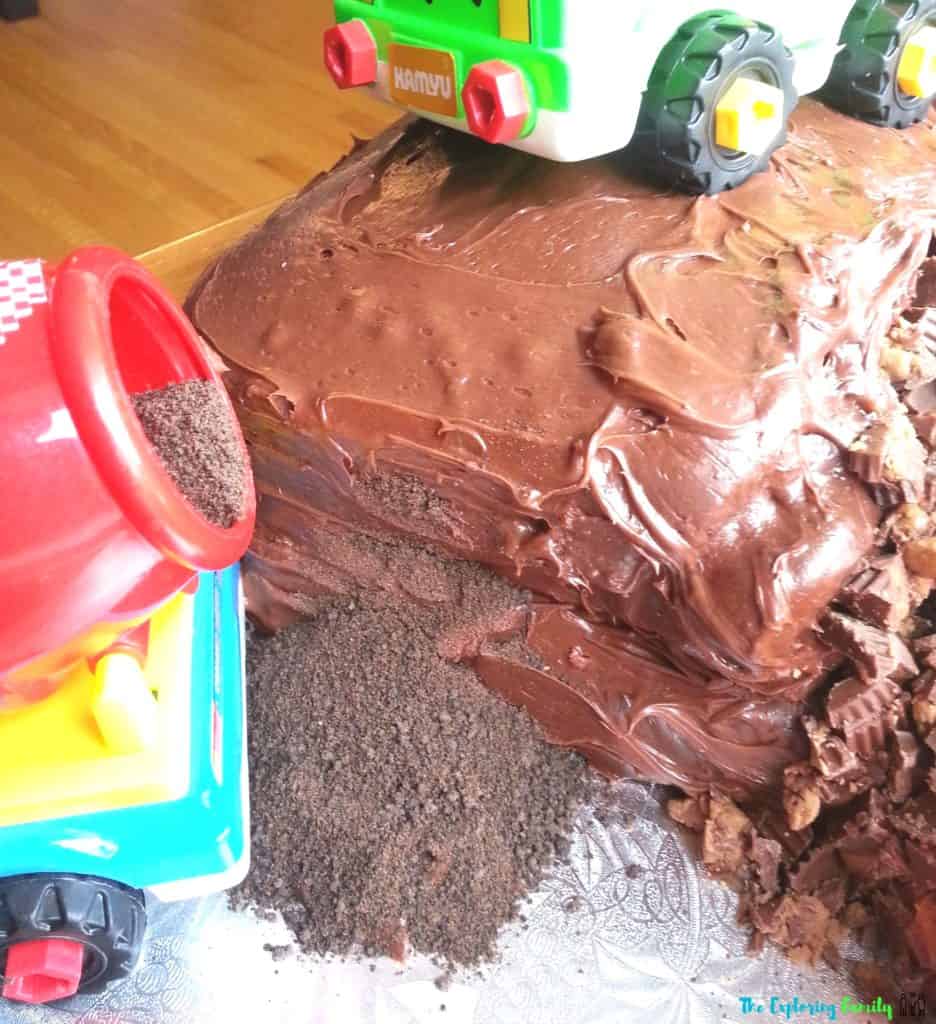 For the excavator I placed the chopped Reese Peanut Butter cups along the cut out area to create the look of boulders. The chocolate pieces really look like piles of rocks being moved around and offer some addition toppings to the cake.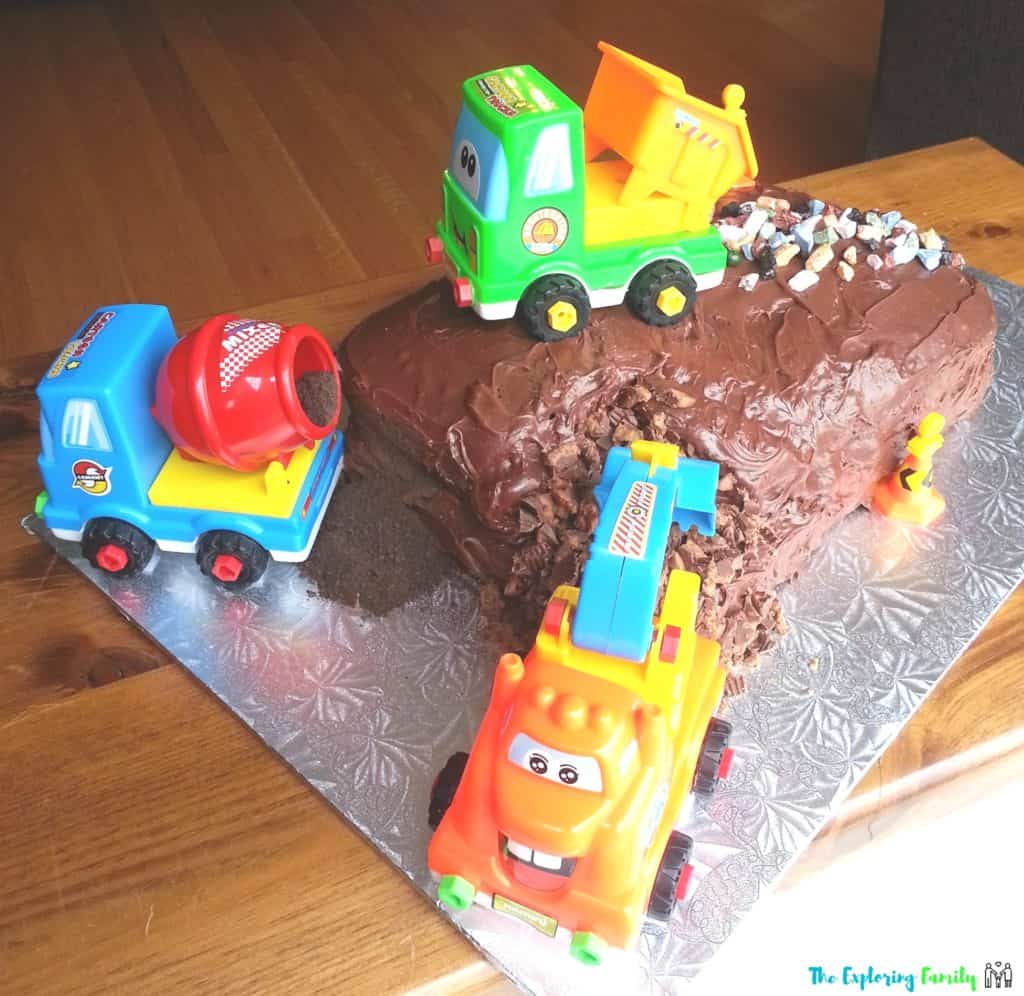 There are so many ways to customize the construction party birthday cake. Have fun "building" your creation!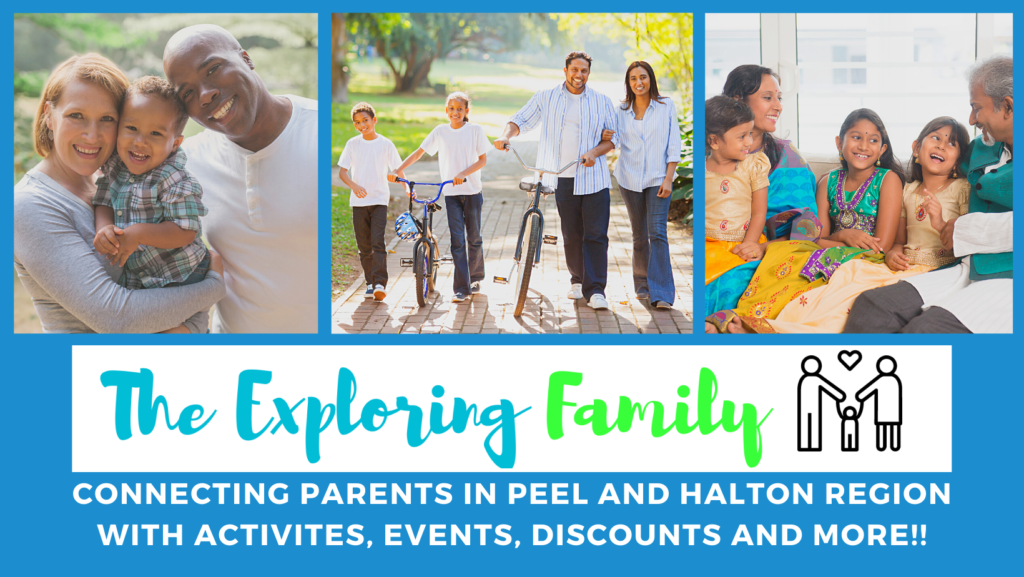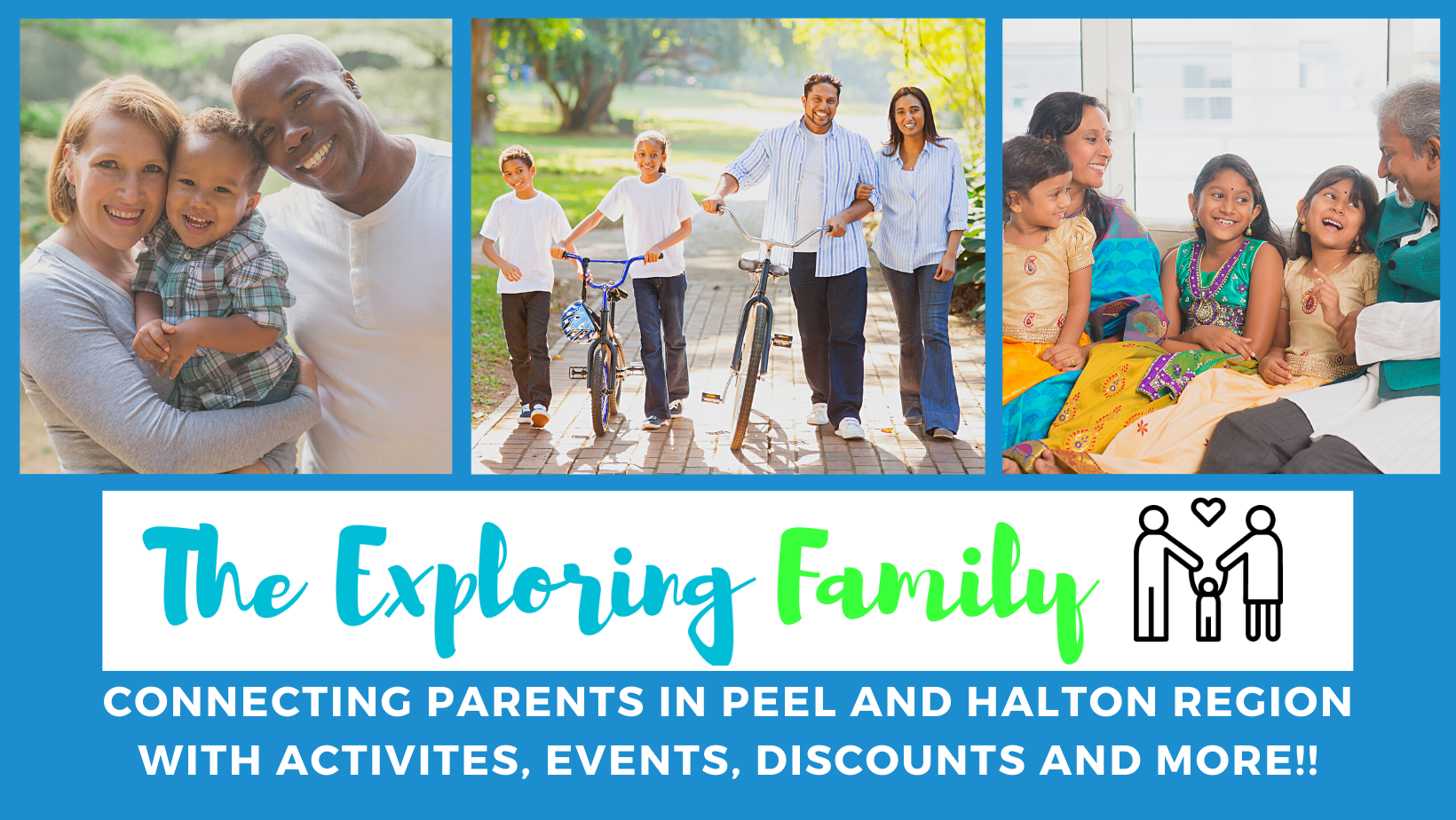 Can you help make this article better?
If you have noticed an error, have additional information or would like to share a comment you can:
E-mail us at info@thexploringfamily.com
Find us on Facebook: The Exploring Family
Find us on Instagram: @The.Exploring.Family
More Construction Birthday Party Ideas