Make this easy DIY construction cake for your little construction workers birthday party! This cake makes a perfect, 1st, 2nd, 3rd birthday construction cake or really for any age as it is a timeless theme. This construction party cake is quick and easy to make – boxed cake mix and you can have this cake decorated in 10 minutes. And for all of your construction party needs we have ideas for Construction Birthday Party Food, Construction Party Games and Activities, and Construction Party Favours.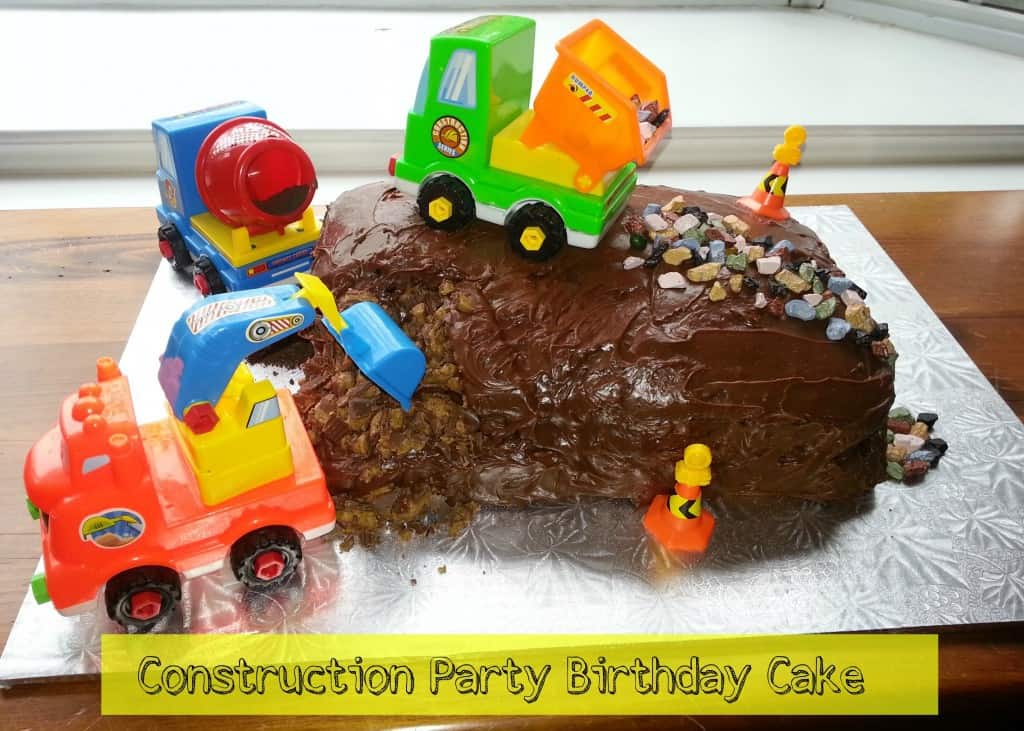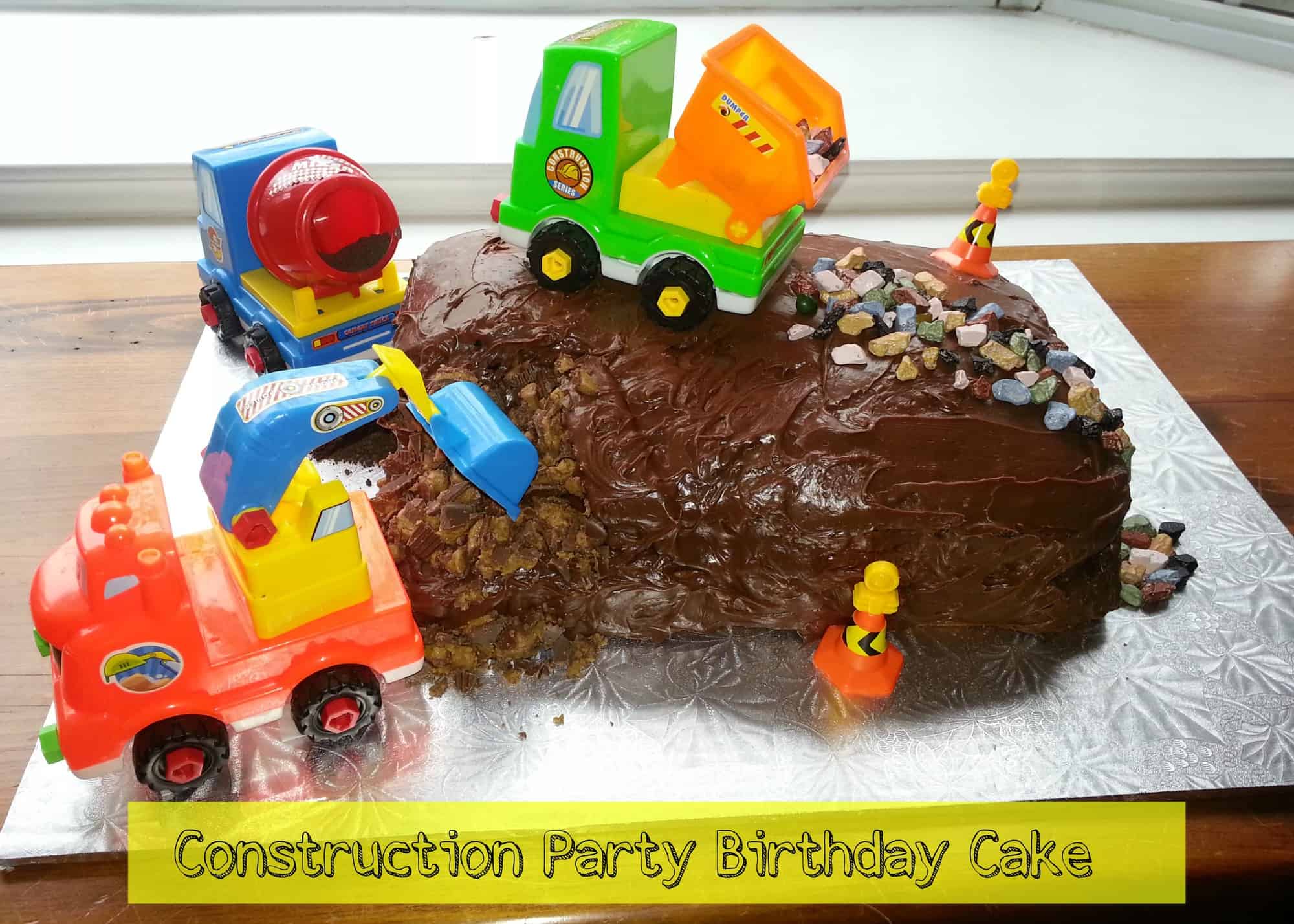 DIY Construction Cake
2 – 9×13″ slab cakes (2 boxes of cake mix)
2 tubes of icing – I used chocolate
6 Reese Peanut Butter Cups – chopped coarsely
1/3 cup Chocolate Graham Cracker Crumbs
1/2 cup Chocolate "Rocks" – available at the Bulk Barn and other confectionary stores
Construction Toys – like cement mixers, dump trucks, excavators and caution cones (washed and cleaned)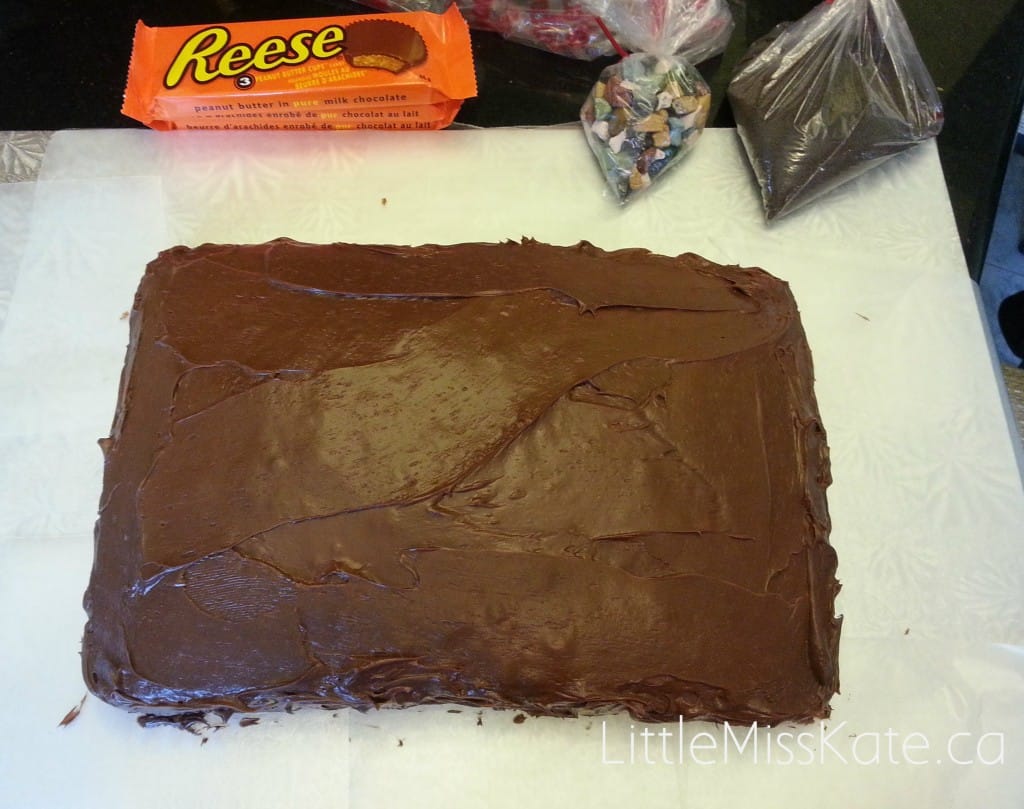 To create the cake:
Place one slab cake on a serving tray. Put 2" strips of wax paper around the edges if you are worried about getting icing on the serving tray.
Ice the top and sides of the cake with chocolate icing. If you like hiding special surprises (Smarties, chopped Reese Pieces, money) inside the cake now is the time to place them on top of the first layer.
Before placing the second slab cake on top cut our (or break off) a corner of the cake. This will be the part where the excavator is "digging". You can save this piece and ice it for a small personalized cake for the birthday boy/girl. Place the second slab on top of the first. Ice the rest of the cake, be generous in the area you cut to make it easier to spread the icing.
Once the cake is iced it is time for the fun part – decorating! For my cake I placed the dump truck on top with a trail of chocolate rocks falling down the side of the cake.
Place a tablespoon or two chocolate graham cracker crumbs inside the cement truck and pile some down as if has poured it out.
For the excavator I placed the chopped Reese Peanut Butter cups along the cut out area to create the look of boulders.
There are so many ways to customize the construction party birthday cake. Have fun "building" your creation!