Free Construction Party Printables
Boys and Girls love to dig, play in the sand and get dirty…. well at least my kids do! Most preschool aged kids I know love trucks, dump trucks, diggers, and bulldozers so why not incorporate favorite thing in a Construction Party for your little builder using some of the awesome Free Printable Construction Party Decorations I have created and found. The construction theme is a great idea to highlight simple DIY projects games with your little construction workers while showcasing some cool construction party ideas.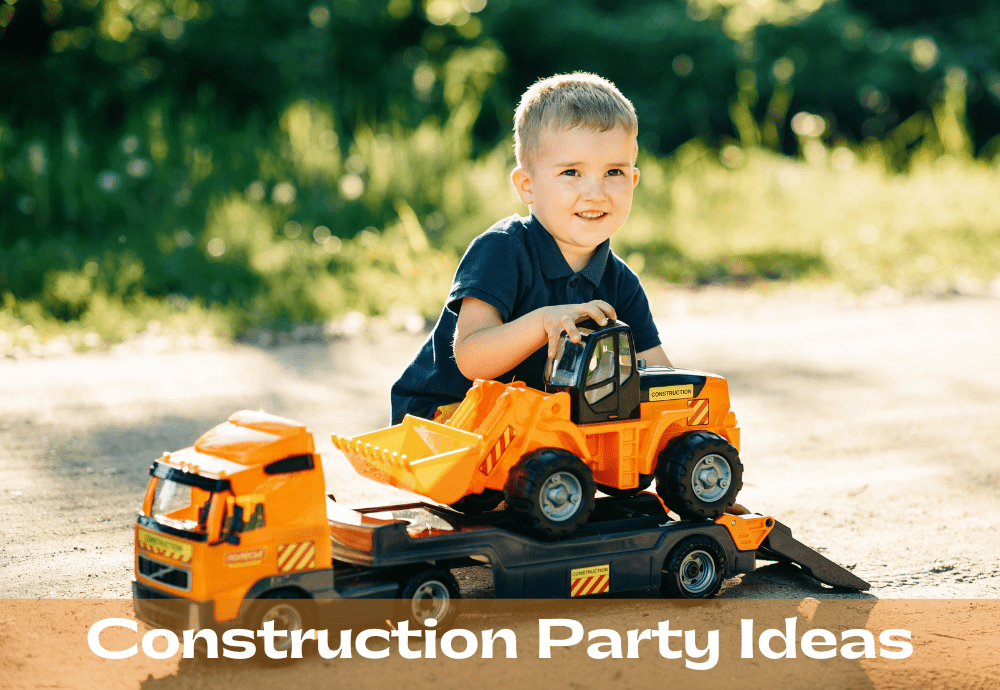 Digging through ideas to plan a Construction-themed birthday Party for your sweet boy or girl? Let us guide you with Construction Party Decorations, Construction Party Favours, Construction Party Games, Food Ideas for a Construction Party, and even a Construction Party Cake that your child is sure to dig into! Start creating a list of your favourite ideas to plan the big Construction Party themed birthday and gathering construction party supplies!
When I think about Construction sites I automatically think about the Construction Trucks, pylons, caution and warning signs, the colours Black and Yellow, hard hats, tool belts and much more! It is so easy to incorporate many of these elements into the decorations so we have focused on including these images in our FREE Printable Construction Party Decorations found below. You may be able to even use existing toy trucks and toy bulldozers as Centrepieces or props.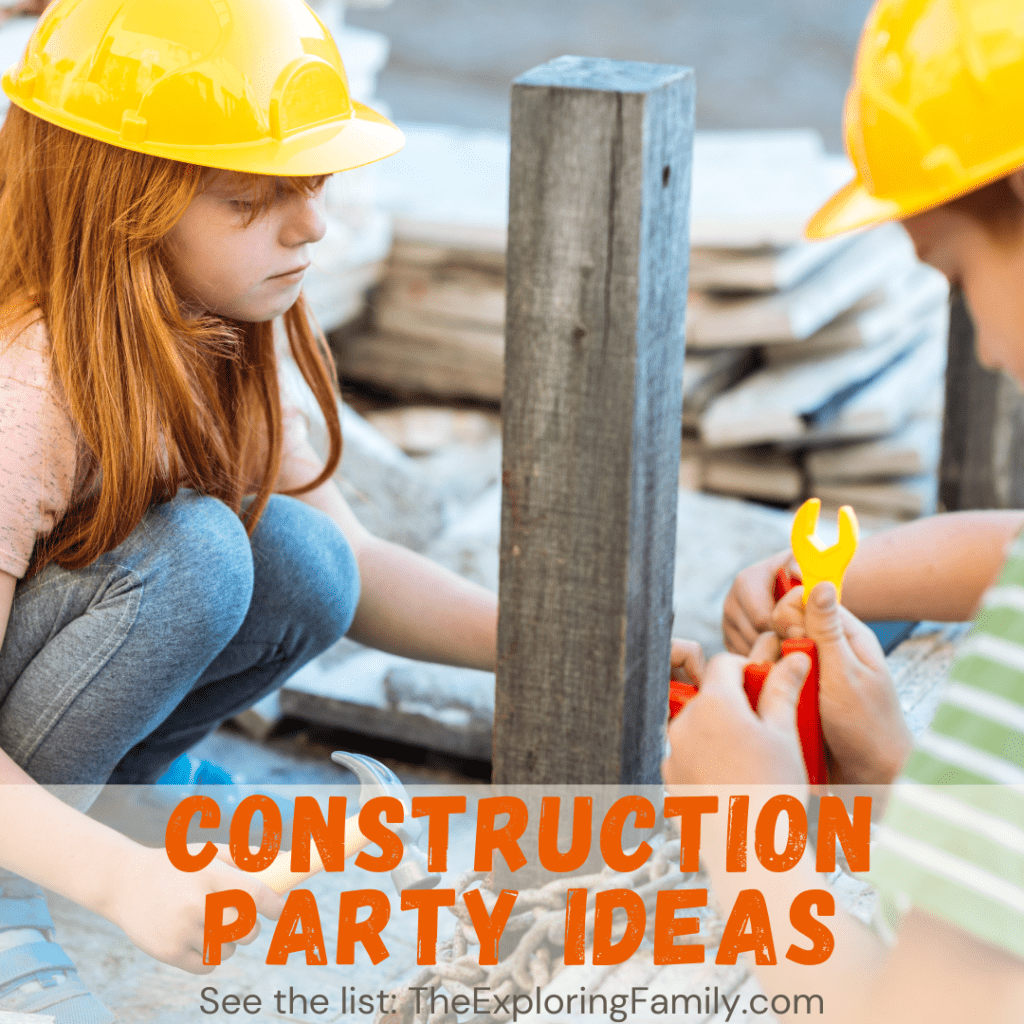 There are variety of great construction birthday party ideas and that includes construction birthday invitation. There is a whole lot of construction party printables included in this blog post which you can also integrate on the happy birthday banner or even use construction signs for your gift tags. Orange cones, spare tire or other construction vehicles are fun ideas as cake toppers.
Construction Party Favours
I am not a huge fan of party favors (goodie bags), so for Little Bear's first birthday I wanted to do something a little different and something that would not get tossed in the garbage as soon as the kids get home for his construction party.
I would rather not give out goodie bags at birthday parties then send kids home with cheap toys that are just going to break within a day. If you are going to spend your money on putting together a goodie bag it might as well be something that the kids can play with long term, be useful or have some fun creating something with.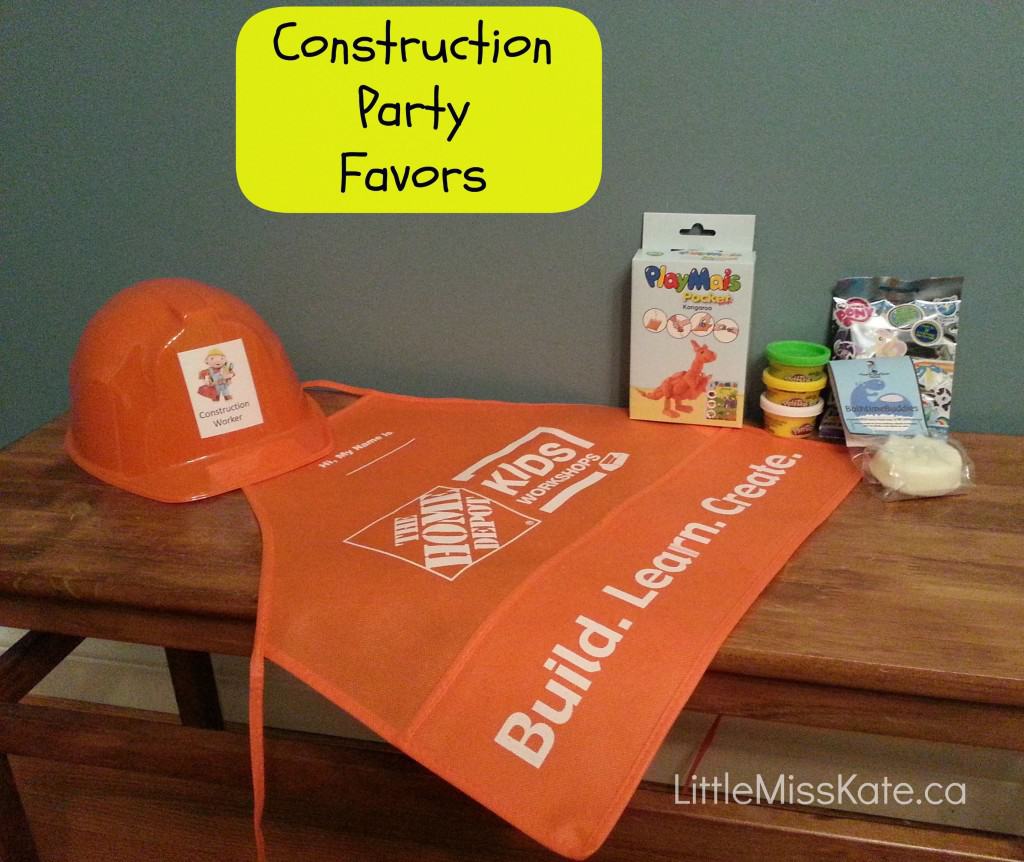 Luckily having a Construction Party theme I had lots to work with! To hold all of the "goodies" I didn't just want to use a plan old bag, instead I got construction aprons from my local Home Depot store (also one of Hubby's favorite places in the world!). Not only could the kids decorate them with fabric markers as a craft for the party, but the pockets of the aprons were the perfect storage place for the take home treats after a good time at the party.
Construction Party Favours Ideas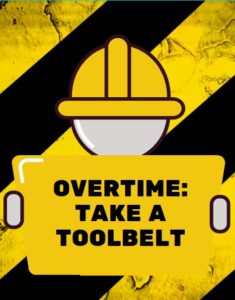 Kids have endless hours of fun creating and building with Play-Doh. In our Construction Party Goodie Bags I included 3 mini tubs of Play-Doh.
When you are a construction worker you have to make sure that you are always being safe! I made up some Bob The Builder Hard Hats for the kids to play with. I picked up plain orange plastic hard hats at my local Party supply store, and printed out pictures of Bob The Builder onto sticker labels using my HP Photosmart printer. Then I just stuck them on the hats and let the kids run wild!
They also each had a hand soap for cleaning up big messes after spending the day at the construction site playing with construction toys.
*Kate included playmais but its no longer sold in Canada.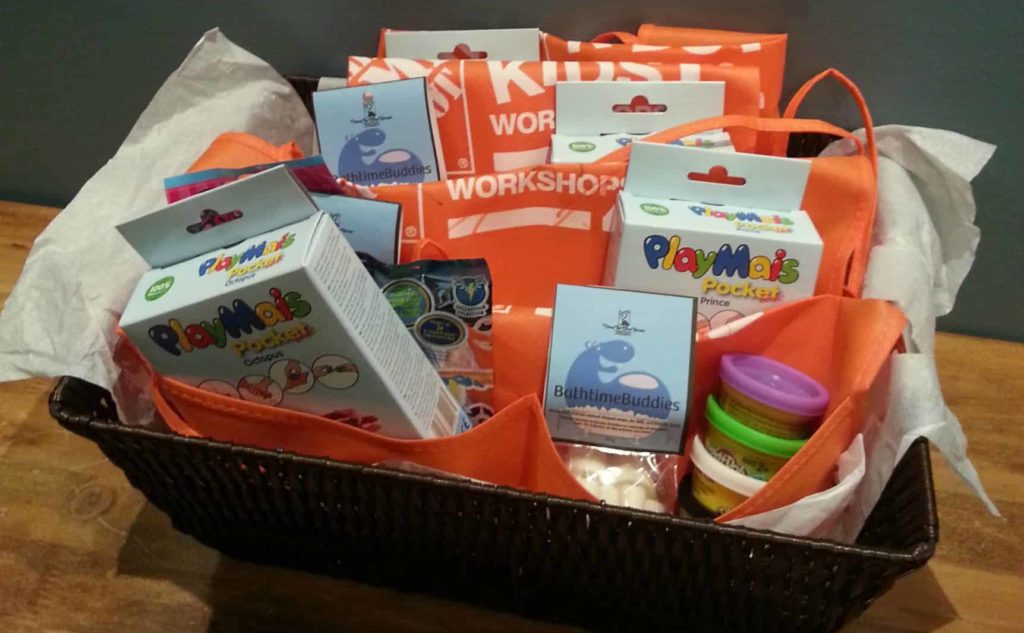 Once the children had decorated their Home Depot construction aprons I collected them back up again, and quickly filled them while the party was going on. Once they were filled I placed them in a basket so that they were all ready to go at "Overtime".
Both the kids and parents were impressed by the way the goodie bag was packaged, and heard a few excited statements of "We get to take them HOME!". Whatever you decide to add for their loot bags or favor bags, the whole idea is they get to experience loads of fun and brighten their special day even more!
Finding ways to entertain kids during a birthday party is no small task. You want the kids to have fun and be engaged, but don't want to overdo it. For Little Bear's first birthday we came up with some entertaining Construction Party games and activities to keep the kids occupied and allowed them to be creative and have fun at the same time.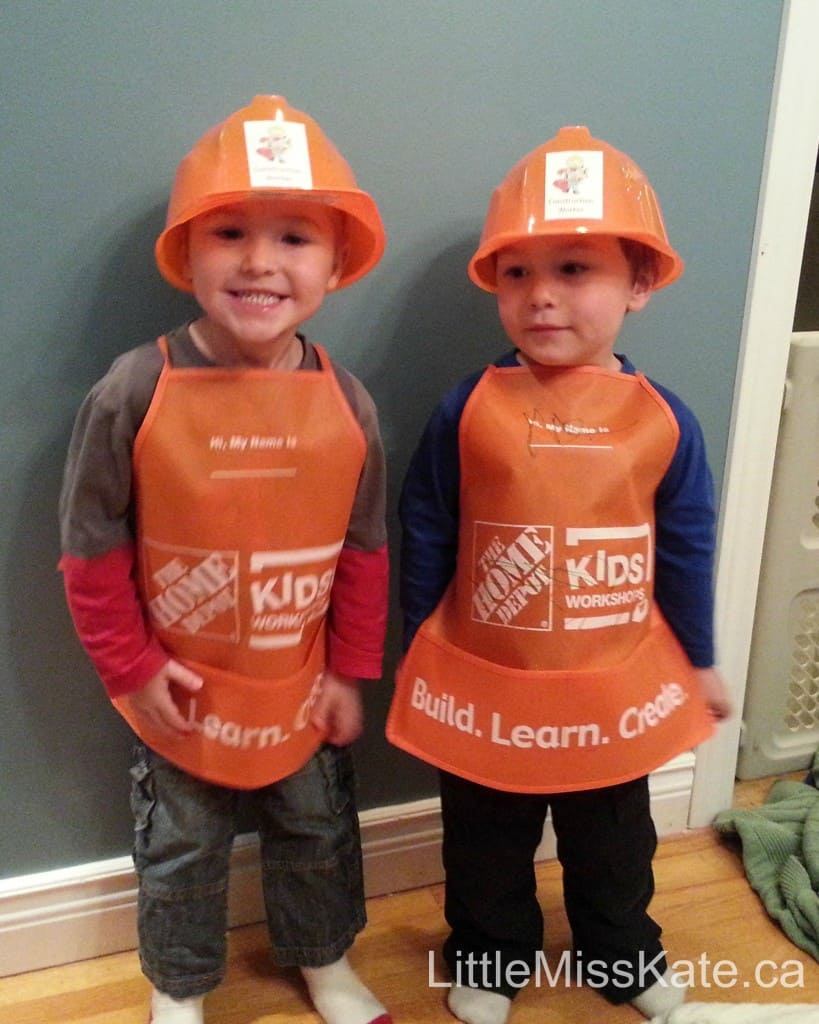 Construction Party Games and Activities:
Decorate the Construction Apron
I was able to get Construction Aprons from my local Home Depot store. Monkey thought they were neat as they are similar to the tool belts that Hubs wears at work, complete with pockets to hold all of the essential tools. As a craft project we let the kids personalize their aprons by colouring them with Crayola Fabric Markers.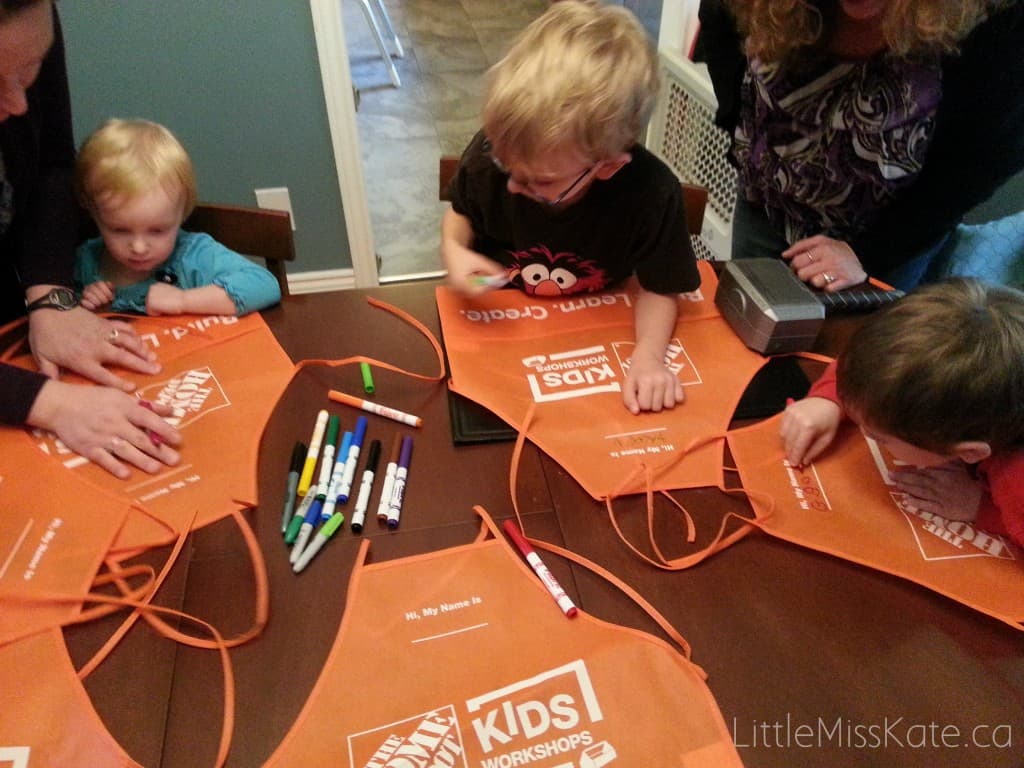 If the kids were a little older I would have broken out the glue gun and let them go wild gluing on foam shapes and other decorations. However most of the kids at the party were around 3 years old, so we stuck to markers this time around. After they were decorated the kids could wear them as they were them along with their construction hats to play!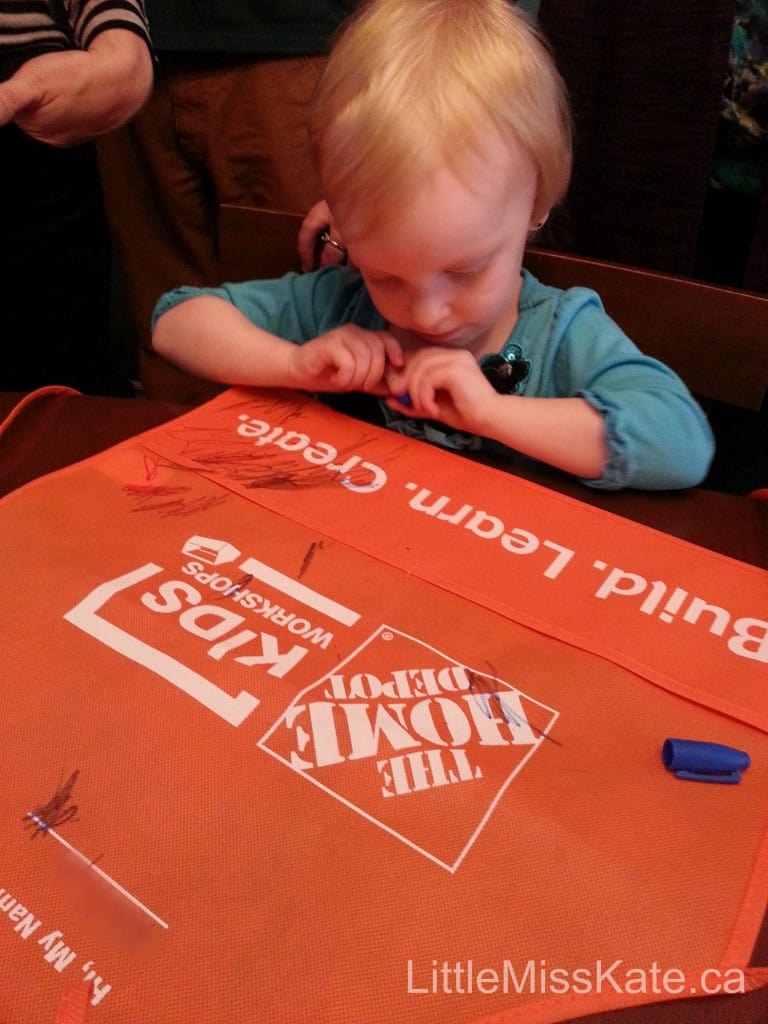 Between the activity, having some delicious Construction Party food and Construction Birthday cake, we had a pretty full agenda for the party. However there are lots of other Construction Party Games and Activities you could do including caution cone ring toss, digging for prizes in a sand box or sensory bin, LEGO building competitions and so much more.
Construction Party Station Ideas
Children love to Build and Wreck – so Ottawa Mummy Club suggests mini stations for kids to rotate through:

Station 1: Dress up like Construction Workers including yellow construction hats, safety vests and tool belts all which can be easily found. Pro tip: one great way to do this is to also stick or hang a caution tape or have small spare tires around that will create the ambience of being in a construction zone. The birthday child and the little guests will undoubtedly have so much fun with this experience!
Station #2: Tower building competition – Who can build the tallest tower in 5 minutes? The best part about this challenge is you can use any types of blocks or building materials including Duplo, Lego or Magenetic blocks, which most likely you already have at home. Use some trucks to bulldoze and knock down the tower.
Station #3: The Sandpit – Either using a full sand pit or even a small sensory bin let the kids run wild and get dirty while playing with these construction trucks.
The best part about these ideas? They are simple…and kids love them! Plus, chances are, you probably already own most of the materials that you will need to run these activities.
Construction Party Decorations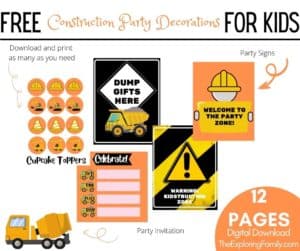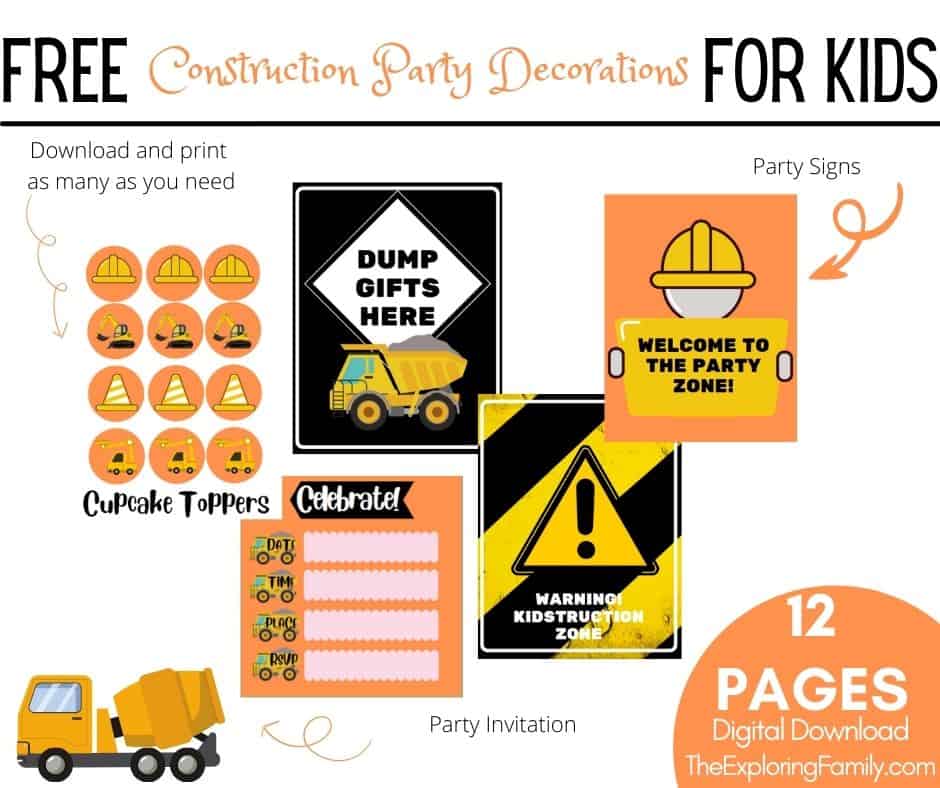 FREE Printable Construction Party Decor
Included in our Construction Party Decor FREE Printable
Welcome Sign

Food Zone Sign

Hard Hat Area

Kidstruction Zone Sign

Overtime: Take a Tool Belt Sign

Dump Gifts Here Sign

Construction Party Invitation – see second link
DOWNLOAD YOUR FREE PRINTABLE DECORATIONS
FREE Printable Construction Birthday Party Invitation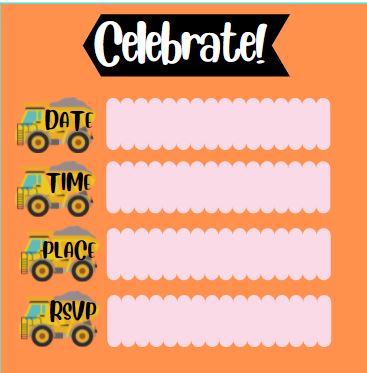 DOWNLOAD YOUR FREE PRINTABLE INVITATION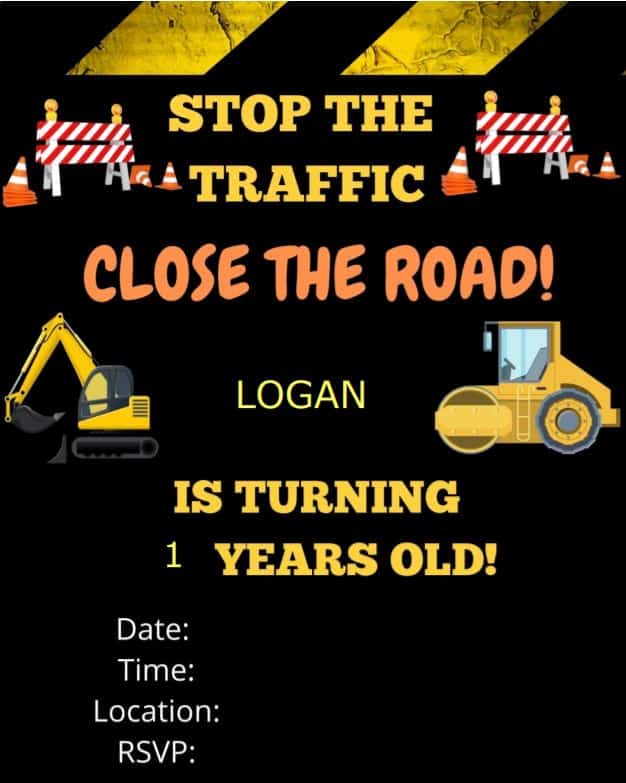 DOWNLOAD YOUR FREE EDITABLE PRINTABLE INVITATION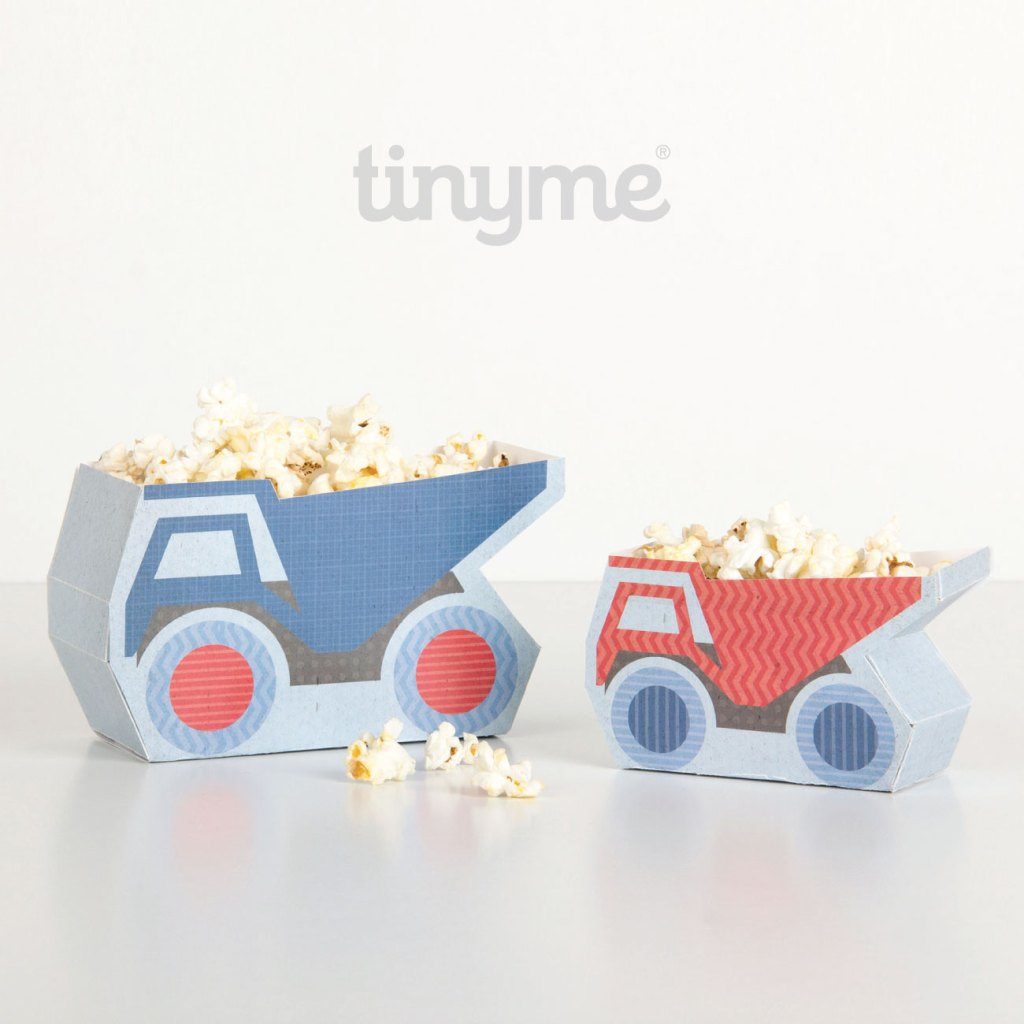 While these Goodie Trucks don't follow our black, yellow and orange theme, but they are a super cute addition to any Construction Birthday Party. These construction printables Goodie Trucks from In the Playroom are a super easy and thrifty way to get a stylish look for your child's party.
Let you imagination run wild and "build" a construction party that both children and adults will have fun attending! A construction-themed party is clearly a good theme to consider especially if you have a little boy, or even girls can enjoy this theme. Always keep in mind to plan ahead all event details such as the construction color scheme, classic games, dessert station, sweet treats and snacks. Party planning is a breeze when you have everything ready!
More Birthday Themes and Ideas