The first years of a child's life is integral to their brain and sensory development and reaching developmental milestones. Sensory development can be fostered through curiosity, exploration, and discovery of new textures, smells, sounds, tastes and sights, all of which can be done through play in a sensory bun. Sensory development focuses on the development of
the five senses through crafts for babies and sensory bin ideas.
A great quote that comes to mind is "There are 7 wonders of the world, but to babies eyes there are 7 million". I love watching Thumper's reactions to new experiences and items as she explores new sensory bins – it definitely reminds you to appreciate the little things in life that bring simply joys. Research shows that kids that have the opportunity to engage in sensory bin play have a larger vocabulary, and simply we know Messy Kids are Happy Kids with Messy Play Ideas!
Sensory Bins for Toddlers
Toddlers show curiosity, exploration, and discovery of new textures, smells, sounds, tastes and sights which all can be fostered through the use of sensory bins. Sensory development focuses on the development of the five senses and is a great activity to keep toddlers busy, however depending what you put in the sensory bin it may require some more supervision than a busy bag. Thumper and I are currently enrolled in an awesome program run by Common Moms in our area that gives me Sensory Bin Ideas.
What is a Sensory Bin?
Sensory bins for kids are a bin of materials that engages children in the sense of touch through sensory play using tactile materials. My favourite sensory bin activities are anything that is messy, so I highly suggest just having your child in their diaper while playing. Sensory bin activities for toddlers can be simple materials that you already have at home such as food colored water, jello, rice, or sand. Toddler sensory bin ideas can offer enriched childhood development as learning through play is essential to children's growth and development.
How to Make a Sensory Bin?
Creating sensory bin ideas for toddlers is simple and and an amazing opportunity for you child to play, explore, imagine, create, fill, dump, discover, and learn which are all key concepts of early learning and development. Creating a tactile sensory bin activity is easier than you think. To make a sensory bin all you need to do is simply give your child a sensory bin with some materials (sensory filler) that are tactile that they can touch and explore. I suggest changing up the sensory bin for kids often to keep it fresh and new so that your child doesn't get bored. A great way to change them is to create different themes or change them as different seasons and holidays occur. No matter what filler you use in your sensory table, I am sure your child will love getting messy and exploring! Sensory bin ideas can be a calming activity that helps children focus, especially for children with special needs. Sensory bins for autism are a great calming tool that can be used in the classroom.
What do you need to make Sensory Bins?
Choose a sensory bin or sensory tub: You can either choose a sensory bin that is small and easy to take on the go however this will only let your child explore with their hands, or you can buy one that is big enough that your child can sit right in it such as the long under the bed rolling bins.
Choose a filler: Sensory bin materials like Sand, rice, pasta, water beads, and many more!
Choose a sensory bin tool: Choose tools like scoops, shovels, funnels or spoons, really anything that helps them dig, scoop and explore!
Choose a theme: Creating a theme for your sensory bin can be fun and simple, often you can choose a theme based on upcoming holidays or seasons. You can also use stories to help you develop sensory bin ideas, maybe you read a story about farm animals, you might want to create a mud pit with some plastic animals to play with.
What are the benefits of Sensory Play? How does Sensory Play help Development?
Sensory Bin Benefits
Helps build neural connections that development cognition and creativity

Builds vocabulary and understanding of language

Supports cognitive growth: fine and gross motor skills

Teaches problem solving, reasoning, and social interaction

Exploration of different textures can be very soothing
Examples of Sensory Bin Activities and Crafts for Babies:
Discovery tables known as Sensory bins have a million different options that you can create, play and explore. You can create new sensory bin ideas by adding literacy and numeracy materials once children get a little bit older. Sensory bin play can start even when children are infants with activities such as messy high chair play, and seasonal sensory play. Sensory bins for babies are great ways for children to explore new foods as well such as spaghetti.
How do you Control the Mess?
Simply put you don't! Sensory bin play is messy and that is the purpose of it, however you can teach your child certain expectations to keep the mess to a minimum. You can teach your child what acceptable sensory play exploration looks like, by playing with them and showing them how you dig and keep the materials in the sensory bin. Demonstrate digging, scooping, pouring and filling and showing your child how fun it can be to play in the material but that we keep the materials in the bin. With young children it may take awhile for them to get used to the rules and expectations but with repeated exposure and practice they will get the hang out it. It is important to teach them not to throw any of the sensory fillers, and that if they don't follow the rules then they won't be able to play in the sensory bin. Placing a towel underneath the sensory bin for toddlers can also limit the amount of mess, or if you think it will be really messy take it outside! Buy a small broom and pan and make your child responsible for helping in the clean up!
If you are looking for other fun toddler activities check out these Pom Pom Activities on Diary of a SoCal Mama!
Why is Messy play Important? What does Messy Play promote?
Sensory Bin Messy Play is super fun and super important as it allows children to EXPLORE, DISCOVER, CREATE, AND ENGAGE in new materials and explore their senses (touch,sounds, taste, smell and sight) through the process. Children are able to get their hands messy and practice dumping, filling and scooping which are beginner play skills. Messy sensory bin play is often done in sensory bins which teach cause and effect as children explore what happens when they do certain things in the bin such as dumping. Sensory bin activities should be supervised depending on the age of your child and their abilities.
Messy play for children in sensory bins allow them to take the lead in play as kids love messy play and children are active learners! Messy play can be as simple as children playing in puddles on a rainy day. Messy sensory bin activities create opportunities to develop and learn more about their senses. Messy kid activities are important for toddlers, preschoolers, and kindergartners for a variety of different reasons. Learning through play daycare is important to allow messy play for babies who love to play and learn. Messy sensory bin play for babies and toddlers helps practice fine motor skills using tweezers, scoops to pick up the base materials. Messy sensory bin play for preschoolers helps work on co-ordination, imagination, and creative thinking as they explore cause and effect of materials in the sensory tub. Messy play for kindergartners focuses more on teaching cooperation and collaboration as now children have to learn to share the materials and sensory tools with their classmates.
Is Messy Play Good For Babies? When to start Messy Play?
Lastly, messy play can begin as early as the infant stage as there are many ideas you can do with your baby in the high chair. My favourite part of messy play is that you can use the seasons or holidays to help you create new ideas, check out Fall Fun for Under One for some ideas. Most importantly messy children are happy children, so that is why I always suggest that you put your child in play clothes which basically are clothes that you won't be upset if they get dirty and messy engaging in messy activities for children.
What Skill Areas do Sensory Bin Play Develop? How do Sensory Bins help development?
Language: By Exploring Sensory bins, children engage in language development as parents or caregivers talk to the child about what they are experiencing which exposes children to new descriptive vocabulary and helps children learn words like: warm, cold, squishy, smooth, etc. Parents model vocabulary and appropriate play while engaging with their children. If you have a preschooler showing interest in words and letters than try out these Alphabet activities.
Social: Children often engage in sensory bin play together in sensory bins so they must learn to share materials and take turns. Children must speak with adults as well as other children while playing.
Cognitive: Sensory bins encourages creativity, curiosity, and discovery of new materials as children use their 5 senses to explore and understand how materials can be used. Sensory play and brain development are linked.
Physical: Messy play exploration with their hands encourages both gross and fine motor skills such as holding, grasping, pinching, stacking, and pouring).
Sensory Bin Ideas for All Seasons
I have created an extensive list of Sensory Messy Play Activities and ideas that you can recreate at home, or early years messy play ideas for a classroom that teaches sensory curriculum ideas. I have sorted the messy play activity by season to help you find ideas easier, and save you time. Many of these activities can be used as messy play ideas for 1 year olds as long as they are supervised.
Fall Sensory Bin Ideas:
Apple Cinnamon Oatmeal Sensory Bin: The messy area can be kept to a minimum by placing a table cloth underneath the sensory bin. This is the perfect fall activity to do in addition to apple picking and other fall fun activities. Add some cinnamon and allspice to these oats and add in some plastic apples and utensils to allow your children to dig around through the oats and experience the senses of fall.
Cinnamon Scented Fall Coloured Rice: Messy play for toddlers will keep your energetic toddlers entertained for hours as they explore the rice, corn and cinnamon scent.
Fall Sensory Bin: Messy activities for toddlers as there are lot of environmental changes such as the leaves changing in the fall. This is an awesome activity to hands on explore fall and all that it has to offer!
Pumpkin Guts Sensory Exploration: Children as active learners explore through their hands, so allowing them to play with pumpkin guts allows them to learn more about pumpkins then simply looking.
Winter Sensory Bin Ideas:
Vegetable Soup Water Table: Preschool messy play that can be thrown together within minutes simply using the play kitchen vegetables and utensils. This activity encourages creativity as children can create their own warm soup and engage on imaginative play.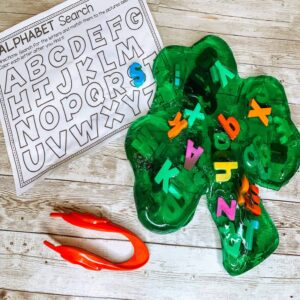 Shamrock Sensory Fun: Jello, and alphabet fun all in a shamrock cake shape for St.Patrick's Day.
Unscented Fake Snow: This is a great sensory activities for 3 year olds and under, as it allows them to stay warm and build their own snowman. Children love to play in the snow but hate the cold so this fake snow is the perfect solution to keep your little ones entertained for hours.
Spring Sensory Bin Ideas:
Bugs Sensory Play: What kid doesn't love to dig in the dirt with bugs and worms, well this can be difficult in the cold winters so instead bring spring indoors in this Bugs inspired sensory tub. The sensory bin includes colored rice and some plastic bugs as well as a magnify glass to take a closer look. This sensory activity encourages children to play with bugs, and talk and learn about them, as well as question what they know about bugs.
Rainbow Sensory Bottles: Little ones will love playing with the rainbow sensory bin that is composed of rice and rainbow pictures in a jar. Messy play research shows sensory activities are great for children in preschool in kindergarten and encourage learning through play.
Easter Sensory Bin: This bin allows children to use easter eggs as scoops and to explore the cause and effects of pouring and dumping rice in the bin. This activity is also great as it can also be used as a letter matching activity for those who are beginning letter recognition.
Summer Sensory Bin Play:
Shaving Cream and Pool Noodles: Children can practice building towers with shaving cream and pool noodles, or clean off the shaving cream, or practice sorting by colours. Children love the texture and feeling of shaving cream.
Easy Salt Dough Fossils: Kids love dinosaurs and digging so this activity is the perfect fit. You can either buy dinosaur bones or find out more here about how to simply create them using salt dough.
Frozen Ocean: These activity introduces children to the ocean ecosystem and encourages them to question and learn more about the ocean and all the animals that live within it. This sensory tub uses frozen water beads making it a fun activity to do on a hot summer day.
Learn more about Sensory Bins, and Busy Bags which are great activities to keep toddlers, preschoolers, and kindergartners busy and entertained.
Pin for Later: