If you have a Paw Patrol Fan in your house it's not a surprise that they will want to celebrate with their favourite show. This Easy Paw Patrol Cake is the perfect way to celebrate birthdays, kindergarten graduations, or even just because. This cake can bring so much fun to events especially in a Paw Patrol Party Theme.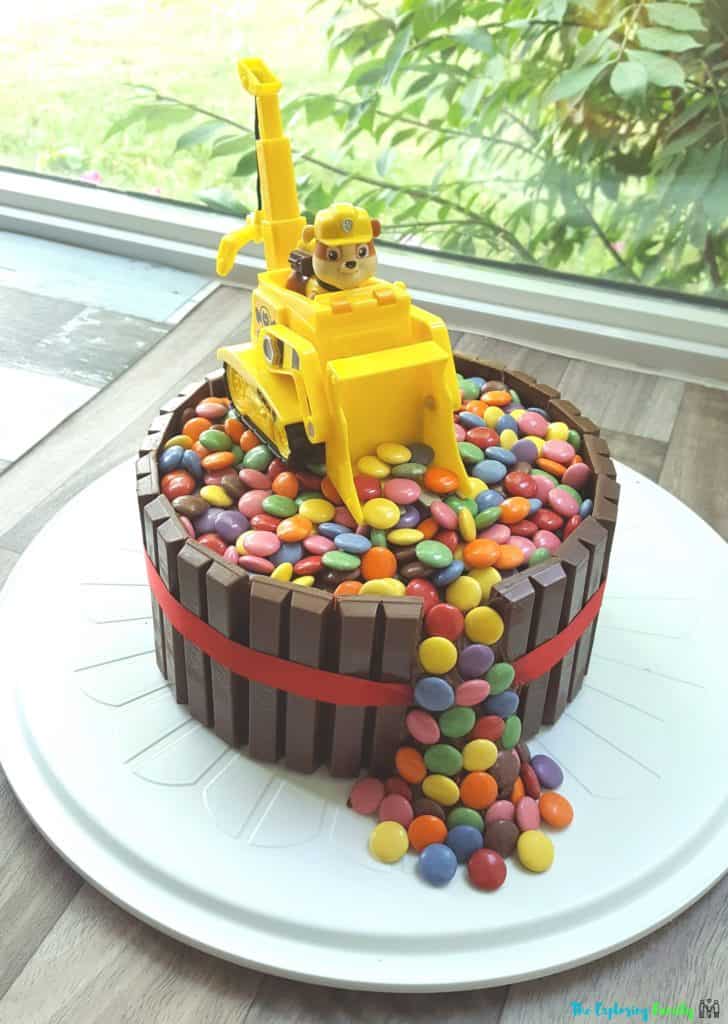 We love creating fun cakes for our family to enjoy. It is much less expensive to construct them at home and they taste just as delicious. We created this DIY Paw Patrol Cake using just a few simple ingredients, and everyone loved it. This wonderful cake is not just for little boys, but can also be prepared for little girls! Are you ready to try this Paw Patrol Birthday Cake? You could change up this cake with other paw patrol characters, still keeping the round cake and topping with other paw patrol cake ideas.
Paw Patrol Cake DIY – Easy Birthday Cake DIY Tutorial
This fun Paw Patrol Construction cake was a huge hit with everyone in our family. Using a few simple ingredients, standard cake pans, and a Paw Patrol Cake Topper, we were able to make dreams come true without too much work or an expensive bill to pay at a local bakery. Plus, you can have your child's favorite Paw Patrol character so they can celebrate the moment of being an avid little Paw Patrol fan. You can either add an edible cake topper image of a specific character or a cute Paw Patrol logo. If your child chooses a Chase Paw Patrol cake, you can make one with paw prints around it and the mighty pups gang as toppers! One thing's for sure, there are variety of options to make Paw Patrol cake designs. Checkout these Paw Patrol Birthday Party Ideas for more fun!
How Do you Make an Easy Paw Patrol Cake?
This Paw Patrol Cake is made with a cake mix. That's right. Boxed Cake mixes. If you want to bake 2 – 9 Inch cakes from scratch, you can opt to use your own favorite recipe. We simply love using the boxed cake mixes because it simplifies the process and they still taste delicious.
In fact, we also opt to use premade store-bought frosting. Again, if you wanted to create your own recipe, that is fine but we love the simplicity and convenience the premade stuff offers, without compromising flavor.
Making this cake is easy, but it looks like you spent hours in the kitchen.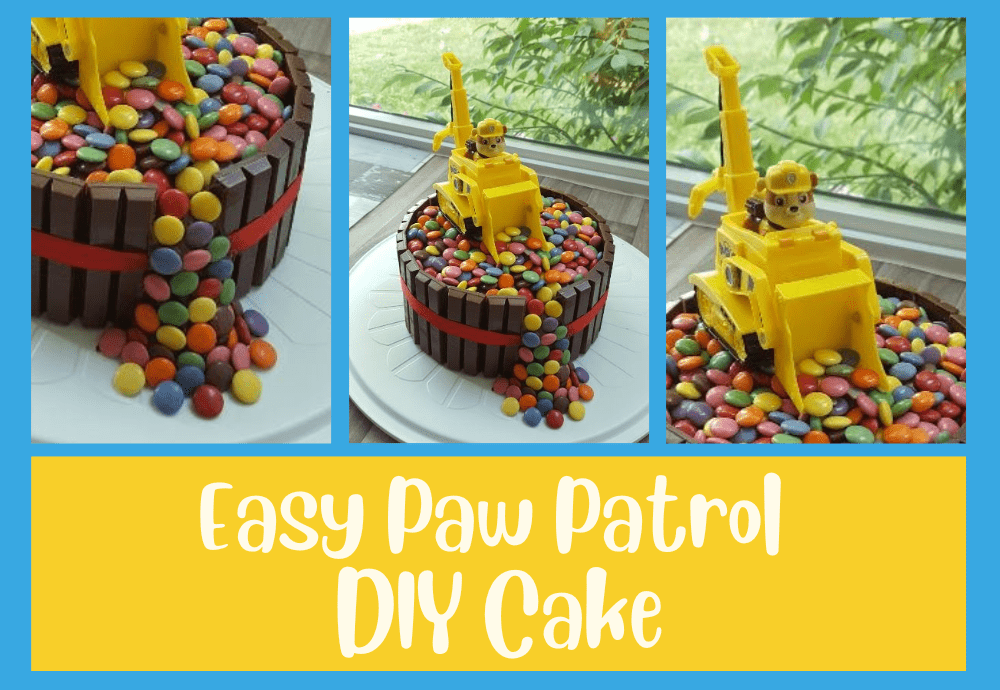 What You Need to Make a Rubble Paw Patrol Cake
The ingredients for this Paw Patrol Cake can be as simple as you like. If you want to use your own recipe and ingredients that is absolutely your call but we promise, that simplifying the process doesn't sully the result. You can also customize it with a different flavor or cake mix, we chose chocolate cake for this one. No matter what you and your child opts for, in the end, you would still have a perfect birthday cake that everyone in the party will enjoy. You will still end up with a delicious cake, with Rubble as the star.

If you are looking to have a Rubble themed party, then checkout our Construction Party Ideas!
1 Box of Cake Mix baked into 2 – 9 inch round cakes
1-2 containers of the frosting of your choice
12 Kit Kat Bars
Large Bag of Smarties
Ribbon
Rubble Action Figure – I just washed up one of the kids toys
Paw Patrol Cake Recipe
Making a Paw Patrol Cake isn't overly complicated. However, the results appear as though you spent a vast amount of time baking, creating and decorating.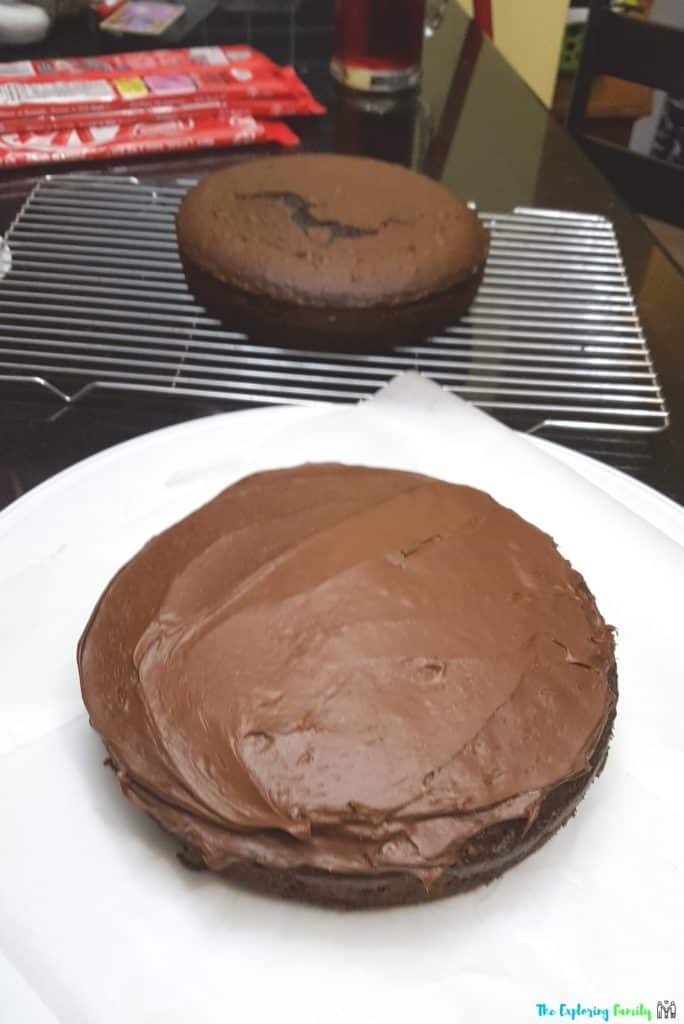 To make this Kit Kat Cake, you simply need to bake the cake mixes as per the instructions on the box. Once you have baked and cooled the cake you frost it with the store-bought icing and place your kit kat bars surrounding the sides of the cake. Make sure that there is enough icing in each Kit Kat sections to hold them on.
Tie the Kit Kats off with a ribbon, decorate with the smarties and the topper, and voila! A beautiful cake perfect for your celebration.
Step 1
Bake your two 9-inch round cakes. Make sure to follow the instructions on the box. Once Baked, allow your cakes to cool prior to icing them. Icing a warm cake causes the icing to melt. This will cause a mess and ruin the next step.
Step 2
Place wax paper strips around the edges of the bottom tier of the cake. This helps to minimize mess after icing.
Step 3
Place one layer of your cooled cake on your cake board and apply the frosting to the top layer of the cake only.
Step 4
Once you have iced the first layer, place the other layer on top of it. Ice the second layer, followed by liberally icing the entire cake, sides included. You will want the top to have a generous layer of icing allowing the smarties to stick.
Step 5
This is the fun part. Break the KitKats in half lengwise. Ensure that each piece of cake will have 2 KitKat sticks. Carefully place your KitKats around the sides of the cake, pressing gently into the icing. Leave an opening along the side of the cake that is about 2 KitKats wide.
Step 6
Tie a ribbon around the cake to hold the KitKats in place. Now add extra frosting to the open spot, creating a base for the smarties rocks to stick to. This will create the "spill" for Rubble.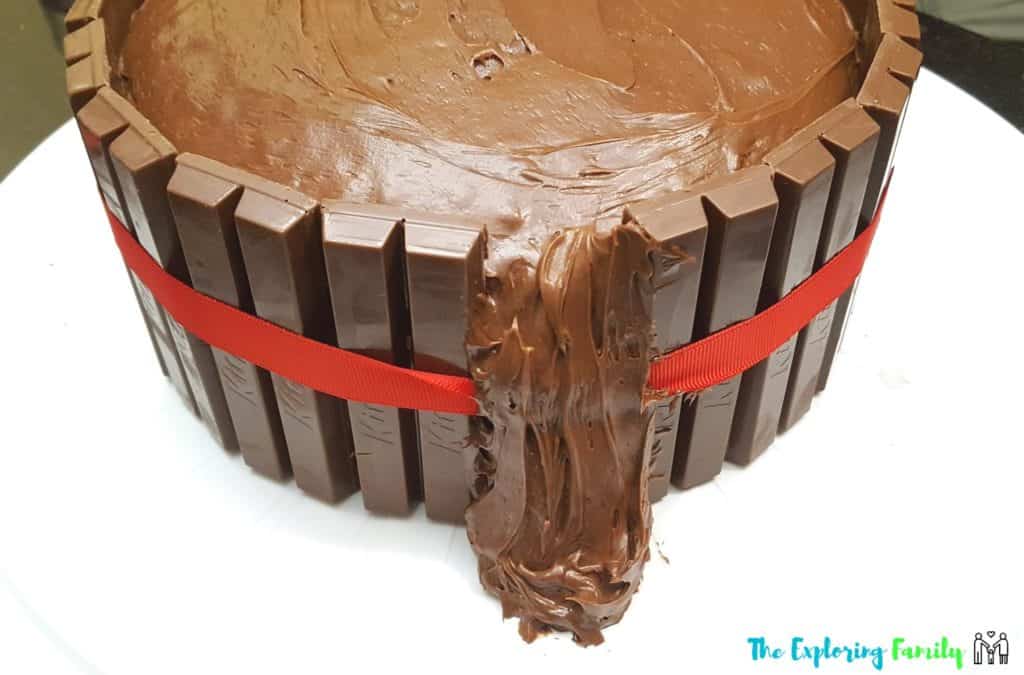 Step 7
Cover the top of the cake with smarties, making sure to place smarties down the opening to make it look like a spill. You want them to create the illusion of them being pushed around by Rubble in his machine.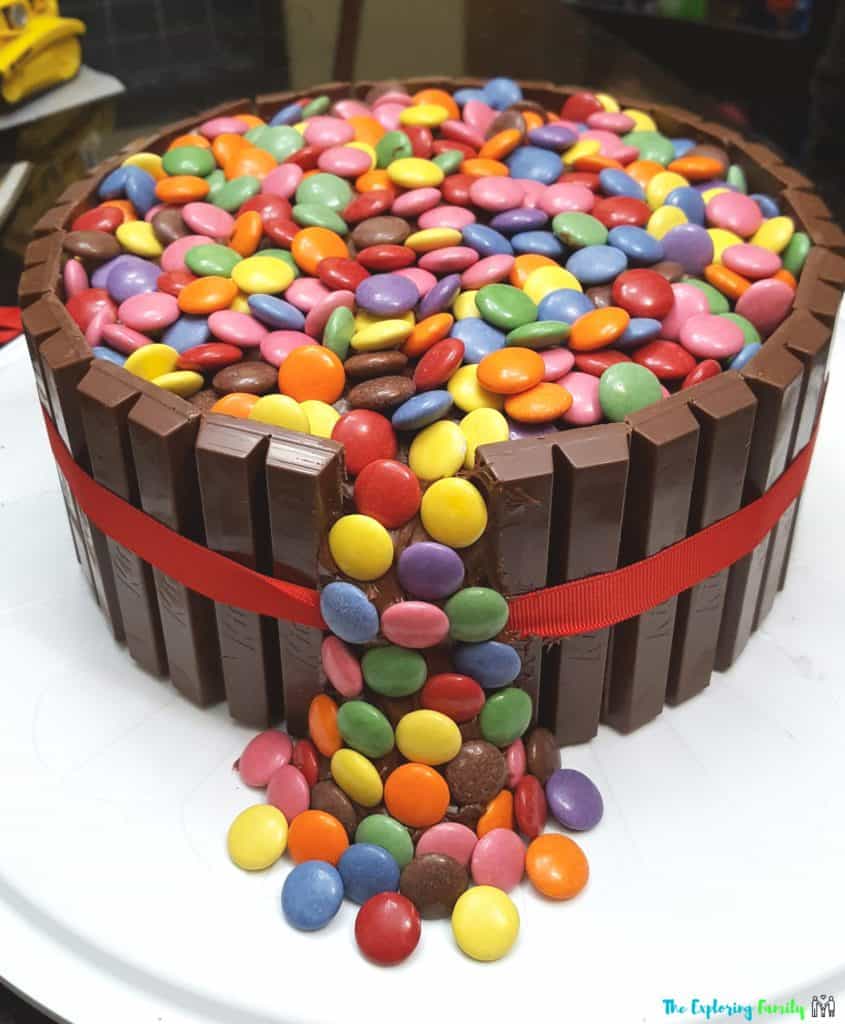 Step 8
Top your cake with a clean Paw Patrol Rubble Toy and enjoy!
You can also create a topper with your child's name or add fondant figures if you want to make it more creative and amusing. Bear in mind that custom cakes have exciting ideas that can make it much memorable to your kids birthday party. A themed birthday cake like this Paw Patrol cake is great for bigger or smaller party events. Have some loot bags with toy characters and sweet treats inside as party favors and kids will definitely remember the celebration for the rest of their lives.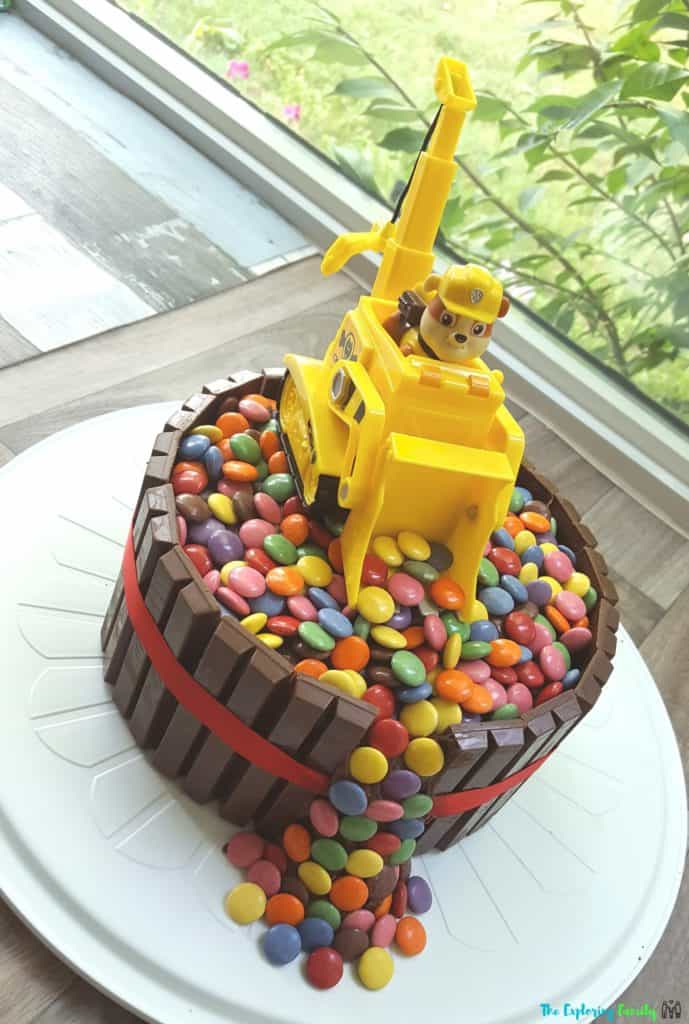 This cake is sure to please everyone that gathers around your table. Whether you are serving it for a birthday party, a graduation or even just because you were craving cake, it is sure to be a hit.
More Great KitKat Cakes and Birthday Ideas
Looking for more easy cake decorating ideas? Check out our other blog posts on kit kat cakes and other birthday party cake decorating ideas. You are sure to find something the entire family will love. The best part? These are suitable for nearly any celebration!