The market is flooded with so many toy options each year which is why I like to narrow down the options and provide our readers with the Best Toys for Pre-Schoolers in 2021 Guide. The 2021 Preschool Toy Guide will help you navigate the crazy toy market and find the best quality options for your preschooler. The Preschool Guide focuses on children aged 3-5 years old, however a great toy is one that last for multiple years and can be played with in multiple ways.
About Gift Guides:
These guides are meant to inspire you and help your narrow down your choices. Although some of these toys were provided to me through corporate sponsors, the opinions and recommendations remain my own and these are all toys that will be under my Christmas tree or will be given to others as gifts. Toys unlock play skills, encourage imagination, creativity and allow young learners to discover and explore. While this list was originally created with Christmas in mind, it offers great suggestions for birthdays or any other gift buying occasion.
Today I am sharing my top Preschool Toy Recommendations!
Related Posts: Babies First Christmas Gifts and Toys,  Stem Toys for Kids, The Best Gifts for Toddlers, Best Outdoor Toys for Toddlers, Board Games for 2 Players, Easter Gifts for Toddlers: Easter Basket Ideas any Toddler will Love, Awesome Gifts for 8 Year Old Boys, Gifts for Coffee and Tea Lovers, Gifts for Gilmore Girl Fans, Gifts for Lego Fans,  and Gifts for 4 Year Old Girls. 
Choosing Toys for Preschoolers (3-5 Years Old):
Open ended toys: I like to choose toys that allow multiple different ways to play and inspire imagination.
Grow with me Toys: I like to choose toys that have a longer life in terms of play meaning that kids don't get tired of it too easily.
Toys that are Educational: I like to choose toys that teach some sort of skill whether it be academic or social emotional.
My Top Holiday Toy & Game Picks for Preschoolers:
Educational Activities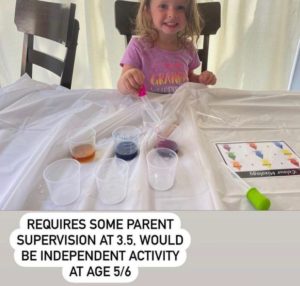 Playmate Crate – It's basically a play date in a box, It includes all the materials you would need to do for different activities to keep the kids busy at home for a play date. My 3.5 year old loved the colour chemistry kit and kept asking to come back to play and experiment! It taught turn taking, colour mixing and so much more! This gets a 5🌟 Rating from me especially as it has an educational component and social skill development all embedded in the fun which is important to me when selecting Tots. BONUS: 20% OFF ALL CRATES UNTIL NOV 21 2021
Learning Resources All About Me Neighbourhood Set: This set will help your children get ready for preschool or kindergarten. Children can use the different coloured houses to explore colour, matching, counting and sorting skills. This set of 36 plastic counters and 6 two-piece houses helps kids strengthen their early math and imaginative skills every time they play. Shaped like toy people, counters come in six different colors and shapes (man, woman, boy, girl, baby, and family dog) and are ready for work as sorting manipulatives. Best of all—people figures store inside the houses for easy cleanup!
Learning Resources Spike the Fine Motor Hedgehog: Kids can work on their fine motor skills by placing the chunky peg shapes spikes into the back of the friendly hedgehog. Children will develop fine motor skills, counting skills, colour recognition all  through this simple game.Comes with easy to grasp pieces that are just the right size for little toddler and preschool hands to hold. Fine motor set includes 2-piece hedgehog about 6" in diameter, 12 quills, and activity guide
Learning Resources Learn a Lot Avacados: These avacados are great for little hands to practice fine motor skills, colour matching, and sorting with these colourful avacados.
Magnatab Free Draw: Instead of going through sheets and sheets of paper your preschooler can use thismagnetic stylus as a pen and the bead board acts as paper. Let your childs imagination run free as they draw shapes, letters, and pictures, popping individual beads to the surface for a sensory-based play experience. 
Melissa & Doug Water Wow! Bundle – Animals, Alphabet and Numbers: My daughter loves these reusable water activities as she can colour and traceover and over again. The chunky sized pen makes it easy for little hands to hold, and easy to fill. The compact spiral bound booklet is great for travel or in the car. Melissa and Doug has multiple options of tracing alphabets, numbers and colouring. 
Puzzles, Games and Activities
Noodle Knockout Fine Motor Game: BUILD fine motor skills as you snag oodles of noodles for knock-out bowls of ramen! This game improves fine motor, counting, and color skills and can be played solo or in a group.
Picture Pairing Game: The Crocodile Hunter:  This is the perfect beginner board gamefor preschoolers as they can practice their matching skills in the Austaralian wild as they match local creatures and critters in this memory game. Contents: 19 cards, 22 Circle Tiles, Games Board & Instructions.
Frosty the Snowman: This simple card game is a perfect game for parents to enjoy with their littles over the holiday season as this cooperative game is played with cards face up so parents can help the child move cards back and forth to swap places and put the parade back in order.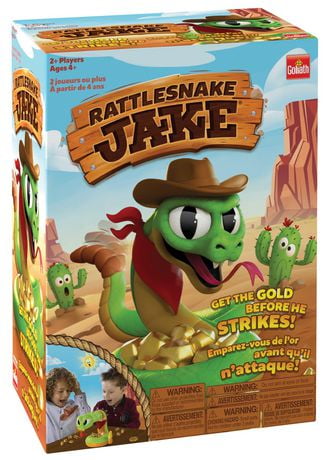 Pressman Toys Goliath: Rattlesnake Jake Game Multi
: This engaging board game features Jake the Rattlesnake who has stolen all the gold, your job is to steal back the gold before he strikes! The ominous rattle builds suspense as you never know when he may strike!
Pressman Toys Goliath: Burping Bobby Game:  This game features Bobby the Hippo who loves stinky food, but watch out if he BURPS its all over! Choose the correct food tokens to earn points, the player with the most points after Bobby burps wins!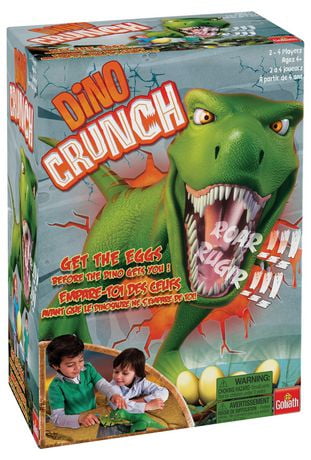 Pressman Toys Goliath: Dino Crunch Game Multi
: The dino is very hungry! Roll a dice to rescue the stolen eggs but watch out if the T-rex roars he may try to Crunch you and its game over!
Construction Play
Playmobil Dump Truck: Bring the garbage to the Garage with your Construction Truck with tilt-able platform. Set includes a figure, construction truck, garage and garbage with a sorting function on the garage roof. Playmobil 123 sets are perfect for children 1.5 years and up.
Playmobil Construction Crane:  Get all your construction jobs complete with this Playmobil Crane. Set includes 1 construction crane, 1 lifting pallet, 2 barriers, 2 building blocks, 1 bag. Playmobil 123 sets are perfect for children 1.5 years and up.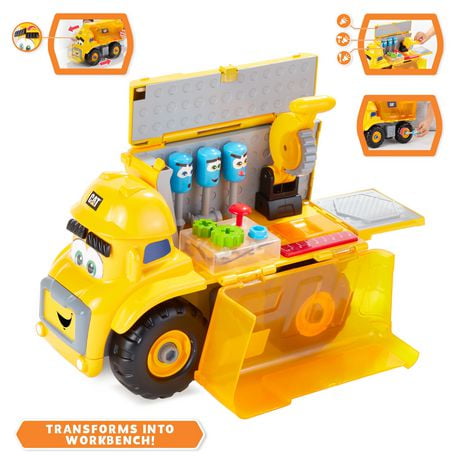 Cat Junior Crew Cat Junior Crew Fix-It Phillip: Designed with preschoolers in mind, this vehicle transforms into a work bench and each tool has a unique shape and specific purpose which when matched to its corresponding part on the bench activates different lights and Kid-Vroom Sounds™ to let your child know they've completed the task successfully.
Imaginative Play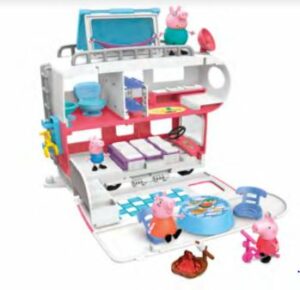 Peppa Pig Camper Van: Let kids imagine run wild as they take Peppa and her family on vacation with the multi level RV playset that has converting and interactive accessories like a pool that turns into a table and much more. Includes 4 pig characters and 13 themed accessories, including a movable kitchen, campfire, and even a toilet, all of which store inside for on-the-go adventures.
furReal Sweet Jammiecorn Unicorn:  The furReal Sweet Jammiecorn Unicorn toy is a soft and squishy pet that's perfect for kids to hug and hold at night. During the day they can feed her with the bottle, and she makes cute eating noises and playful sounds.  Press the cuddly unicorn's horn to close her eyes, and it'll also change colors from yellow for day to blue for night.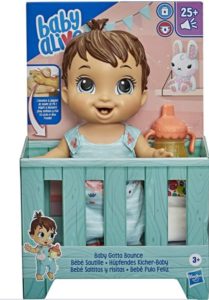 Baby Alive Baby Gotta Bounce: This is the one toy I am most excited about this year as Thumper became a big sister last April. Baby Alive turns real mommy and daddy moments into a magical world of play. Kids can be like mommy or daddy, experiencing first-hand what it's like to be a parent. Using accessories based on each baby's theme, they can feed baby a bottle, change a diaper when baby really wets, get their baby ready for activities, and more.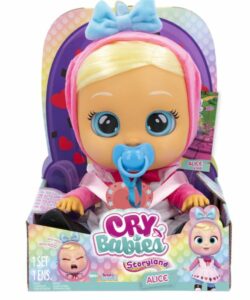 Cry Baby: Like all Cry Babies, Alice makes realistic baby sounds and cries REAL tears that stop when you give her pacifier, but that's not all! Alice also features:
A wonderland themed changeable outfit, complete with pink hoodie with a blue bow, white frock with card details, blue and white striped legging and matching black shoes!

Blond rooted hair!

Sparkly blue eyes!

Available at Indigo
Disney Frozen Musical Adventure Dolls:  Musical fun starts as soon as you open the box as with the turn of a switch, the dolls will start singing catchy tunes from Frozen 2. The fashion doll includes earrings, shoes, a tiara and dress. Collect all the dolls to keep the singing adventure going!
Frozen 2 Twirlabouts: This toy is the perfect compact solution for a small space as it allows classic doll play with the easy changing facial expression dolls using a dial plus the sled turns into a castle to offer more fun imaginative play.  Includes picnic accessories, and picnic play areas
Ravel Tales by Sunny Days: Unravel this ball of fun to reveal one of 12 fun surprises including: DIY activities. stickers, accessories and a plush Ravel Tales character.
BFF Bright Fairy Friends Doll Assortment: Unbox your new Best Friend along with 4 fairy accessories and a magic fairy doll.  Each fairy doll comes housed in its very own fairy home with bright, motion activated twinkle fairy lights battery operated. You can use your fairy home as a night light for kids! Press your fairy's necklace to make her fairy wings glow with radiating multi-colored fairy lights for bedroom! These are great toys for 3 year old girls.
Melissa & Doug Mickey Mouse & Friends Hand Puppets: Enjoy hands on fun with Mickey and the gang with these soft puppets. These are the perfect gift for a three year old as they can act out stories, tell stories, practice new words and talk about emotions – they are great for improving language development.
Creative Play
Play-Doh Kitchen Creations Drizzy Ice Cream Playset: Create your own imaginative ice cream sundaes with Play-Doh ice cream creations. For the first time ever, this toy ice cream set comes with Play-Doh Drizzle compound – a pretend syrup that turns into a pretend candy shell when you drizzle it on top of regular Play-Doh compound. It looks almost like make-believe chocolate and silly strawberry, but it's a treat for the eyes only! 
Barbie Experience Classic Colorforms: play with the Barbie Dream House play set! The 2 –story Dream House opens up to feature inside/outside play scenes and comes with over 50 re-stickable pieces, including Barbie, Ken and Skipper.
Mr. Potato Head  Colorforms: Have fun creating your own scenes and stories with this classic dress – up Mr. Potato Head set! Colorforms® Classics Retro Replay Editions capture the spirit of your favorite Colorforms play sets from yesterday, updated for today. 
Deluxe "Build-Your-Box" Gift Set Dough Parlour:  The Deluxe Gift Set features 6 Parlour doughs of your choice, 1 set of cutters of your choice (3 cutters in a set), and 1 wooden rolling pin. Ready to ship and gift that special child in your life! Handcrafted in Canada. Made from 100% non-toxic ingredients.
Fisher-Price® Thomas & Friends™ Talking Thomas & Percy Train Set: Young condusctors can control trains as they visit the favorite places from the island of Sodor, including the Vicarstown Bridge, the Railyard, the Brendam docks, and Blue Mountain. It also includes motorized Thomas and Percy train engines who recognize and talk to each other when they meet on the track! Perfect toy to inspire preschoolers imagination. Thumper loves watching Thomas the train and making noises when she hears the nearby train to our house, so I cant wait to watch her discover and explore this awesome play set.
Fisher-Price® Thomas & Friends® Storytime Thomas: Enjoy story time with Thomas, as your preschoolers pushes along this interactive toy, Thomas will tell exciting stories. Two other modes features: Game time and Music time. Storytime Thomas also features wheel coupling rods that move like a real train, a working front lamp, and a light-up face with eyes that move. Grab his steam cloud handle to bring Thomas along on all sorts of adventures! 
Clothing Ideas for your Preschooler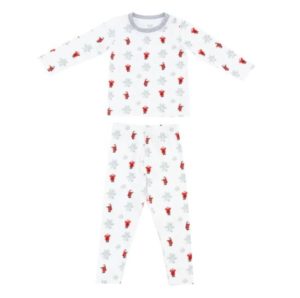 Nest Designs: two-piece organic cotton toddler PJ set features a long-sleeved top with two shoulder snaps make for easy changes. Your toddler will love the softness, breathability and durability the organic cotton. Plus, the new FW21 holiday prints come in styles for the whole family – perfect for family matching! These are the most velvety soft comfortable pjs I have ever worn, as I got the kids and myself a set. Best part is buying from Nest Designs supports a local Canadian company!
FEATURES
• made from 100% GOTS Certified Organic Cotton
• flat seams
• long-sleeved two-piece set
• shoulder flaps for easy removal
This post was sponsored by Hasbro, Learning Resources, Play Monster, Playmobil, Cat, Funko Pops, Pressman Goliath. These companies provided toys in exchange for inclusion in this post, however I only recommend toys that I will personally give to my daughter and family members. My opinions remain honest and true, as I do not recommend products I do not believe in.