Toys are the tools that unlock play skills, encourage imagination and create learners. Educational toys help kids experience both play and learning all at the same time which is super important to be as both a parent and a primary school teacher.
For me it is important to buy toys that are educational, or have multiple stages and purposes as children outgrow toys so fast I don't find it worth buying toys that will get limited play time. You want to keep them engaged and learning as so much development happens from walking to talking, the first 3 years of life are full or growth potential.
Toys for toddler girls are often dolls, creative materials, and stuffies, and toys for toddler boys are often trucks, construction toys, and sports equipment… however this year I say throw out traditional ideas of gendered toys and consider the whole list as the Best toys for preschoolers and the Best toys for toddlers.
As parents we act as security guards to which toys are purchased by both ourselves and have the ability to try and encourage relatives to buy open-ended educational toys that help children's minds to develop and grow.
This list includes the best toys for 18 month olds to 3 year olds focusing on toddlers. When buying for this age category I find it important to find toys that will keep the child engaged, often these have lights, noises and bright colours. Toys for toddlers are often not very expensive which is great as children's interests are constantly changing. Many of the gifts included are gifts I have bought for my friends and family this holiday season.
About Gift Guides:
These guides are meant to inspire you and help your narrow down your choices. Although some of these toys were provided to me through corporate sponsors, the opinions and recommendations remain my own and these are all toys that will be under my Christmas tree or will be given to others as gifts.
Today I am sharing my top Toddler Toy Recommendations!
Related Posts: Babies First Christmas Gifts and Toys, Stem Toys for Kids, Best Outdoor Toys for Toddlers, Board Games for 2 Players, Board Games for 4 Year Olds, Easter Gifts for Toddlers: Easter Basket Ideas any Toddler will Love, Awesome Gifts for 8 Year Old Boys, Gifts for Coffee and Tea Lovers, Gifts for Gilmore Girl Fans, Gifts for Lego Fans, and Gifts for 4 Year Old Girls.
This blog post may contain affiliate links. What does that mean? I get a little commission if you purchase using my link, at no extra cost to you.
Toddler Books to Explore and Discover:
Busy Christmas with Wheel – Your toddler will improve their basic concepts and holiday knowledge as well as develop fine motor skills. The book features detailed colorful illustrations that keep toddlers engaged and the spinning wheel mechanism is sturdy and fun to play with while reading. These books are the perfect gift for the toddler or preschooler in your life as they are designed with little hands in mind
.
Arthur's Holiday Adventure: This reindeer shaped board book is the ultimate choice for your toddler as it is the perfect size for little hands to hold. The whimsical illustrations and short story about a reindeer will keep your toddler interested and engaged in learning about the reindeer and his habitat. A perfect stocking stuffer for this holiday season! Each book in the Animal Adventures series is die-cut to be shaped like adorable interesting recognizable animals. Collect them all!
Olivia's North Pole Adventure: Join the bear's of the Arctic as they go on a snowy adventure and discover facts about the biggest bear on Earth – The Polar Bear. This book is shaped like a polar bear and has thick sturdy pages that are durable for toddlers busy hands. Thumper loves the bright coloured pictures and I enjoy the time together reading stories. Each book in the Animal Adventures series is die-cut to be shaped like adorable animals. Collect them all!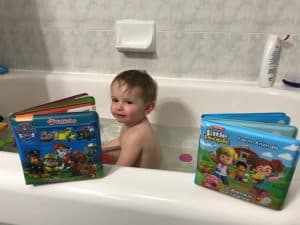 Bath Books: Made with waterproof materials, you can continue reading in the tub! Thumper loves books and bath time so why not combine them for the ultimate bedtime routine.
Merry Christmas Water Magic: Colourful images appear using the Water Magic brush, watch the colours disappear as the page dries. Perfect for travel as these books are mess free!
Available at Dollarama
Toddler Toys – Perfect for those Curious Little Minds
Baby Shark strikes again with this Baby Shark Melody Shape Sorter. At 18 months I was impressed how well she did at putting the shapes in however the heart was a little tricky! She loves baby shark and really loved playing with the shapes.
Baby Shark Melody Shape Sorter – Your toddler will learn shapes through the fun of music! In Baby Shark mode, once each character (shape) is placed correctly, it will plays its own song lyric from the Baby Shark song. Place all characters correctly to hear the full-length Baby Shark song! In shape mode, once each shape is placed correctly, the character will name the shape. Place all shapes correctly and Baby Shark will personally congratulate your child!
I love educational multipurpose toys as they have so much more value in terms of play.

LeapFrog LeapBuilders ABC Smart House – This is an awesome toy as it not only inspires creativity by building with blocks but also allows children to learn their colours, shapes, numbers, letter and sounds. LeapBuilders allow the child to slide the 20 Smart blocks into the Smart Star unit to hear 40 different sounds and phrases that introduce letters and sounds. This set has enough blocks to build the ABC smart house as it includes windows and doors. The LeapBuilder sets can be combined with other LeapBuilder sets for even more fun!
At almost age 5, she still loves these and plays with them daily, and now my son who is 18 months has begun to join in.
CAT Little Machines 5-Pack – A complete construction site in a box, just add the sand or dirt for hours of fun! Five mini CAT machines including Dump Truck, Bulldozer,Wheel Loader, Backhoe and Road Compactor. Perfect size for toddlers hands.
Fisher-Price Laugh & Learn Sweet Manners Tea Set – This fun teapot introduces toddlers to different lights, sounds, and songs as children progress – through the 3 different modes of learning. The tea pot even makes pouring sounds to give a realistic feel to every tea party. Children will learn to practice sharing while having their very own tea parties at home. The treats are a puzzle and can be fit into their own spots on the tray allowing children to practice puzzles.
VTech Go! Go! Smart Wheels Save The Day Fire Station – Like hot wheels but more toddler friendly this play set can be connected to many other sets to create your own little community. Each location has different phrases, music, or fun sound effects. Both my kids love these vtech smart sets, they are currently overtaking my living room.
Can be bought on Amazon.
Playmobil Ice Cream Shop Sand Bucket – It's the perfect toy to keep a toddler busy as everything is made for little hands and the little store turns into a sand bucket and strainer for even more fun and it has a handle so it is easy to take on the go to the beach! This set is perfect for making sand ice cream cones!
Playmobil Countryside – With its bright and colourful design, and large and rounded pieces, this PLAYMOBIL 123 set is ideal for toddlers. Set includes three figures, horse and cart, cat, dog, bunny, cows, lambs, bird, bench, bridge, tree, flowers, and other accessories.
Spidey and His Amazing Friends: Every little toddler loves to play with cars and anything that moves so these toy cars and Superheros are a great gift idea for those three and under. Marvel's Spidey and His Amazing Friends follows the adventures of the Super Hero Spidey and all his heroic friends. Spidey, Ghost-Spider, and Miles Morales all have super spider-powers: spider-sense, super-strength, wall-crawling, and more! Each brings something unique to their crime-fighting adventures, making them even stronger when they're working together as the amazing Spider Team! Each character comes with a unique vehicle to play with in addition to the superhero.
Can be bought at: Toys R Us, Amazon Canada
VTech KidiBeats Kids Drum Set – If your kids love music love mine do then they will love create their own beats on this fun compact drum set. If you are looking for toys that make noise and light up which most toddlers love then Vtech is often our go to as they are a leader in electronic toddler toys. The drum has multiple pads, and lets toddlers create their own beat or listen to pre-recorded songs. This educational toy teaches counting, letters and memorization in a fun hands on way!
Leapfrog Smart Sizzlin BBQ Grill – The Little grill allows children to place eight different food items onto the interactive skewer as the grill recognizes the food's name and colour as well as provides sizzling and cooking sounds in addition to safety messages like "it's too hot".
The BBQ has 3 stages: Learn, Play and Music Modes. During the learning stage the BBQ grill teaches colours as the skewer identifies what colour the food is, numbers and counting, as well as gross and fine motor skills as kids practice using tongs and flippers. The BBQ introduces language as the BBQ teaches kids to identify the different foods by name and place them on the skewer.
Little Tikes Red/Blue First Slide – The perfect slide for beginners that can be used inside or outside. Allows toddlers to engage in hands on fun and explore the slide and going up and down while building independence on play equipment.
Fisher-Price® Thomas & Friends® Storytime Thomas – Enjoy story time with Thomas, as your preschoolers pushes along this interactive toy, Thomas will tell exciting stories. Two other modes features: Game time and Music time. Storytime Thomas also features wheel coupling rods that move like a real train, a working front lamp, and a light-up face with eyes that move. Grab his steam cloud handle to bring Thomas along on all sorts of adventures!
Disclosure: I was provided some of the toys in this gift guide in exchange for inclusion in the guide, however the opinions remain my own. This post also may include affiliates which means I receive a small fee for linking you to the product.