Toys are the tools that unlock play skills, encourage imagination and create learners. Educational toys help kids experience both play and learning all at the same time which is super important to be as both a parent and a primary school teacher.
For me it is important to buy toys that are educational, or have multiple stages and purposes as children outgrow toys so fast I don't find it worth buying toys that will get limited play time. Toys for 3 year old girls are often dolls, creative materials, and stuffies, and toys for 3 year old boys are often trucks, construction toys, and sports equipment… however this year I say throw out traditional ideas of gendered toys and consider the whole list as the Best toys for preschoolers and the Best toys for toddlers. As parents we act as security guards to which toys are purchased by both ourselves and have the ability to try and encourage relatives to buy open-ended educational toys that help children's minds to develop and grow.
This list includes the best toys for 3 year olds and younger focusing on preschoolers, toddlers and babies. When buying for this age category I find it important to find toys that will keep the child engaged, often these have lights, noises and bright colours. Toys for preschoolers and toddlers are often not very expensive which is great as children's interests are constantly changing. Many of the gifts included are gifts I have bought for my friends and family this holiday season. While this list was originally created with Christmas in mind, it offers great suggestions for birthdays or any other gift buying occasion. Also check out our Easter Gift Guide for Toddlers or our Outdoor Toys for Toddlers Gift Guides. If you have a younger child don't forget to check out our Babies First Christmas Guide for Ideas to commemorate the first Christmas as well as great toys ideas for babies.
This blog post may contain affiliate links. What does that mean? I get a little commission if you purchase using my link, at no extra cost to you.
Toddler Books to Explore and Discover:
Busy Christmas with Wheel – Your toddler will improve their basic concepts and holiday knowledge as well as develop fine motor skills. The book features detailed colorful illustrations that keep toddlers engaged and the spinning wheel mechanism is sturdy and fun to play with while reading. These books  are the perfect gift for the toddler or preschooler in your life as they are designed with little hands in mind
.
Arthur's Holiday Adventure: This reindeer shaped board book is the ultimate choice for your toddler as it is the perfect size for little hands to hold. The whimsical illustrations and short story about a reindeer will keep your toddler interested and engaged in learning about the reindeer and his habitat. A perfect stocking stuffer for this holiday season! Each book in the Animal Adventures series is die-cut to be shaped like adorable interesting recognizable animals. Collect them all!
Olivia's North Pole Adventure:  Join the bear's of the Arctic as they go on a snowy adventure and discover facts about the biggest bear on Earth – The Polar Bear. This book is shaped like a polar bear and has thick sturdy pages that are durable for toddlers busy hands. Thumper loves the bright coloured pictures and I enjoy the time together reading stories. Each book in the Animal Adventures series is die-cut to be shaped like adorable animals. Collect them all!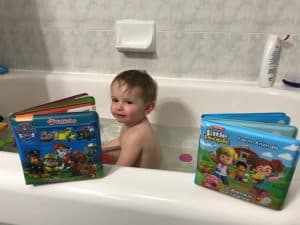 Bath Books: Made with waterproof materials, you can continue reading in the tub! Thumper loves books and bath time so why not combine them for the ultimate bedtime routine.
Felix's Snow Day: The Kombi Education Series focuses on using books to teach Character Education such as teamwork, cooperation, empathy, and friendship. Felix the Fox wakes up to a Snowy Day and wants to build a snow fox but finds he needs the help of his friends – putting their talents together they are able to cooperate and work together to complete the task. The story is cute with a great lesson and the characters are loveable. 
Available at Dollarama
Merry Christmas Water Magic: Colourful images appear using the Water Magic brush, watch the colours disappear as the page dries. Perfect for travel as these books are mess free!
Available at Dollarama
Toddler Toys – Perfect for those Curious Little Minds

Cutetitos Babitos – Everyone's favourite adorable stuffed animal is now a baby! Wrapped in mini taco blankets babies are a variety of adorable, stuffed animals wrapped and hidden in a taco blanket ready to be unrolled and discovered!
Rescue Runts –  Teach your toddler how to take care of a pet with these loveable little pets that are looking for someone to show them love and care. These stuffy dogs are waiting to be rescued, groomed and loved by your child. The toy includes tweezers to pick out pretend fleas, a comb to brush, and a cloth to clean dirty paws. Children can groom the dog over and over again for hours of fun all while learning responsibility and care for animals. Take one home today to their furever home!
Baby Shark strikes again with this Baby Shark Melody Shape Sorter. At 18 months I was impressed how well she did at putting the shapes in however the heart was a little tricky! She loves baby shark and really loved playing with the shapes.
Baby Shark Melody Shape Sorter – Your toddler will learn shapes through the fun of music! In Baby Shark mode, once each character (shape) is placed correctly, it will plays its own song lyric from the Baby Shark song. Place all characters correctly to hear the full-length Baby Shark song! In shape mode, once each shape is placed correctly, the character will name the shape. Place all shapes correctly and Baby Shark will personally congratulate your child!
I love educational multipurpose toys as they have so much more value in terms of play.

LeapFrog LeapBuilders ABC Smart House  – This is an awesome toy as it not only inspires creativity by building with blocks but also allows children to learn their colours, shapes, numbers, letter and sounds. LeapBuilders allow the child to slide the 20 Smart blocks into the Smart Star unit to hear 40 different sounds and phrases that introduce letters and sounds. This set has enough blocks to build the ABC smart house as it includes windows and doors. The LeapBuilder sets can be combined with other LeapBuilder sets for even more fun!
CAT Little Machines 5-Pack – A complete construction site in a box, just add the sand or dirt for hours of fun! Five mini CAT machines including Dump Truck, Bulldozer,Wheel Loader, Backhoe and Road Compactor. Perfect size for toddlers hands.
Fisher-Price Laugh & Learn Sweet Manners Tea Set – This fun teapot introduces toddlers to different lights, sounds, and songs as children progress – through the 3 different modes of learning. The tea pot even makes pouring sounds to give a realistic feel to every tea party. Children will learn to practice sharing while having their very own tea parties at home. The treats are a puzzle and can be fit into their own spots on the tray allowing children to practice puzzles.
Cabbage Patch Kids Woodland Dolls – These are perfect dolls for toddlers as they have soft bodies and are only 9 inches tall making them easy to carry around. The dolls are wearing adorable animal fashions and have the classic baby powder scent that Cabbage Patch is known for.  
Paw Patrol Pop Up Tent – Thumper loves to read and this pop up tent offers a create cozy spot for her to snuggle up with a book, it is going to be a great addition to our new house once we move in November. The tent features bright colourful graphics which can be seen inside and out and the tent uses twist, pop and fold technology making it easy to use and put away when your done!
VTech Go! Go! Smart Wheels Save The Day Fire Station  – Like hot wheels but more toddler friendly this play set can be connected to many other sets to create your own little community. Each location has different phrases, music, or fun sound effects.
Can be bought on Amazon.
Playmobil Ice Cream Shop Sand Bucket – It's the perfect toy to keep a toddler busy as everything is made for little hands and the little store turns into a sand bucket and strainer for even more fun and it has a handle so it is easy to take on the go to the beach! This set is perfect for making sand ice cream cones!
Playmobil Countryside – With its bright and colourful design, and large and rounded pieces, this PLAYMOBIL 123 set is ideal for toddlers. Set includes three figures, horse and cart, cat, dog, bunny, cows, lambs, bird, bench, bridge, tree, flowers, and other accessoires.
Elf Pets Reindeer – This story tells the story of Christmas Eve and how the reindeers must help Santa, the set comes with a stuffed reindeer so the children can play with it while listening to the story.
Can be bought on Amazon.
Preschool Toys:
Educational toys for preschoolers offer the best value for skill development in my opinion as they teach kids valuable skills through play. Exposure to multiple toys creates different play experiences, however in order to develop cognition, problem solving and imagination children need to play with learning toys that are designed to teach specific skills that are developmentally appropriate.
The basic function of toys is to create a fun time playing. But, educational toys help your kids to develop fundamental abilities such as cognitive thinking and problem solving. Learning toys for kids are specially designed to teach specific skills that your child needs at different ages.
Preschooler Books:
The Elf On The Shelf Book – The Elf is sure to get up to no good as he goes on his own adventure in your home and becomes party of the family. The idea is that children are told that the elf reports back to Santa every night on behavior, this is a great incentive to have to try and increase good behavior especially during the chaos of the holiday season. This package contains everything you need to make lasting christmas memories! Includes: artfully illustrated Children's book; scout elf; keepsake box.
Can be bought on Amazon.
Max the Rabbit Builds a Snowman: Includes a Clever Puzzle – This hands on board book is perfect for little hands and offers more than just a story as each page includes a large puzzle piece to create a simple jigsaw puzzle. Collect all the pieces throughout the story and put them together on the last page to reveal a surprise ending! These little reader board books expose children to literacy at a early age and support fine motor development through the puzzle which is an important skill for preschoolers. Our daughter loves to read so books are always on our shopping list, and Max the Rabbit Builds a Snowman is the perfect pick for her stocking.
Toys for Preschool Aged Kids:
Tweet Beats: Children can learn all about different elements of music: vocal, bass, melody and beat while they create their own music. Each Tweet Beat has its own unique sound, place the tweet beat on the tree and you will hear the sound right away, switch the birds around to create a whole new tune. Both fun and educational, the Tweet Beats help children compose their very own music while learning about musical elements like drums, bass, melody, and song. 
Bilibo: The perfect toy to inspire their imagination as they are colourful and durable and can be used in a variety of ways. The Minis can be stacked and nested, they act as floating ducks, sand shovels, candy bowls, spinning tops, racing cars or scoops for snowballs. 
Comes in both the Mini Bilibo Size and Full Size Bilibo
Playmobil Pirate Ship Building Set  – The perfect gift for toddlers! Set sail for the high seas and pretend to be a pirate with the PLAYMOBIL Pirate Ship. The bright yellow boat and large pieces make this the ideal set for any toddler to start playing with. It even includes a real working water cannon that children can control by filling with water and aiming at a target! Set includes two figures, parrot, treasure, and other accessories. 
Can be bought on Amazon.
Disney The Lion King Mighty Roar Simba Interactive Plush Toy – Simba comes to life with this plushy that roars, talks and plays. Simba responds to touch and sound with over 100 different combinations. He is able to move his head, eyes, ears, mouth, legs and tail making him feel real life like. Feed him his favourite snack of grub on a stick or have a roaring contest, either way you can enjoy hours of fun!
Play-Doh Stamp 'n Top Pizza Oven Playset – A create toy for your little chef as they can turn play-doh into pizza using the pizza oven. Kids can get creative with their ingreidents and even create dessert pizzas. This Play-Doh toy is great for kids who love modeling clay and cooking. It comes with 5 standard-size 2-ounce Play-Doh cans, plus a pizza paddle, cutter, and more
Play-Doh Kitchen Creations Ultimate Swirl Ice Cream Maker – Kids will be excited to start their own ice cream shop with this Play-Doh Ice cream maker where you can create your own swirl icecream by mixing 2 colours together. You can even create whipped cream and sprinkles to add as toppings to your delicious cool treats.  Includes dishes, cones, and other accessories for imaginary ice cream parties.
Can be bought on Walmart or Amazon
Disney Frozen Pop Adventures Arendelle Castle Playset –  The Pop Up Play house offers two floors of imagative play. Includes two frozen dolls: Elsa and Anna which allow the child to play with the castle for hours, and the dolls and accessories fit inside the castle making tidy up time simple!  The playset comes with 9 accessories including a key, throne, piano, piano stool, table, 2 chairs, and 2 beds for telling fun-filled Frozen stories.
Magformers My First Set – Each geometric shape contains magnets that never reject, so you'll always hear the MAGFORMERS click. When playtime is over, use the magnetic power to simply stack and store. Young minds will love using their imagination to create different structures using these colourful and easy to use shapes.
Spot It JR:  A fun challenging game for preschoolers with a little bit of assistance from parents. Children look at 2 cards to determine what is the matching symbol, first to call it out wins! Develops focus, visual perception skills, speech-language skills, and fine motor skills.
Disclosure: I was provided some of the toys in this gift guide in exchange for inclusion in the guide, however the opinions remain my own. This post also may include affiliates which means I receive a small fee for linking you to the product.