I am not going to lie, shopping for girls is fun. I don't know if it is because I had 2 boys first before I had my daughter, or if I just enjoy shopping for the things I loved as a child but shopping for my daughter is fun. 4 year olds have just started kindergarten and are now starting to show interests in certain areas such as arts and crafts, building, imaginative play which makes it fun to buy something to encourage there new interests.
4 year old Girls are great to shop for because they are normally easy going, have a wide variety of interests and are excited about trying new things. If you have a 4 year old girl to shop for here are Toys for 4 Year Old Girls that she will love! Now, please don't get hung up on the fact that I am writing this post for a 4 year old girl, these gifts would work for a 4 year old boy as well. If your looking for ideas for a younger child check out our Gift Ideas for Preschoolers, Toddlers and Babies.
Gifts for 4 Year Old Girls
For the Girl that likes to get Messy: This blog post may contain affiliate links. What does that mean? I get a little commission if you purchase using my link, at no extra cost to you.
Foam Alive for Mixing, Molding & Melting – 2 Colors of Soft, Squishy, Fluffy Foam – Kids love to play with sensory items that they can squish and mix in their hands so why not introduce them to Foam Alive. Foam Alive is a soft, squishy, and fluffy foam that "magically comes to life" when played with and touched and oozes as if its melting as it flows through your fingers. The greatest benefit of foam alive is that its not wet and messy and it never dries out so it can be used for a very long time. This is a great gift idea for girls who love to get there hands messy and love explore new textures.
Play-Doh Kitchen Creations Colorful Cafe Playset: Enjoy being a barista with the Colorful Cafe Playset! This pretend play cafe set lets kids imagine creative Play-Doh drinks their way while getting messy and having fun. Make the toy coffee maker fill the cups with colorful Play-Doh modeling compound, then spin and slide them to the topping station and add pretend whipped cream. This Kitchen Creations drinks toy for kids 3 years and up comes with 5 different Play-Doh colors in 2-ounce cans to perk up their imaginations.
Play-Doh Kitchen Creations Pizza Oven Playset: Imagination is on the menu with this toy pizza oven! Kids can play pretend chef as they stamp and spin out creative Play-Doh pizzas with over 25 possible pretend toppings. The play food set includes 8 tools to help inspire future cooks' creativity, and 6 modeling compound colors including a tricolor can with pizza-themed colors. Kids can also get their pretend pizzas ready for delivery in the pizza box. This Play-Doh set makes a great activity, gift, or arts and crafts toy for kids 3 years and up!
Play-Doh Care 'n Carry Vet: It's time for this pup's checkup! With so many ways to get creative and play pretend veterinarian, this vet toy for kids 3 years and up is sure to win the hearts of caring little animal lovers everywhere. Groom and style the toy dog by growing Play-Doh hair, giving it a haircut, and taking Play-Doh fleas off with the tweezers. Start the checkup by making the pup grow a long Play-Doh tongue and using the 10 vet kit tools including a toy stethoscope, thermometer, and more. With 5 classic modeling compound colors, this ready-to-play animal doctor kit makes a great activity, birthday gift, or present for any occasion! For the Girl that likes to do hair and play with Makeup:
Knot Genie – When you are thinking Christmas Gifts a brush may not be the first thing that comes to mind. However if you have ever tried to brush a little girls hair you will know just now important a good brush is. With its unique bristle configuration you can gently and painlessly brush hair without the tears and drama. The design of the brush allows for easy gripping even by small hands.
Piggy Paint – These non-toxic, water-based polish do not wash or peel off. They come in dozens of vibrant shades, including my daughter's favourite… PINK. Piggy Paint is virtually odorless, free of ALL harsh chemicals, and made in the USA. As soon as my daughter turned 4 she was asking for her nails to be painted.
With Piggy Paint I don't need to worry if she is putting her hands in her mouth. 3 in 1 Play Make Up Set – Kid Makeup Kit include an exquisite makeup vanity car with eyeshadow palette,lip gloss,lipstick,blush,tear-able nail polish;makeup brushes X5;cleaning wipes X6;crown X1;earrings X2;necklace X1;rings X1;magic wand X1;coloring cards X12. Rich makeup tools help explore the girl's curiosity and beauty, to satisfy their princess dream. This kit features non-toxic washable makeup for pretend play.
For the girl who loves to build:
Lego Junior – At 4 years old kids are growing out of Lego Duplo, but not always ready with the fine motor skills and patients for regular Lego. That is where Lego Junior steps in. These Lego Junior kits are specially created for ages 4+ so that the designs are a little more detailed, however the pieces are still large enough for little hands. They are easy to build with simple instructions. With sets like this Roo is able to "play Legos" just like her older brothers do.
Magformers Designer Carnival – Bring Your Circus Ideas To Life And Become A Ringmaster With The Target Exclusive Designer Carnival Set. Learn To Build A Ferris Wheel, Carousel And Other Great Circus Rides! Add Accessories To Your Geometric Shapes And Design Whirling, Spinning Creations.
Magformers Align Perfectly With STEM Education And Allow Kids To Actively Learn About Kinetic Motion, Structural Building And Shape Recognition.
Starting November 1st, for every purchase of the Magformers Designer Carnival 46 Pc Set on Magformers.com, the company will donate one to RMHC!
The Ronald McDonald House Charities supports children and families in local cities through supplying housing and care while children encounter medical treatment with programs that provide support, resources, activities, meals, and educational opportunities, allowing parents to focus on what is most important.
For the Girl who loves to do crafts
Marbling Paint – Unleash & spark your creativity: Instead of painting on paper or canvas, try painting on… water! Our special painting process lets you create dazzling artwork in a completely new way. Make it unique: Layer paint, smear, drag, and 'transfer' it onto the paper. Let it dry and voila! Beautiful marble painted art! Follow the simple illustrated instruction guide and create fantastic art. Kit includes: Design tray, 5 paint colors, carrageenan powder, spoon, pipette, spreader, 3 styluses, 10 art sheets.
Window Art – Unleash & spark your creativity: With the Window Art Paint Kit. Paint 12 suncatcher designs in whichever vibrant colors you choose, then hang you custom stained glass art on windows around the house to light up the room as the sun shines through every day! Premium value: Kit includes: 12 suncatchers, 5 standard paints, 3 glitter paints, paint stylus, suction cups and string, instruction guide.
Stamp Set – Get crafty with a stamp set. You child can create detailed pictures and cards using stamps when they may not have the fine motor skills to draw small details. Create fun birthday cards, gifts and more. The sturdy wooden base of the stamps makes it easy to grip, and the rubber cleans up easily with water or a wet wipe. If you pick up a stamp set with letters you can also work on letter recognition, reading and spelling all while have fun during craft time.
Rainbow Loom – Rainbow Loom has sky-rocketed in popularity to become a toy and craft phenomenon for young girls. From bracelets to necklaces, Rainbow Loom encourages exploration and inspires the imagination.
For the girl who loves pretend imaginary play:
Play Tent – Let their imagination come alive inside a Play Tent. From castles to houses to tents there are so many options and their imagination can take them anywhere. Tents can be used for play or as a calming area to have a little private place to go to read or rest. They can be set up for play time and packed away when done if space is an issue. A tent can be a great option for kids to get a little space from siblings or come up with creative ways to play.
My Little Pony Mini World Magic Epic Mini Crystal Brighthouse – Create a world of Magical fun in Equestria! Comes with 5 figures including Sunny Starscout, Zipp Storm, Posey Bloom, Daring Flare, and Maverick Mauve and multiple tiny scenes so you can have fun on the go while playing make believe scenes.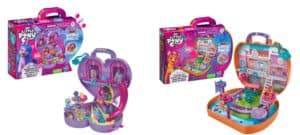 MLP Mini World Magic Compact Creations – Inspired by old school Polly Pocket, these compact My Little Pony kits allow girls to customize scenes and play with minature characters from My Little Pony. Bring it on-the-go and then build a new scene! Compact Creation sets come with adorable figures that are 1 inch tall.
Mermaid Tail Blanket – We have given a few mermaid tail blankets as gifts to the little ladies in our life. They are the perfect blanket to snuggle up with while watching a movie or reading a book. They come in several styles, colours and different materials. I love the the ones lined with minky as they are super soft.
4 Year Old Awesome Shirt – They are 4 and they are AWESOME. Let the 4 year old in your life know just how great they are with this fun "This Is What 4 & Awesome Looks Like" shirt. This t-shirt comes in a variety of colours so you can pick out the one they will love the most. Of course for my daughter it is pink! Hope you have discovered some top Gift Ideas for 4 Year Old Girls from our list. If you have any questions or suggestions make sure you leave them in the comments below!
Checkout our other Gift Guides for Kids Disclosure: I was provided some of the toys in this gift guide in exchange for inclusion in the guide, however the opinions remain my own.