So Christmas is my absolute favourite time of the year, so much so that we actually celebrate Christmas twice in our family. This year after Thumper was born my mother created Christmas in July at the cottage, where we decorated for Christmas and exchanged gifts and spent time together like any other Christmas morning and celebrated Babies First Christmas except we then went to the beach instead of outside to play in the snow. Now you see my mom created this holiday of her own so that her and my in-laws never have to fight over us for Christmas and she figured it would be less hassle and craziness for us.
Last Year was special as it was Thumper's first Christmas and I want to commemorate it and start building the excitement and belief in Santa as it only remains magical for a short period of time where children believe. Toys allow children to discover the world and items around them and babies can even start to engage with toys and begin learning so I have also created a list of toys that Thumper received either last Christmas or for her Birthday in early February.
Scroll down to find the Best Toys for 1 year olds, and even now as we approach 2, she still plays with many of these toys. Be sure to check out what we are buying this year on our Toddler Gift Guide.
Babies First Christmas Gift Guide
This blog post may contain affiliate links. What does that mean? I get a little commission if you purchase using my link, at no extra cost to you.

1. Rudolph Babies First Christmas Plush Toy: Is a reindeer plush toy that plays music when his hoof is squeezed and his nose lights up which is very exciting and stimulating to young children.
2.Baby's First Christmas Ornament – an ornament that you can keep and place on your tree year after year to remember your child's First Christmas. We love to collect sentimental ornaments as we have one for the year we moved in together, got engaged, bought a house, got married and got a dog – so we will absolutely be buying one for Thumper's first Christmas. I love every year taking them out and looking at the timeline of ornaments and all that has changed in the time that we have been together.
3.Baby's First Christmas Blanket: Babies love having a blanket and stuffy to cozy up too. This set comes with a blanket, a stuffy to connect a pacifier too, overall it looks amazing and I plan on buying it for Thumper.
4.Baby's First Christmas Stocking: every family member needs a stocking hanging for Santa, so celebrate this first Christmas with a commemorative stocking of the year 2018.
5. Baby's First Christmas Outfit: every parent and grandparent love to buy cute outfits for baby so Christmas is no exception.
6. Fancy Christmas Outfit for Santa Photo's: Everyone loves to put on fancy dresses and cute seasonal clothing for those famous Santa photos.
7. Baby's First Christmas Books: I love the idea of every year giving a child a new Christmas storybook to read at bed time on Christmas Eve as not only will they enjoy the story but you will also be building memories as a family.
8. Christmas Pyjamas: everyone loves getting a new pair of warm snuggly pajamas to sleep in while you wait for Santa, I still get a new pair of pajamas every year as an adult.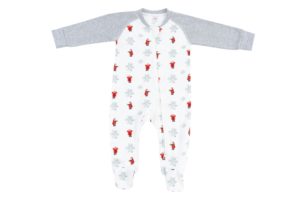 This one-piece footed zipper from Nest Designs is comfy cozy for bedtime. The footed design keeps little feet warm and toasty (like socks they can't take off!). Made of extra-soft bamboo jersey with a hint of spandex to help the fabric stretch with nighttime wigglers, our footed sleeper is a quality nighttime outfit for your precious little bubs. This sleeper in our new Santa Santa print is one of our favorites. Plus, our new FW21 holiday prints come in styles for the whole family – perfect for family matching!
Little ones don't have time to roll away during diaper changes with quick zip closure. Our footed sleeper design also has a zipper-flap up at the top to protect your little one's skin. Available in sizes from NB to 12 months, slumber is calling.
I got a pair for myself in womens sizes and they are by far the most comfortable pjs I have ever owned 🙂
9. Baby's First Christmas Tree: Let young children decorate their very own Christmas tree without worrying about bulbs or branches, as they can place the ornaments throughout the Christmas tree to encourage put-and-take play! Kiddos can put the Star on top of their Christmas tree all by themselves.
Help your child sleep better with the peaceful sounds and lullabies thanks to the Dreamegg Sound Machine. The D3 features 29 soothing sounds, and has the option to play continously, or on a set timer. The Sound Machine has a compact lightweight size that is rechargeable and perfect for travel. Lastly, it has a built in headphone jack and adjustable volume.
Ok, so now that I have made my shopping list and burned through my Christmas Budget on baby as there as just so many great options. I hope that you can find at least one item to remember Baby's First Christmas. Below you will find many of the gifts that were bought for my daughter Thumper for either Christmas or her Birthday last year. At Christmas she was 10 months old so many toys for 1 year olds were still a perfect choice.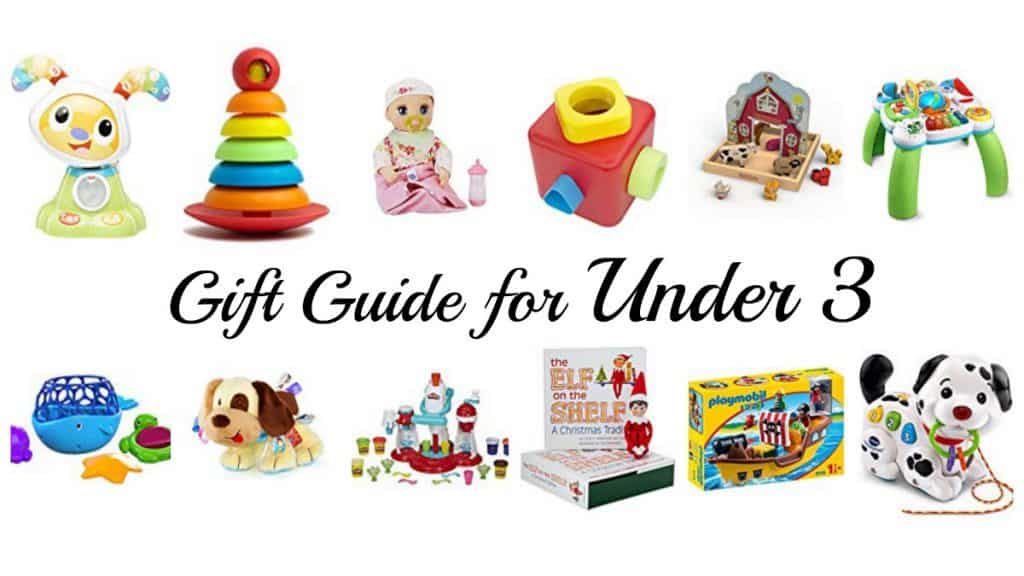 We decided to split up our guides so if you can't find the item listed here checkout our Best Toys for Toddler and Preschoolers.
Baby Toys: Great gifts for 1 year olds
Baby Shark Bath Squirt Toys – Splash into the Holiday Season with Baby Shark Bath Squirters! They are a great item to throw in as a stocking stuffer! Splish and splash with your favorite Shark Family bath squirt toys! Bath time has never been so fun! Collect all 4 of your favorite characters in one pack: Baby Shark, Mommy Shark, Daddy Shark and William!
Bioserie Sorting cube- Created from raw materials derived from plants, these baby toys that are all together free of potentially harmful chemicals, really fun to play with, easy to clean, and sustainable. Multiple ways to play: put the shapes in the cube, stack them on the cube, or sort. They would make a great birthday gift for a three year old or even Christmas gift as they are easy to grasp and hold for little hands. This toy will help children discover shape and size concepts.
Bioserie, Toys 2 in 1 Stacker – The Toy stacker helps develop motor skills and hand-eye coordination and is easy to grasp for little hands. It has 8 pieces and comes in vibrant colours to attract babies attention.
BeginAgain – U-Build – These blocks encourage early STEM learning as your little learner can use them to create anything. They promote math, spatial thinking and fine motor skills.
BeginAgain Sounds Around The Farm Story Box Playset – These farm animals allow children to pretend play and create their own stories, one animal at a time. Children can practice making animal sounds and moving the animals around the barn.
LeapFrog Little Office Learning Center– Keep your little one busy with this learning desk that allows toddlers to play to explore as they hear new words and vocabulary, music from around the world and practice talking with Scout. Fully bilingual in English and Spanish, hear more than 180 songs, melodies, sounds and phrases.
Can be bought on Amazon.
VTech Busy Learners Activity Cube – This cube is my favourite toy and kept my daughter busy for a long time, as there are 6 different sides with different buttons that teach children about animals, animal sounds, and shapes. The cube encourages baby to sit up in order to press the button and the early learning center has 25 playful songs and melodies that keep toddlers 6 month to 3 year olds engaged and entertained; comes fully assembled.
VTech Pull & Sing Puppy – The puppy has multiple buttons for babies to push and enjoy the sounds and music to attract your little one's attention. The puppy comes with a string so kids can practice walking the dog themselves.


Baby Einstein Curiosity Table Activity Station Table Toddler Toy with Lights and Melodies– Multiple activities spark baby's creativity and it has removable legs for different modes of play. Includes 65 melodies and sounds and gears, color circuits, lights & more.
Musical Tea Party – Every child loves to have a tea party with their friends or their stuffed animals, this tea set is educational as well teaching about colours, and just overall super -cute. It is under the tree for Thumper this year!
GAZILLION Bubble Rush – Created for kids, but making life easy for parents as it is easy to clean! This high powered bubble blowing machine creates the most bubbles ever using a bubble machine that has a three-sectioned no-spill modular design including a removable washable top, solution recycling tray and batteries and motor sealed inside base. Pour in the bubble mix and enjoy an explosion of bubbles.
Buy Here!
GAZILLION BubbleCycle – Take the Bubblecycle out for a spin! As kids push the GAZILLION Bubblecycle over the grass, sidewalk or driveway, the motor spins and the engine rolls its releases millions of bubbles!
Buy Here!
Checkout our other Gift Guides for Kids
Disclosure: This post contain affiliate links. What does this mean? I get a small commission, while the products cost you the exact same amount.