Stem Toys for Kids: 
STEAM means learning by doing—getting your hands dirty, figuring out how things work. I think it is important for toys to have a purpose rather than just being a toy and that is why I like to buy educational toys. Now STEM and STEAM are the new way of saying educational in terms of the 21st century learner. As a teacher engaging children in STEM and STEAM based activities is essential to preparing them for today's society and the types of jobs they will hold in the future. Children as young as kindergarten can benefit from playing with STEM and STEAM toys as it will teach them problem solving, critical thinking, creativity, and collaboration. These skills will help children of today to evaluate a problem, and create a solution or plan.The best part about these cool science toys are that they are engaging, fun and children are learning amazing skills without even realizing. The list below includes some of the Best stem toys for kids available this holiday season. 
Learn more about why children learning to code is so important!
This blog post may contain affiliate links. What does that mean? I get a little commission if you purchase using my link, at no extra cost to you.
What is STEAM and STEM? Why is it important?
STEM stands for Science, Technology, Engineering, and Mathematics and STEAM is just the addition of Arts to the combination. STEM and STEAM are the building block skill sets that will prepare children of today for the jobs and future of tomorrow. To understand why STEM and STEAM are important we need to focus our sights on tomorrow, as jobs of the future will be in robotics, coding, computers, and natural sciences.  Technology is changing at such a fast pace we need to ensure that the youth of today gain the necessary skills to keep up with technology. Engaging children's interest in Stem at an early age is essential to remove the gendered stereotypes about STEM careers in science, math, engineering and technology. 
** Disclosure: I received a few of these products in exchange to include them in the gift guide, however the opinion and recommendations remain my own. While the prices are listed, there are always changing and often on sale so please click the link to check current pricing.**
Related Posts: Babies First Christmas Gifts and Toys,  Stem Toys for Kids, The Best Gifts for Toddlers, Best Outdoor Toys for Toddlers, Board Games for 2 Players, Easter Gifts for Toddlers: Easter Basket Ideas any Toddler will Love, Awesome Gifts for 8 Year Old Boys, Gifts for Coffee and Tea Lovers, Gifts for Gilmore Girl Fans, Gifts for Lego Fans,  and Gifts for 4 Year Old Girls. 
For the Full List of Stem Toys
Stem Kits For Kids:
The Clixo includes 28 pieces and 2 cool spinners that add a fun twist and bring bigger, bolder ideas to life. From pinwheels to propellers, this Crew pack is a flurry of creative possibilities! Made for kids and kids at heart age 4+. Choose from 3 different color options and give it a whirl!
Can be bought at Clixo.com
Falling Marble Logic Game – a marble run and logic puzzle all in one with beginner challenges to expert. Includes 1 game grid, 60 challenge cards, 9 towers, 1 target piece, 3 marbles.
Can be bought at Amazon
This includes a 42 page book that features 18 recipes and includes detailed instructions that come to life with the use of the Hands Free Virtual Reality Googles. The Virtual Reality googles allow Chef to come to life and teach the science behind food through each recipe, giving kids a healthy understanding of science. The kit includes chef tools such as measuring cups and spoons, whisk, cutting board, rolling pin, knife, wooden skewers, and spatula are included. Food scientists can dress like a chef as the kit includes a chef apron and hat. I think this is a great stem toy for girls, especially those interested in baking. 
Can be bought at Amazon or  Best Buy
The HEXBUG Ring Racer spins, tumbles, and flips a full 360 degrees on its dual spinning rings. Using innovative technology and rechargeable batteries, push your robot to the limits using the two speed settings allowing you to drive in regular mode, or blast-off into turbo mode! Create your own clever stunts with the robot and impress your friends and loved ones by showing off your high-octane driving skills and one-of-a-kind tricks!
Control your own robot using an app, you can make him dance to the beat or move using the direction pad, change emoji faces to show it's mood, tell a joke and much more. The DJ Robot also acts as a blue tooth speaker and runs for over 90 minutes on a charge. The robot is tons of fun and entertainment with music, lights, and dance moves while learning how to code as you program the robots every move.
Can be bought at Amazon, Best Buy and the Source.
Sphero Mini is a tiny app robot that is the size of a ping pong ball. Using a smart phone or tablet you can drive and control the movement of the Sphero Mini. The kit includes 3 mini traffic cones and 6 mini bowling pins to inspire fun right out of the box, and the app has many games you can play using the Sphero. The coding toys such as Sphero have a rechargeable battery and has a removable plastic shell so you can change the look. Also compatible with the Sphero Edu app, which helps you learn the basics of writing code for your Sphero Mini. 
Can be bought from Amazon and Best Buy.
Stem Books for Kids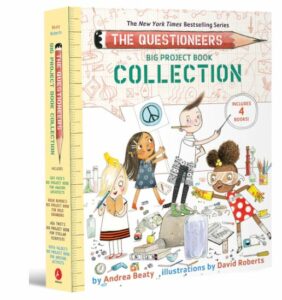 Questioneers Collection: Box Set
Celebrate STEM, the power of perseverance, and standing up for what you believe in with this 4-book boxed set that includes  Includes Rosie Revere's Big Project Book for Bold Engineers, Iggy Peck's Big Project Book for Amazing Architects, Ada Twist's Big Project Book for Stellar Scientists, and Sofia Valdez's Big Project Book for Awesome Activists. This activity book includes both the story and multiple activities that kids can complete and work on the STEM skills. I loved that the book included the story at the beginning and then activities. The Iggy Peck book for example includes activities such as using architecture treasures (loose parts), creating a plan, learning about structures, creating architectural plans, all of these activities build upon each other to the final task of building a town. I plan on bringing these books into my Grade 2/3 Classroom.
Checkout some images from the Book: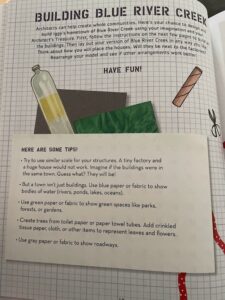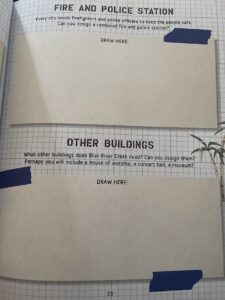 Can be bought on Amazon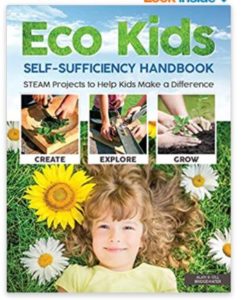 Teaching kids to be self sufficient and combining with STEM skills creates creative thinkers who have a firm foundation in these areas is key for students to ensure potential for success. This book teaches children how to be self-sufficient and how to take care of their environment for the future. This book encourages children aged 7-14 to put down their mobile devices and get involved. From building a wind turbine and a go-kart to creating light, growing vegetables, and making green gifts. The greatest gift you can buy for kids is the knowledge to build independent skills and build responsibility, and Eco Kids provides this and much more! If you have a kid that loves outdoors you can also checkout the Top Gifts for Outdoor Kids or Outdoor Toys for Toddlers.
Can be bought on Amazon
Stem Books For Toddlers
Learn with Cogz the Robot dog and learn all about how cars, trucks and other big vehicles work in this bright and fun STEM book. Cogz and his sidekicks Nutty and Bolt guide the reader through the workings and different parts of cars. Informative pictures introduce the transport topics in a fun and simple way for young children.
Learn with Cogz the Robot dog and learn all about how space rockets and space missions work in this bright and fun STEM book. Cogz and his sidekicks Nutty and Bolt guide the reader through the workings and different parts of a rocket. Informative pictures introduce the transport topics in a fun and simple way for young children to become interested in vehicles and machines.
Check out the moon and the sun and all the planets in our solar system. Plus, learn about gravity and orbits in this simple text written in question and answer format that is perfect for toddlers curiosity.
Check out animals, plants, and fish that live in the ocean. Plus, learn about the unique ecosystem in this simple text written in question and answer format that is perfect for toddlers curiosity.

Ara the Star Engineer is a story about a 6 year old girl who is on a quest to explore STEM skills and apply them to solve a big problem. Ara meets real life women engineers on her adventure that assist her in solving her problem and teach basic computer science and coding skills along the way. Ara the engineer encourages young girls to pursue further exploration in technology and breaks the bias that all engineers are boys.
Stem Toys For Toddlers/ Stem Toys for Preschoolers:
Bolt Buddies: (Rocket, Fire Truck and ): Bolt Buddies allow kids get to use real life tools in a playful environment and be exposed to construction and engineering skills.  Assembling Bolt Buddies toys also builds critical thinking and fine motor skills, while pretend play encourages imagination and creativity. Set includes: Kid-friendly power drill toy with 2 drill bits; fire truck body with retractable drill board, liftable ladder, and 13 drilling spots; 24 colorful bolts; 8 snap-on fire and water toppers; 3 Bolt Buddy figures; and fire hydrant play prop. Drill requires 3 AAA batteries (not included). 
Can be bought from Amazon
Osmo Little Genius Kit (iPad Base included) also available for FIRE tablet.
Each game centers on a physical activity. Whether it's arranging tangrams, zooming number cards around, or even freehand drawing, Osmo sees and reacts to every real-live move. The games engage skills such as visual thinking using tangrams, problem solving working with numbers, self-expression using masterpiece drawing, and much more. Osmo makes math, language, and science activities engaging and educational. We bought this for my 3.5 year old, 2 years ago and she still loves playing the different games… we even bought the math game for her birthday this year as an add on.
Can be bought from Amazon,Chapters or Mastermind Toys.
Teach coding to young kids through a play to learn experience as your child enjoys a storybook code adventure. Play fetch, hide and seek, and more with clumsy Rumble and bumbling Bumble as they design endless coding challenges with their interactive coding pets. Created for children ages 4 and up.
Can be bought at Amazon
Fisher-Price Think & Learn Rocktopus 
Rocktopus has 3 engaging modes: math, music and games. Rocktopus reacts to every instrument as kids insert or tap them, helping guide them through game play. Kids are in control of their musical creations! Add or subtract instruments, change the tempo & add sound effects even use the app to create a cool music video.
Can be bought from Amazon, or Indigo.
D
isclosure: I received some of the toys included in exchange for review. All opinions remain my own.