Now that we have spent so much more time at home due to the pandemic, a great way to spend time with your spouse or your bubble is playing board games. While my husband and I often play 2 player board games together, we also love to invite couples over such as my brother and his wife to join us for board game afternoons or evenings. These are all great games for couples to play together and reconnect.
Looking for new ways to strengthen the relationship between you and your partner? Looking for new ways to spend a night at home when the kids are asleep?
A recent study from Baylor University in Waco, TX, has found that romantic partners release oxytocin, the so-called love or hugging hormone, when they spend time together play activities like couples' board game. A little competition trying new things like board games is the perfect first date idea! The best way to get know a person is by seeing how they play a game including their strategies. You can start with a classic board game like Scrabble and work your way up to these unique couples games that are so much fun!
Do you enjoy spending the evening at home with your spouse and are tired of watching countless hours of television and movies, then I suggest quality time by trying out a Board game for 2 players. My husband and I are huge board game fanatics, so much so that we drove all the way to Columbus, Ohio to attend Origins Board Game convention last year.
We also enjoy board games so much that we used it as the theme for our wedding as each table was named after a board game and had a picture of us playing it. Whether it be a competitive game or cooperative games, checkout these board games for your next date night. As a married couple we often play board games at least monthly and always pack games for road trips.
Board Games have been exploding onto the market in the last 10 years, so if you new to gaming it can be overwhelming! We have created a list of The Best Board Games for Couples and explained what the game is about and why we love the game.
All of the games showcased on our list are games that we personally own and have tried out through multiple rounds of game play. Board games allow you to relax, de-stress and have some competitive fun with your partner and act as a distraction to forget about the business of married life and kids.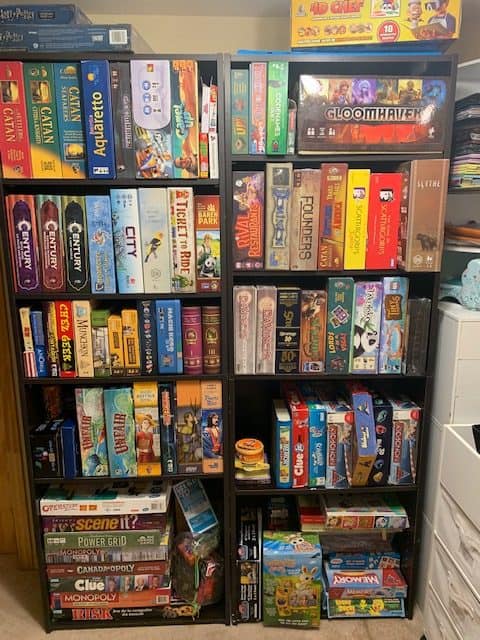 Ultimate Board Game Collection –
The Best Board Games for Couples to Play on Game Night
This blog post may contain affiliate links. What does that mean? I get a little commission if you purchase using my link, at no extra cost to you.
Our basement shelves are stuffed with board games to the point that we could open our own board game cafe. I love playing board games for a couple reasons: its a cheap date night as it requires no babysitter if you have kids, a board game costs $40-60 most times and can be played multiple times and enjoyed for hours where as a going to a movie costs about $30 for 2 hours of entertainment, and I love being competitive and trying to beat my husband who always wins, and really just enjoy spending time together with friends playing a game.
We love playing board games and have for years, but now more than ever board games are a great source of entertainment in 2022 and a great time as you can spend time with friends and have a fun evening together without spending any money and in the comfort of your own home. Now all of the games on the list, I personally own or have tried playing as a couple, or with a small group of 4 and strongly recommend them even for beginner gamers as they are the perfect board games for couples.
Not interested in board games. Check out one of our other Gift Guides:
If you don't find a game you love on this list there are lots more on Amazon, take a look for the two-player board games or a simple card game.
Two Player Card Games
What is it?
Players collect matching sets of property cards by bidding in blind auctions and paying with money cards. Everyone gets a turn to host an auction. Steal property from other players, draw extra money cards, and collect sets faster. Ready to bid? At the same time, everyone shouts "1, 2, 3, Bid!" then lays their money cards out. The highest bidder wins that property. The first player to collect 3 property sets wins.
Why do we love it? A super quick game and fast-paced game that you can play once the kids have gone to bed even on a weeknight as it doesn't take much time. An easy game even for beginners.
What is it? Tea for 2 is an awesome 2 player card games, that is easy to learn, hard to master and features a Tea Party with Alice and Wonderland characters. Players battle each other to have the highest card and use the card's effects in order to gain stars to win the game!!!
Why do we love it?
I love that this game is a simple twist on the classic game of War, making it super easy to learn. I love card games as they are easy to travel with and can be a great addition to a cottage weekend or camping trip. The game only took about 20 minutes to play and will fun, simple and challenging all at the same time. It was challenging as while the basics play like simple War you also need to make decisions about what items to collect in order to improve your deck of cards and earn more stars!!
What is it?
A new line of card games featuring beloved Disney characters and collectible Pocket Pop! figures. Play numbered and colored character cards to make sets and runs. ✷ You can combine this game with any of the other Something Wild! card games for an even wilder time! ✷ Players: 2-4 | Game Duration: 15 minutes | Recommended Minimum Age: 6 years
Why do we love it?
A great game for the whole family to play together, it is a combination of Uno and Go Fish. Instructions are simple and easy to play with the kids. The game is a great travel size.
What is it?
Just like original Catan, your goal is to build roads, cities and settlements and control the fate of your settlers. You can construct special buildings, hire heros, and build ships to boost trade to make your opponents game more difficult.
Why do we love it?
We love the original version of Catan, so having a different version that uses cards instead is entertaining. We enjoy that the game can be expanded so there is a lot of ways to ensure each game is different. There are many cards with different abilities so the same strategy is not guaranteed to win twice in a row.
We also enjoy that you can change the amount of time the game takes depending on if you play the basic game, theme game or a duel. This unique two-player game is an excellent choice for experienced gamers.
Expand your game:
Two Player Board Games
What is it? You are a wealthy merchant looking to create the most fantastic jewlerry to become the best merchant in the land! Acquire gems to trade for development cards, and development cards to trade for gems – this simple exchange will allow you to create jewellery out of gems and gold. Earn the most prestige in all of the land to win!
Why do we love it?
This game is easy to teach to new players and works smoothly with 2,3, or 4 players and each game is different every time so you never get bored as you never know what to expect. I love that you can strategize but that strategy may not work every time, causing you to adapt to the players and the current game play to determine the best strategy to win that round. This is a perfect game to play with a spouse or a small group of friends, and does not take a long time to play like many other games so you can easily play multiple rounds in an evening. This is a Must have for all Board Game lovers!
What is it? Tile by tile, terror by terror, players build their own haunted mansion and then try to escape it alive. Players must work together to survive the nightmare but beware! The house turns one player against the others in this cooperative strategy game. The game is for 3-6 players and takes about 60 minutes to play. The Betrayal at House on the Hill tabletop game features 50 blood-curdling scenarios. Each trip to the house promises fresh horrors and a new story is created every time you play.

Why do we love it? While it require two couples it was a great game to play on a couple's date night as it was simple to learn and pretty easy to follow by simply reading the cards. I enjoyed that there are 50 different scenarios and different ways to set up the house ensuring that every game is different.
What is it?
Help Buddy the Elf find his dad in Elf: Journey from the North Pole by laying a loopy route from the North Pole to New York City. Play path cards to the board and move Buddy along its crazy curves. Lead him toward your secret goal landmarks along the way to score points. The player with the most points when Buddy the Elf finds his dad wins!
Why do we love it? This game is super cute for Elf fans! It is an easy 20 minute play, and is super cute and a game for the whole family.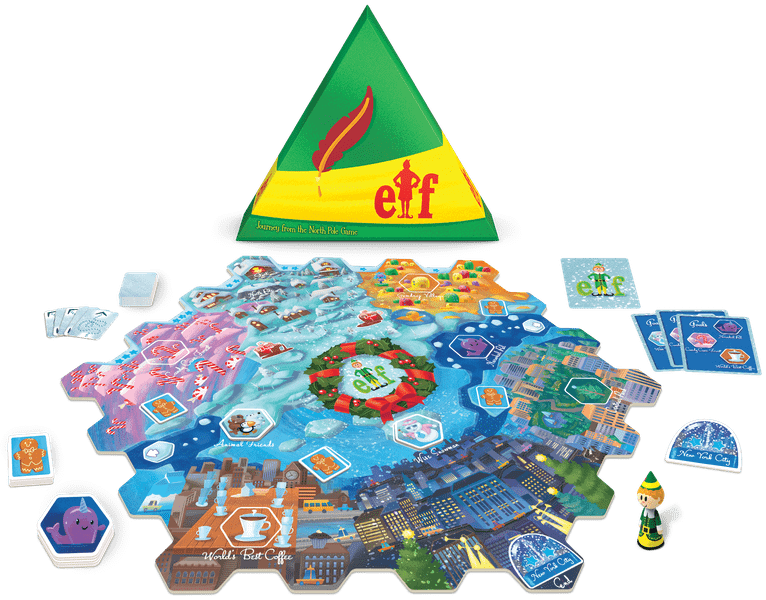 What is it?
In the Funkoverse Strategy Game, you combine your favorite characters and go head-to-head in four exciting game scenarios. Use your characters' unique abilities to gain points and achieve victory!
Each turn, you select one of your characters and perform two actions. Each character has access to basic actions like moving and challenges as well as several unique abilities that may be performed only by spending ability tokens. Funkoverse uses an innovative "cooldown" system — the more powerful the ability, the longer it will take for the ability token to become available again — so players have to spend their ability tokens wisely.
Why do we love it?
My brother was excited to see the Funko theme continued into this fun game. Funkoverse delivers an amazing game that is fun for all ages! The Funko pops included in the game are solid. There is a considerable tactical element to the game but its very fast paced and fun. The basic games last around 15 minutes with the more complex ones around 45 minutes: a nice amount of time without boredom.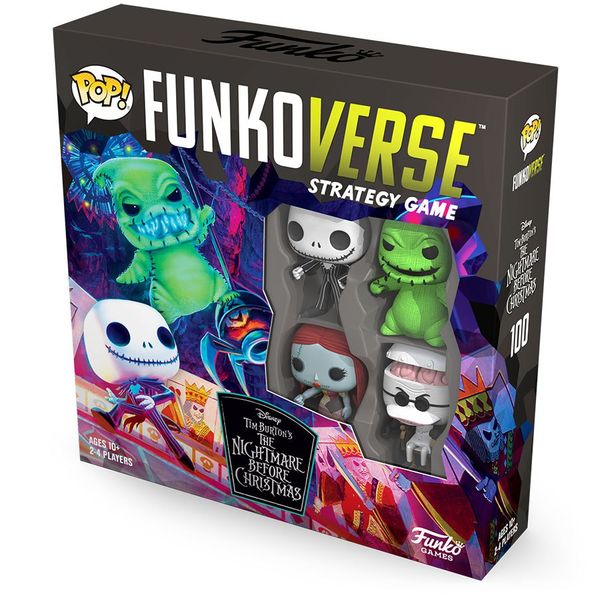 What is it?
The King has hired you to be his royal decorator in this fast paced tile placing game. Create certain patterns to earn the most points and win the Crown title of Winner! This game of strategy requires you to try and outthink your rivals.
Why do we love it?
It is a great 45 minute easy, fun and strategic game where you don't really know who wins until the end when you add up all the points! I found this game very aestically pleasing with the individual game boards and unique tiles that you played on your own game board. I like that each time we played this game I was able to try out a new unique strategy so while the game is simple it never got boring as you can always change your game play.
What is it?
Mysterium takes place in a Haunted House where the Spirits are awoken and the guests must determine who is the culprit as they guess the Character, Location and Weapon used to commit the crime on the ghost. While this game resembles clue it is unique as one person takes on the role of the ghost while the rest of the team are investigators, but everyone must work together in order to solve the murder of the ghost in this co-operative game.
Why do we love it?
This is one of the most mind bending games I have ever played, it challenged me, sparked my curiosity and made me focus on my communication skills and analyzing abilities. You are given abstract picture clues that guide you on your journey to investigating what happend to the ghost, and to solve the murder. You must work as a team to determine the character, location and weapon – as you win or lose as a team. This game offers varying levels of difficulty making it the perfect choose for a newbie gamer or veteran gamer.
What is it?
Take turns giving one word clues to help your partner identify your agents from the cards on the table, working together to find all the agents. Each player sees a grid which identifies 9 agents, 3 assassins (different place on each side of the card) and neutrals – the goal of the game is to reveal all 15 agents without revealing the assassin or running out of time by revealing too many neutrals.
Why do we love it?
I love that in this game were not competing against each other but instead working together which is a rare occurrence in the games we own.
What is it?
Take control of your civilization and make decisions to develop your science and army, build buildings, and lead your civilization to victory. Build your civilization but also defend your capital city or your opponent may destroy your progress. The game is set in the world of the 7 wonders, and is a constant tug or war battle. Win with military supremacy, scientific supremacy or civilian victory.
Why do we love it?
We love that in 7 Wonders Duo you can win in more than one way, therefore you must be more strategic and plan out your game play.
What is it?
This strategic building and trading game is about building the prosperity of your estate in Burgundy. The two dice control the game and allow you to take actions such as trading, farming, city building, or scientific research – each path leading the game in a different direction. The winner is the person who gains the most points however no two estate boards are the same so you create a plan on how you are going win.
Why do we love it?
We love the changing player boards, so no two games are the same as there are 9 different boards. The game also has many ways to win, so you can try out different strategies.
What is it?
You are a farmer in charge of building stables and fencing pastures to keep horses, cows, pigs, and sheep. Expand your farm by building troughs and buildings to give yourself more room to hold animals. Goal is to have the most animals – who will be the most successful farmer.
Why do we love it?
We love any game that involves building as its our favourite type of game. I love that this game is very simple and quick to play as it only takes about 30 minutes. The only downside is it has a lot of game pieces but is a personal favorite of mine.
What is it?
Chromatic dominos – to be crowned winner you must empty your hand first. Chromino tiles must match at least two colours on adjacent tiles. Its traditional dominos with a twist 🙂
Why do we love it?
The actual concept of the game is brilliant and fun to play, and definetly more challenging than it originally appears as it takes quite a bit of strategy.
What is it?
Resembling street cars from Munich, the tramways needs expansion and only one player can receive the contract – compete to build the best tramway. You can use your cars in three different ways: money to pay for routes, building new routes, or as passengers on the tram. You need to bring passengers to your tram line to gain victory points and win.
Why do we love it?
We like that this game is simple and easy to learn, and is very portable as we even took it camping.
What is it?
The goal of the game is to create the best quilt, by attaching patches together however they don't all fit together so you must use your fabric pieces carefully and keep a healthy supply of buttons to help finish your quilt.
Why do we love it?
We like that every game is different and that there is no luck involved as the game revolves around the strategy and game play of the player and their opponent.
What is it?
The game takes place in Vienna, and you are the owner of the hotel. You must expand your hotel, build rooms, and serve guests their proper food and drinks. Hire employees and expand the hotel to create the Grandest hotel in all of Austria.
Why do we love it?
We love that it is challenging and that you need to plan out your turns and not just focus on one aspect of the game in order to succeed.
What is it?
Play against your opponent or team up and play two on two and compete to get to the top of the stack of blocks first. Use builder pieces to move one space in any direction and build your towers. If you find yourself stuck, use a God card to break the rules and get out of a tight spot.
Why do we love it?
We love this game as it is easy to learn, fast to play and intellectually challenging.
What is it?
[easyazon_link identifier="B00A2HD40E" locale="CA" tag="litmiskat-20″]Pandemic Board Game[/easyazon_link]- A virus has spread across the world and you and your partner are in charge of stopping it.
Why do we love it?
We love Pandemic because instead of playing against your opponent you are a team and together trying to complete a goal of eradicating the virus. This is a cooperative game instead of competitive.
What is it?
Use the different unique pieces to create a beautiful quilt using your 9 by 9 game board. You must use a strategy to place your tiles in order to win!
Why do we love it?
We like that every game is different and that there is no luck involved as the game revolves around the strategy and game play of the player and their opponent.
Buy it here:
Splendor Duel
What is it? Compete against the opposing guild in a race to victory in this head to head battle. Collect gem and pearls, purchase cards, and acquire cards with powers to fight over pearls. Similar to the original game but more compact making it perfect for travel.
Why do we love it?
This strategy game is perfect as it only takes 30 minutes to play. This game is non stop fun as it is an intense battle of strategy as you must outplay your opponent by thinking ahead! Simple to learn but definitely very completive.
Buy it here: Asmodee Games
Celebrate the competitiveness of your spouse and friends by playing board games together, build your relationships by spending time playing games together and remember an investment in these games is an investment in time together! Covid-19 has made it difficult to build and continue friendships as we are all trying to do our part – some of these games like Code Names can even be played over Zoom to keep our social distance. This list offers the best games for couples – allowing you to choose a game and plan a date night!