Twinkle After Dark in Milton allows guests to enjoy holiday displays, holiday projections, festive music memorable characters like Santa and his Elves as you stroll through the 1km trail listening to your favorite holiday tunes with family and friends.
What is Twinkle After Dark:
The rustic heritage building of Country Heritage Park bring country charm with the 19th century barn and natural scenery that has been decorate with tens of thousands of lights all set under a beautiful night sky and winter landscape in the heart of Halton Region. Enjoy a warm beavertail and warm beverage as you stroll through the park.
The walking tour includes larger than life displays, heritage farming equipment and immersive screens. This holiday season make memories at this Winter Country Festival celebrating a combination of farming, cultural heritage and beautiful lights.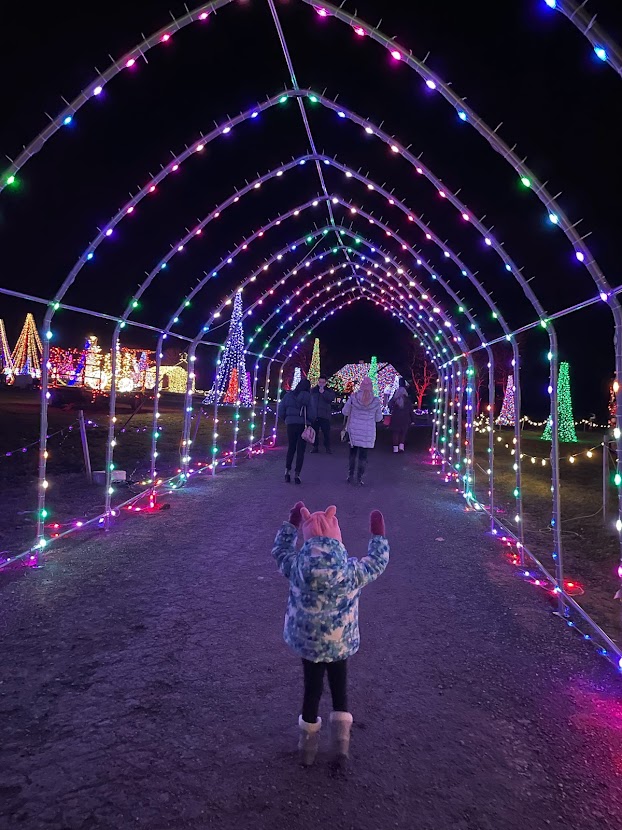 Pumpkins After Dark was so succesful the last three holiday seasons that the creators decided to create Twinkle After Dark to celebrate Christmas by offering a incredible walk through light display in Country Heritage Park in Milton. Twinkle After Dark formerly known as Country Bright is only one of the many Walk Thru and Drive Thru Light Displays that we have checked out this holiday season.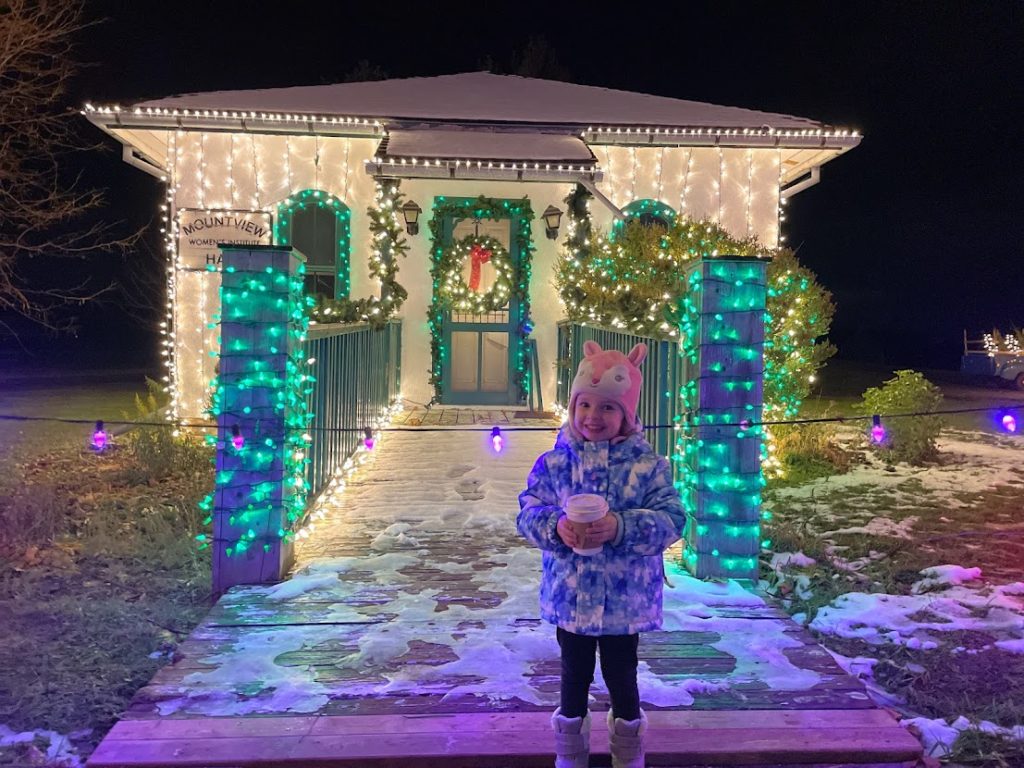 Country Heritage Park has been beautifully decorated with thousands of lights, holiday decor, characters dressed up and the entire places shines from miles away in all kinds of colours. My three year old loved the displays so much that as soon as we entered the park she jumped out of the stroller and decided she was going to walk the entire 1km pathway.
She loved looking at all the displays along the way, meeting Santa, stopping for a hot chocolate and just enjoying the magical holiday feeling that comes with events like these.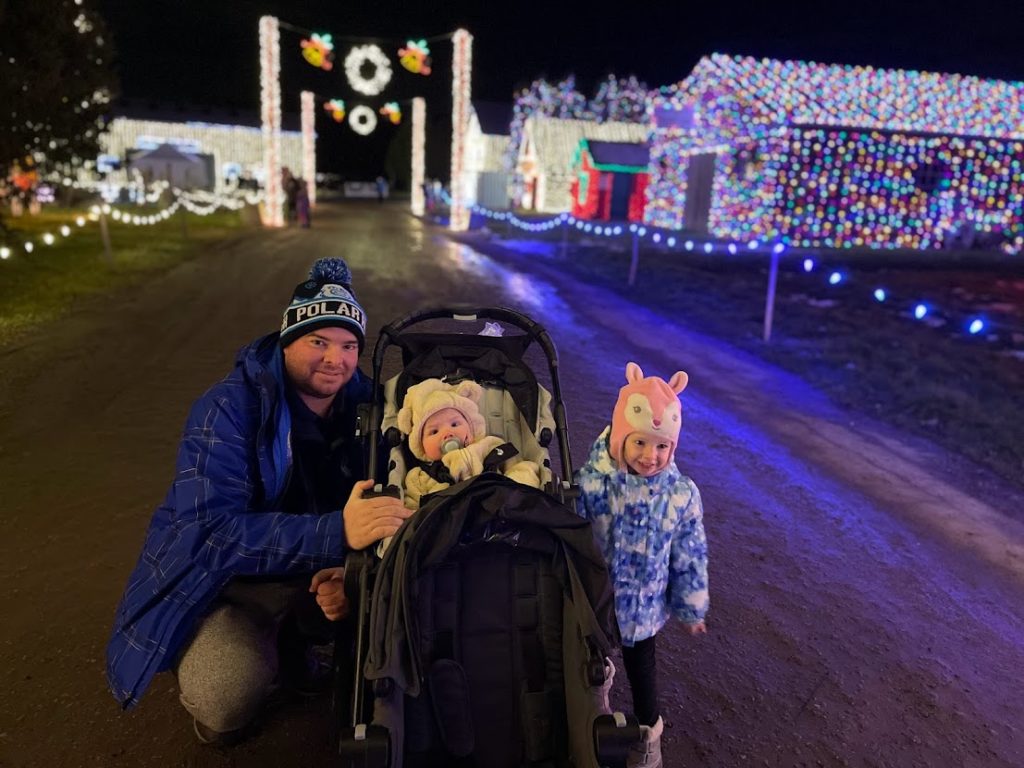 Twinkle After Dark is fun for the whole family and is definetly a stroller friendly event for those with littles. We used a stroller throughout the 4km trail and it was easy to navigate, however I would advise that if it is a heavy snow you may want to use a carrier instead as it is a gravel path so I do not believe it will be plowed so with deep snow it may be more difficult.
Can you visit Santa at Twinkle After Dark?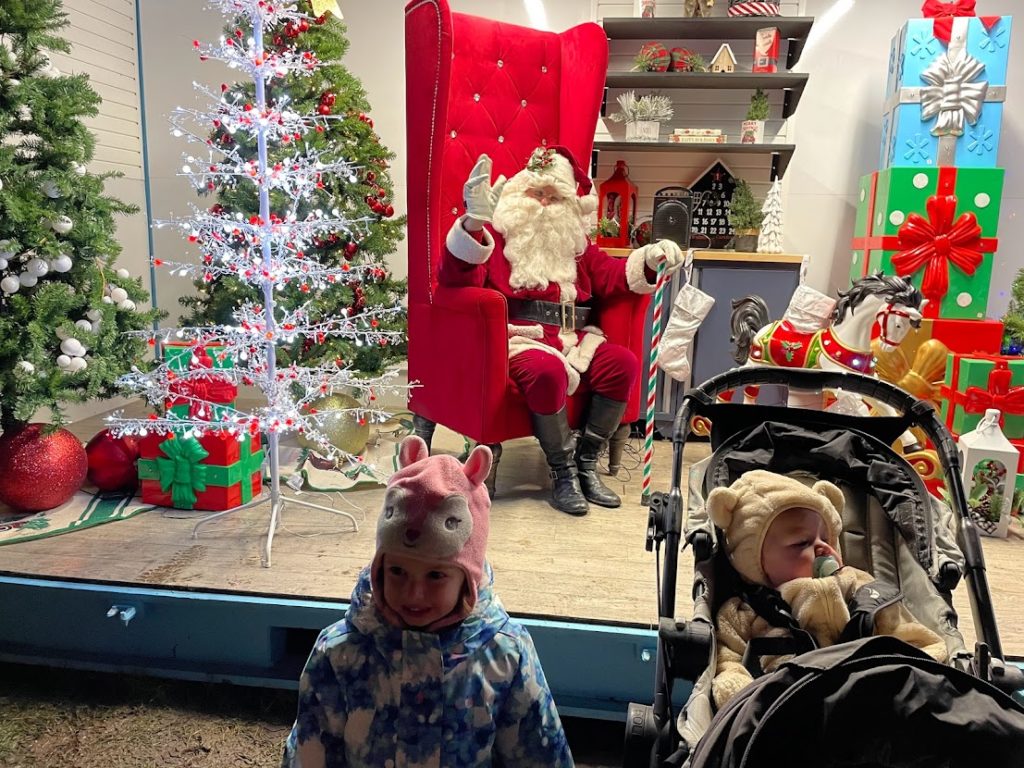 As you walk through light tunnels, beautiful decorations, enjoy interactive displays and enjoy the many Light up Christmas trees, at about the halfway mark you will be met by the big jolly man in the red suit… Santa allows upclose visits and gives great advice to kids.
He told our daughter she had to go to bed the first time she was asked every night… it has worked every night since… I would love for December to last forver as it has made bedtime a breeze… thanks Santa.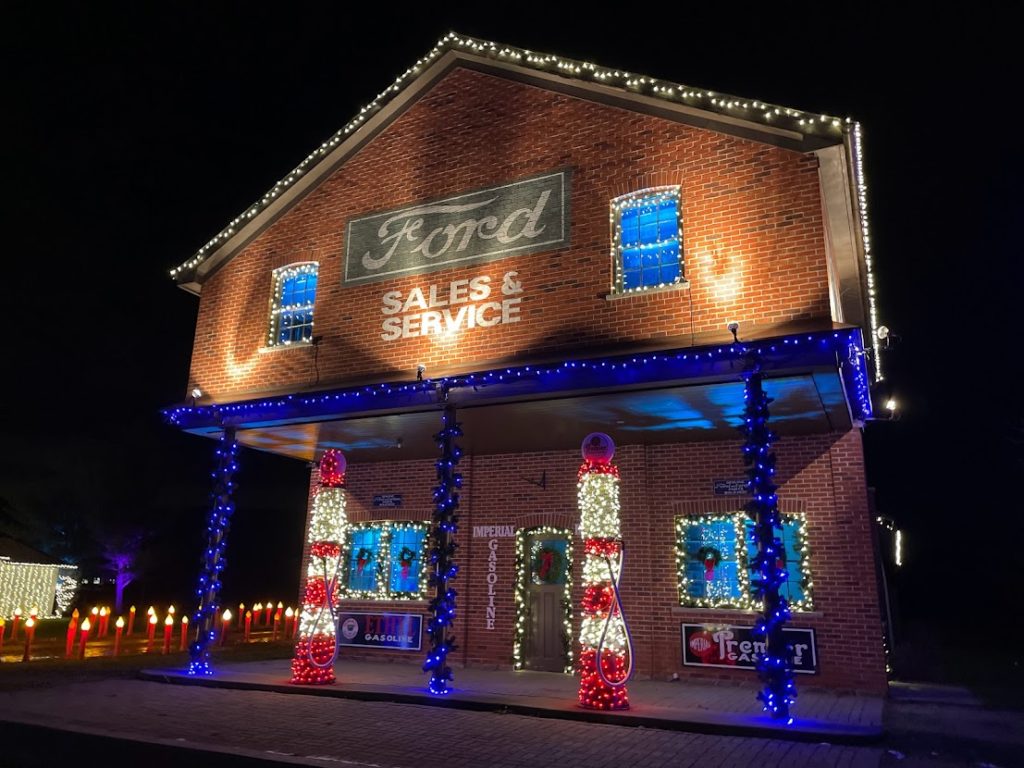 The entire path is 3/4km and took us about an hour to stroll at a easy pace with a stop to see Santa along the way. Holiday music was playing in the music throughout our stroll and really makes you feel the Christmas Spirit while making memories with your loved ones.
The park offered lots of amazing spots to take fun holiday photos, and included a small area of benches to sit and just enjoy the view. There are two spots to buy hot chocolate and some snacks – they are only accepting CREDIT and DEBIT. There are also a few food trucks and vendors located in the park that you can stop and visit. The only washrooms available are porta potties for reference.
If your interested in more lights checkout this FREE Guides: Best Light Displays in Brampton, Where to Find Christmas Lights in Milton and Georgetown
Video Preview of Twinkle After Dark:

Dates for Country Bright:
Country Bright will be running at Country Heritage Park from November 24 to December 28, 2022, running from 5:30PM to 9PM Daily.
Where is Country Heritage Park Located?
Country Bright is being held at Country Heritage Park in Milton, Ontario – 8560 Tremaine Road, Milton, Ontario. If you GPS Country Heritage Park, use Postal Code L9T 2X3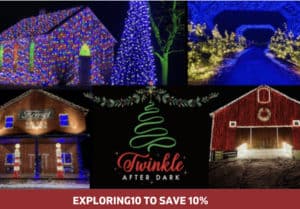 Buy Tickets for Twinkle After Dark: Use Code EXPLORING10 to Save 10%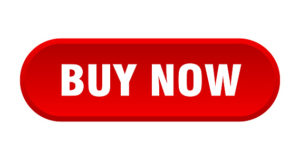 Refund Policy
Tickets are non-refundable but are transferrable to friends or family. There are no credits towards future purchases. Tickets can be exchanged using the online ticketing system at the discretion of show organizers. In the event of inclement weather that makes operation of the show impossible, a rain date will be provided.
Disclaimer: While we recieved gifted tickets to this event. The opinions remain honest and my own.