Halloween was a few days ago and your toddler has been eating lots of sugar filled candy so tooth brushing is even more important than normal. As a parent in the evenings after a loooong day at work or play the last thing you feel like doing is stepping onto the battlefield about toddler teeth brushing. Lips clamped shut, head shaking side to side no, no, no, refusing to brush their teeth is a dreaded part of any bedtime routine. Your feet drag up the stairs every night knowing you likely need to summon your best negotiating skills or try and pry your toddlers tiny mouth open to get at those pearly whites.  Not a relaxing way to head to bed for anyone, but there are ways you can make brushing teeth less stressful for everyone involved. One way I decided to try was to have her taste test/review 5 different toothpastes from Green Beaver.

When to Start Brushing Baby Teeth on their Own?
You should start brushing baby teeth when the first tooth errupts however teaching children how to brush their teeth on their own is a huge developmental skill and can be a challenge. Toddlers need encouragement to learn how to brush their teeth without your assistance and this normally happens between ages 3-6. Toddlers should start to attempt to brush their own teeth using a pea sized amount of toothpaste and should be encouraged to spit rather than swallow the toothpaste.
Follow these tips for early dental care to give your child the best possible start.
What Makes Green Beaver Toothpaste Different?
Some highlighting features about Green Beaver kids toothpaste include:
– 100% natural, fluoride-free
– All ingredients are safe to swallow
– Contains calcium and antioxidant vitamin C which helps strengthen good oral health
– Includes xylitol which helps fight bacteria and fights against cavaties and dental erosion
Our Review of Green Beaver Tooth Paste:
We recently tried out Green Beaver Toothpaste in the following five flavours: Kid's Fluoride Free Bubble Gum, Kid's Fluoride Free Strawberry, Ultra-Whitening Fresh Mint, Natural Green Apple, and Natural Fruity Orange.
"My daughter loved all of the flavours and enjoyed using the different flavour toothpastes however I personally did not enjoy the orange toothpaste. I like that it is Canadian made and that it includes xylitol to help protect my daughters shiny white baby teeth. It is important to me that Canadian beaver does not use harmful chemicals and additives found in regular toothpastes especially since my daughter still often swallows toothpaste".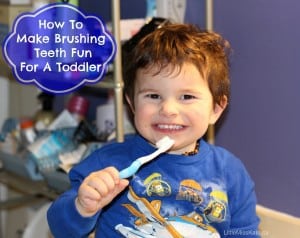 Here are some tips on how to make Brushing Teeth fun for a Toddler:
Let your child pick their own toothbrush and choose their favourite toothpaste – It is amazing the difference can be made with having toothbrush that is a colour they like or has their favorite character on it.  By letting them pick it out themselves they are likely more amenable to using it, Thumper loves deciding every night between her Elsa and Anna frozen tooth brushes. Thumper really enjoyed trying out the different Green Beaver toothpastes and choosing her favourite. By the end of our five days of toothpaste testing she decided that Strawberry was her favourite, which was no surprise to me as Strawberry is her favourite fruit, though it did surprise me that she choose Orange as the first toothpaste to try when given the options of all five toothpastes.
Let them start brushing on their own this works especially well for those "I do it myself!" type toddlers and talk them through it "did you get the very back" or "can you count each one you scrub?" Just be sure you get in there to finish he job. My dentist recommends doing this until 8yrs of age.
Take Turns – My toddler was dead set against letting me brush his teeth, that is until I let him have a turn brushing mine.  Letting him have a turn brushing my teeth also gives me an opportunity to talk about how you need to brush top and bottom teeth and both sides.
Try different flavours – Most kids do not like the strong mint taste of toothpaste so try out different flavours.  Just remember if they are still swallowing toothpaste use a flouride-free organic variety of toothpaste such as Green Beaver as all ingredients are safe to swallow.
Using just these few tricks has turned a tumultuous bedtime routine into something fun, easy and with a lot less tears.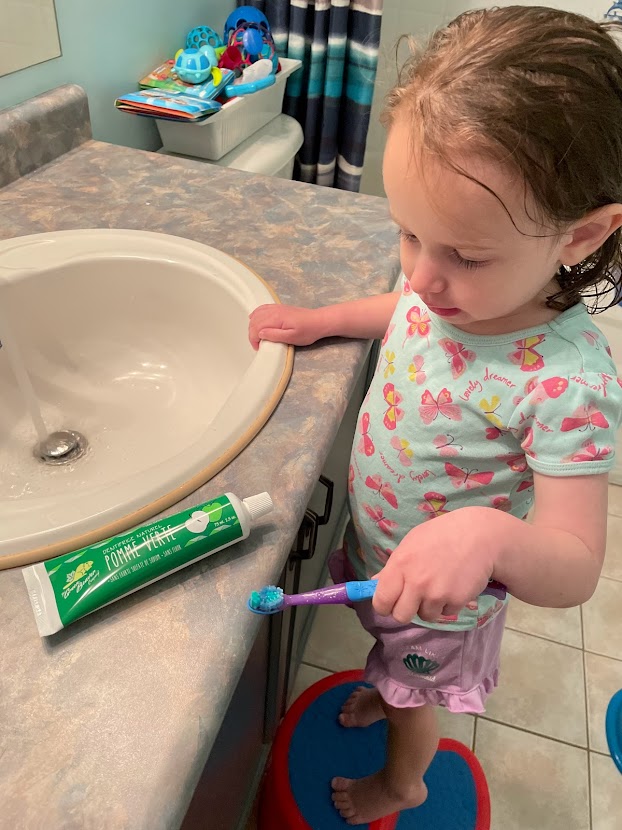 Save 25% off any purchase of Green Beaver Toothpaste with promo code GBSmile25. Expires 11/30/21. Teeth Fun For A Toddler
Disclosure:  I am part of Moms Meet and I was provided with one or more of these products free of change for review.  All options are strictly my own.