One of my most popular posts is the Kit Kat Cake that I created for my sister. It is a very easy cake to make and looks very impressive. I use a box mix to make the process even simpler. I love the look of these cakes so much, they can be adapted to any occasion, I even made a version for Canada Day.
These decadent Kit Kat Cake recipes are a deliscious and easy do it yourself cake that is perfect for any occassion. Whether you are decorating for a birthday or a holiday, you'll find it here.
I have seen some other A.M.A.Z.I.N.G. Kit Kat Cake versions and wanted to share some of them with you.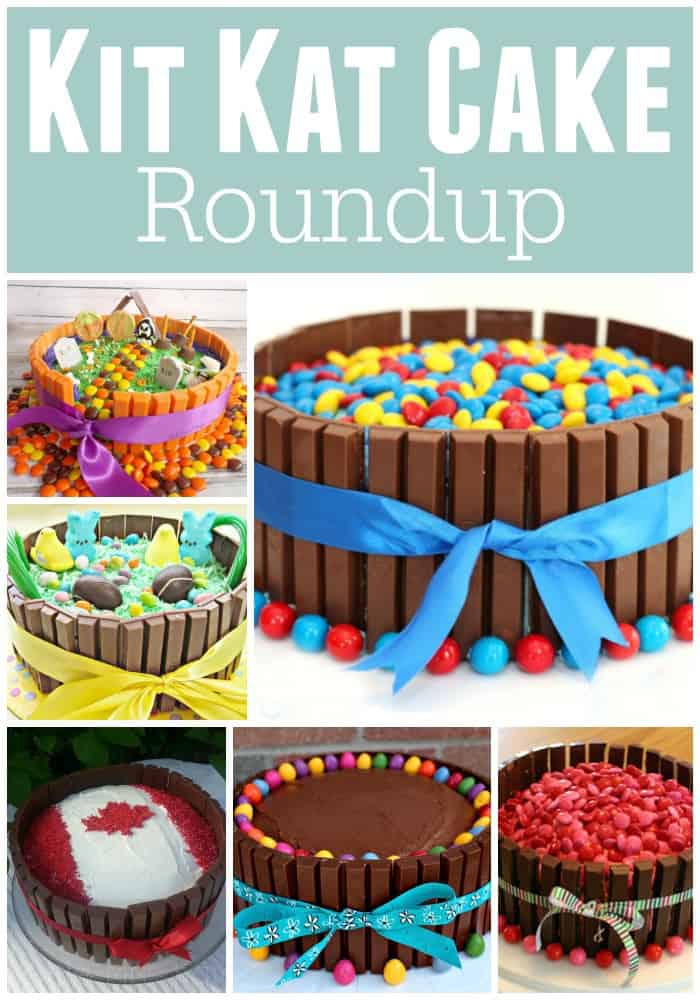 This post may contain affiliate links for your convenience. As an Amazon Associate, I earn from qualifying purchases.
Kit Kat Candy Bar Cake Recipes
Remember a little slice of Kit Kat cake (2 bars) is all you need, so 1 cake can feed a large group of people. And trust me when I say that this cake is a show stopper! Guaranteed you will get tons of compliments, and shhhhh you don't have to tell anyone just how easy it is to make! Today we are looking at the Best Kit Kat Recipes for Birthdays or Celebrations.
Looking for Free Food on your birthday? Check out our Guide to Birthday Freebies.
How many Kit Kat Chocolate Bars do I need to Make a Kit Kat Cake?
We recommend that you purchase atleast 4 family size kit kat bars to create a Kit Kat Cake. The recipes will need 3 kit kat bars, leaving you with 1 kit kat bar to taste test or share with any little helping hands.
Kit Kat Chocolate Bar Flavours:
Can I use different Kit Kat chocolate bars rather than just Chocolate… the answer is of course! These Kit Kat cakes allow you to customize based on your decorating needs and taste preferences. The Options are ENDLESS!
-> Kit Kat Gingerbread
-> Kit Kat Caramel Crisp
-> Kit Kat Cookie Crumble
-> Kit Kat Hazelnut Crunch
-> Kit Kat Cookies and Cream
Themed Kit Kat Cakes
-> Batman Kit Kat Cake
-> Nerf Kit Kat Cake
-> Halloween Kit Kat Cake
-> Easter Kit Kat Cake
-> Birthday Kit Kat Cakes
-> Canada Day Kit Kat Cakes
Best Kit Kat Cakes
These Kit Kat Cake Recipes are great for parties or birthdays as they are simple yet decadent.
So have you tried a Kit Kat cake before? How did you decorate it?