Fireworks, Friends, Canada Day Desserts and Celebrating Canada's Birthday on July 1st, are all a great way to kick off Summer Vacation. The point is, Canada Day celebrations are what we all look forward to. Start with a Canada Day BBQ featuring a Kit Kat Canada Day Cake and end the evening by taking in a fireworks display. Get creative this year with an easy Canada day dessert idea and wow your friends with this Canada themed cake that reminds us of our great country using the symbol of the Canadian flag design as the decoration for our Canada Day flag Cake surrounded by Kit Kats.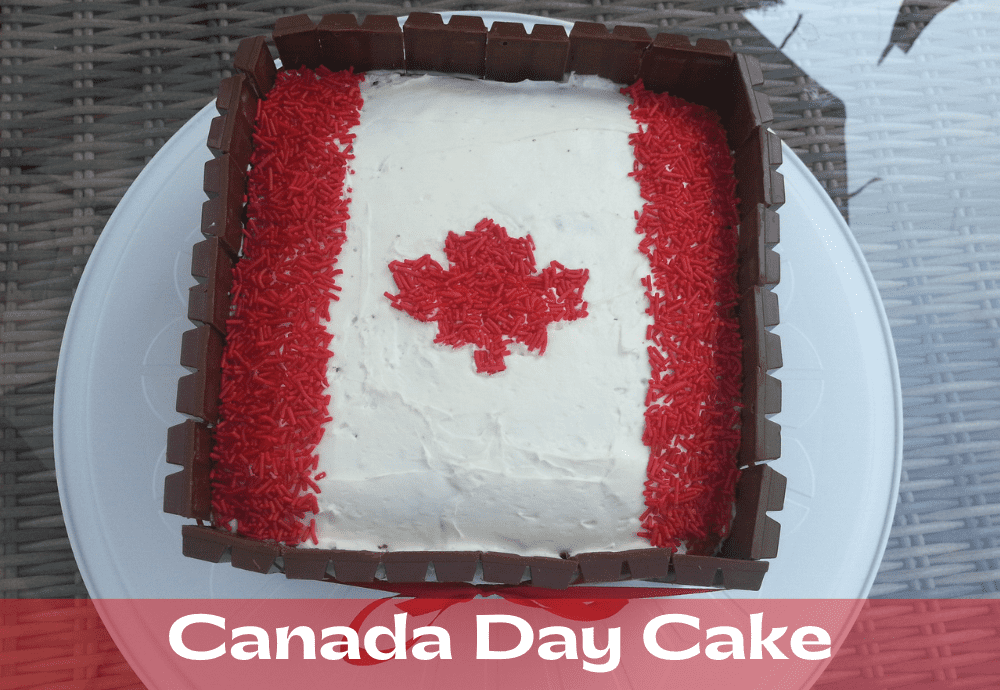 You can also do Happy Canada Day party cupcakes with cream cheese for the filling, and a semi-sweet whipped cream topped with fresh strawberries to represent a great recipe for the event, but for this blog, we will focus on this delicious cake recipe! This dessert has a beautiful appearance and tastes great at any summer party. If you are looking for a second Canada Day Dessert Idea then try our Canada Day Themed Chocolate Covered Pretzlels Get Fired up for Canada's Birthday and show your true Canadian Pride!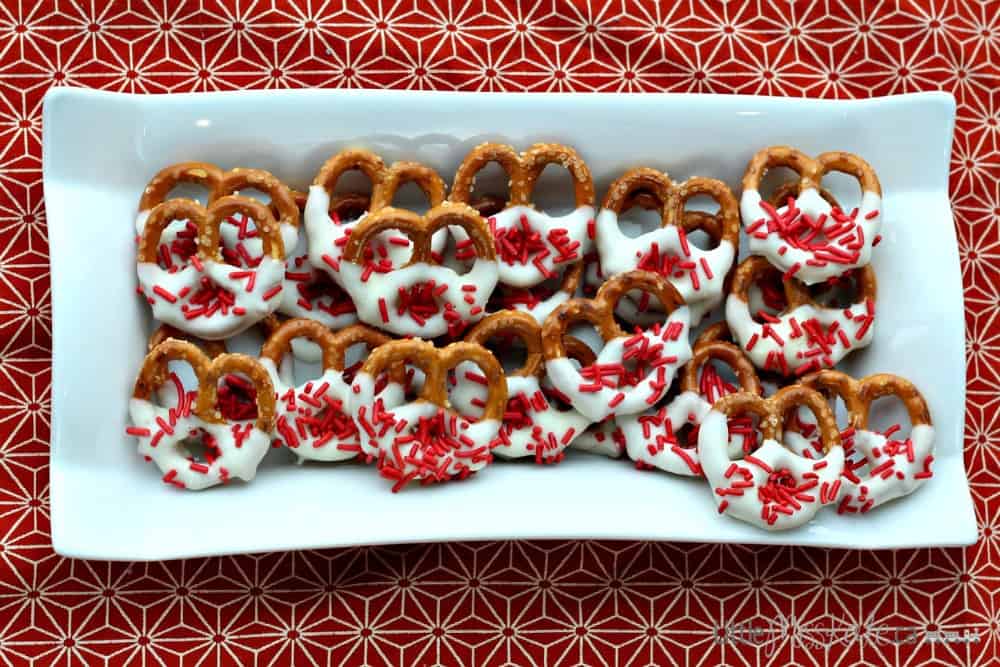 If this is your first time in making Kit kat cakes, you can be assured that this will be a fun way to bond with your kids or family members baking together. You can have them prepare the dry ingredients, such as all-purpose flour, flour mixture, icing sugar, candies and sprinkles. The best part is everyone can participate and incorporate ideas. We can guarantee that whatever you come up with, it will be a cool cake to present to the guests.
Canada Day is a statutory holiday in Canada, meaning that all government buildings and most of the population have the day off.
Canada Day Dessert Ideas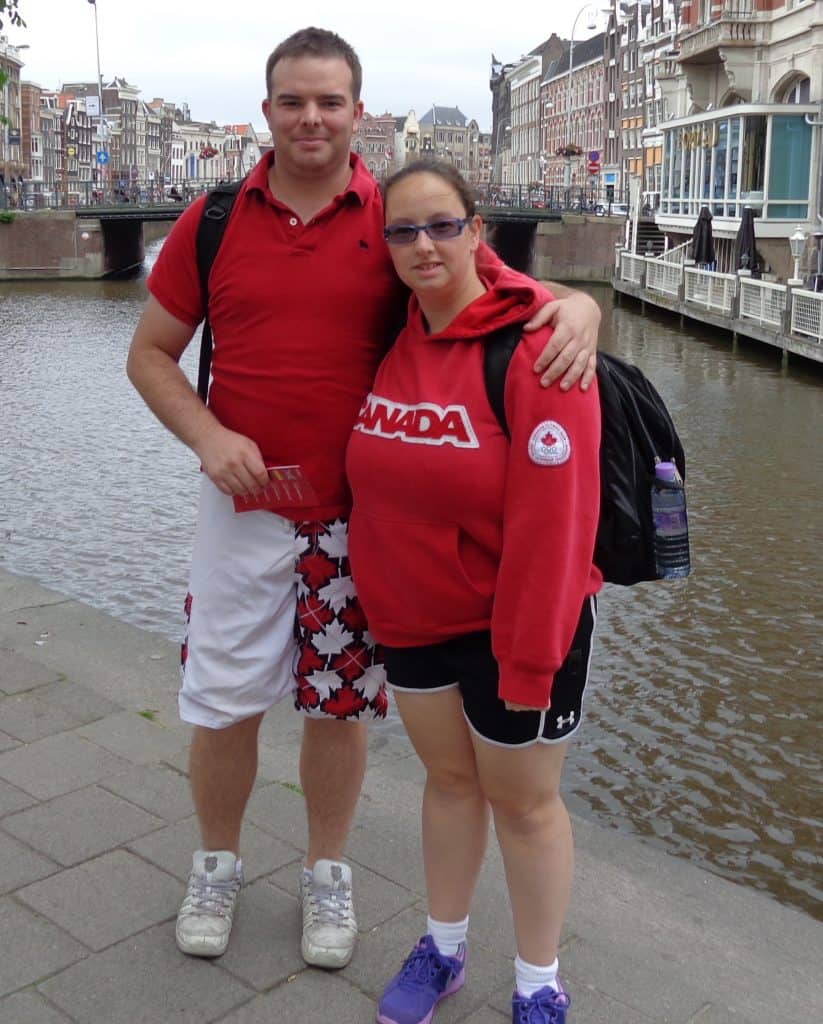 Being Canadian is something that I am super proud of and a little over the top to the point that my husband and I dressed in all Canada gear on Canada Day in Europe while on a bus tour full of Americans. I love celebrating Canada day with family and friends while all wearing our Red and White Canada Day Clothing and enjoying Canada Day food traditions which include Canada day Cakes and Cupcakes.
Canada Day is also a great day to make a tradition of taking a family photo just to see how much things have changed in the year, and you are all wearing RED which makes for a great picture! Now Canada Day Events can be very busy so don't forget to ensure you and your kids have a safe and happy experience celebrating our beautiful country of Canada.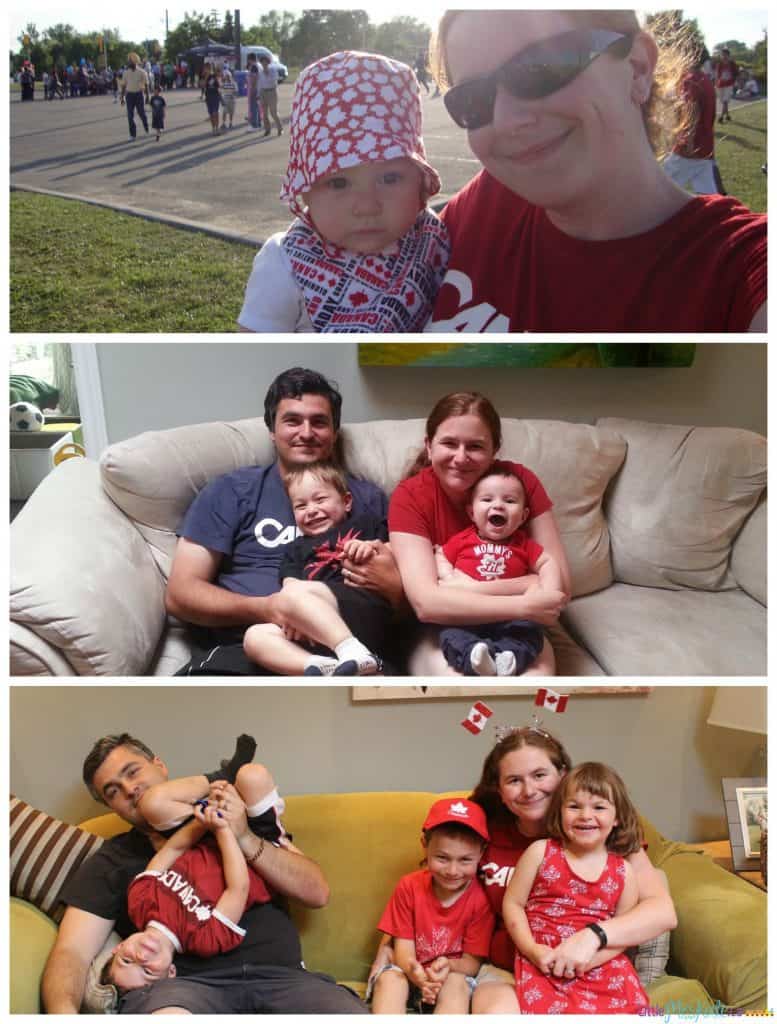 Bacon, eggs, maple syrup and waffles all in one dish! Sounds too good to be true, but you can have it all in this sweet yet savory Great Canadian Breakfast Waffle!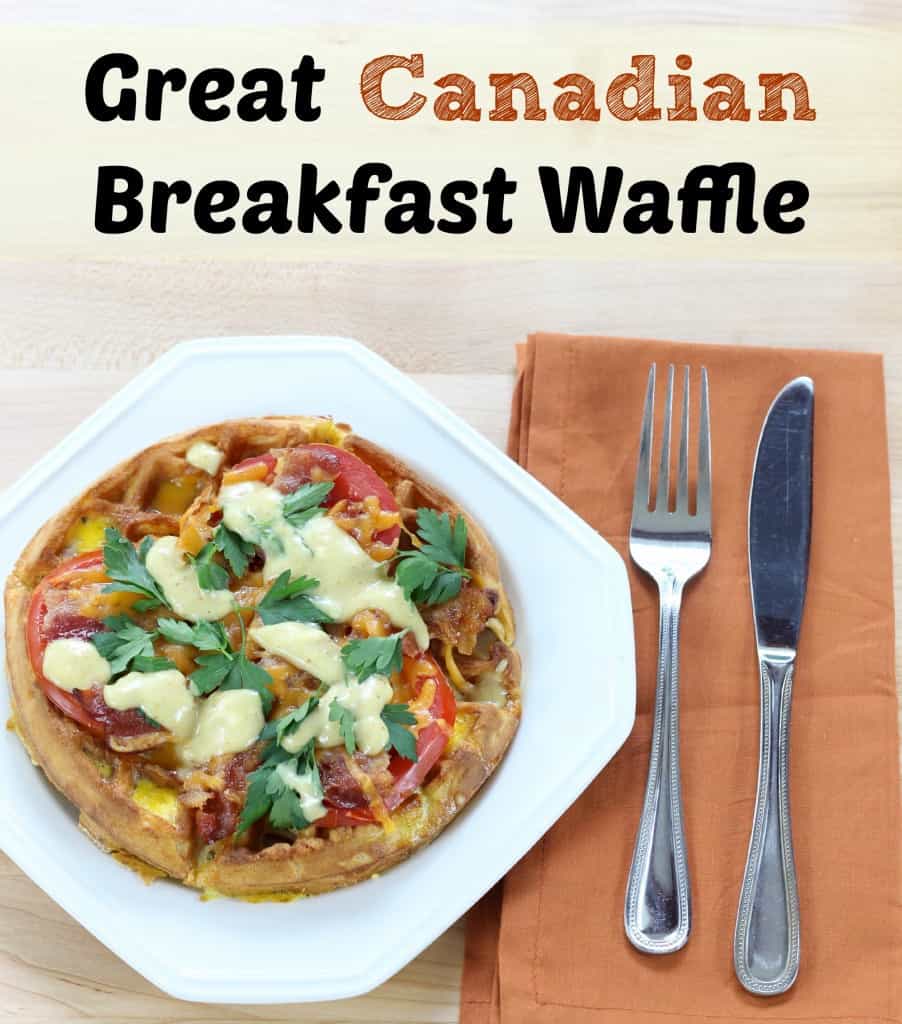 *Disclosure: This post main contain affiliates, meaning at no additional cost to you, I will earn a commission if you click through and make a purchase.
Kit Kat Canada Day Flag Cake Recipe
Looking for a Easy Canada Day Dessert Idea that is not all about strawberries? Well this Kit Kat cake is for you! After making my easy kit kat cake for my sister's birthday, I was inspired to try my own version of the Kit Kat Cake, just in time for Canada Day! Checkout the Show Stopping Kit Kat Cakes Recipe Round Up for more ideas! There are so many fun desserts you can try, but this Kit Kat cake is just adorable. Pair this great cake with some ice cream an you
You can make this cake from your favorite from scratch recipe or if you are crunched for time use boxed cake mixes to save some time. You choose the cake flavour chocolate or vanilla cake works great with white icing to showcase the flag design.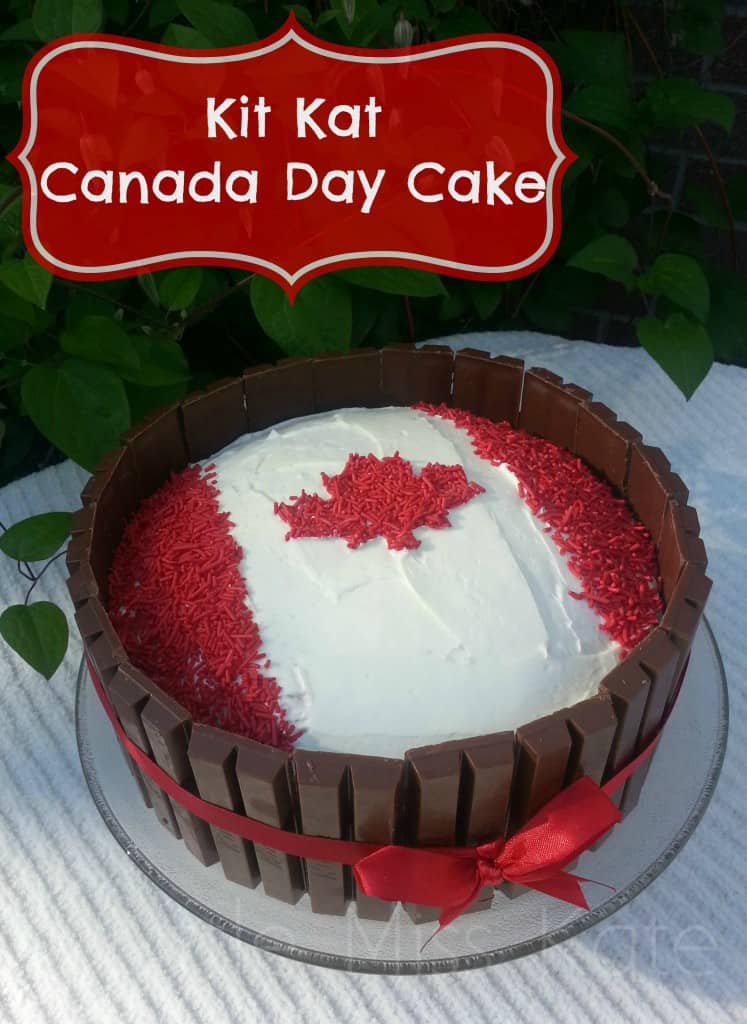 Canada Flag Cake Recipe – What You Need
Easy Canada Day Dessert Idea – Kit Kat Canada Day Cake Recipe
This cake is easy to make and sure to impress all of your guests! You will never look at boxed cake mix the same again! And this 9″ cake goes a long way – cutting between ever 2 Kit Kat sticks was the perfect serving size and yielded 20 cake slices. If you want to make your cake unique you can try other types of kit kat including cookies and cream, mint, or white chocolate.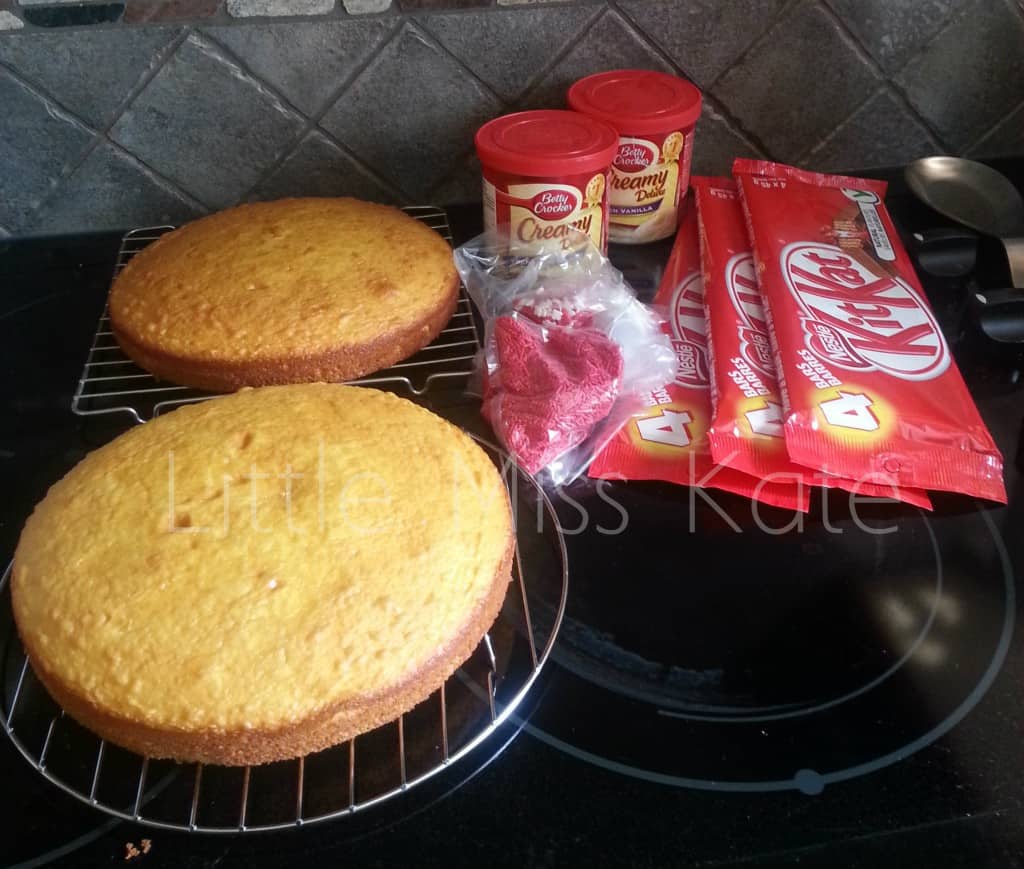 Bake 2 – 9″ round cakes, you can also use a square pans if that what you have
Allow cakes to cool to room temperature on a wire rack before icing.
Ice the top of the bottom layer of the cake. Then layer cake #2 on top. Ice the top and sides of both cakes.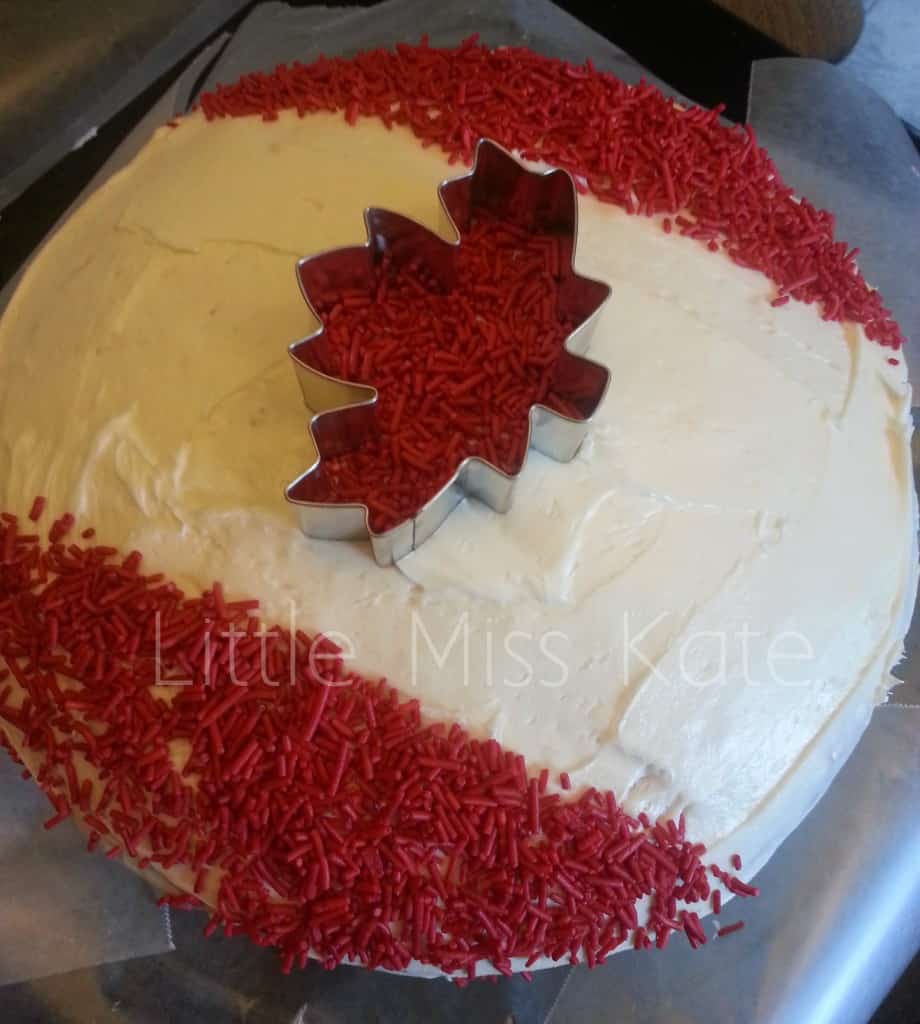 To create the Canadian Flag motif on the top of the cake I used waxed paper and a cookie cutter. First use wax paper to cover everything except the red background area of the flag. Cover the exposed sides with red sprinkles.
Then use a maple leaf cookie cutter and placed it in the center of the cake. Fill the cookie cutter shape with red sprinkles using a spoon to create the perfect maple leaf. A maple leaf shape topper would also be a creative style to showcase the Canadian spirit.
Once you have the top decorated in the flag, you can start placing kit kats around the outside. Break them into pairs of 2 kit kat sticks and gently place into the icing. Use a red ribbon to tie a bow around the outside of the kit kats to finish off the cake.
As much as I love strawberries, the chocoholic in me loves this cake more! This delicious Kit Kat Canada Day Cake will be the talk of your party!
But if you do love strawberries, you can also enjoy it with additional strawberries or use points of strawberry slices to make it even more special. Extra strawberries around the sides can also make it more mouthwatering. Another option is to add have strip of strawberry slices in the middle icing layer.
There are also many options or variations that you can make to have Happy Canada Day celebration cupcake, birthday cake or just some easy-peasy pound cake suggestions you can definitely recreate for any celebration.
Happy Canada Day from our Families to Yours!
Kit Kat Canada Day Cake Recipe
Easy and Delicious Canada Day Cake Perfect for any Summer BBQs.
Ingredients
2 – 9

" round Cakes

any flavour – I used boxed vanilla cake mix

1

tub – Butter Cream Icing

11 –

Kit Kat Bars

Red Sprinkles

Red Ribbon
Instructions
Prepare cake as directed into 2 – 9″ pans, bake and allow to cool completely

Spread icing over bottom cake and layer the second cake on top

Continue to ice generously all over, making sure the sides have a good layer of icing as well.

Decorate the top of the cake with sprinkles to look like a Canadian Flag. I used a cookie cutter to create the maple leaf in the middle.

Break Kit Kat bars in half to separate into groups of 2 sticks.

Gently place the Kit Kat bars around the cake and push into the icing.

Tie a ribbon around the outside of the cake to hold the Kit Kat bars in place.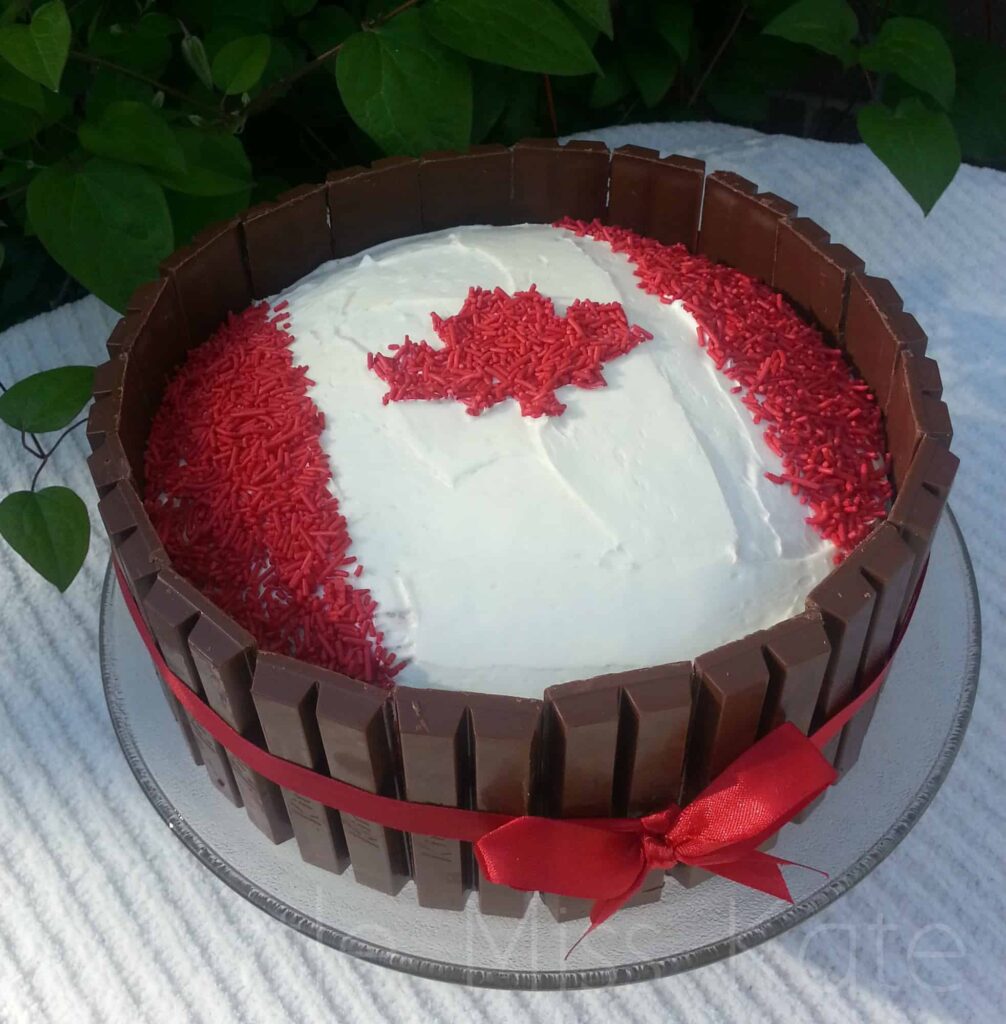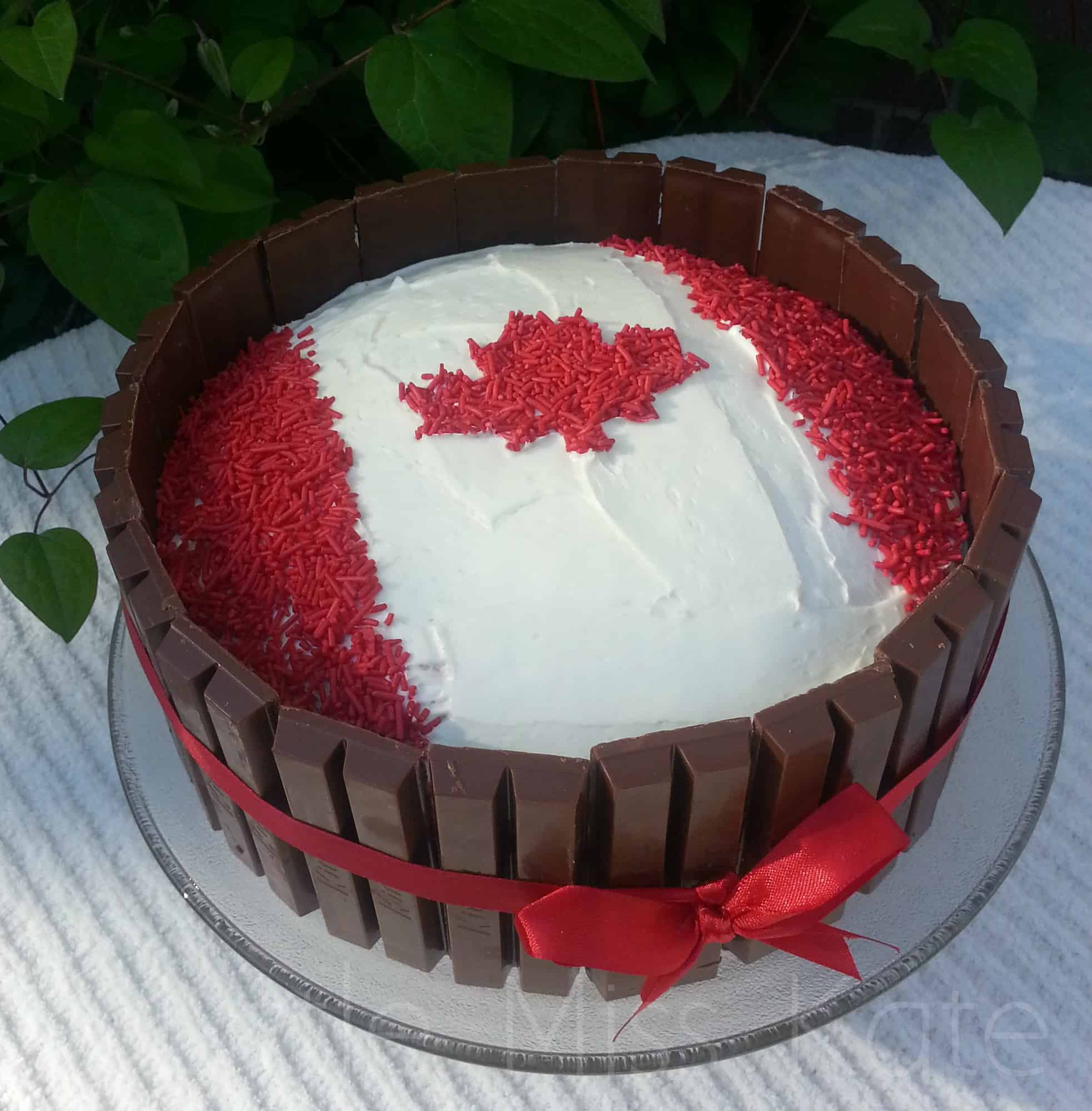 Interested in Other Canada Day Party Ideas?

Now you can't say Happy Birthday to Canada without the Canada Day Celebration Kit!