Canada Day Fireworks kick off Summer Fun as schools out for the Summer! Canada Day Fireworks are a great activity to enjoy with your family! Fireworks for Canada Day are back in person this Canada Day long weekend, as on July 1st, 2023 Canadians celebrate the anniversary of Canada becoming a Country. Checkout our Guide to Local Canada Day Events!
It is great to see so many locations in the Greater Toronto Area offering in person fireworks again including Canada Day Fireworks in Toronto, Vaughan, Mississauga, Oakville, Milton and many more locations. Enjoy the Canada day weekend with family and make memories by attending a Canada Day Firework show or Canada Day Event.
Canada Day is also a great day to make a tradition of taking a family photo just to see how much things have changed in the year, and you are all wearing RED which makes for a great picture! Canada is a beautiful country from East to West and has many beautiful places to visit: Canada in Summer! The sky comes alives with illuminating magical fireworks that celebrate Canada as a Nation, and the joys and privelleges that come with being a Canadian!
We have some great Canada Day Recipes that you can make for any Canada Day Fireworks near you, family gathering, or pool party.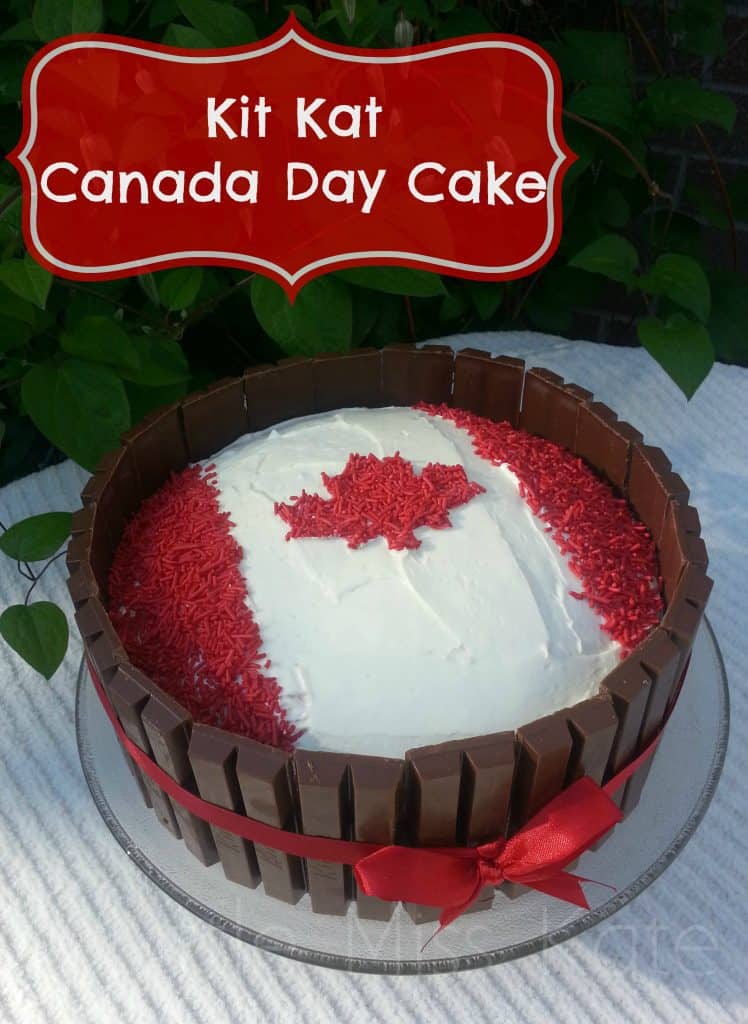 You can find Things to do in and around Toronto during Canada Day Weekend including festivals, food events, family activities and more on our Calendar of Events!
---
Canada Day Important Questions
Can I light fireworks for Canada Day?
All GTA cities and towns allow fireworks on your property for Canada Day without a permit. Consumer fireworks include low hazard fireworks for recreation, such as fireworks showers, fountains, golden rain, lawn lights, pinwheels, Roman candles, volcanoes, sparklers and other similar devices.

July 1st Fireworks can be used the day before and the day after the holiday. Fireworks must be discharged by someone 18 or older on private property, or with permission of the property owner, and safe distances must be respected.
What time are Canada Day Fire Works?
Canada Day Fireworks are typically set off around 9:30-10PM when it gets dark!
Tips for At Home Fireworks:
Source: Pickering Fire Department
Appoint a responsible person to be in charge. Only adults who are aware of the hazards and essential safety precautions should handle and discharge fireworks.
Carefully read and follow the label directions on fireworks packaging.
Always keep a water hose or pail of water close by when discharging fireworks.
Discharge fireworks well away from combustible materials like buildings, trees and dry grass.
Keep onlookers a safe distance away, upwind from the area where fireworks are discharged.
Light only one firework at a time and only when they are on the ground. Never try to light a firework in your hand or re-light dud fireworks. For dud fireworks, it is best to wait 30 minutes and soak them in a bucket of water. Dispose of them in a metal container.
Discharge fireworks only if wind conditions do not create a safety hazard.
Keep sparklers away from children. Sparklers burn extremely hot and can ignite clothing, cause blindness and result in severe burns. As the sparkler wire remains hot for some minutes after burnout, it should be immediately soaked in water to avoid injury.
If someone gets burned, run cool water over the wound for three to five minutes and seek medical attention, if necessary.
If you are looking for Firework Displays for Canada Day 2023, then check out our full list of Canada Day Fireworks: Please remember that Firework Displays are weather dependent.
---
Canada Day Fireworks 2023 near you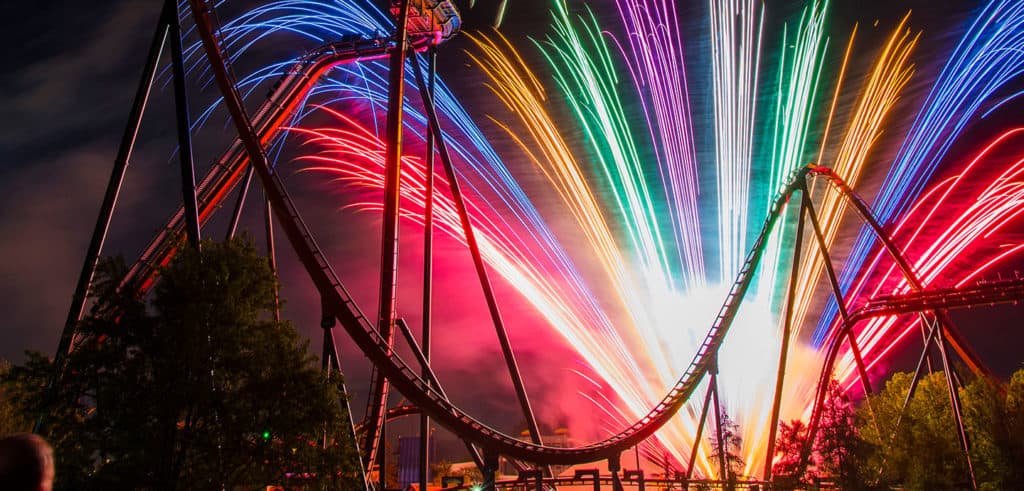 Vaughan Canada Day Fireworks- Canada's Wonderland
Enjoy the day at one of Ontario's Amusement Parks – Canada's Wonderland,and enjoy over 200 rides and attractions. Finish off the weekend with a amazing fireworks display over Wonder Mountain.

Each of the fireworks shows has a unique, custom-design set to an original soundtrack that you won't find anywhere else in Toronto! It's a great way to end a fun day at the park.

More than 375 people-hours go into designing and mounting the show, with 11 separate firing positions and 1,800 firing cues creating a spectacular display above the park skyline and our iconic Wonder Mountain.

For approximately 15 minutes, you'll witness more than 6,000 colorful explosions, reaching heights of over 800 feet, which is sure to ignite thrills for guests of all ages.

Where? 1 Canada's Wonderland Drive, Vaughan, ON L6A 1S6
When? July 1st from 10-10:15PM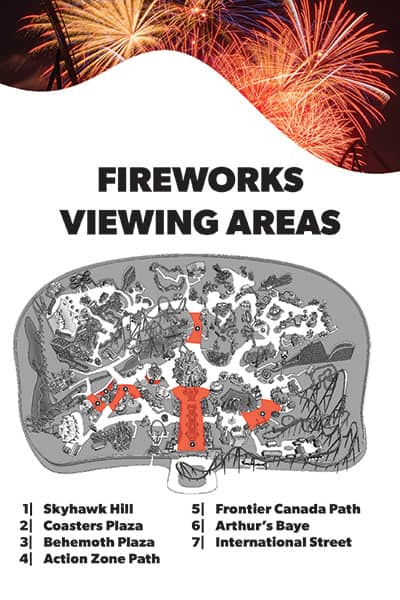 ---
Brampton Canada Day Fireworks
Chinguacousy Park
Incredible fireworks in Brampton for Canada Day, from the top of Chinguacousy Park hill. ​Experience top Canadian and local performances all evening!

Where? Chinguacousy Park
When? 10PM
---
Mississauga Canada Day Fireworks
Celebration Square
Celebrate Canada Day from 4:00 pm to 10:30 pm in the heart of Mississauga with live entertainment, food trucks, and a spectacular fireworks finale!
Where? Celebration Square – 300 City Centre, Mississauga
When? July 1st from 10:15PM
Where? Memorial Park Stage, Streetsville Village Square, Main Street, Mississauga
When? July 1st from 10:00PM
Join us as we celebrate Canada's birthday (in person) with free family activities, a celebratory cake-cutting ceremony, live music, and fireworks at 10 p.m.!
Streetsville Village Square
6:00 pm- 9:00 pm – Live music by CANADA ROXX. Playing the greatest Canadian rock hits from over the decades including The Tragically Hip, Alanis Morissette, Tom Cochrane, Bryan Adams and more!
8:00 pm – Lion's official cake-cutting ceremony
9:00 pm- 9:15pm – Streetsville Pipes & Drums Performance
9:15 pm – Colour Party Flag Raising Ceremony & O Canada
Memorial Park Stage
8:45pm- 9:50pm – Live DJ
10:00 pm – A Spectacular firework show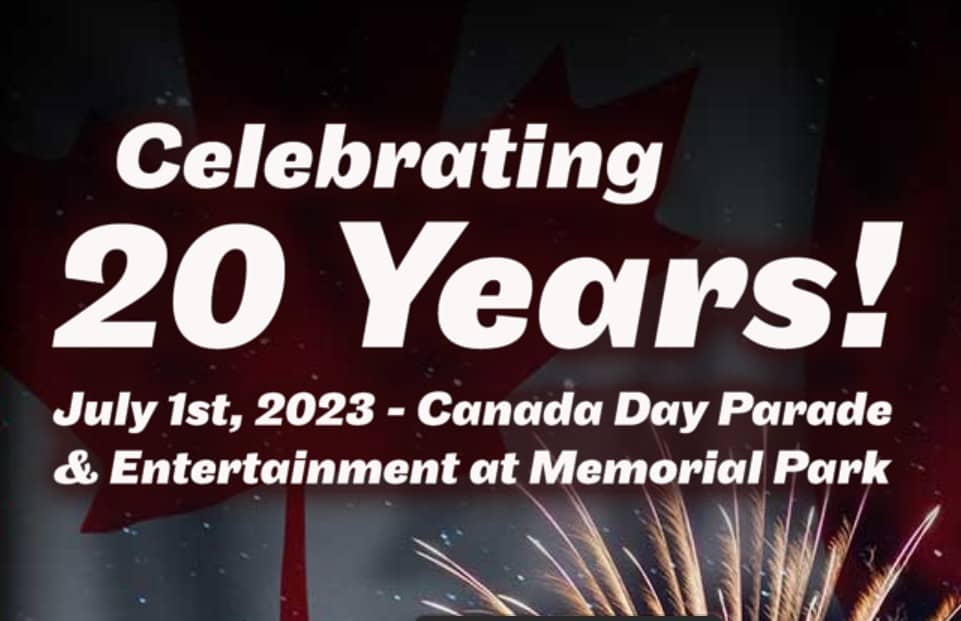 Enjoy Fireworks in Mississauga at the Paint the Town Red Event with Hotel California, Jukebox Hero, and Canada Day Allstars with Tom Barlow.
1:30 – 6:00 pm – Legoland; Inflatable Games; Crafts, Monster Mural & more
2:00 – 4:00 pm – Princess Ariel, Princess Ursula, Spiderman & Batman
Cirque It Up – Aerial Circus School Demonstrations at 2:00; 3:00 & 4:00 pm.
Where? Port Credit Memorial Park, 40 Lakeshore Rd E, Mississauga, ON L5G 1S4
When? Nightfall *Around 9:30PM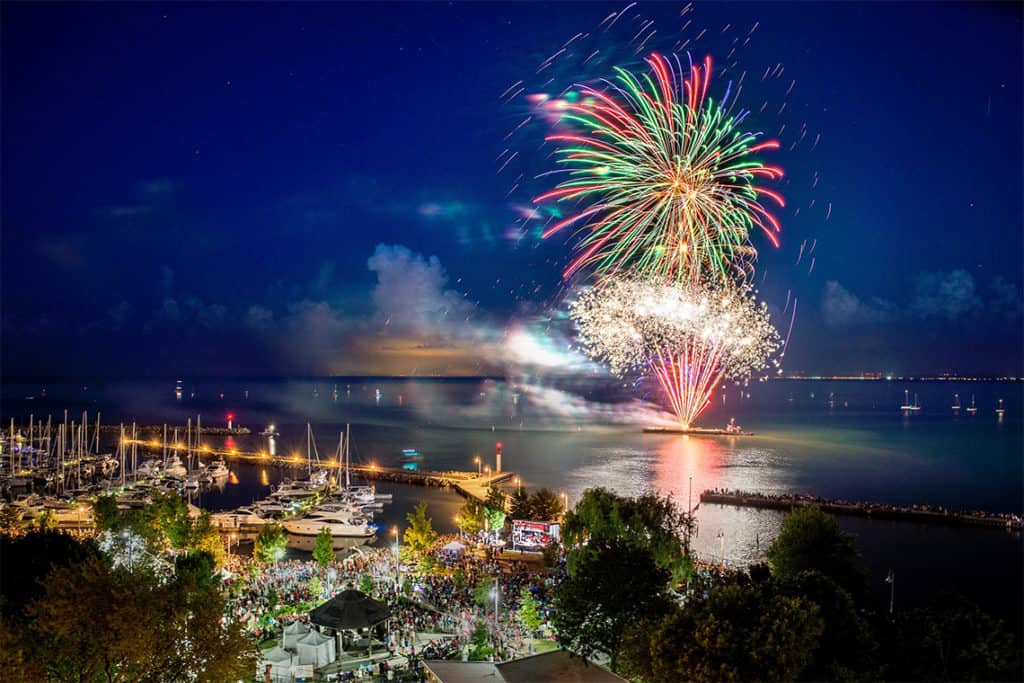 ---
Oakville Canada Day Fireworks
Enjoy evening events and free family fun at Bronte Heritage Waterfront Park. Family activities and food trucks open at 6 p.m. with fireworks at 10 p.m. (weather permitting).

Bring a blanket or lawn chair and get to the park early for the best view of the fireworks.

Where? Bronte Heritage Waterfront Park, 2340 Ontario St, Oakville
When? July 1st from 10:00PM
---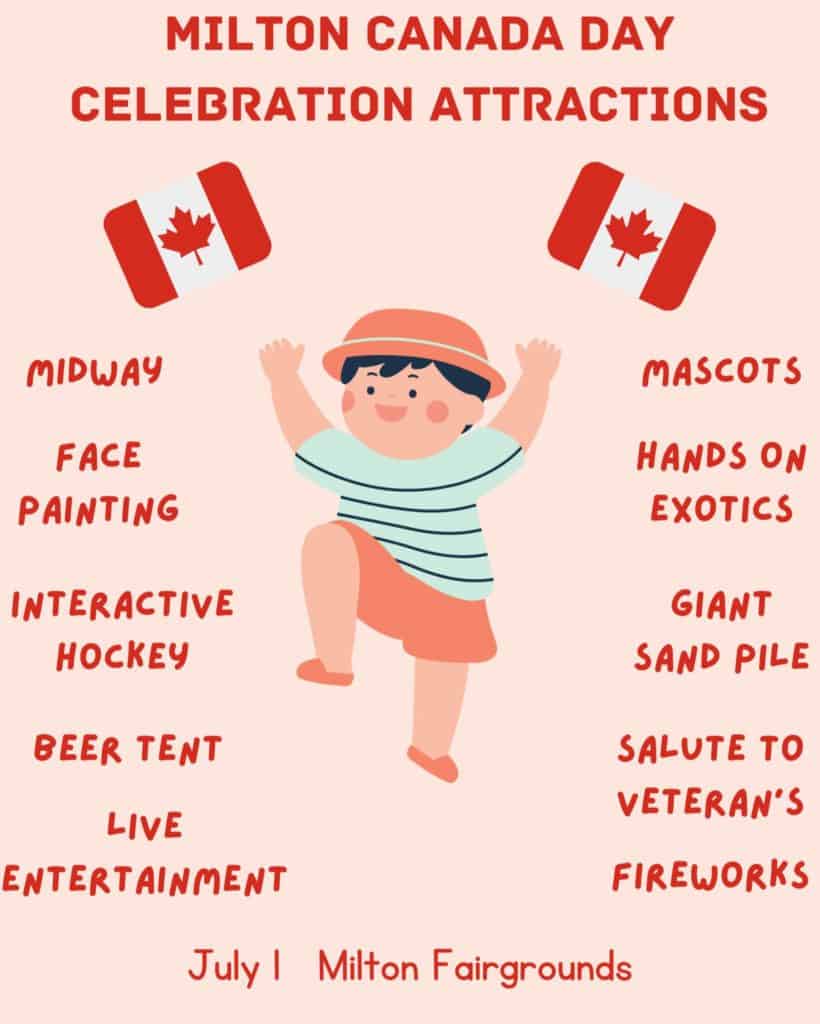 Milton Canada Day Fireworks
Come celebrate Canada Day 2023 at the Milton Fairgrounds with us! Food trucks, interactive games, inflatables, midway, sand pile, beer tent and entertainment for the whole family! Entry by donation, fireworks will begin just after sunset.
A salute to the Veterans will be taking place at Victoria Park at 11:30am, and will conclude with a march to the Fairgrounds, arriving by 2pm.
No pets will be permitted on the property during this event (registered/identified service animals welcome)
Where? Victoria Park
When? July 1st Sunset
---
Riverside Park
Join us for the parade on King St. (between Bishop St & Eagle St). Events include a fishing derby, midway, food trucks, vendors, and kids zone.
The Children's Area will be open from 12:00 pm – 6:00 pm with free entertainment all day long.
Join in all the fun, just inside the Main Entrance to Riverside Park, through the arch!
Be sure to check back closer to the event date for more info and our stage schedule!

Where? Riverside Park
When? Approx 10PM
Pickering Canada Day Fireworks
Kinsmen Park
Join us in the park for live entertainment, activities, games, food and more! The City of Pickering invites you to celebrate Canada Day together, in-person, in Kinsmen Park. Live entertainment on the main stage, food trucks, and finish the day off with a bang… FIREWORKS. Free for all ages.

Daytime Program in 12:00 pm – 5:00 pm in Esplanade Park.
Evening Program 7:00 pm – 10:00 pm in Kinsmen Park
The City of Pickering invites you to celebrate Canada Day together, in-person, in Kinsmen Park. Live entertainment on the main stage, food trucks, and finish the day off with a bang… FIREWORKS. Free for all ages.
Check back for full details.
Free Shuttle Buses start at 6:00 pm from Pickering Go Station, 777 and 889 Brock Road South.
FREE EVENT. Join us in the park for live entertainment, activities, games, food and more!
Where? Kinsmen Park, Pickering
When? July 1st from 10:00PM

Burlington Canada Day Fireworks
Spencer Smith Park
The City of Burlington is excited to celebrate Burlington's 150th Anniversary at our annual Canada Day celebration in Spencer Smith Park! Recognized by Festivals and Events Ontario as a "Top 100" event, this year's celebrations will focus on providing evening entertainment leading into a spectacular fireworks display over the lake.

Morning events:
Yoga in the Park
Canada Day Run, 1k and 5k. Register online.

Late afternoon and evening events:
Live entertainment from the stage begins at 4 p.m.
Food and marketplace vendors
Fireworks at 10 p.m.
Where? Spencer Smith Park, 1400 Lakeshore Rd., Burlington
When? 10:00PM
Waterdown Fireworks
Break out those moist towelettes and prepare for some finger-licking fun. The Rotary Clubs of Waterdown are planning the return of Waterdown's Oh Canada Ribfest. Pig out, ride the midway, check out the entertainment on-stage and enjoy fireworks with your family and friends.
Where? Waterdown Memorial Park
When? 10PM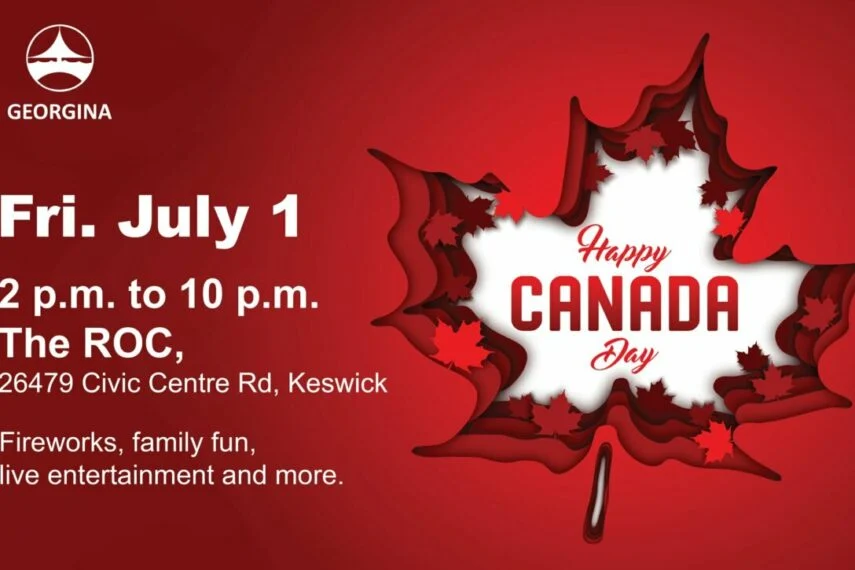 Keswick Canada Day Fireworks
Mark your calendars and get ready to celebrate Canadian pride in Georgina! Our Recreation Services team is working hard to bring you a full line up of amazing entertainment and fun family activities throughout the day, followed by a fantastic fireworks show like no other. This is an event you won't want to miss! Join us at the ROC for a day full of exciting festivities for the whole family! Enjoy live entertainment, children's activities, inflatables, food and more.

Where? Recreational Outdoor Campus, 26749 Civic Centre Rd, Keswick
When? 10PM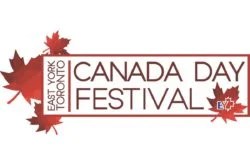 Newmarket Canada Day Fireworks
Time: 11 a.m. to 4 p.m.
Location: Riverwalk Commons (200 Doug Duncan Drive)
Join us July 1, 2023 for our annual Tim Hortons Canada Day Festival featuring:
Live concerts at Riverwalk Commons
Food vendors including a licensed area managed by the North Newmarket Lions Club
Rides on the Tim Hortons Express Train
Roaming busker entertainment
Busker circle shows
Vendors
Facepainting
and more!
The Town of Newmarket's new water trailer will be on site to provide free waterbottle refills for all attendees. Please bring a refillable water bottle to the event.
Be sure to also check out the festivities happening next door on Newmarket's Main Street.
Please note, this event will take place rain or shine. In the event of severe inclement weather (lightning, thunder, etc.) please check back to this website for updates regarding event delays or cancellations.
Evening Concert & Fireworks
Don't miss the music from the Newmarket Citizen's Band from 7:30 to 8:45 p.m. followed by a live concert from 9 to 10 p.m. featuring the band Switchbeat. Fireworks will take place from approximately 10:10 to 10:30 p.m.
Where? George Richardson Park (Bayview Parkway)
When? 10:10-10:30PM
East York Canada Day Fireworks
Welcome back everyone, we are excited to be hosting our 66th year. The day kicks off with our famous Parade beginning at Dieppe Park at 10:30am and making its way to Stan Wadlow Park.
Beginning at 11:00am, Stan Wadlow Park will be bustling with main stage entertainment, midway, expanded kids activities, market, food vendors and our beer garden hosted by Muddy York.
Our day ends with a spectacular fireworks show presented by the City of Toronto.
Parking is limited so we encourage you to walk, ride or TTC to the park!
WE ARE READY TO CELEBRATE!
Where? Stan Wadlow Park, 373 Cedarvale Ave, Toronto
When? 10PM

You won't want to miss this one! Join us on Saturday, July 1 from 2 – 11 p.m. as we celebrate Canada Day at Richmond Green Park.
This year, we are excited to welcome Kardinal Offishall, one of Canada's most energetic and innovative emcees, to the main stage at 8 p.m. as our headliner!
With a full day of live entertainment on multiple stages, a beer garden, artist exhibits and midway, there is something for everyone to enjoy. Stick around and experience the fantastic fireworks display starting at 10 p.m. that will illuminate the sky.

Where? Richmond Green Park (1300 Elgin Mills Road East)
When? 10PM
Toronto Canada Day Fireworks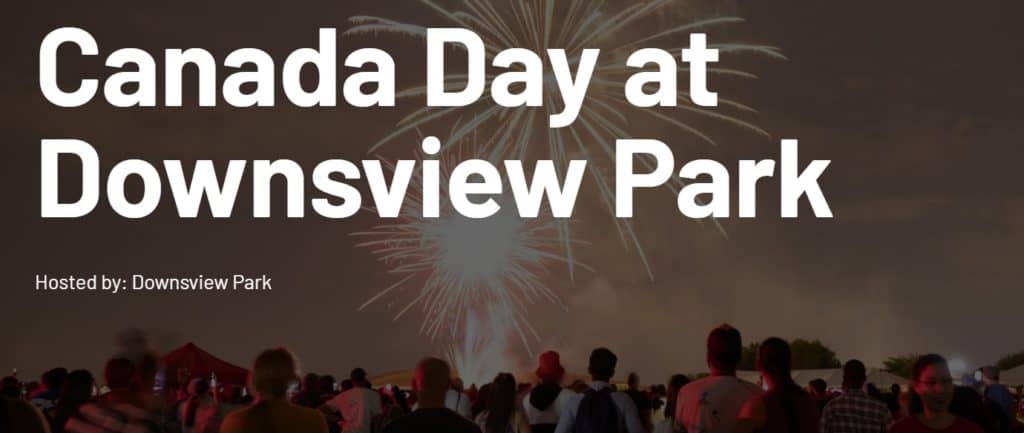 Fireworks at Downsview Park
We can't wait for you to join us on Canada Day, July 1ST for our annual festival! See you at the Festival Terrace!
We'll have live entertainment, games for kids, inflatables, vendors and so much more! All for FREE. So, bring your friends, family and neighbours out for an amazing afternoon and evening.
Did we mention that there'll be fireworks and food trucks too?

Where? Downsview Park
When? 10PM
Get ready to rock your red and white with us at the Q107 Canada Day Weekend!
On Friday, June 30 and Saturday, July 1st join us live on location for loads of food, fun and good tunes! We're featuring Q107 Rock & Roll Tributes to the best bands in the world. Then we'll cap off the night with Toronto's largest fireworks display from Ashbridges Bay, set to a "live" set of amazing Rock!
The party takes place at Woodbine Park near the beaches. Come down and enjoy the Kids Zone with arts and crafts, great eats, a Beer Garden and most of all… Rock & Roll!

Oshawa Canada Day Fireworks
A spectacular fireworks show will happen in the evening to end this fun day of Canada Day fun! Our community celebration takes place at Lakeview Park on Saturday, July 1, 2023. Join us at the waterfront for a day full of fun for the whole family
Main Stage bands
Family Zone
Sandcastle sculpture reveal
Beach is open
Community displays
Food vendors
Inflatables
Fireworks
Where? Lakeview Park, Simcoe St. S. and Lakeview Park Ave, Oshawa
When? 10PM
Whitby Canada Day Fireworks
Come Celebrate Canada Day 2023 with us on Saturday, July 1st, 2023!
Evening Festivities will start at 4:00 p.m. and fireworks celebration, will begin just after dusk, around 10:00 p.m.
Pack your family, blanket or lawn chairs and join thousands of spectators as we watch a dazzling, fireworks show light up the night all synchronized to music.
Interactive activities, photo ops, balloon artists, face painters, and so much more will keep everyone entertained.
Or just sit back, relax and enjoy live musical performances on the main Stage throughout the evening.
An assortment of Durham's finest food trucks invite you to treat yourself.

Where? Victoria Fields. 345 Watson Street West, Whitby
When? 10PM
Ajax Canada Day Fireworks
Join us on July 1, 2023 at Ajax Downs (50 Alexander's Crossing) for Canada Day!
From 2-10 p.m. enjoy a variety of activities including cultural performances, children's games and activities, interactive experiences, 2 stages of live entertainment, community displays and exhibitors, sensory zone, food vendors, beer vendors and a special fireworks finale at 10 p.m.

Leave the driving to us – take the free Canada Day shuttle.
Nominal fees apply for food and beverages. Activities are subject to change without notice. ATM's on site.
Where? 50 Alexander's Crossing – Ajax Downs
When? 10 PM
Stouffville Canada Day Fireworks
The Whitchurch-Stouffville Strawberry Festival takes place over the Canada Day weekend and is run for the benefit of our community. Come and enjoy the festival market, live entertainment, the food zone, the pancake breakfast, the Sandy Stronach Red Berry Café and Canada Day fireworks. it's a weekend where thousands come to participate and enjoy, and it takes place in the heart of Stouffville in Memorial Park.
Where? Stouffville Memorial Park
When? 10 PM