Bacon, eggs, maple syrup and waffles all in one dish! Sounds too good to be true, but you can have it all in this sweet yet savoury Great Canadian Breakfast Waffle. One of the great things about this recipe is that it is so versatile that you can customize it so that everyone will enjoy. This would also be a perfect idea for a group brunch as you can make the waffles ahead of time or use frozen waffles from the grocery store, it is up to you! These waffles pair really well with Corned Beef Hash.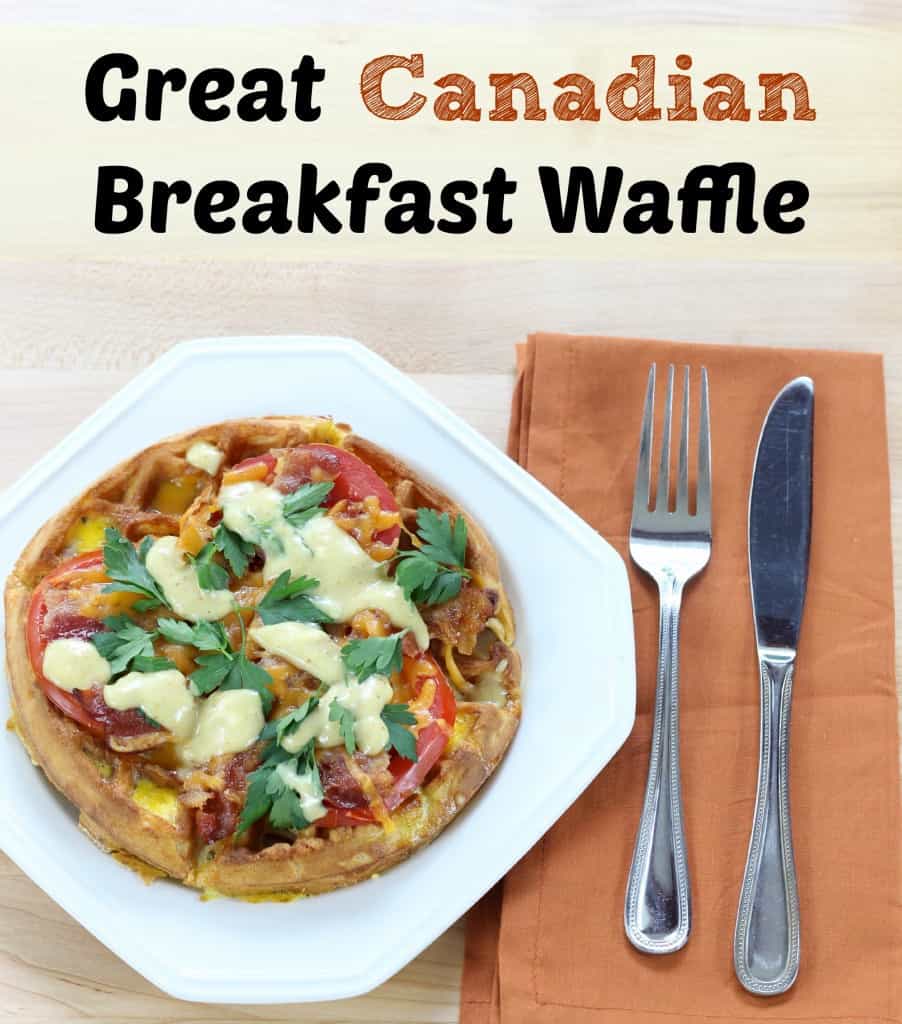 There are 3 main parts that make up the Great Canadian Breakfast Waffle – the waffle, the toppings and the sauce. As I said before you can use homemade waffles, I love buttermilk waffles, or you can pick up some waffles at the store. Totally up to you and both work great.
The toppings include tomato, bacon, cheddar cheese, and eggs! Think of the eggs as like of like topping your waffle with an omelet that you bake right on. Prefer back bacon, then give that a try too. If making for a large group you can make the bacon ahead of time as well so that all you need to do is assemble and heat when you are ready to eat.
All of this is topped with a sweet and slightly tangy Maple-Mustard Mayo that is super easy to make. I loved it on the waffles, and can't wait to use it on other things too it was that good. So here is what you need to make Great Canadian Breakfast Waffles for your family
Great Canadian Breakfast Waffle Recipe
Great Canadian Breakfast Waffle Recipe
Ingredients
8

Waffles

about 4-inches/10 cm wide

6

Eggs

1/8

tsp

Freshly ground pepper

1

Tomato

sliced thinly,

1

pkg

375g Bacon, cooked and halved

½

cup

grated sharp Cheddar cheese

Parsley to garnish

2

tbsp

Mayonnaise

1

tbsp

Maple syrup

2

tsp

Dijon mustard
Instructions
Preheat oven to 400°F. Line cookie sheet with foil and coat with cooking spray.

Place waffles in a single layer on sheets.

In a liquid measuring cup whisk together eggs and pepper. Pour over each waffle, spreading to fill the cavities.

Bake waffles and eggs for 10-15 minutes, until eggs are set and waffles are crisp

Meanwhile, in small bowl, combine mayonnaise, maple syrup and mustard. Set aside.

Top the waffles with tomato, bacon and cheese. Return to oven for 3 minutes or until cheese is melted.

Garnish with parsley and drizzle on the maple-mustard-mayo.

Serve immediately

Enjoy!
Want to have a little more fun with this? Make this recipe into a sandwich! Top only half of the waffles with tomato, bacon and cheese. Once you have garnished with parsley and added some maple-mustard-mayo place a second waffle egg side down for a breakfast sandwich like no other!
This is a perfect recipe to enjoy at home or up at the cottage! Want some more delicious egg recipes? Why not try Ham and Tomato Breakfast Muffins or hop on over to check out the fantastic collection of recipes the Egg Farmers of Ontario has put together. I hope everyone has an EGG-cellent Canada Day!