I love to bake as a mom of three children I don't always have time I would like to dedicate to baking. That is why I love to make Kit Kat cakes. They are easy to make with a box cake mix you do not need any fancy tools. Everyone is always impressed with how they turn out and this easy Cookie Monster Kit Kat Cake is no exception.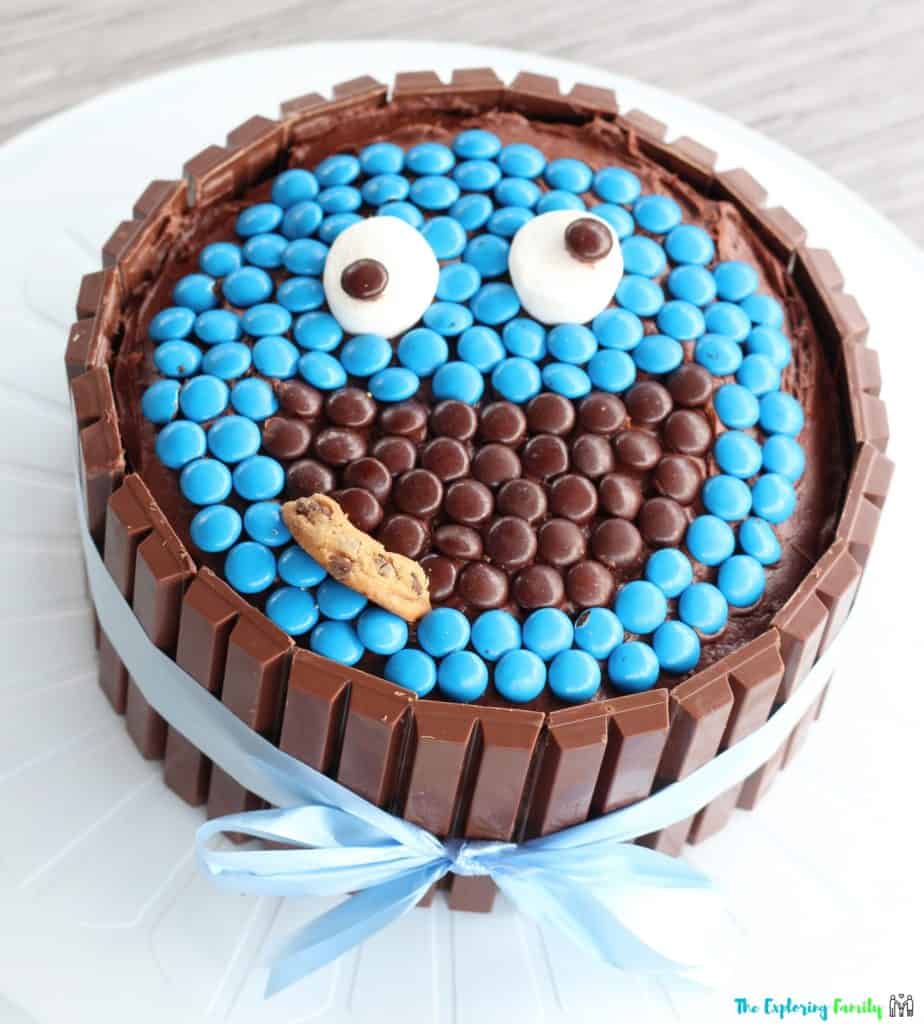 The hardest part about making them is making sure that you don't eat the Kit Kats before you get them onto the cake. This themed easy sesame street cake is the perfect dessert for anyone who loves Cookie Monster. What could be better than cake chocolate bars and cookies combined into one dessert?
Easy Sesame Street Cake Idea
Don't forget we have lots of other Easy Kit Kat Cake ideas including Batman Kit Kat Cake, Nerf Birthday Cake, Chocolate Canada Day Cake and Classic Kit Kat Birthday Cake.
To make your own Cookie Monster Kit Kat cake you just need your favorite layer cake recipe. If you are like me that means you buy boxed cake mix and bake it up. If you have a favourite made from scratch cake recipe you can use it too, you just need 2 – 8 inch round cakes of any flavour of your choosing.
What you need to make Cookie Monster Cake
2 – 8 inch round cakes, 1 box of cake mix works
2 Containers of frosting
12 Kit Kat Bars
Blue M&Ms – or a 1kg bag and you can pick out the blue ones
Brown M&Ms
1 large marshmallow, cut in half
1 chocolate chip cookie
Ribbon
How To Make Easy DIY Cookie Monster Cake
You will be surprised just how quickly this cake goes together. First, frost the the top of the 1st layer of the cake. Then place the second layer on top and frost that one as well. Make sure the sides of the cake are iced as well. The icing on the sides is the "glue" to hold on the Kit Kat Bars.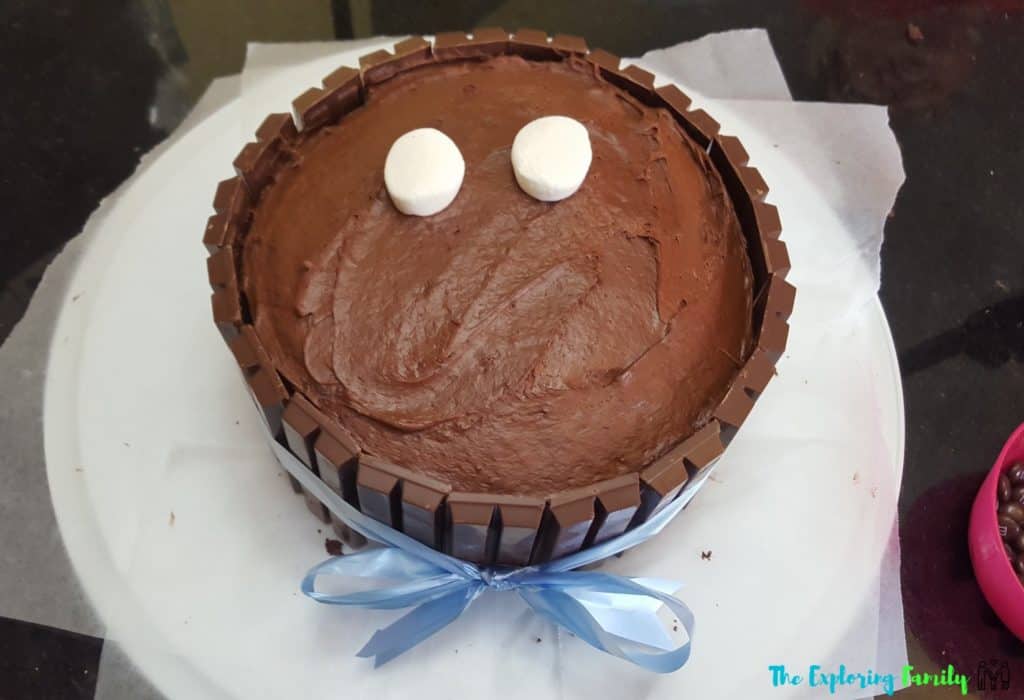 Break the Kit Kats in half so that each piece of chocolate bar is two Kit Kat sticks then place them all the way around the outside of the cake pressing them in gently to the frosting. They will stick to the frosting and not fall down. Tie a ribbon around making a bow towards the front of your cake to hold the Kit Kats in place.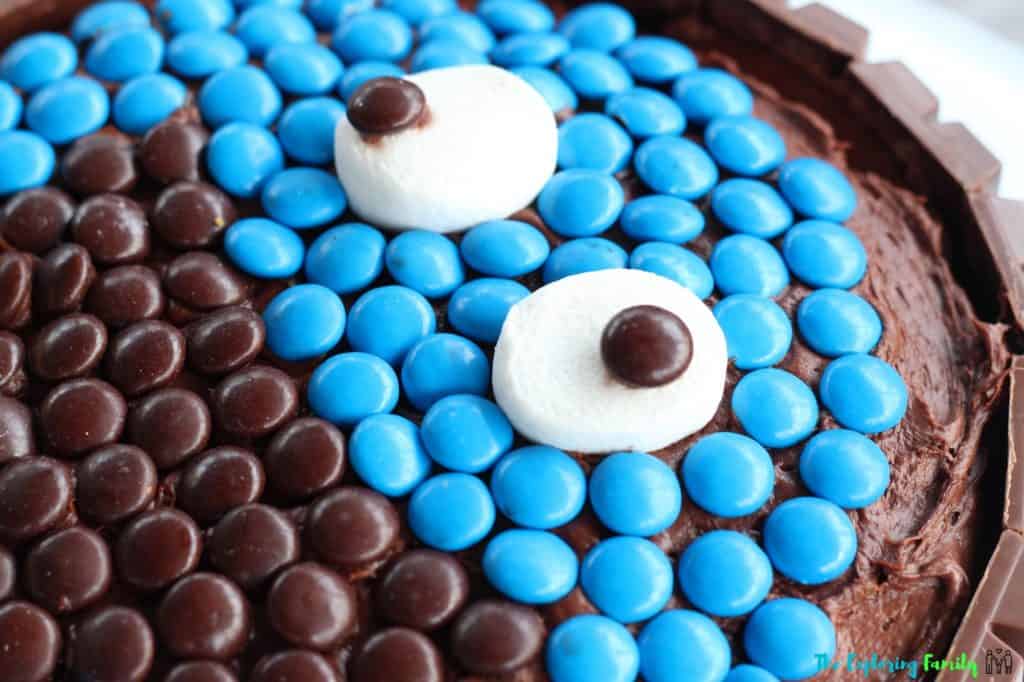 I used M and M's for this cake because I wanted the Cookie Monster blue color. You can try to get single color candies at your local Bulk Food Store or if you are like me you just buy a really big bag of M&M's and have the kids sort out the colors and eat the colors you don't need!
Place the M&M on the of the cake to form a circle leaving a spot for the mouth as well as two small circles for where the marshmallow will go for the eyes. Cut the marshmallow into thirds and used two of the circles to create eyes. Place a small dab of icing on the back of a brown M&M and put one on each marshmallow to make the eyes.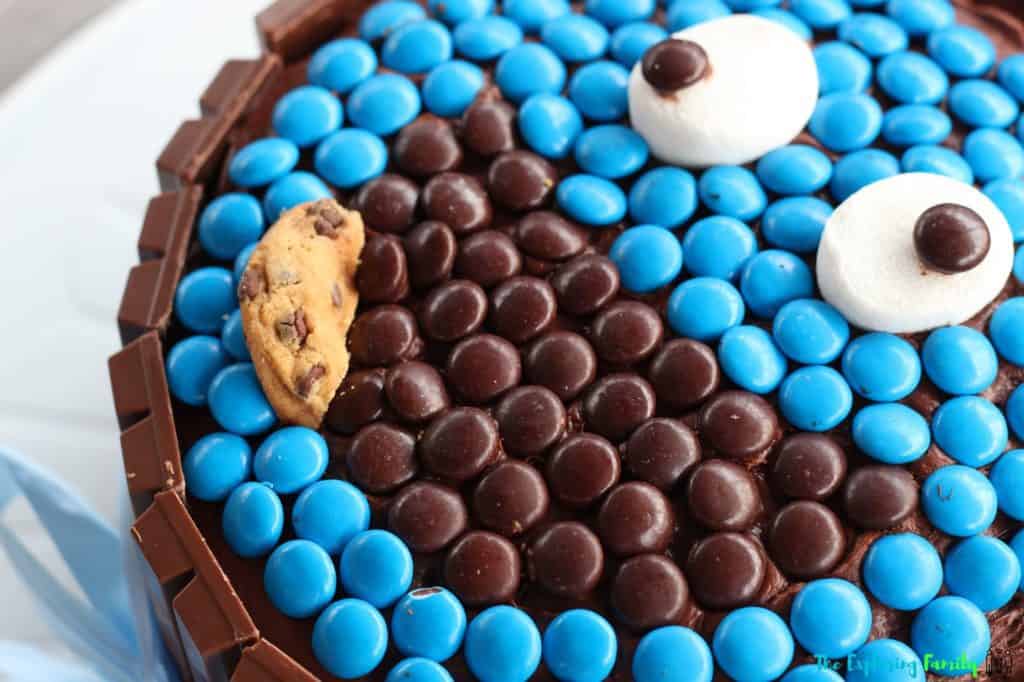 Cut a cookie in half and place it in Cookie Monster's mouth as if he was eating it.
And just like that you have fun and easy to make cake decorating ideas that any Sesame Street fan will love.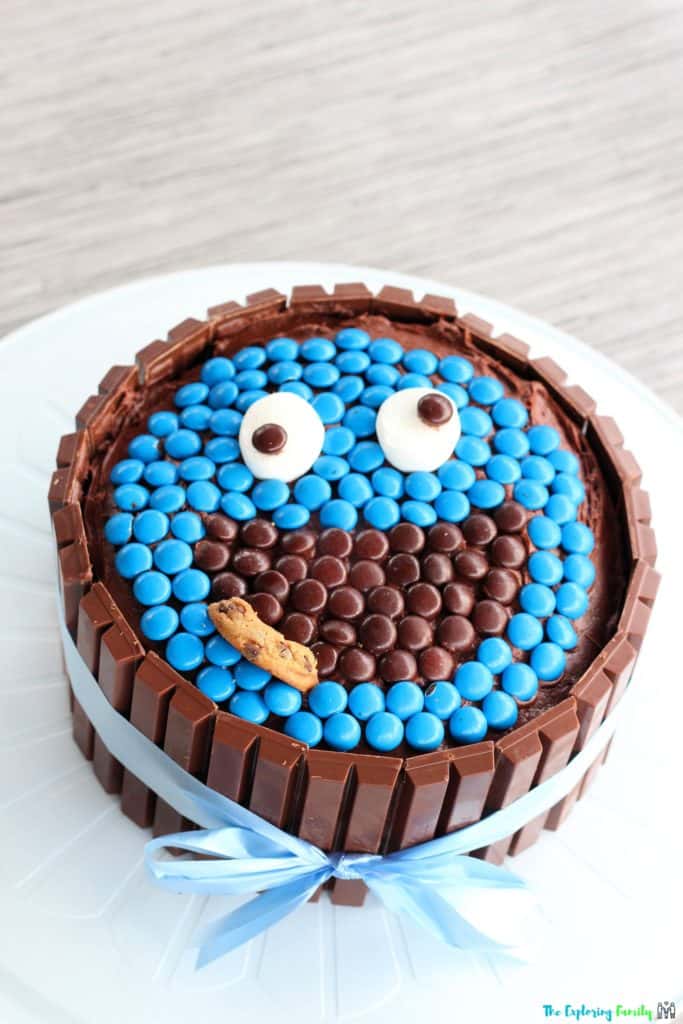 If you are looking for more easy cake decorating ideas don't forget to check out our other blog posts on kit kat cakes and other birthday party cake decorating ideas.