Cake is a truly versatile dessert. It can be used to celebrate birthdays, confirmations, graduations, and everything in between. This Unique Smarties Kit Kat Cake is no exception. Perfect for celebrating any occasion this delicious cake with Smarties on top is sure to please. I mean, who doesn't love a cake with Smarties and Kit Kat? This simple and unique Smarties Kit Kat Cake is truly easy to assemble. In fact, you might be surprised at just how easy it is.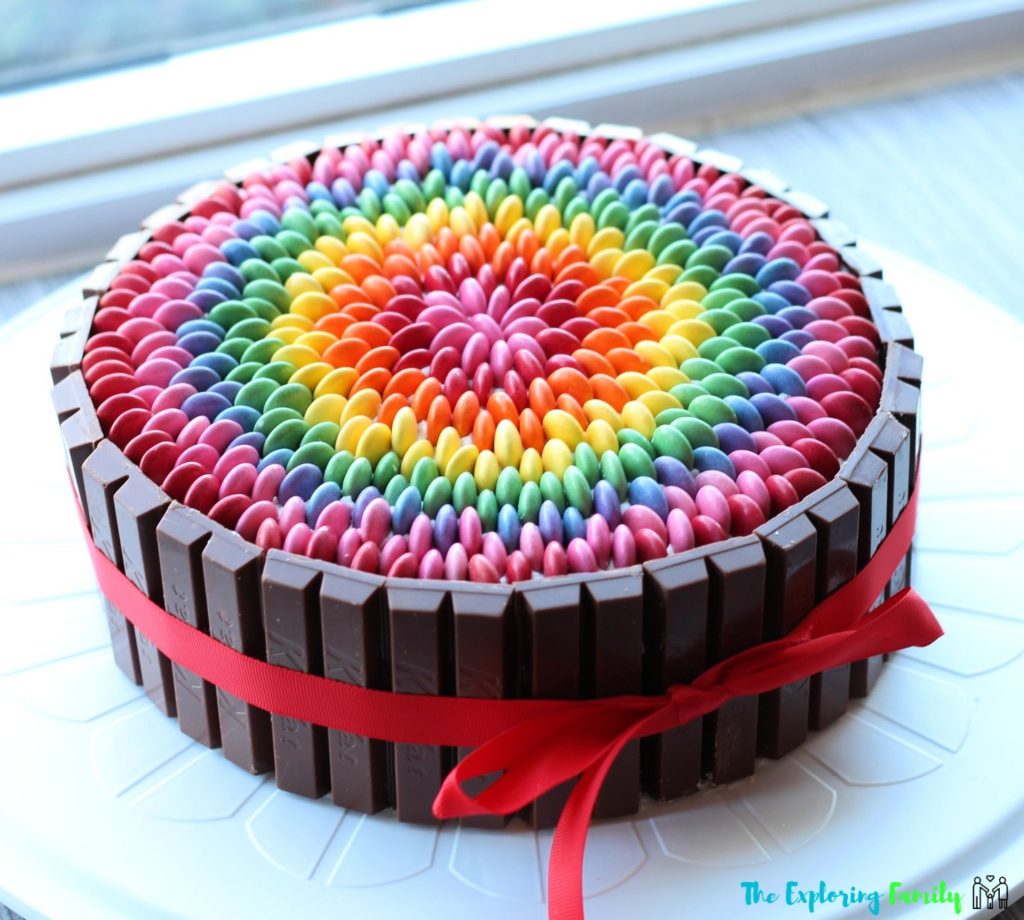 Cake with Smarties on Top
We chose to go with a boxed cake mix to create this Kit Kat masterpiece, but you could also use your own recipe. If you have a favourite from-scratch cake recipe that you use often, it would work for this cake. It is entirely up to you whether you want to go boxed or from scratch.
If you do decide to go with your own recipe, there are a few important things you need to know. You will want to ensure that you bake your cake in two 8-inch round cake pans. You can also choose to use your favourite homemade frosting recipe. However, we chose to go with pre-made frosting because it taste great and makes this a super quick homemade cake to make. We use boxed cake mixes and premade frosting for these cakes quite often and thoroughly enjoy them. Again, that part is entirely up to you.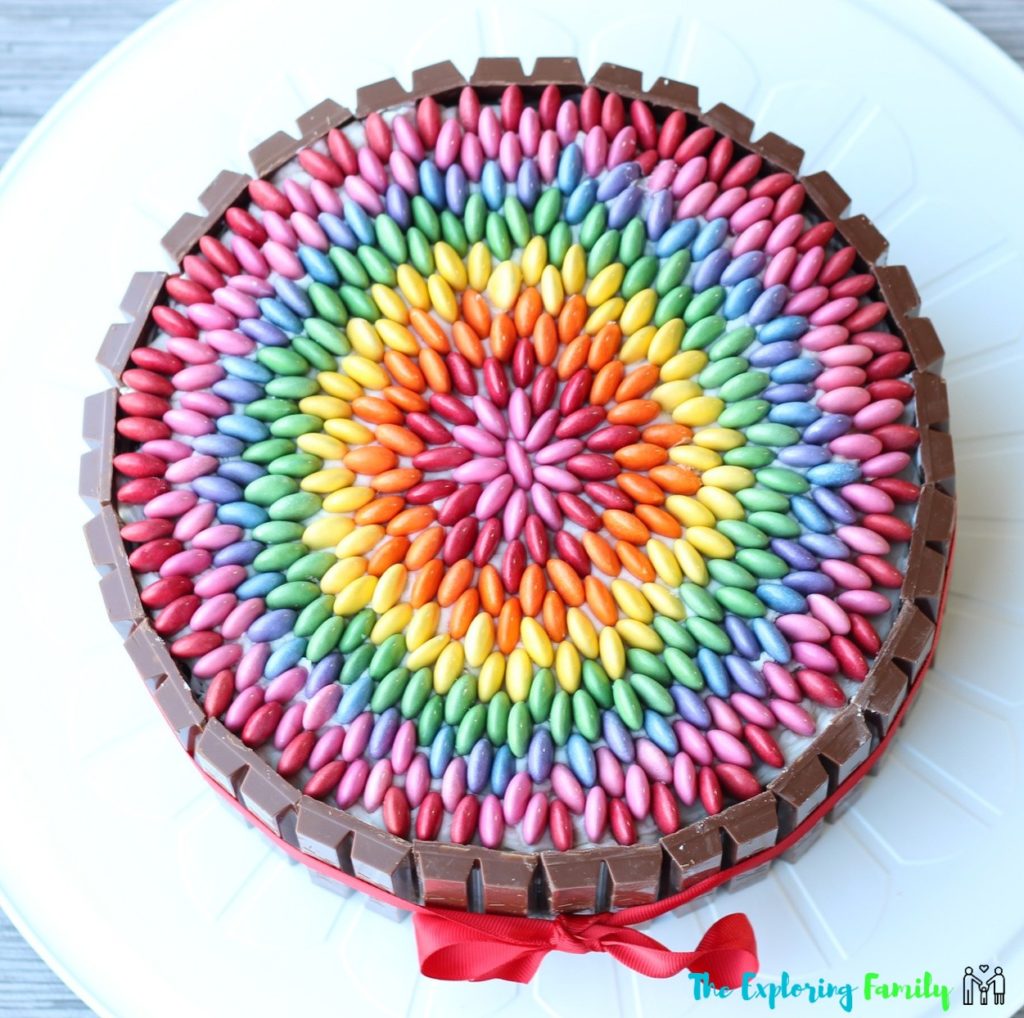 How to Make a Unique Kit Kat Birthday Cake
The ease of constructing this awesome Kit Kat cake may surprise you. All you need is a few simple ingredients, most of which you may already have in your pantry. It also doesn't take much in the way of time to create this elegant cake design. This is great news for us busy parents, especially if we are preparing for a birthday party. Who has time to be stuck in the kitchen for hours on end? Not many.
How many Kit Kats are in a Kit Kat cake?
For an 8 inch round Kit Kat Cake you will need 12 Kit Kat Bars to surround the cake. You will break each bar in half to give you 2 pieces with 2 Kit Kat "sticks" in each piece. This allows them to hold some shape but still form to the circle of the cake.
What You Need to Make a Smarties Kit Kat Cake
The ingredients for this Smarties Kit Kat Cake can be as simple or as complicated as you want them to be. The result will be absolutely stunning regardless of whether you use homemade or premade ingredients. Here is what we used to make this wonderful cake:
Elegant Smarties KitKat Cake Recipe Instructions
Making a Smarties Kit Kat Cake doesn't have to be overly complicated. The results, however, will appear as though you spent hours in the kitchen baking, decorating and creating. This cake is simply boxed cake mixes, baked as per the instructions on the box. You then surround the finished cake with 12 Kit Kat Bars wrapped around the side. They are all held together by a beautiful ribbon to ensure that they don't slide off. This elegant Kit Kat cake can be created from start to finish in about an hour. Want to use white chocolate Kit Kats instead? Go for it! It is truly up to you how you create this delicious masterpiece.
Step 1
Bake your 8 inch round cakes according to the instructions on the box. Ensure that you follow those directions carefully and methodically. You don't want to skip a step. Allow your cakes to properly cool prior to icing them. Icing a warm cake will cause the icing to melt, drip, and create a mess.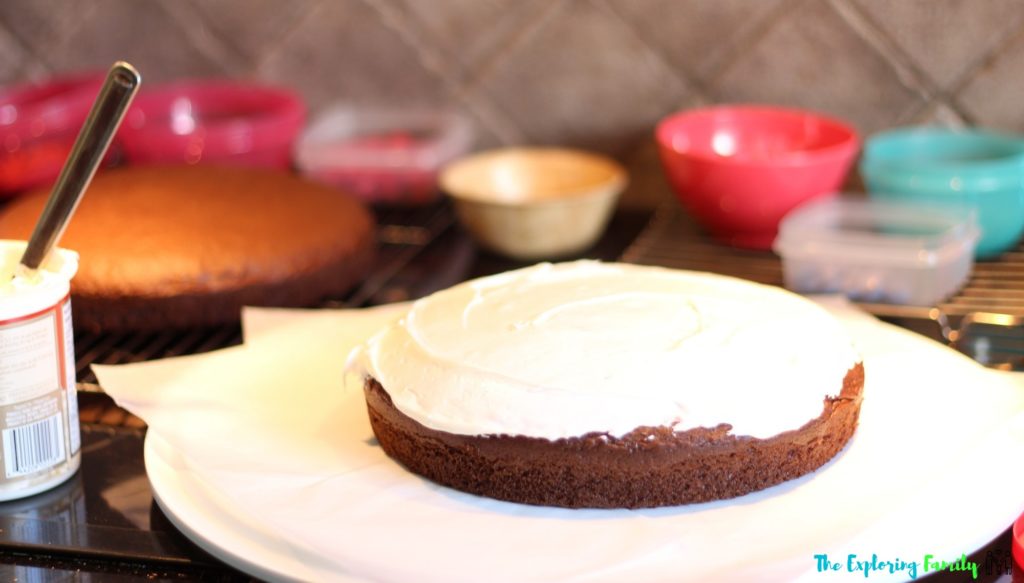 Step 2
Place strips of wax paper around the edge of your cake on your cake board. This will ensure that any icing that touches the surface of the cake board can be easily wiped away after you have iced it. Put one layer of your baked cake on top of the cake board and apply the frosting to the top of the cake layer only.
Step 3
Once you have completed the first layer, place the second layer on top of it. Ice the top of the next layer followed by icing the entire cake liberally, including the sides and top. You need the top to have a nice layer of icing for the smarties to stick into.
Step 4
Break your Kit Kats in half lengthwise, down the middle. You want to ensure that each piece has 2 sticks of KitKat. Carefully place your Kit Kats around the cake. Press them gently into the icing on the sides of the cake. This will help them stick. Once you have fully covered your sides of the cake with Ki Kats, tie a ribbon into a bow around the cake.
Step 5
Get your smarties ready to decorate with. If you want to separate the colours into individual bowls to make it quicker, but it isn't necessary.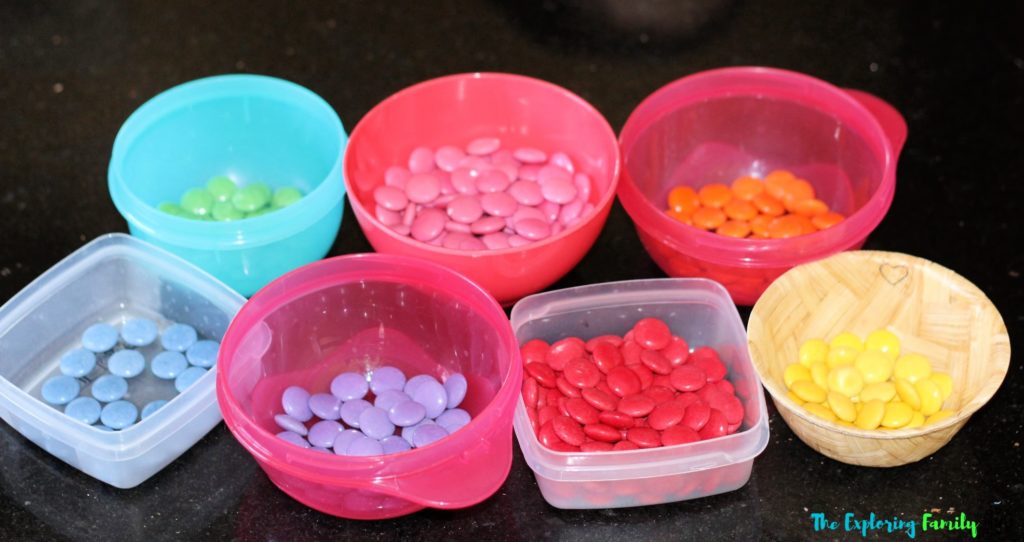 Step 6
Starting in the center, lay smarties on their sides and press gently into the cake.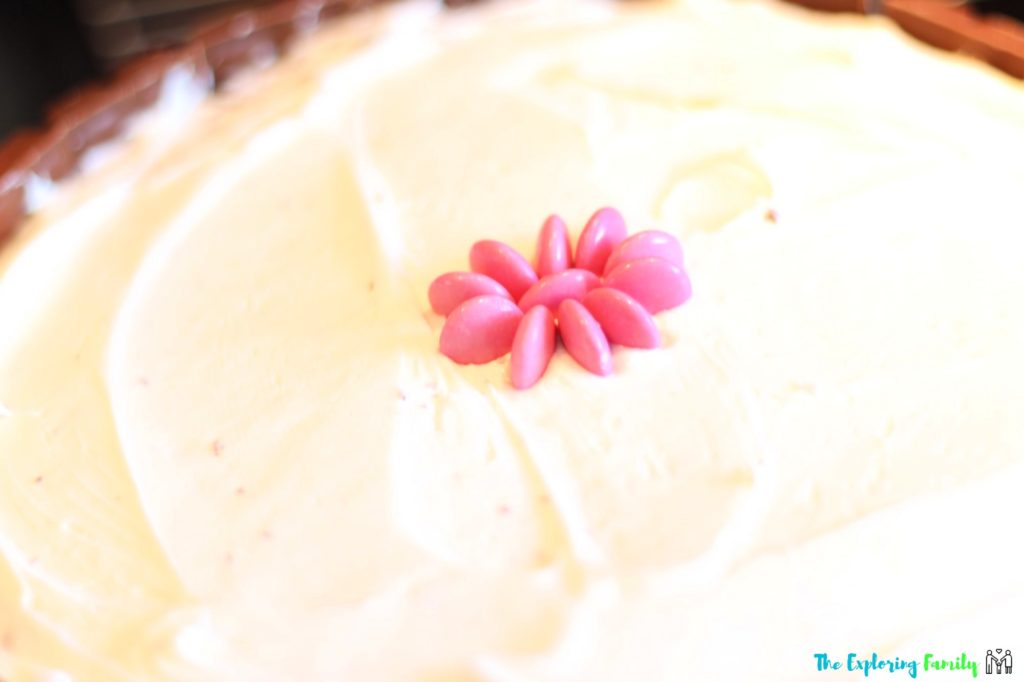 Step 7
Create a flower pattern by alternating colours in concentric circles and working from the middle out. Slide out the pieces of wax paper that were protecting your cake board from any mess.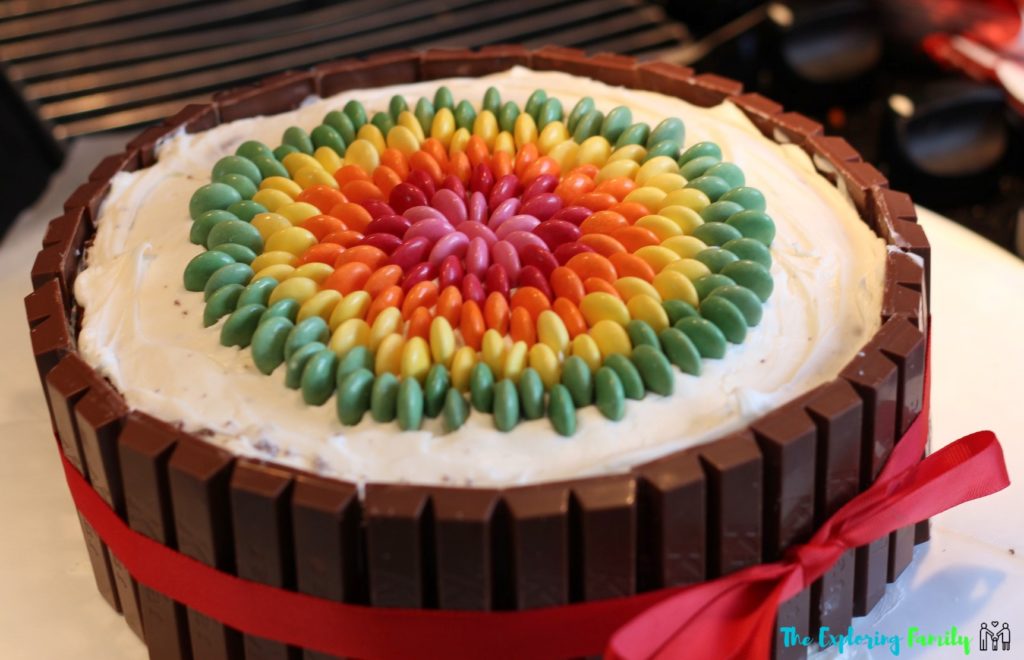 Step 8
Serve and enjoy by cutting the cake into slices with two Kit Kats each per slice.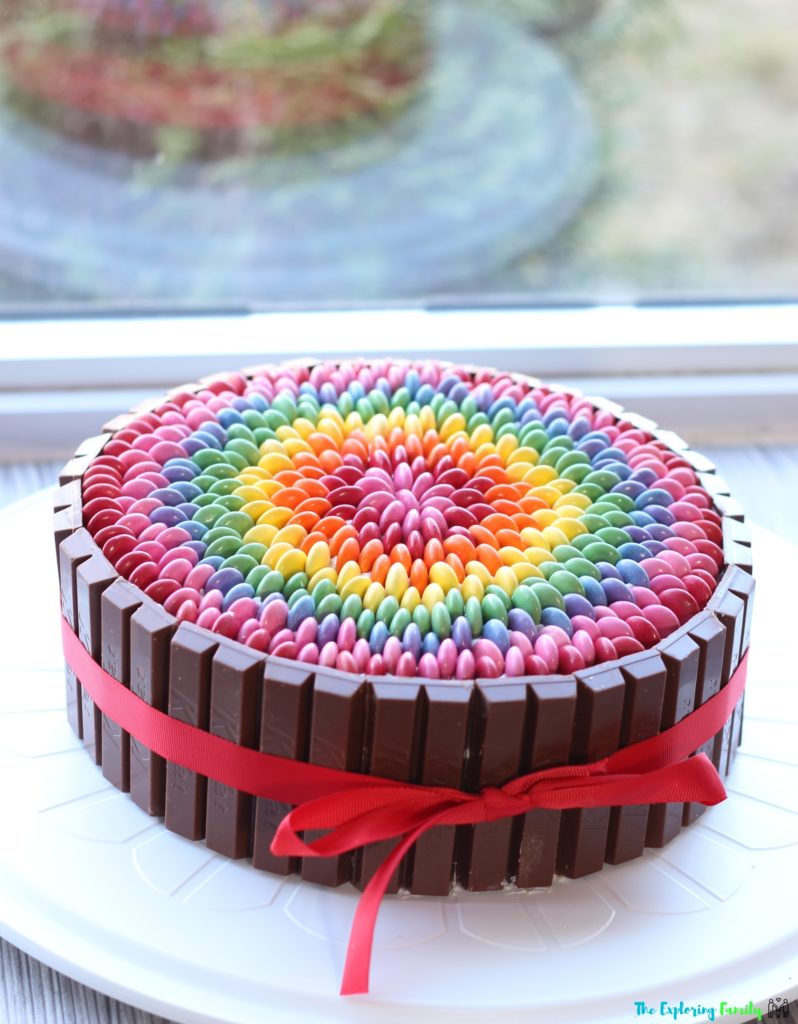 More Kit Kat Cake Design Ideas
While this unique Smarties Kit Kat Cake sure looks amazing, there are several other creative Kit Kat Cakes that you can make for any occasion. These cakes work to celebrate anything you wish and look beautiful on the table.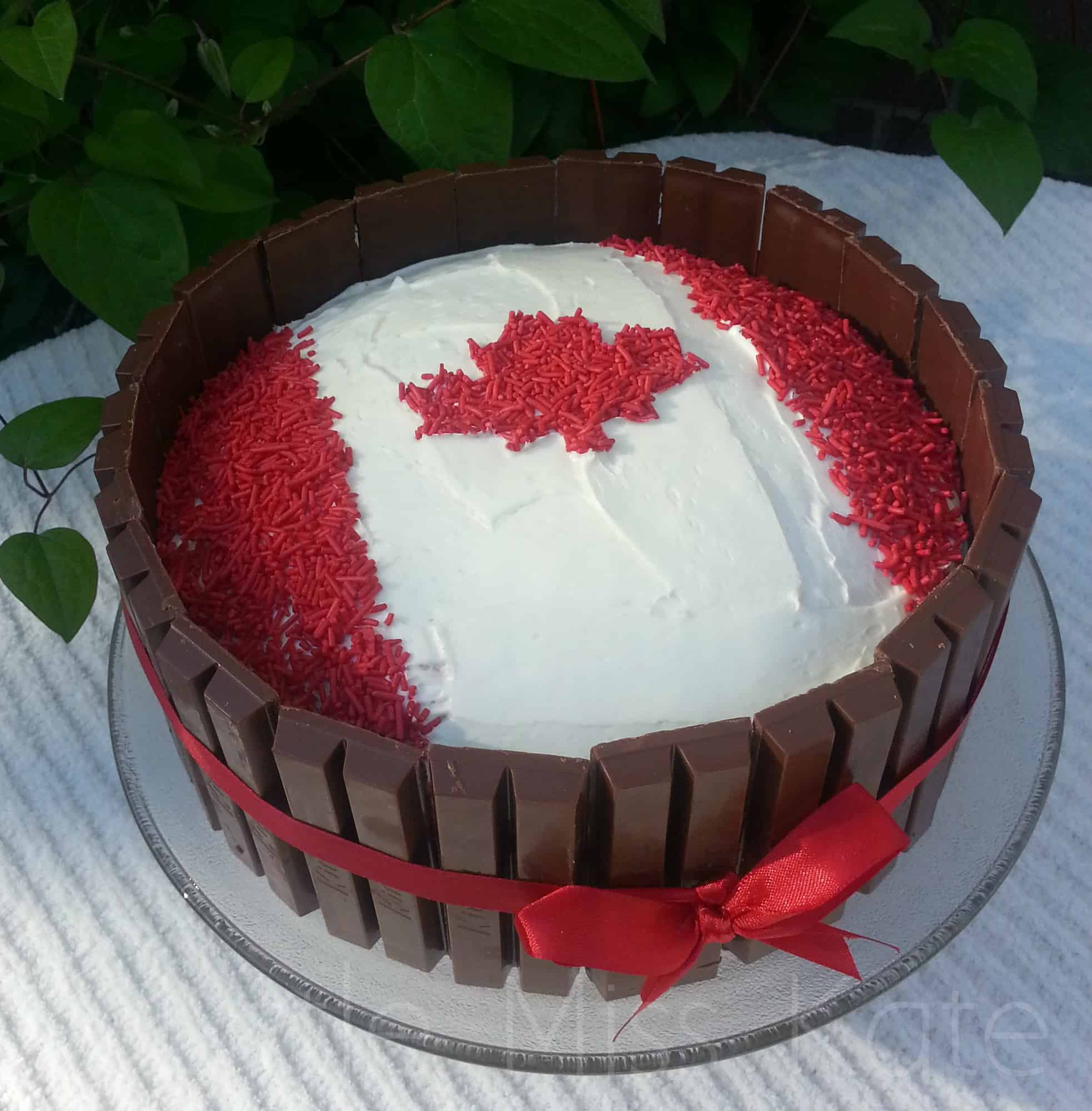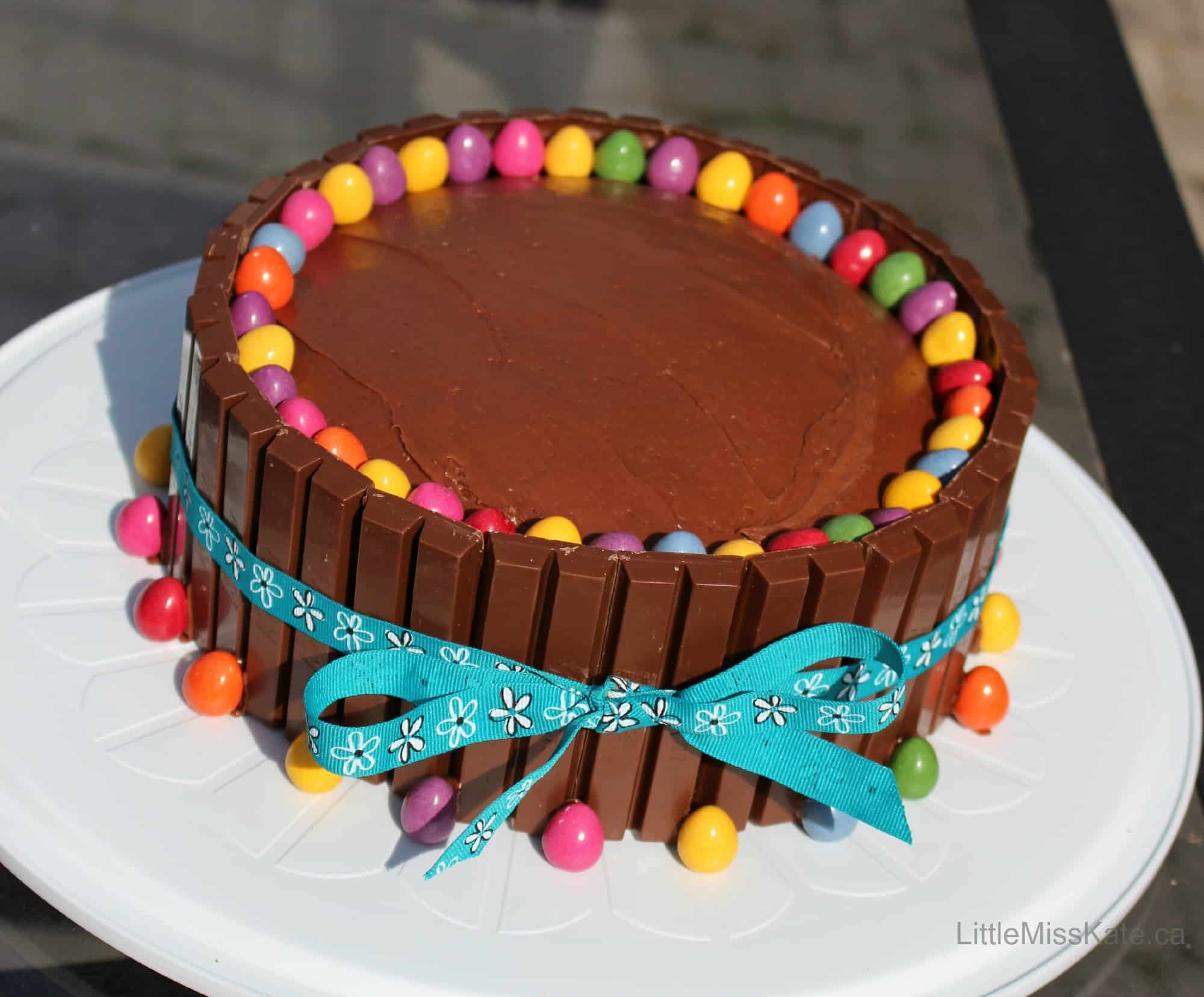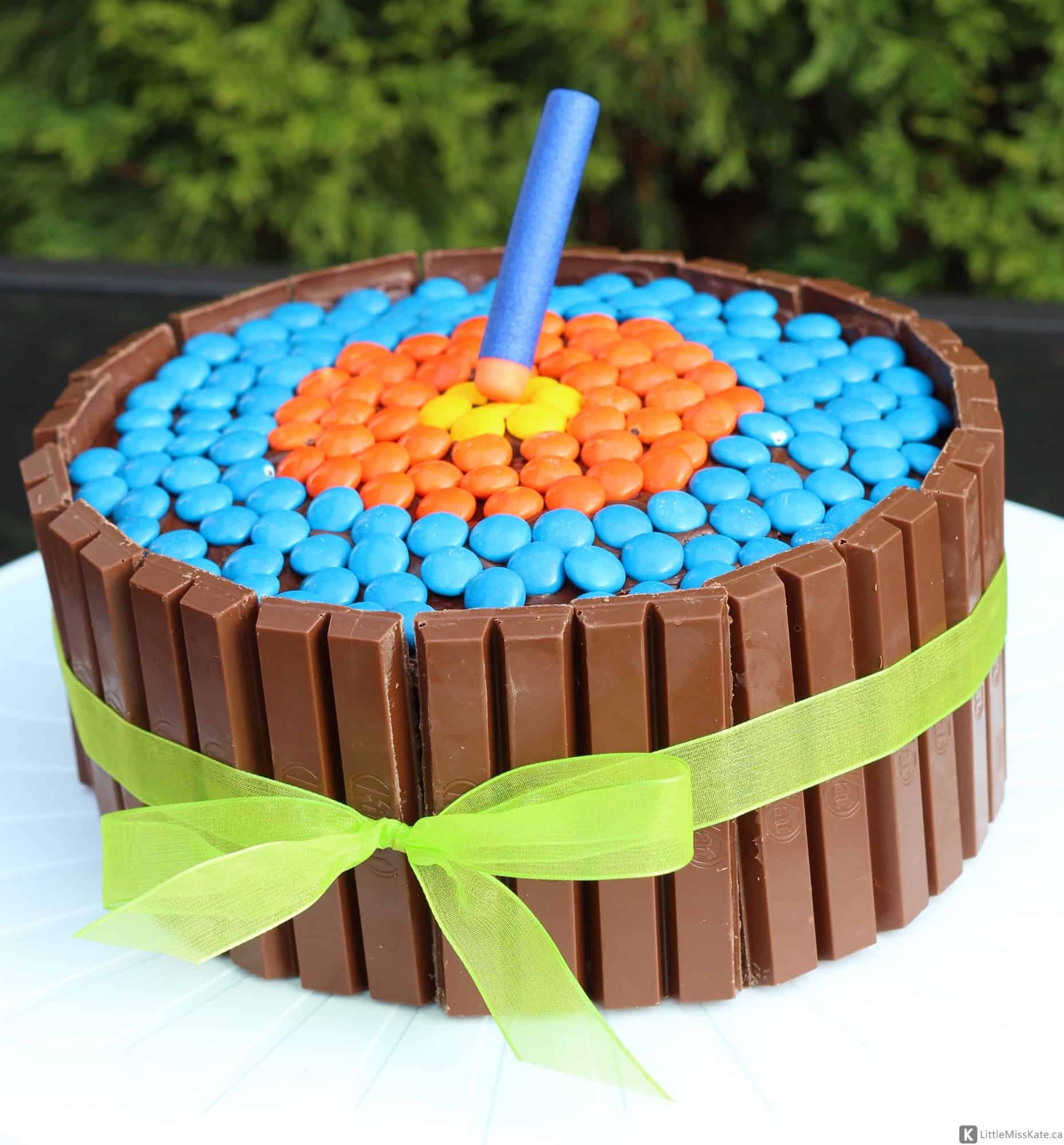 Batman Kit Kat Cake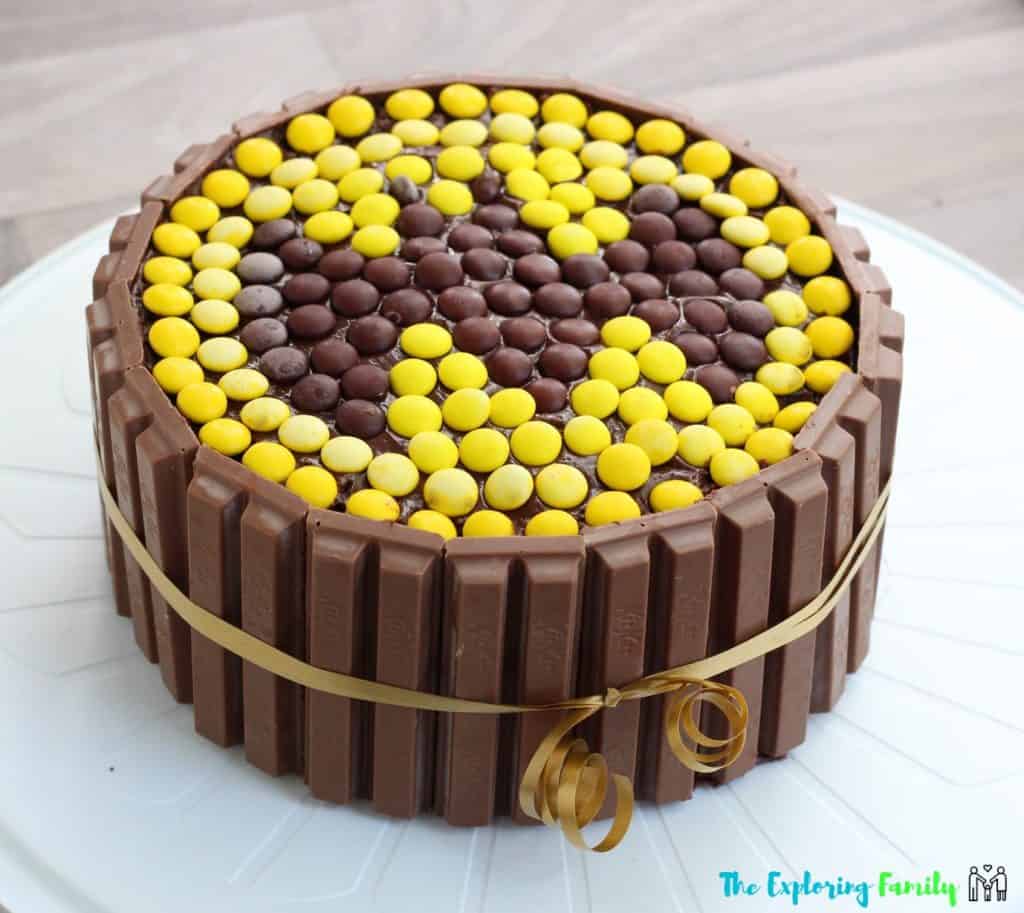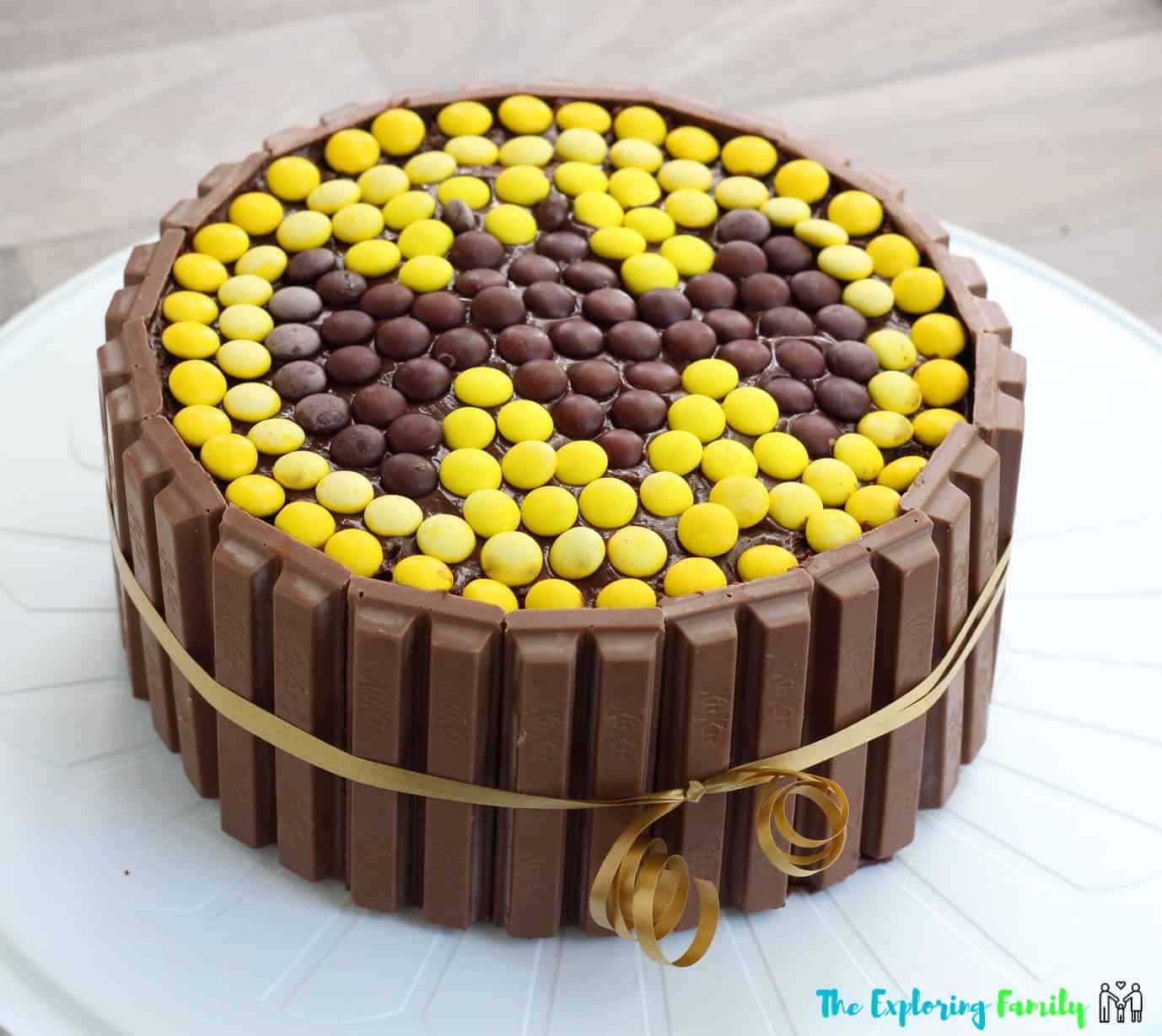 No matter what kind of Kit Kat Cake you decide to make, you are sure to impress everyone. These cakes are yummy, done in what seems like no time and stunning! Happy baking!
.