If you are planning on traveling to Europe with kids, there are several fantastic places to go. Whether you visit Portugal, France, or even Switzerland, you are sure to find some amazing attractions that kids will enjoy visiting.
Europe as a whole is a beautiful place to go. The culture, the beauty and all the amazing opportunities to explore are sure to keep you and your children entertained. There are so many places to visit in Europe but these are the Best Places to Visit in Europe with Kids.
Don't put off that long-awaited European vacation for after the kids are grown and gone. Major European cities like London and Paris have elements of appeal for traveling families.
You'll find world-class zoos and aquariums, spacious parks, plazas, and amusement centers galore. But dig deeper with your travel plans and you'll discover destinations with day trips that balance the feel of city and country.
Look for wayside castles and palaces, and places with tales and legends to spark the imagination. UNESCO sites are guaranteed to provide lots of interest, and national parks are the perfect places to experience different landscapes and wildlife.
This list of the best kid-friendly places in Europe suggests destinations with hidden gems to learn world history and geography and to understand cultural differences and commonalities.
If you are interested in travel you may also be interested in Travel Gifts!
This week our Guest Blogger is Anna from Expert World Travel. Anna was born to travel the world having studied languages all her life. Although she has traveled the world, she now calls Switzerland home and has provided us with the ins and outs of exploring Kid-Friendly Destinations in Europe! You can follow her on Facebook, Twitter and Pinterest.
Back in 2020 we created an European Family Vacation Guide, however this current guide asked parents to provide more of their thoughts and insights into why these locations are perfect to visit with kids.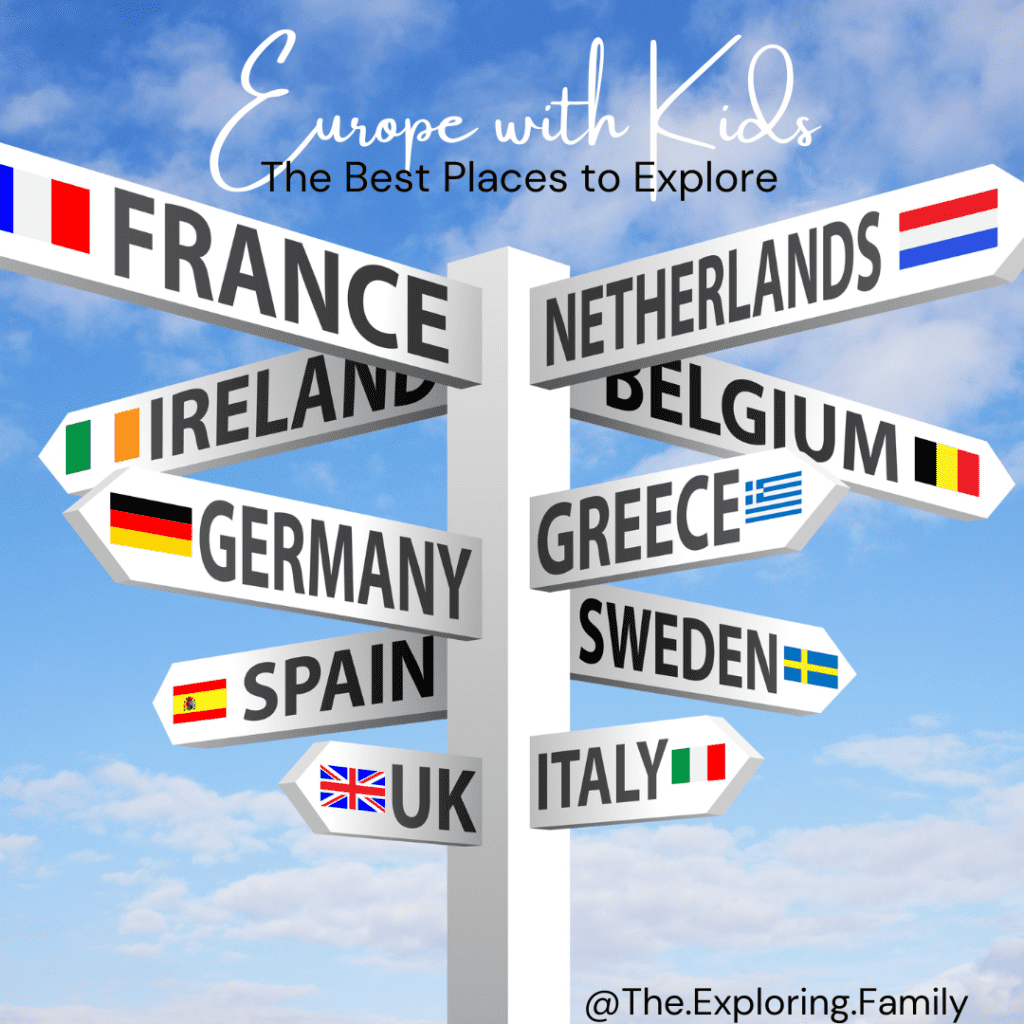 Best Places to Visit in Europe With Kids
Click on the links to scroll through some amazing kid-friendly places in Europe.
Zurich, Switzerland
Bucharest, Romania
Munich, Germany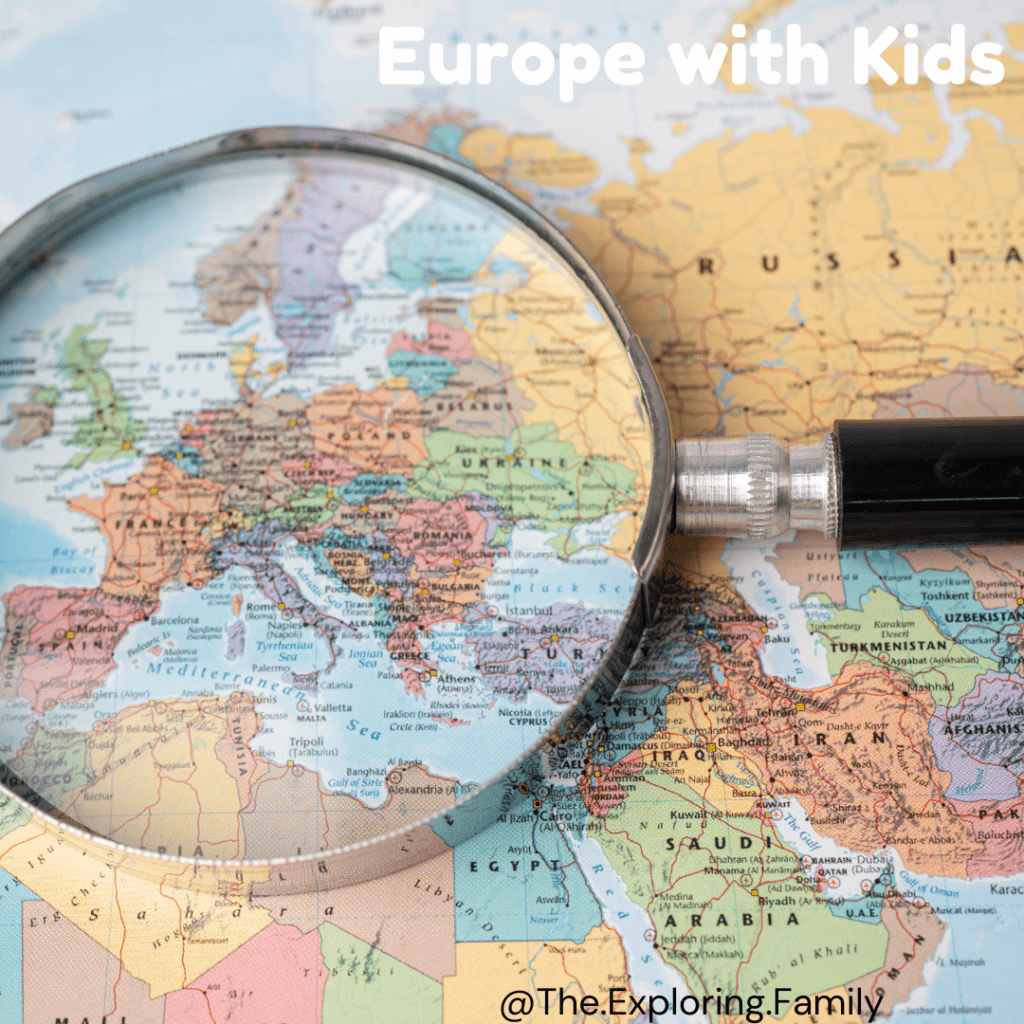 Kid Friendly Places in Europe
There are so many great places in Europe to visit with kids. Book your vacation today and explore all the beauty that Europe has to offer. You will have the best time.
If you are looking for the Best Places to Visit in Europe with Kids for a family trip, you will find several amazing ideas for planning your next vacation.
Lisbon, Portugal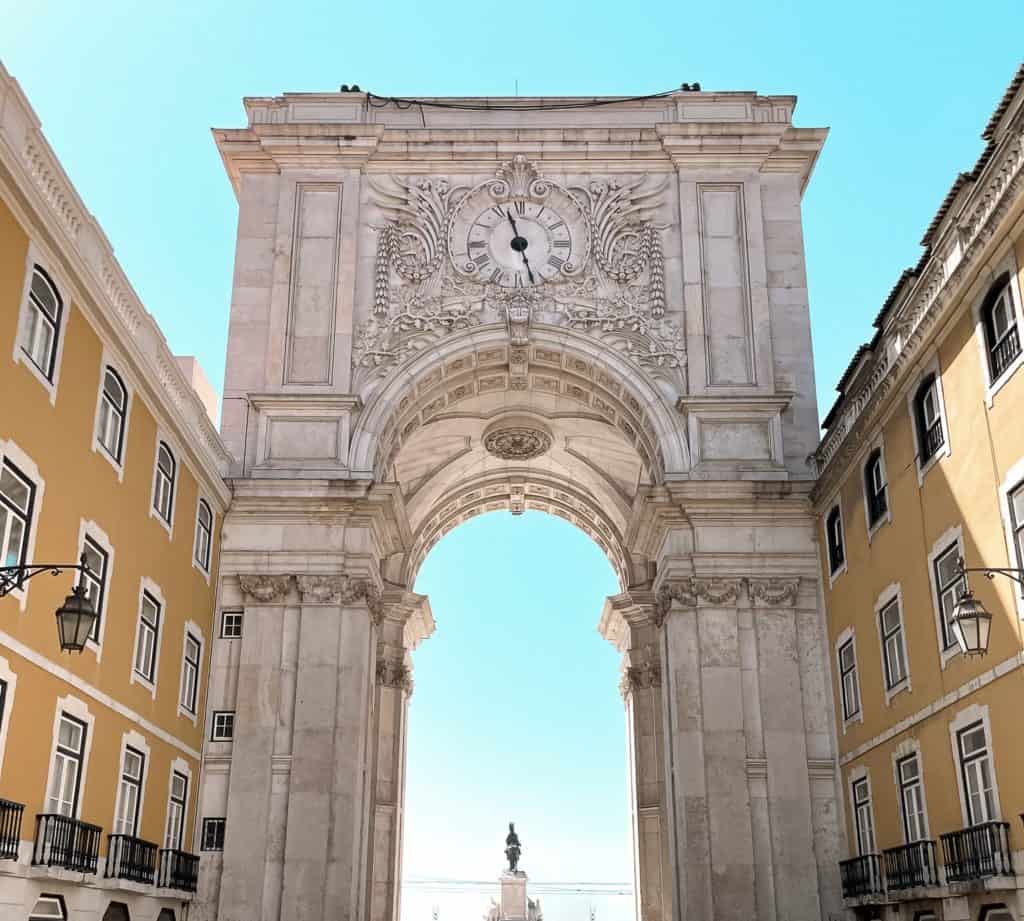 Photo Credit: Allison Baxley, Renovating Life
The capital city of Portugal, Lisbon, is a wonderful place to visit with kids in Europe. Portugal in general is very family friendly. The Portuguese people are so warm and welcoming and love kids. So much so that you may have several people (usually of an older generation) smile at them, pat them on the head, or even offer them a small treat. Additionally, restaurants and public spaces welcome kids with open arms and don't mind at all if they run around and play during a meal.
There are tons of activities that are perfect for kids in Lisbon. The Lisbon Oceanarium is a must see. Fairly small in size, this aquarium is perfect for young kids. You can get through all the displays in as little as an hour or you can meander longer around the central cylindrical tank.
Next door to the Oceanarium is the Pavilion of Knowledge, also known as the Interactive Science Museum. Kids love this museum because it's hands on, offers two stories of interactive displays and play spaces, and makes learning fun!
Sometimes, sightseeing with kids can be tiring and difficult, but Lisbon offers a few options that make getting around fun for kids. Consider doing a tuk-tuk tour to see the best of the city, or take a ride on the historic 28 Tram which offers views of and stops at some of the best sights to see in Lisbon.
Two easy day trips from Lisbon can either take you to Sintra to see all the famous castles and palaces or to the picturesque town of Cascais, where there are a number of kid-friendly beaches to enjoy.
The BessaHotel group has several hotels throughout Lisbon, and the Liberdade location offers adjoining rooms which are perfect for families.
You'll enjoy visiting Portugal with kids so much you may just decide to move to Portugal.
Algarve, Portugal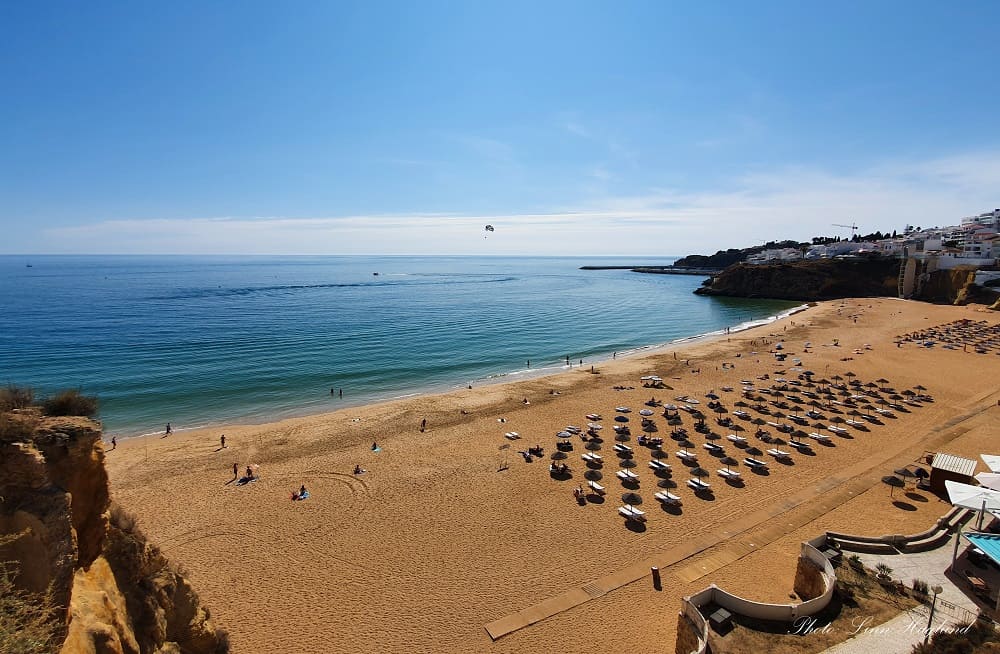 Photo Credit: Linn Haglund, Amused by Andalucia
A wonderful place to travel with kids is the southern region of Portugal. With bewildering beaches and a rugged coastline full of hidden caves and intriguing rock formations, there are a lot of things to do for the whole family.
There are boat trips taking you on dolphin safaris, snorkeling, and exploring the coastline from the water – including secluded beaches you can only reach by boat. If your kids are more adventurous, rent a paddleboard or a kayak to uncover the coastline firsthand.
One of the biggest attractions is the Benagil Cave, a large sea cave with a sinkhole in the ceiling letting a spotlight of sun light up the beach inside. Furthermore, the towns in the Algarve are wonderful. Particularly for kids, stay in either Lagos or Albufeira where there are a lot of fun things to do. They can take surf lessons or try parasailing.
There are also tours taking you to the countryside of Algarve to learn about the lesser-known wine regions. Another wonderful place to visit with kids is the lesser-frequented eastern area and the Ria Formosa Natural Park. There, you can see wild flamingos and take a small tourist train to Tavira Island and see the quirky Anchor Cemetery and spend the day on the beach. A lovely family-friendly place to stay is Lagos Atlantic Hotel.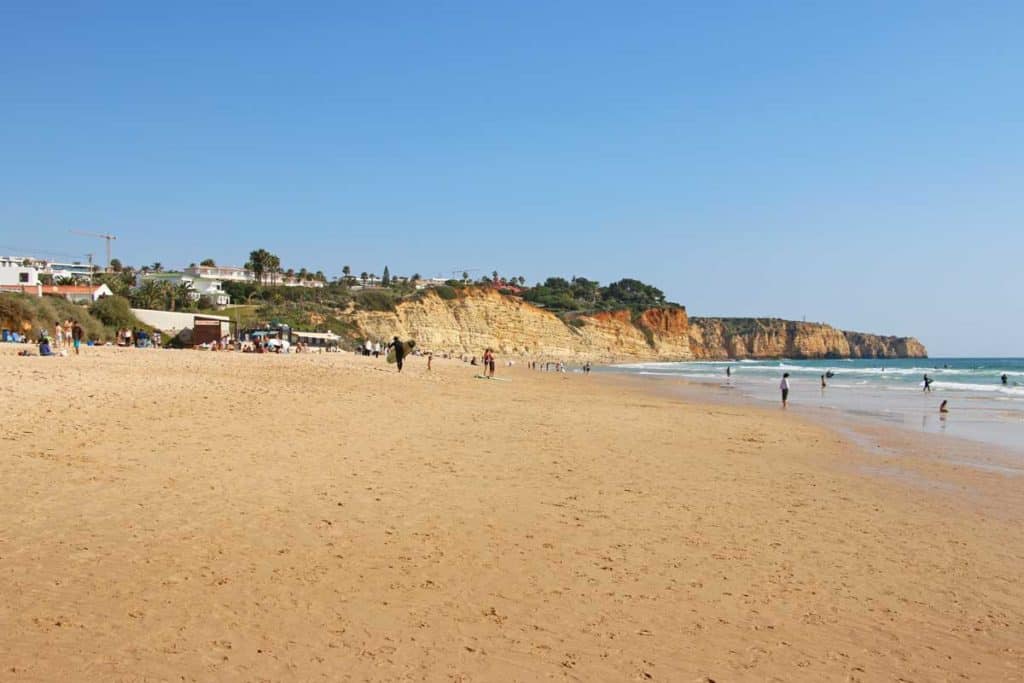 Lagos, Portugal
Photo Credit: Alya, the Algarve Family
Algarve, a beautiful sunny region in Southern Portugal is a perfect place to visit with children. The area offers warm sunny weather, spectacular nature, beautiful sandy beaches, and plenty of outdoor activities suitable for travelers with children.
There are several popular holiday towns in the Algarve. Lagos is one of the region's best places for a family holiday. It has a beautiful historic centre with many restaurants and multiple sandy beaches that are great for playing in the sand and swimming.
There are many amazing things to do in Lagos. Some of the most popular summer activities for travelers with children include dolphin watching, boat tours to Ponta da Piedade and Benagil Cave, a visit to Slide and Splash waterpark, learning to surf, and visiting Lagos Zoo and Zoomarine.
Hiking is another popular activity in the area. There are several boardwalks with breathtaking views suitable for walking with a stroller e.g. boardwalks at Ponta da Piedade, Meia Praia and Alvor. Travellers with older children can explore the area following one of the many coastal hiking trails e.g. The Fisherman's Trail or the Seven Hanging Valleys Trail.
Belmar Spa and Beach Resort is one of the best places to stay in Lagos. It's located a 5-minute walk from Porto de Mos Beach. It has outdoor and indoor swimming pools, a beautiful garden, and a restaurant.
Lugano, Switzerland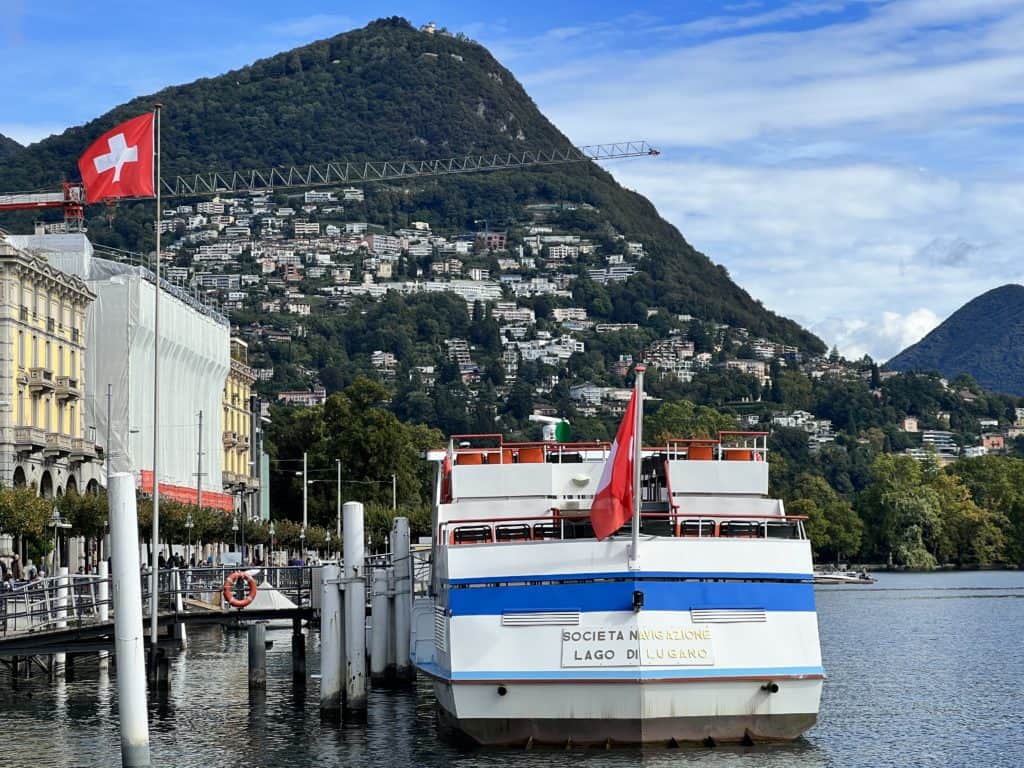 Photo Credit: Vanessa Gordon, East End Taste Magazine
Lugano, Switzerland, set close to the Italian border on Lake Lugano, is a stunning city that is ideal for tourists of all ages. The picturesque city is a stunning blend of Italian, Swiss and French influences. The primary language is Italian though you will notice that English is widely spoken as is French and German. Though you can cover a lot in Lugano in one day, a two day weekend is ideal for making the most out of your visit.
Lugano is a very walkable city and is filled with many high end shops, department stores, restaurants, and boutique shops. During select times of the year, including the Harvest Festival in late September, you will notice many street vendors in Piazza della Reforma selling jewelry, soaps, crafts, jams, handmade toys, and much more.
Particularly for children, activities include a scenic cruise around Lake Lugano via ferry which takes roughly four years if you were to cruise to Ponte Tresa and back to Lugano. Other great activities include a visit to Swissminiatur located less than fifteen minutes outside the city center, journey to the top of Mount Bre for the best sweeping views of the city, and taking a visit to Chocolat Alprose about twenty minutes outside the city.
For an overnight stay in Lugano that is perfect for families, look to Swiss Diamond Hotel Lugano. This lakefront hotel has indoor and outdoor pools, onsite restaurants, a spa, afternoon teas, golf stay packages, and more.
Zurich, Switzerland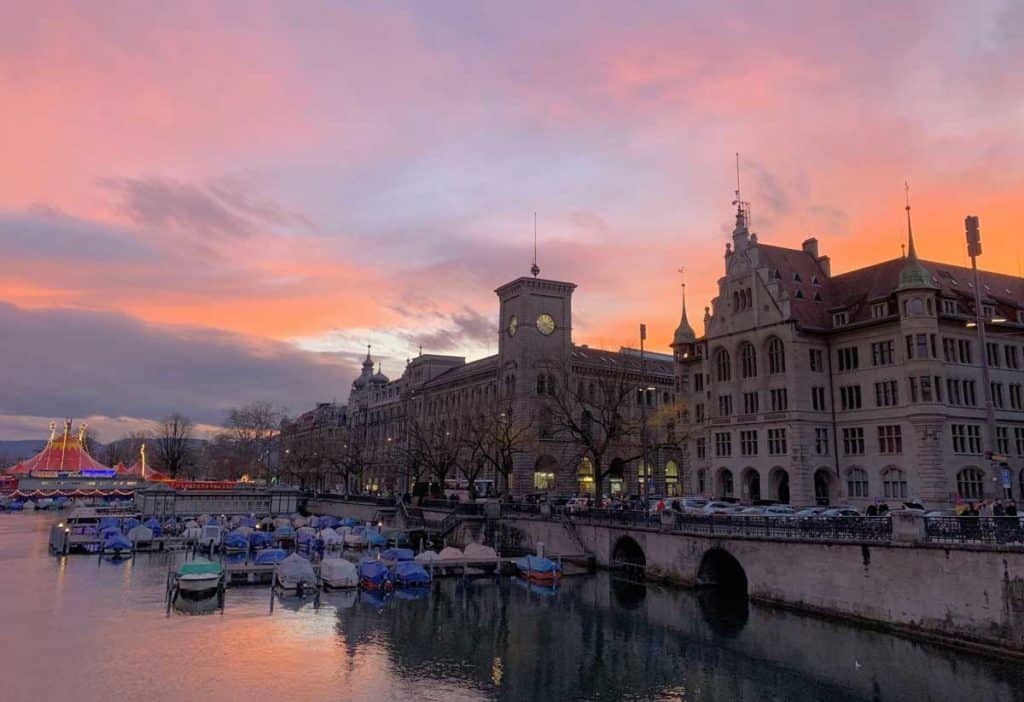 Photo Credit: Anna from Expat Travel
Switzerland's largest city is both walk-friendly and kid-friendly. Walking the famous waterside promenade along Lake Zurich and the Limmat River is a must. You'll find places that open into lush gardens to rest or perhaps go for a swim. At the end, the Blatterwiese has a Chinese garden and a playground. Even if your kids are young, you can just carry them in a comfy child carrier! So, don't worry about that.
Catch the ferry back to town to stroll around Zurich's Old Town and then visit the popular Toy Museum. Or, if you children are into things more technical, it might be worth a stop at the Beyer Watch Museum to explore the watch history that is unique to Switzerland. Then, make a stop at Lindenhof city park for fantastic views and room to play.
And if you have more time don't miss out on the mountains, lakes, and city of Lucerne. It's only a 30-mile day trip to the south. Plan on spending at least one night in one of the kid-friendly accommodations. The Swiss Transport Museum is a favorite for children featuring spaceships, planes, and an adventure ride as a "train driver." Be sure to take a boat excursion on Lake Lucerne aboard a lake steamer.
Glasgow, Scotland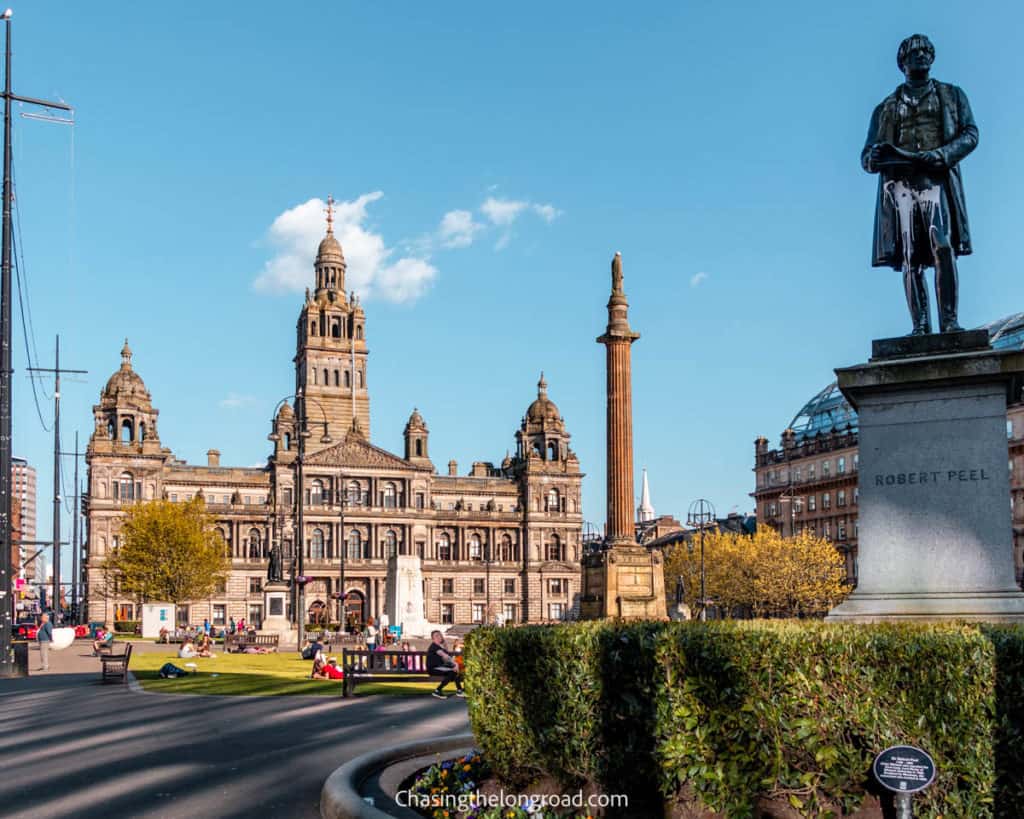 Photo Credit: Moumita & Sankha, Chasing the Long Road
If you are looking for a kid-friendly holiday in Europe, Glasgow, the largest city in Scotland, should definitely be on your list. There are plenty of intriguing and interactive museums, historical sites, lots of green spaces and nature trails in and around the city that will keep your kids engaged.
One of the must-visit tourist attractions in Glasgow is Kelvingrove Art Gallery and Museum. It boasts a massive collection of 8000 artifacts, which include those from ancient Egypt. You can also check out the exhibit featuring the famous Sir Roger the Asian Elephant. The adjacent Kelvingrove Park is a fantastic place to have a little wander and a picnic, weather permitting. There is also an adventure park where kids can have a great time. From here, you would get a fantastic view of Glasgow University, which itself is worth a visit for the fabulous architecture and its museums.
Another unmissable family-friendly attraction in Glasgow is the famous Riverside Museum on the bank of River Clyde. It houses an impressive display of transportation from different time periods, including vintage cars, model ships, skateboards and baby strollers. Inside the museum, the recreated old street of Glasgow will take you back in time. Also, get onboard the historic Tall Ship that lies next to this museum.
Maldron Hotel Glasgow City is an excellent choice to stay near the city center.
London, England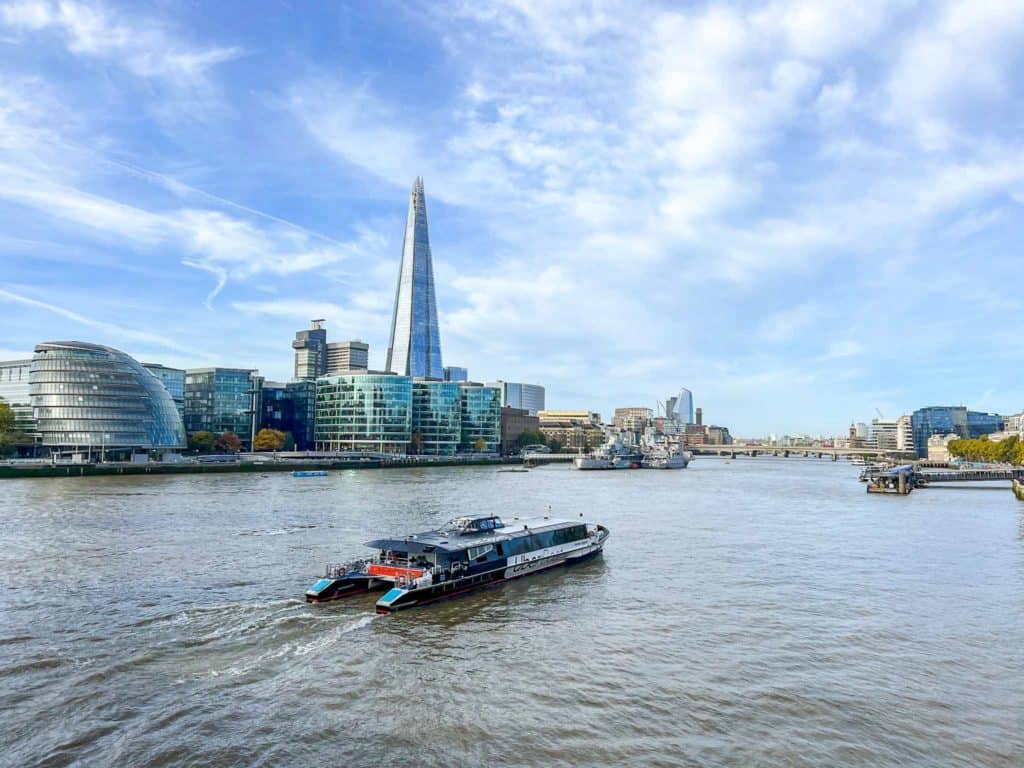 Photo Credit: Ellie Quinn Belhaj, The Wandering Quinn
London may be a big and bustling city, but it is a city that's great for children and families to visit for a few days. No matter how old your children are, they are bound to love the Natural History Museum and Science Museum, and if you have young ones, London Transport Museum is a good one to take them to. If you can, I recommend visiting the museums during weekdays as they get busier on weekends.
Part of the fun of visiting London with kids is showing them the famous sights they've seen in movies and read about in books! Plan a day in your London itinerary with kids to see Buckingham Palace, Tower Bridge, the Tower of London, Big Ben and the London Eye. Taking a boat trip along the Thames is a great way to see a lot of these great sights whilst ensuring your children don't have to walk much.
One of the great things about London are its parks. You'll find local families in them all year round and they are a good way to let your children play and run free. Good parks to go to are Greenwich Park, Hyde Park and Regents Park.
I do recommend hiring an apartment in London slightly out of the center of the city in zone 2 or 3, so you'll benefit from more room in your accommodation and a slightly lower price.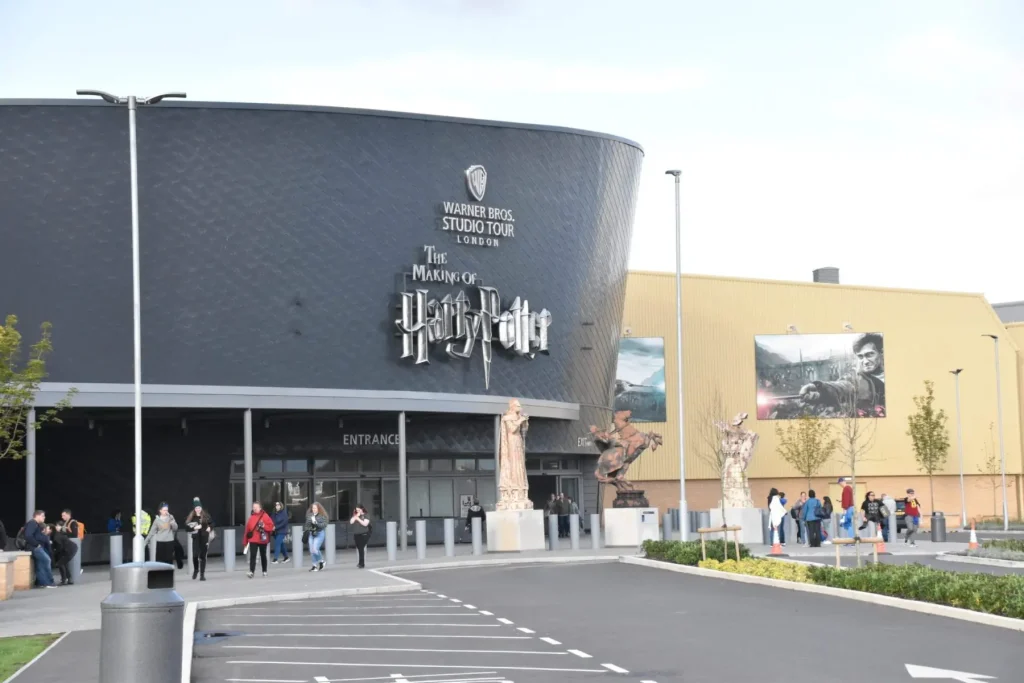 Photo Credit: Planningaway
One of the best places to take kids in Europe is London. There are lots of amazing activities for kids in London but one of the best is a Harry Potter London vacation.
You will want to be sure to book a Warner Brother Studios Making of Harry Potter tour. This is not an amusement park but more of a museum. Many of the props used in the movies are on display.
There are also interactive experiences. You can fly on a broomstick, hop on the Hogwarts Express, and even grab some butter beer. You will want to plan at least a 3-4 hour visit. Your kids will love it!
There are a few more Harry Potter experiences in London that your family will love. A muggle walking tour should be at the top of your list. Make sure you get to Kings Cross Station to visit the Harry Potter souvenir shop.
You will also want to make sure you book the Harry Potter and the Cursed Child Play. There are two parts and each show requires separate tickets. It is important to reserve your tickets ahead of time.
One of the best places to stay on your Harry Potter London vacation is the Georgian House Hotel. All of the rooms are Harry Potter-themed!
If you have more time you can take a day trip to Oxford to see more areas where Harry Potter was filmed.
Your family will love the London Harry Potter experience! It is sure to be a favorite place for them to have visited.
Slovenia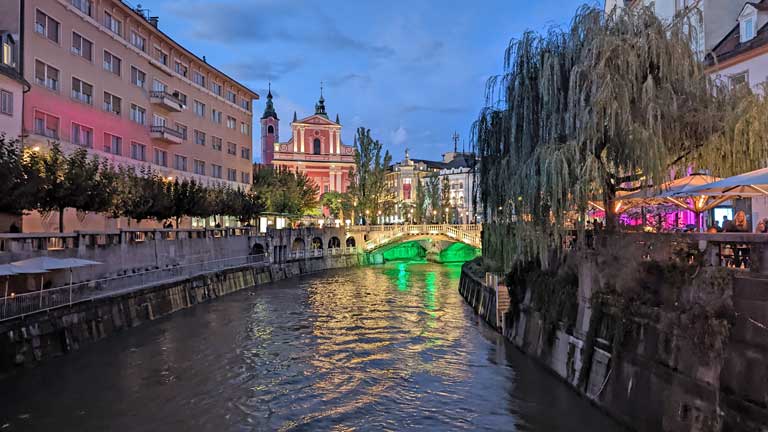 Photo Credit: Melissa, Parenthood and Passports
Slovenia is an incredible and underrated country filled with castles, beautiful nature to explore, and even dragons – all things children will love! For this reason, the country in the Balkans is one of the best places to visit with kids in Europe.
Start your visit by exploring the country's capital city, Ljubljana. Known as the City of Dragons, Ljubljana is teeming with fairytale folklore, history and beauty. Among the many things to do in Ljubljana, take the funicular to Ljubljana castle. The fortress atop a hill overlooking the city's Old Town district is now a museum. But if visiting with kids, you can book a special Escape the Castle ticket, which turns your ordinary museum visit into an escape room-style experience.
Another fun place to visit in Slovenia with kids, Lake Bled is only an hour away from Ljubljana. The scenic lakeside resort town is known for its turquoise water and little church on an island in the center of the lake. Families will love canoeing to the island, swimming in summer, or riding the mountain toboggan at the adventure park at Lake Bled. There are so many fun ways to spend time outdoors and make memories on a family vacation in Slovenia.
Vienna, Italy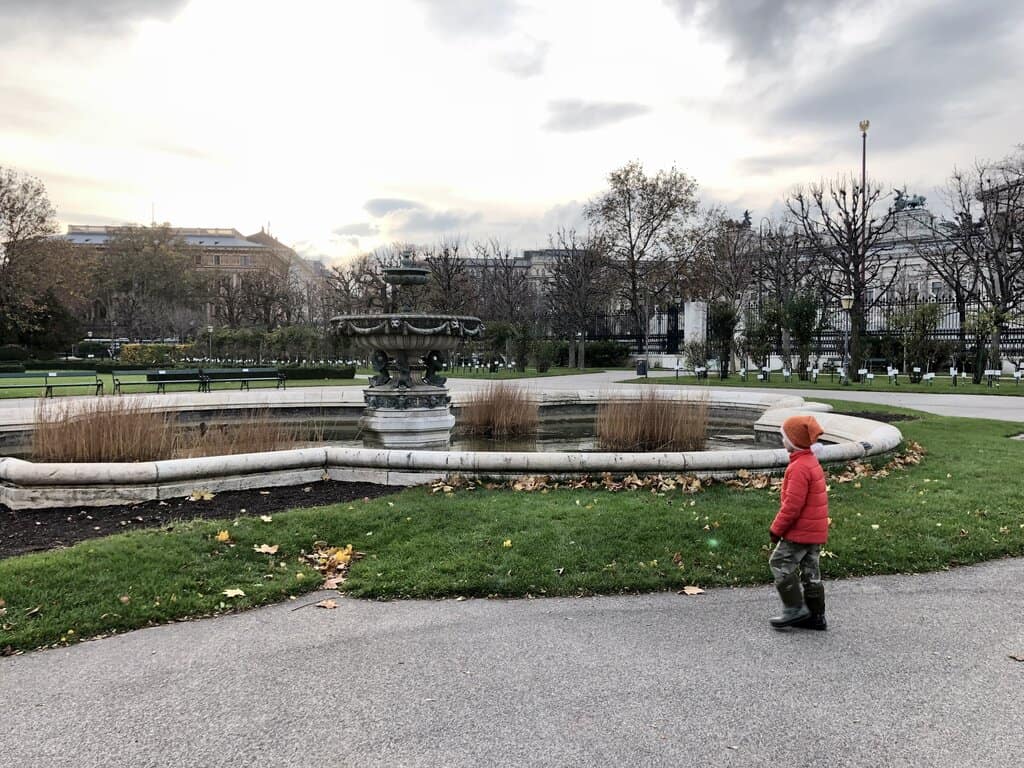 Photo Credit: Erin Martin, Wanderlust with Kids
Vienna is one of the best places to visit in Europe with kids! While it's known for its beautiful architecture, classical music and art galleries, there are also so many fun things to do in Vienna with kids. From kid-friendly cultural attractions to museums designed for young ones, Vienna offers plenty of activities for the whole family.
One of the most popular is Schönbrunn Palace, where children can explore the historic grounds, dress up as royals and learn about the palace's fascinating history. Also on the palace grounds, the Vienna Zoo is another favorite for families.
Vienna's Museum Quarter is also full of amazing attractions that are perfect for kids. There's the Natural History Museum with its wonderful collection of animals and dinosaurs, the Museum of Technology and Austria's first museum for kids, the Zoom Children's Museum.
And then there's the House of Music, where kids can try their hand at conducting and learn about Vienna's rich musical history.
Aside from the many cultural attractions, Vienna also has plenty of parks and green spaces for kids to run around in. The Stadtpark is a great spot for picnics and paddling pools, while Prater Park is great for theme park rides and rollercoasters, and of course, Vienna's iconic ferris wheel.
Stay: KH Opera Apartments is conveniently located across from Karlsplatz Metro and one block from the Opera House. The one-bedroom apartments are spacious and quiet, with huge windows, great views of Karlsplatz and a kitchenette to cook up some quick meals.
Venice, Italy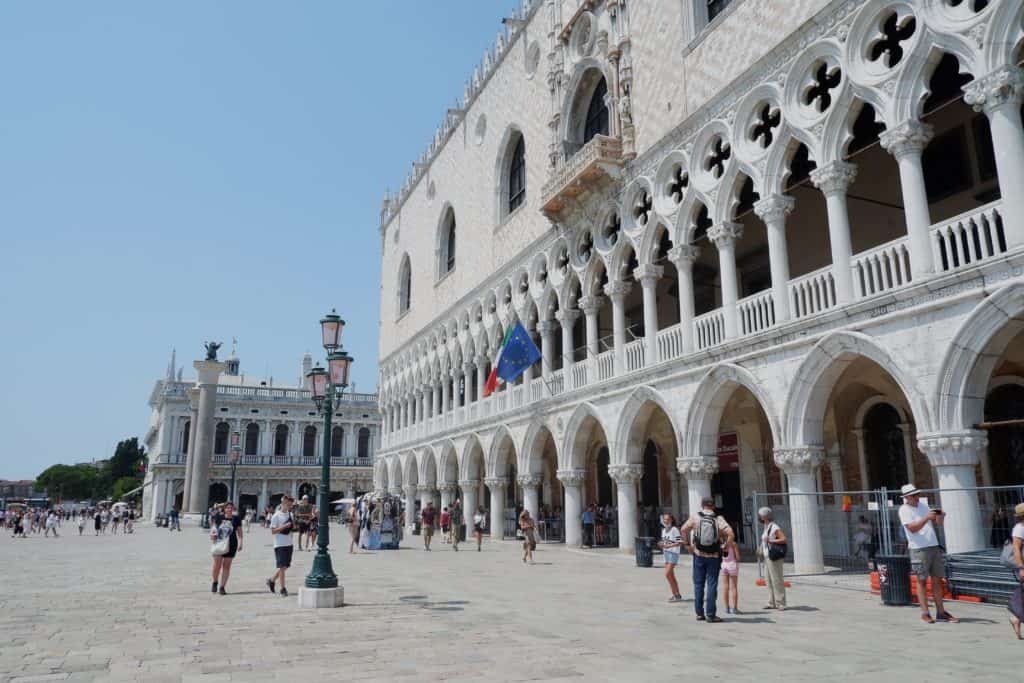 Venice is a fantastic European city to visit with kids not only because kids can run freely around its calli (streets) but also up and down the bridges without worrying about cars. At the Doge's Palace, as a family, you can join different educational activities to get to know its history and spaces in an engaging way. You can choose between solving a crime inside the palace, going on a lion hunt, or joining an understanding and reconstructing the palace workshop.
If your kids love spending time at the museum but also love art, I recommend going to the Peggy Guggenheim Collection on a Sunday. At 3 pm the museum runs free workshops for children aged from 4 to 10 where they will be introduced to art and can experiment with art techniques. Most children are fascinated by animals and evolution and the Natural History Museum is a perfect place to learn about the animal world.
Children can see an almost complete dinosaur skeleton of over 7 meters, visit the cetacean gallery, the collection of fossils and another with butterflies and insects. Finally, if your kids love painting, why don't you join a Carnival mask workshop at Ca' Macana? Your little ones can take part in different courses and learn how to create beautiful masks.
Accommodation can be expensive, but there are many family-friendly 4 star hotels in Venice that are very affordable. For example, Hotel Saturnia & International is perfect as children can stay for free with breakfast included and you'll be just a few minutes walk from St. Mark's Square.
Florence, Italy
Florence, Italy is one of the best places to visit in Europe with kids.
It's known for its Renaissance art, beautiful architecture, and delicious food. This capital city of the Tuscany region has a lot to offer children.
Kids will be wide-eyed at their first sight of the stunning Duomo. But don't just take a look at it, climbing the Duomo is one of the most popular things to do in Florence. Kids will love the adventure of climbing 463 steps to the top for the most amazing view in all of Florence.
Italy is known for its pizza and gelato, both kid-friendly foods. So, when in Florence enjoy daily pizza and gelato. Stop by Venchi for delicious gelato and to see the amazing chocolate wall. There are also cooking classes in Florence geared specifically for families with kids.
When in Florence with kids, you must ride the famous Carousel at Piazza della Repubblica.
Florence has many fun shops for kids including LEGO Store Firenze and stores themed after the famous Pinnochio.
The Uffizi Gallery is one of the top attractions in Florence; world-renowned for its sculptures and paintings. There's a Uffizi tour specifically geared toward kids to make it fun for them too.
Galileo 2000 is the perfect place to stay in Florence. It's located in San Firenze Square near many of the main attractions in Florence.
Dublin, Ireland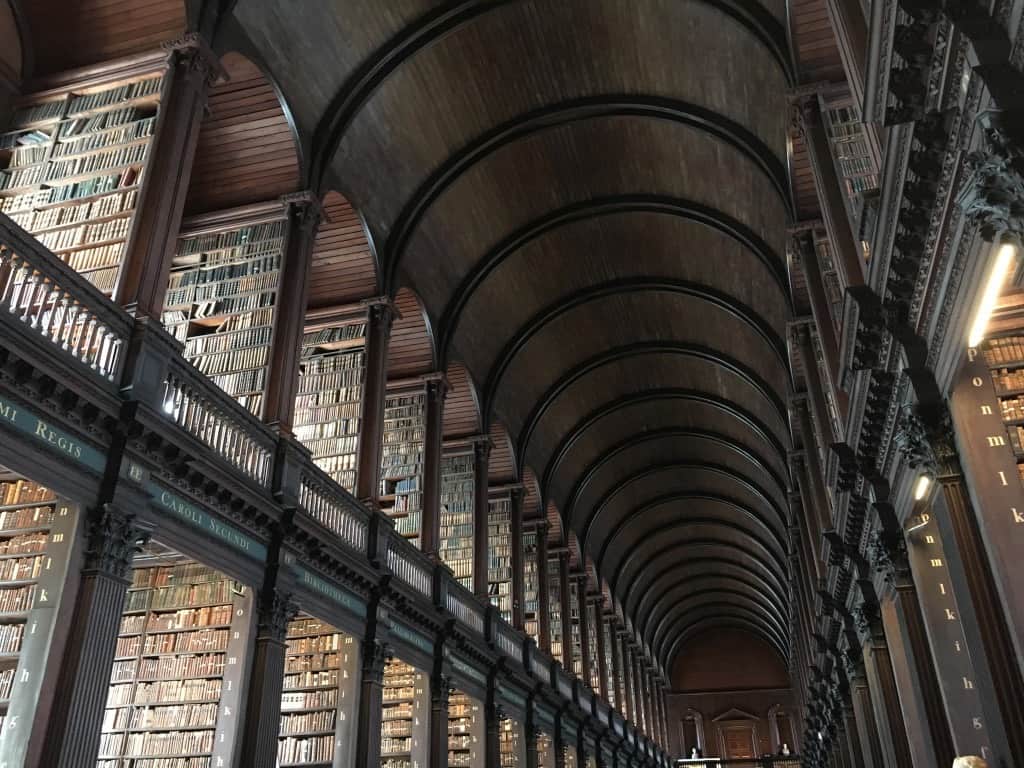 Photo Credit: Catrina, 24 Hours Layover
Dublin is a fantastic city to visit with children as there is so much to do to keep them occupied. Even if you only have one day in Dublin you can still fit in a lot – from museums and exhibitions to parks and castles, the kids will be entertained whatever the weather!
Malahide Castle is a great place to take the kids. Not only is the castle really impressive, but there's a fairy trail and a big playground with zip lines so the children can burn their energy!
The Howth Coastal Walk is also a great activity in Dublin to do with kids. It offers absolutely fantastic views and there are even some beaches along the way if the children need a break. Afterwards get some fish and chips in Howth: their fish and chips is divine!
If it's rainy take the children to EPIC Museum – voted the leading tourist attraction in Europe for three years in a row! Full of educational experiences, this is sure to delight kids of all ages.
Harry Potter fans may want to check out The Old Library at Trinity College – the inspiration for Hogwarts Library and one of the world's most impressive libraries!
For older children interested in learning about Ireland's history, a visit to Kilmainham Gaol is particularly educational.
For the perfect hotel in a convenient location head to Trinity Townhouse Hotel. Located in the famous St Stephen's Green, the children will love the famous coloured doors on these iconic Georgian properties!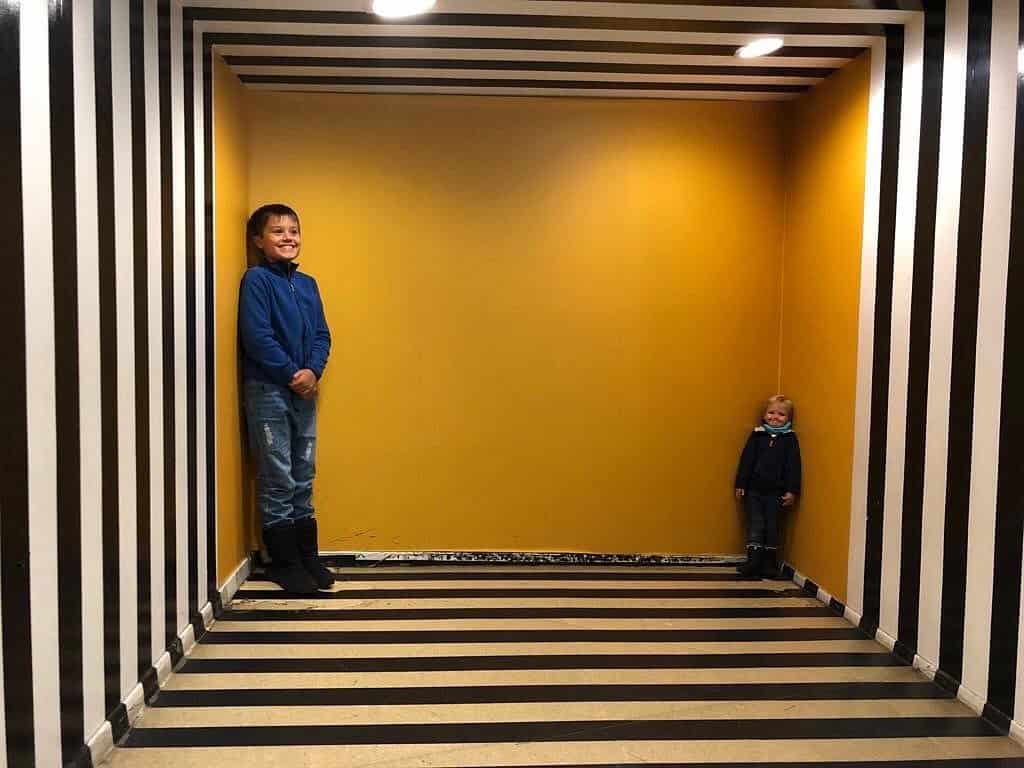 Bucharest, Romania
Romania is one of the most affordable European countries where you can enjoy your weekend vacation without breaking your bank. Bucharest is the capital of Romania and is known for its mesmerizing beauty and medieval history to the world. You shouldn't miss this place when you're planning a Europe vacation with your kids.
From monumental architecture to art galleries, and museums to shopping spots, everything in this city will keep you engaged and make you happy. The Museum Of Senses is one of the spots where your kids can have super fun. This place is famous for its illusion-trained animators, infinity room, ball pit and more.
When it's about family time, you must visit Edenland Park. This park is full of activities such as wall climbing, horseback riding, biking, softball games and many other things. After a lot of fun and activities, you must go to the National Museum of Art where you can learn about the historical past of Romania with your kids. From medieval history to the modern age, props and elements can be seen and take you to the past time of Romania too.
After visiting museums, go to Cărturești Carusel. Carturesti Carusel is a library, but its architecture and modern setup attract bibliophiles worldwide.
Apart from this, you can visit other tourist destinations like teahouses( to taste 50 types of tea), King Michael I Park and the Romanian Athenaeum.
To taste authentic Romanian food, you can go for Mititei or Mici, Covrigi, sarmale and Salam De Biscuiti. These are some signature foods of the capital city of Romania.
You can book a room at Venis Boutique hotel if you want to spend quality days in Bucharest with your family at a reasonable price. This is one of the best budget-friendly hotels in the place.
Paris, France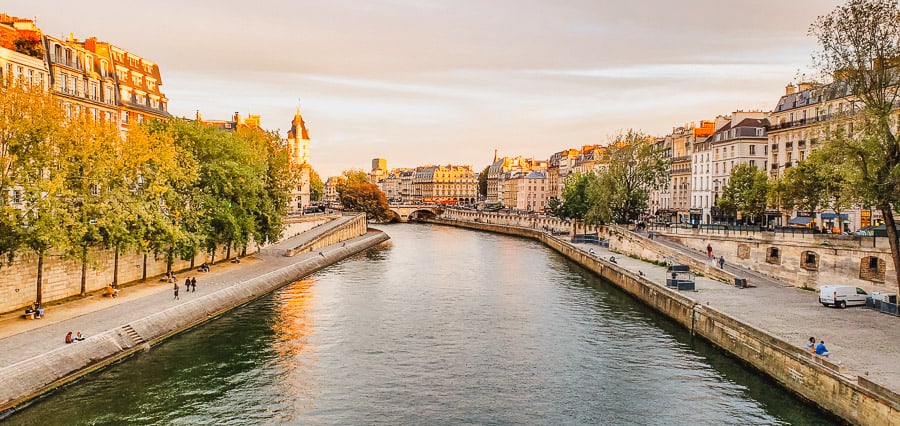 Photo Credit: Stephanie
Paris, France is an excellent destination for traveling with kids in Europe, as there is a large variety of activities and attractions to keep them engaged and entertained. Plus, Paris is a very walkable city, and the metro is cheap and easy to use, so it's not hard to get around with kids.
One of the best places to visit with kids in Europe is Paris, the capital city of France. The sights of Paris are a lot of fun to see with kids. For example, it can be great to go up the Eiffel Tower and see the city from above with kids. Also, it can be fun to go to the Sacre-Coeur, which is a famous church located on a hill from where you can get a panoramic view of the city as well.
So, what to in Paris with Kids? Definitely don't skip the Eiffel Tower – being inside the structure as you walk up the stairs or take the elevator is extremely cool, and the views from the top are amazing. Definitely come back when it's dark to watch the Eiffel Tower sparkle (for 5 minutes at the top of every hour).
Going on a Seine River cruise is another fun activity kids will love, as you get to watch the city go by from the water. Another great activity to do with kids is a cruise on the River Seine that cruises along some of the most famous sights of the city. Make sure you stop at a local cafes and check out the parisian food choices including croissants, and baguettes.
Furthermore, in winter, it can be great to go to Galeries Lafayette with kids. This is a department store where you can see a very large Christmas tree and beautiful window displays with moving elements during the winter season.
One great thing about Paris is that there are tons and tons of public parks and gardens. The Jardin de Luxembourg is a particularly good garden for kids, as it has tennis and basketball courts, a large pond where you can rent toy sailboats, and a playground.
Also, the Louvre Museum could be great to check out with children as its collection is very impressive to see. Moreover, during the months of July and August, you can find Fête des Tuileries next to the Louvre in the Tuileries Garden. This is a fair, kind of like one of the theme parks, with lots of attractions and rides that are great to visit with kids. Furthermore, a good hotel for families is Novotel Paris Centre Tour Eiffel, which is a hotel located close to the Eiffel Tower."
Older kids might enjoy the kind of creepy, and cool catacombs of Paris, where you go underground and walk through a maze of stacked bones of Paris's deceased.
One of the absolute best parts of any Paris itinerary with kids are the multiple stops at boulangeries (bakeries), where you can sample all sorts of delicious breads, pastries, and desserts.
And of course, there's always Disneyland Paris, which is about ½ hour outside of the main part of the city.
The Elysees Union is a great hotel option for families, as there are large family rooms and it's situated in a central location between the Eiffel Tower and Arc de Triomphe.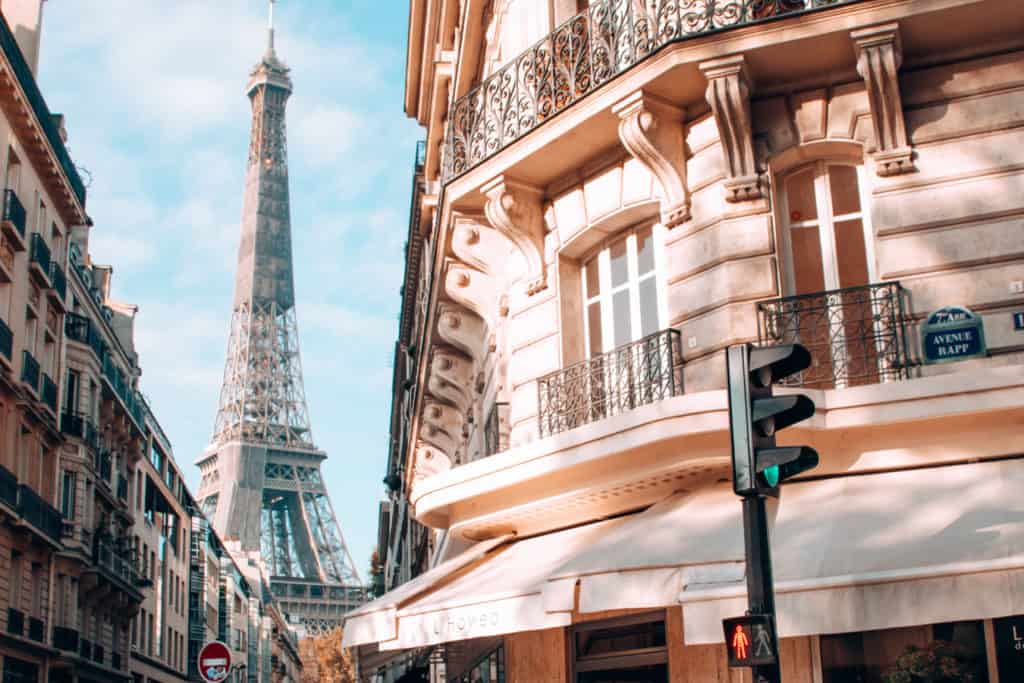 Photo Credit: Dymphe, Dymabroad
You may also be interested in: Places to stay in Paris with Kids
Copenhagen, Denmark
Photo Credit: Anna from Expert World Travel
Historic yet youthful, Copenhagen is home to two centuries-old amusement park, historical sites, and museums filled with Viking and Bronze Age treasures. Below you will find the Best Places for kids in Copenhagen, Denmark.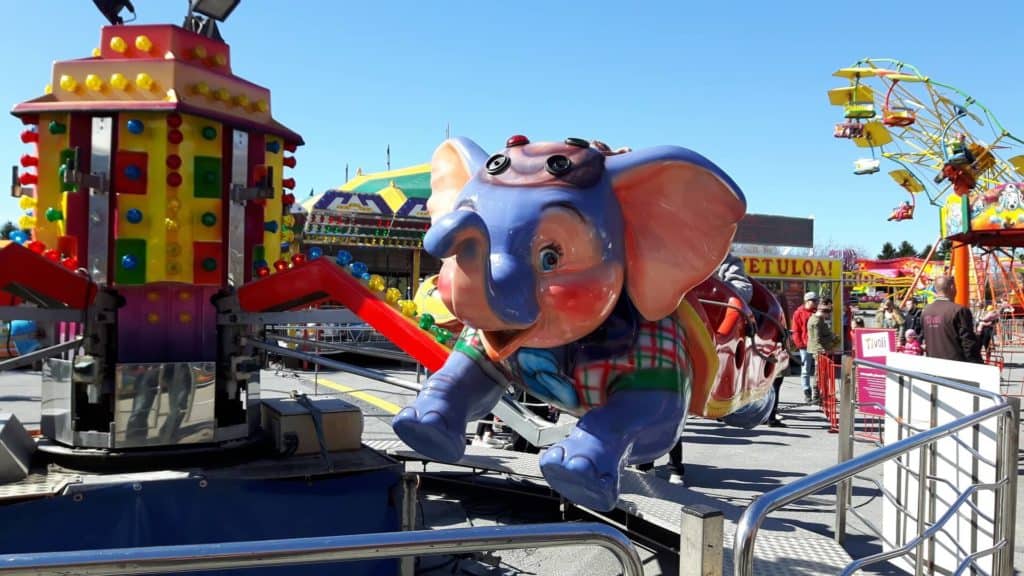 The city gets many visitors for the sole purpose of visiting Tivoli Gardens, the world's second oldest of its kind. Besides a carousel called the Star Flyer that rises 80 metres above the ground and an unforgettable roller coaster, the whole family will be amazed at the 19th-century representations of the Orient. Also visit Bakken, the second most popular attraction, and the world's oldest operating amusement park existing since 1583. These are great attractions when visiting Copenhagen with Kids. Check out this itinerary for 3 Days in Copenhagen.
Copenhagen is flat and has broad bicycle lanes. Rental bikes with a touch screen tablet and built-in GPS to tour the town. The historic waterfront is adjacent to a 17th-century canal. Kids will find it interesting to learn that fairytale author Hans Christian Anderson once lived in this district.
Get lost in Copenhagen's National Museum with its remarkable collection of artifacts. Tour the Rosenborg Castle and admire the lavish interior of the palace built by Christian IV at the beginning of the 17th-century. At the Christianborg Palace, you'll see a Riding School and a little court theatre built in 1767.
Plan a day trip using Denmark's superior public transit to visit Kronborg Castle, the setting for William Shakespeare's play Hamlet, and Fredriksborg Castle with its stunning surrounding gardens. You can even cross the Oresund Bridge into Sweden.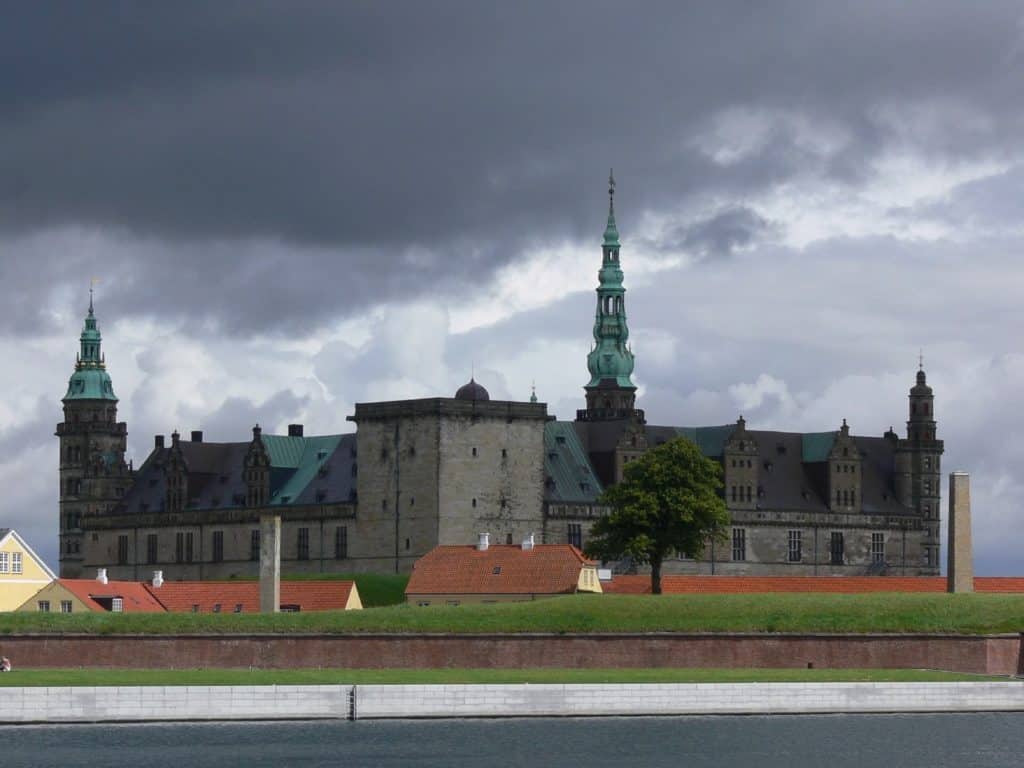 Zakopane, Poland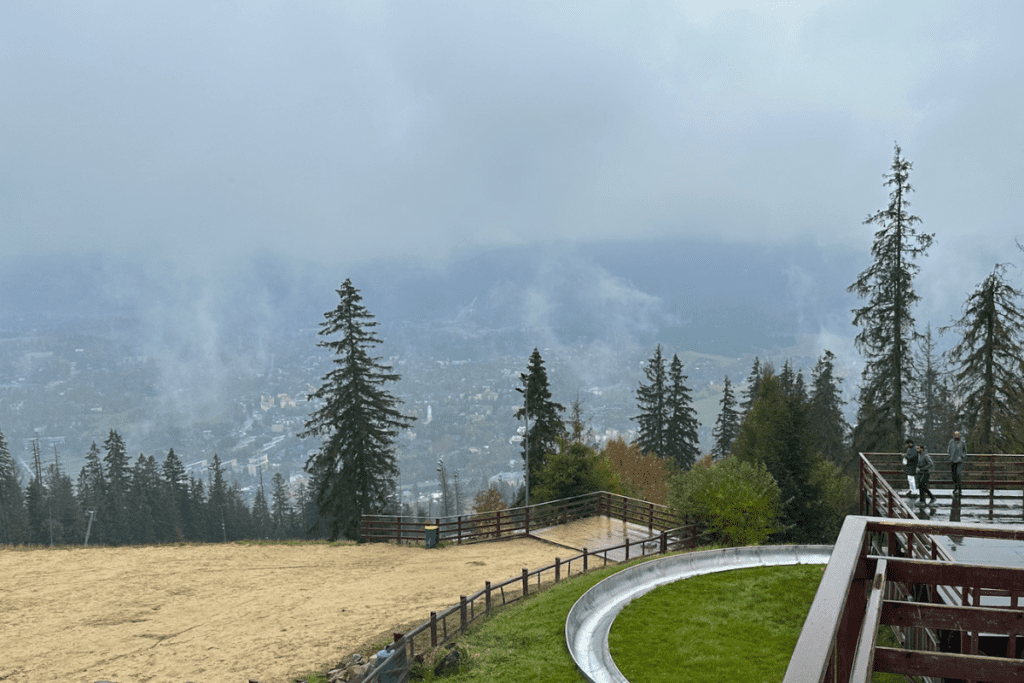 Photo Credit: Kristin, Global Travel Escapades
If you're looking for a wonderful lesser-known place in Europe to visit with your kids, consider heading to Zakopane, which is not far from Krakow. Here, you'll find that the village has all kinds of family-friendly activities and offers breathtaking views that your little ones will surely love.
For example, one place you'll want to definitely make sure to visit is Gubałówka Mountain. On top of the mountain, you'll not only catch the most amazing views of the town below but also discover a nearby street lined with hundreds of different carnival-like stalls. There are even ropes courses and other adventure activities available for little ones to help burn off any excess energy!
Alternatively, if your family prefers to spend more time in the great outdoors, Zakopane is also a lovely place to go hiking. Within the small town, there's a wide assortment of hikes through the Tatra Mountains that accommodate any level of difficulty!
Thus, if your family is ready to travel off the beaten path, then consider checking out the beautiful town of Zakopane. And, for places to stay, be sure to check out the Aries Hotel and Spa! It's a great hotel that will offer everything you need to fully relax after a full day of exploring!
Vik, Iceland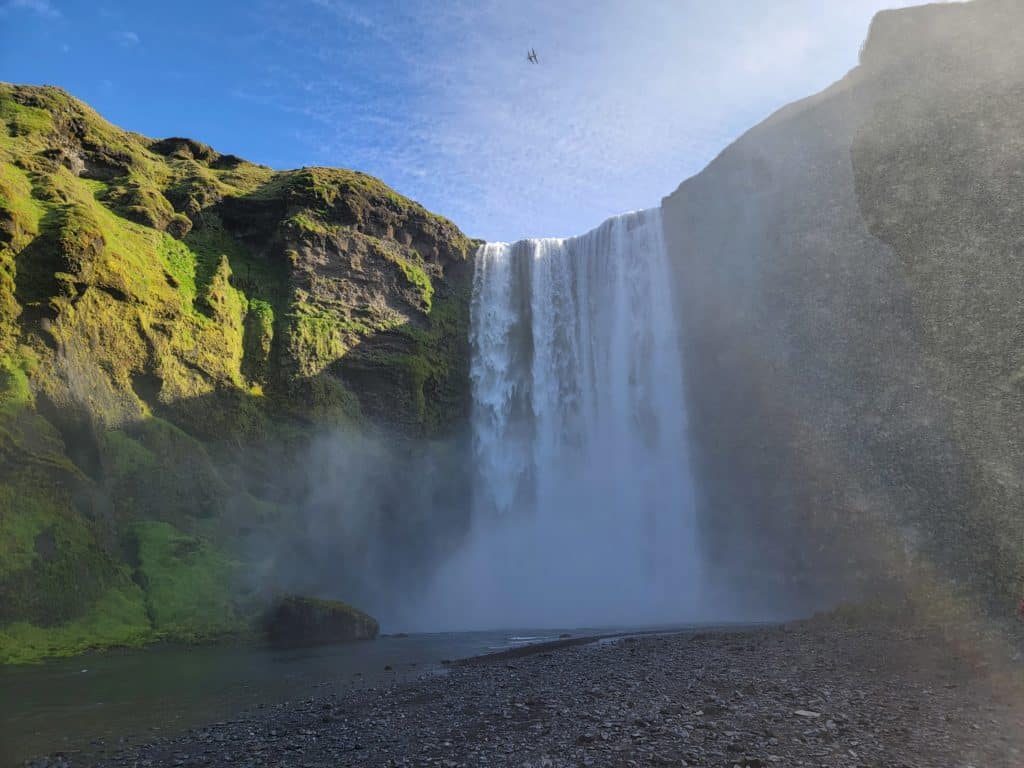 Photo Credit: Amber, Get Lost in Wanderlust
Iceland is known for its breathtaking landscapes and waterfalls. The charming village of Vik is a fantastic place to stay in Iceland. Vik is located 2.5 hours from the capital of Reykjavik and is an easy, yet scenic drive.
There are many things to do near Vik. On the drive to Vik, two must-stop locations are Skogafoss and Seljalandsfoss. These are two of Iceland's most impressive waterfalls, and they are also very easy to visit with kids as you can park right near the falls.
Once in Vik, a fun family activity is visiting the Lava Show. This is a great activity for older kids that are interested in volcanos and seeing what lava looks like! Iceland is also famous for Icelandic horses, and Vik Horse Adventures offers fun 30-minute kid-friendly horseback rides for kids 6 years and up. For Star Wars fans, check out the Yoda cave. The cave is shaped like Yoda and was a filming location for Rogue One. It's located 15 minutes outside Vik and is easy to visit as you can drive up to it.
Staying in Vik is a great option while exploring south Iceland. Black Beach Suites, located just outside of Vik offers apartment-style accommodations with fantastic views. Hótel Kría is another great option in the center of town.
If you continue east along the Ring Road, make sure to check out Glacier Lagoon. Here you can see giant icebergs, and even take a family-friendly boat tour around the lagoon.
Hamburg, Germany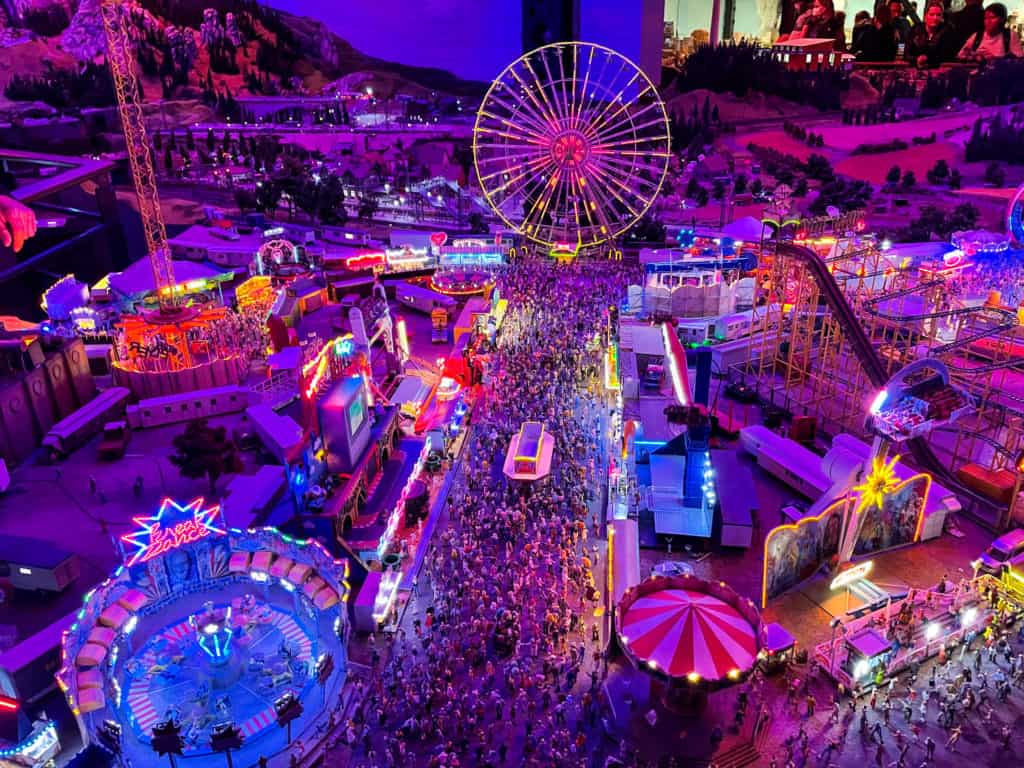 Photo Credit: Phil, JOURNICATION Travel Blog
Things To Do In Hamburg With Kids
There are lots of things you can do with your kids in Hamburg during vacation. For instance, there is Miniatur Wunderland. This is the perfect spot for adults and kids. Without any doubt, your kids are going to love what it has got to offer. Apart from its unique surface area and landscape, its technology has caught the eyes of tourists over the years.
This model railway as well as airport attracts thousands of kids and adults every month. It contains around 1300 trains and 10,000 vehicles. Furthermore, there are over 130,000 trees, 500,000 lights, and many more. Your kids can explore its rail system which is the most attractive. Also, they will be blown away after checking out its airport. This gives them the chance to see planes landing and taking off. The activities here can keep your kids busy all day.
Do you plan to spend one day in Hamburg with your kids? If that is the case, you will need to make plans for hotel accommodation before exploring Miniatur Wunderland. A great option is Premier Inn Hamburg City. This hotel is affordable and has all the necessary facilities to make you and the kids comfortable.
Rudesheim, Germany
Photo Credit: Morgan Fielder, Crave the Planet
Rudesheim Germany is a place for families, outdoor lovers, hikers, and people who want to experience the magic of dozens of medieval castles all located within one short stretch of the Romantic Rhine River. There is a castle or castle ruin on average every 2.5 km along this steep river gorge.
This weekend getaway close to Frankfurt or Luxembourg is located at the mouth of the UNESCO Upper Middle Rhine Valley and is home to 40 castles and castle ruins dating back to the 13th century. Here's a Rhine River Castles google map with all of them listed.
The coolest thing to do for the kids is to book a stay at the castle hotel called Burg Schoenburg. They have a garden to run around in, a tower you can climb that has a toy trebuchet, a little crossbow range and delicious food. It's fun and lovingly restored to medieval glamor for the whole family to enjoy.
Beyond the castles, you can experience a hop on, hop off boat tour with your kids or ride one of the multiple gondolas that sail over the top of perfectly lined up vineyards. The hikes around town are stroller and wheelchair friendly. They also include interactive and educational outdoor exhibits that engage kids to learn more about the history of the area.
The city has many paid car parking lots and a train station with easy connections to Frankfurt.
Check out the best things to do in Germany for more information.
Munich, Germany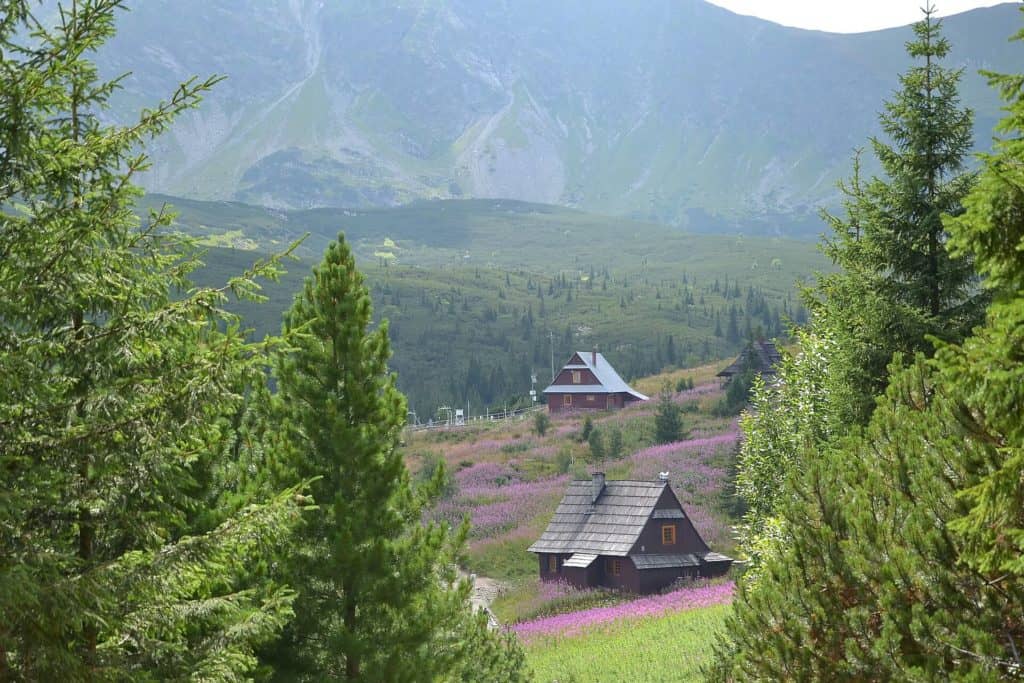 Photo Credit: Anna from Expat Travel
Munich has impressive museums, squares, and green spaces, but the best thing about making it your family vacation destination is the location. As the capital city of Bavaria, Munich gives you easy access to day trips among majestic lakes, forests, mountains, and castles.
Expose the kids to world-class museums in Munich. Even young children will grow up appreciating that they have had the chance to see masterpieces by great artists such as da Vinci, Rembrandt, and Reubens. See them at Munich's Alte Pinakothek museum, and view more modern art at the Pinakothek der Moderne.
Older kids, teens, and car enthusiasts will be amused at BMW World. Part museum and part showroom, it's a unique experience. Take selfies with classic cars and motorcycles, and "drive" using gaming consoles. Adults will find the documents tracing the rise and fall of Nazis and Hitler interesting.
Just out of town, kids will find the 17-century Schloss Neuschwanstein jaw-dropping. Said to be the picture-perfect castle, it was the inspiration for Disney's Sleeping Beauty Castle. Almost as impressive is the Schloss Elmau, a 20th-century castle about an hour south of Munich. Adding to its charm is the 1600 acres it sits on in the Bavarian Alps, a place for luxury lodging with spas and planned children's activities.
Andalucia, Spain
Photo Credit: Linn Haglund, Amused by Andalucia
If you are looking for a unique place to travel with kids, look no further than Andalucia in southern Spain. The region offers such a wide variety of activities and fun things to do that your kids will stay entertained for weeks to end.
With over 320 days of sunshine a year, there is nothing in the way of spending time on the beaches. Especially on Costa del Sol, you will find everything your kids can want from a beach with jumping castles bobbing in the water, volleyball nets, and beach bars where you can get lunch and cold drinks.
Head to Nerja for exceptional snorkeling and kayaking opportunities in the clear water, or go surfing and whale watching on the Cadiz coast. There are also a whole lot of kid-friendly villages near Malaga that the whole family will love. To mention a few, Juzcar, is a blue-painted mountain village with a Smurf theme that the little ones will love, A little further in the mountains, a tiny village called Parauta, has a fairytale trail in the forest where the kids can explore little houses in the trees and fun fairytale statues.
In the Alpujarras in Granada, there is a witch-themed village with spooky statues and a Hansel and Gretel House along a "witch trail" that is fun for the whole family. A good base for families is Malaga. Stay at the Soho Boutique Equitativa in the city center.
Costa de Sol, Spain
Photo credit: Cristina, My Little World of Travelling
Costa del Sol is well-known for its fantastic summer holidays for everyone, especially for families looking for fun kid-friendly activities and creating moments with their little ones.
Within Costa del Sol, some of the best coastal towns for families are Torremolinos, Benalmadena, and Fuengirola. No matter which one you stay, you will find many activities to do with kids. However, it is recommended to rent a car so you can move with ease between these towns and attractions.
Benalmadena is the winner for kid-friendly attractions. For animal lovers, head to Sealife and Selwo Marina, where kids can see and learn about marine animals. For adventure seekers, take the cable car to Mount Colomorro, where you and your family can enjoy fantastic views of the coast and see eagles and other birds.
Other popular things to do in Benalmadena with kids are going to Butterfly Park and La Paloma Park. The latter is free and a fantastic place to enjoy a picnic surrounded by green spaces and small animals like chickens, rabbits and parakeets which run freely around the park.
If you plan to go to Costa del Sol in the summer months, your kids will also have the opportunity to enjoy waterparks and water activities at the beach. The best waterpark in the area is Aqualand, located in Torremolinos.
North Wales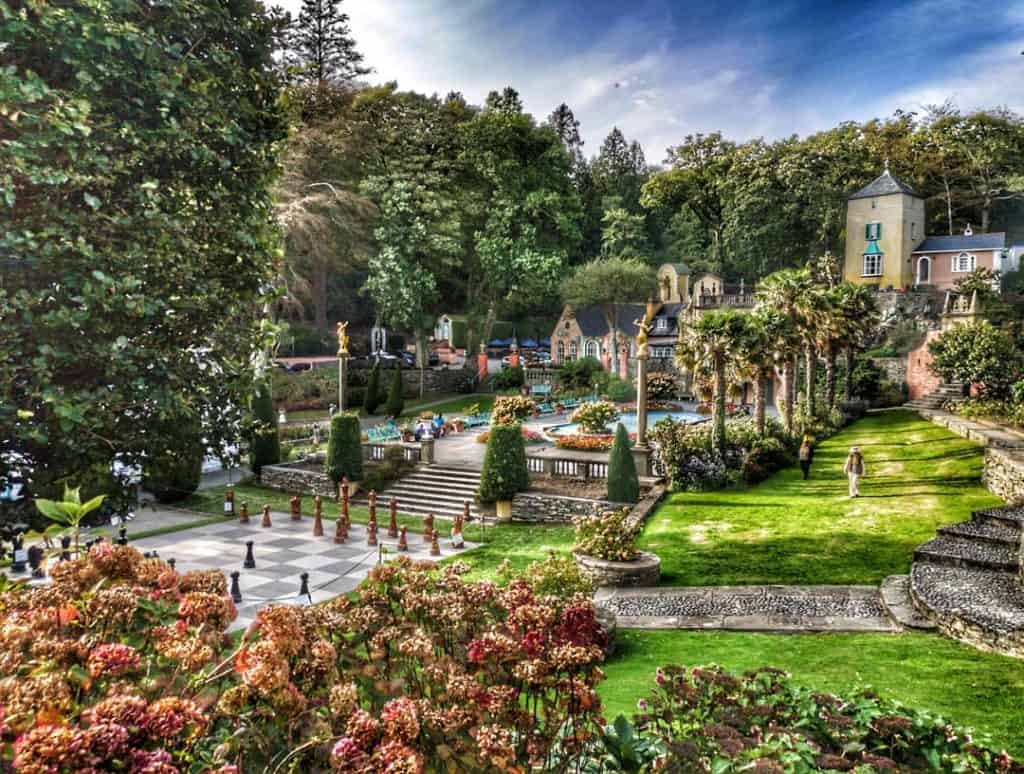 Photo Credit: Paulina, the UK Every Day
Underground playground inside a massive slate cavern where kids can jump on the trampoline or experience the world's fastest zip line in North Wales are only a few ideas of spending an unforgettable time with family in Europe.
For adventurous kids, this region has plenty of attractions such as river bugging or Zip World Forest Safari. Moreover, this country is famous for its beautiful water cascade where kids can swim in shallow pools alongside some of the best waterfalls in Wales.
Younger kids will love the train ride at Gypsy Wood Park or the beautiful village inspired by Italy – Portmeirion. The colorful and unusual buildings of this region and plenty of space for kids to run around allow for spending an unforgettable day in Wales.
This country has everything from beautiful mountains, sandy beaches, and ancient woodlands to plenty of indoor attractions. Welsh Mountain Zoo set in picturesque scenery over Colwyn Bay is a great place to see some rare species from various parts of the world.
There are also other locations in North Wales, where you can see animals in their natural environment. Head to Porth Dyniewaid Angel Bay for seal spotting or visit Puffin Island just off the Anglesey Isle. For a comfortable stay, book accommodation at Wild Pheasant Hotel & Spa situated in the lovely scenery of North Wales.
Gothenburg, Sweden – Sweden Vacation with Kids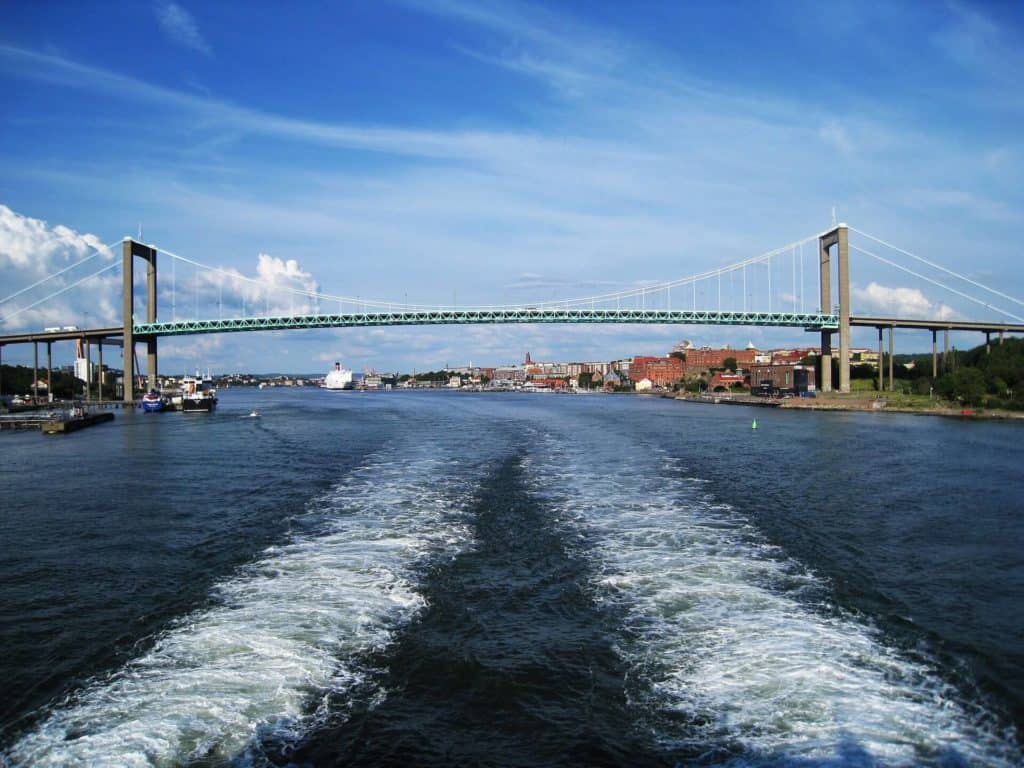 Photo Credit: Anna from Expert World Travel
Lodging and amenities are less costly in Gothenburg than in Stockholm. Families can save money and still experience the culture and history of Sweden. You'll have access to top-rated museums, green spaces, and amusement parks. Sweden offers may things to do with kids, including Slottsskogn which is the largest park in the city. It includes a zoo filled with Nordic animals like Gute sheep and elk. Kids get a chance to ride the Gotland ponies. Admission to the park is free!
For bumper cars, roller coasters, and lots of other amusement rides, kids love Lisenberg Park. This park actually has more acreage and flowers than Tivoli. Some rides, like the pony merry-go-rode and boats, are free for tots. The park also has a hotel on the property for lodging.
At Universeum, the largest of its kind in Scandinavia, kids can see creatures from the North Sea, conduct experiments in the chemistry lab, and walk through a simulated rain forest. For more nature, visit the Naturhistoriska museum boasting the world's largest mounted blue whale.
Take a day in Gothenburg to head out of the city and ride the ferry out to Carlsten's Fastening, a 17th-century reenactment fortress.
Prague, Czech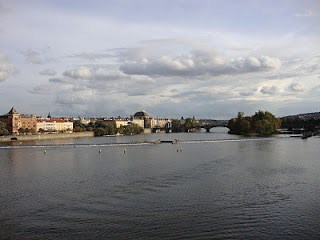 Photo Credit: Anna from Expert World Travel
The Czech Republic's capital and largest city has a number of activities families with children will enjoy. The kids will have a blast on a steamship ride to the fabulous Prague Zoo, said to be one of the world's most beautiful zoos.
The National Tech Museum at Letna has exhibits of high interest to children with an old steam locomotive and antique cars, motorcycles, and planes.
Be sure to sample the fresh pastries sold around town at shops like the Erhart Pastry Shop and the Mysak Cake Shop on Vodickova street. After riding a historic tram and visiting the Zizkov TV tower's observation deck, plan some exciting day trips outside the city.
Cesky Krumlov is a UNESCO World Heritage site located 106 miles south of Prague. The picturesque town with cobblestone streets is nestled in the bend of the Vltava River. It's home to the Krumlov, a hilltop castle from 1302 featuring a marble chapel, tower views, and a Baroque theater. Kids can learn to write with a quill along with other medieval skills on a tour of the monastery.
Thirty miles north of Cesky Krumlov, the Sumvara National Park has hiking trails that wind through a forest with centuries-old trees, lakes, and waterfalls.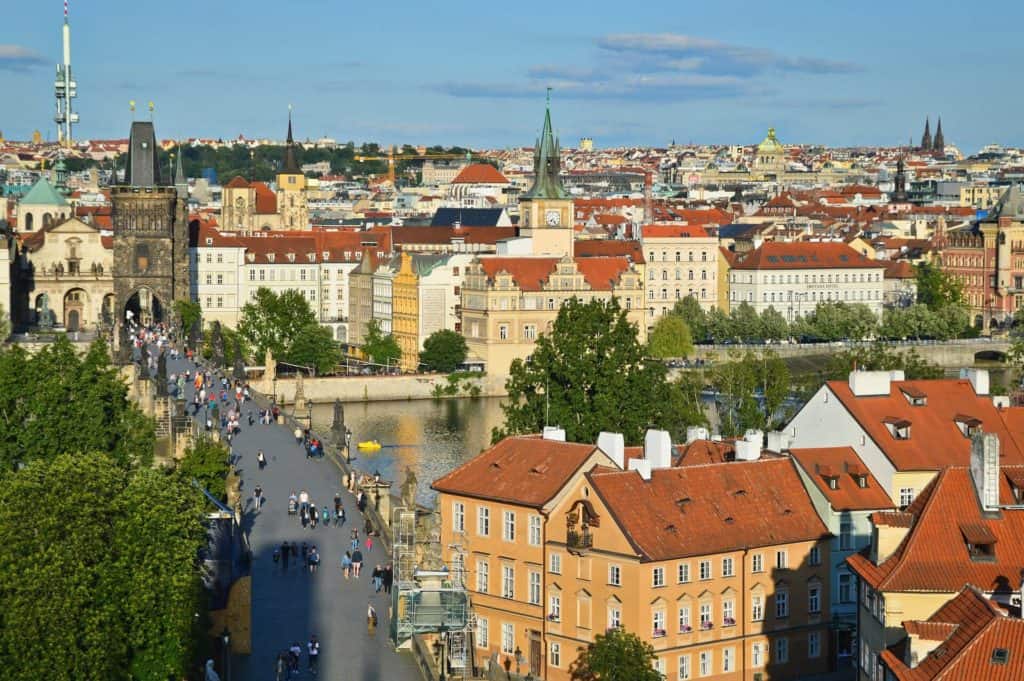 Krakow, Poland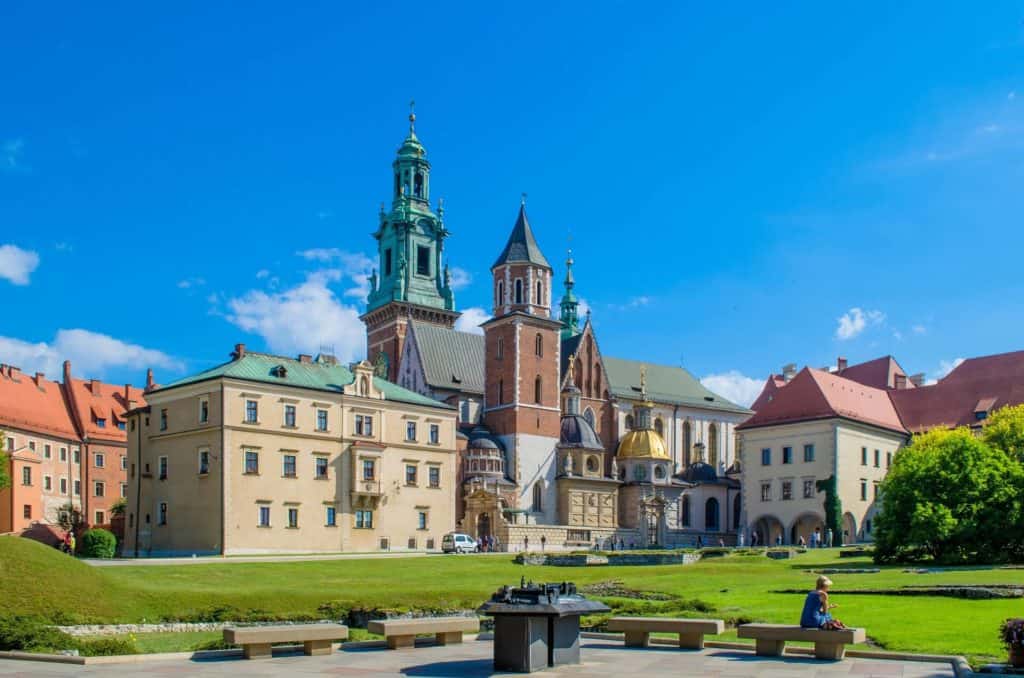 Photo Credit: Anna from Expert World Travel
The whole family will love the fairy tale look of historic Krakow with its pastel-painted buildings, large market square, and hilltop castle. Wawel Castle, once the home of Polish kings, sits on a hill squarely in the middle of Krakow. It's been a museum since 2019 and features wonderful old tapestries sewn with threads of pure gold and an important collection of Renaissance artwork.
Krakow is a great town for foodies to visit. In 2019, it was given the title of European Capital of Gastronomic Culture. Sampling the local bagels called Obwarzanki is a must, and kids can learn to make their own at the Muzeum Obwarzanka.
Take a break from walking with an hour-long cruise on the Vistula River with scenic views before touring the underground tunnels at the Wieliczka salt mine. It's sure to be a unique experience for youngsters of all ages as they walk through rooms and chapels with sculptures carved from solid salt.
Spend a day exploring the Tatra mountains with a trip to Zakopane, a ski and hiking tourist town where snow-capped peaks form the Slavokian border.
Dubrovnik, Crotia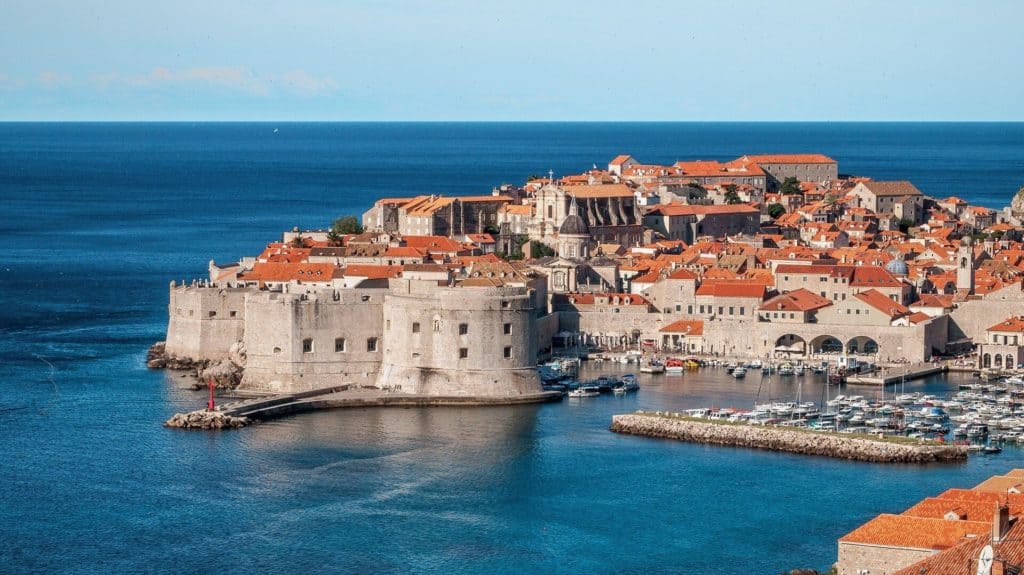 Photo Credit: Anna from Expert World Travel
Less than a day's drive from Krakow, Dubrovnik is Croatia's favorite tourist destination. If you're traveling with a gaggle of Game of Thrones fans, you'll want to see a few of the 19 sites around the city used as sets. Begin with the Pile Gate and Fort Bokar. Both are part of the city's medieval walls. Walk the path atop all the way around for a view of the Adriatic Sea and Dubrovnik's red-tiled roofs, some dating back to medieval times.
The kids will enjoy touring the Old Town with street performers and delicious treats like arancini, sugared orange grinds, and makaroni, a macaroni cake. If you're here from mid-July to mid-August, the town hosts a spirited summer festival with music, theatre, and dance.
Don't leave Dubrovnik before spending a day or two on the beaches. Copacabana Beach on Babin Kuk Peninsula is a good choice. It's a pebbly beach, but good for playing and kayaking. For a sandier beach, try Sunj Beach at Lopud Island, a 50-minute boat ride away.
Amsterdam, Netherlands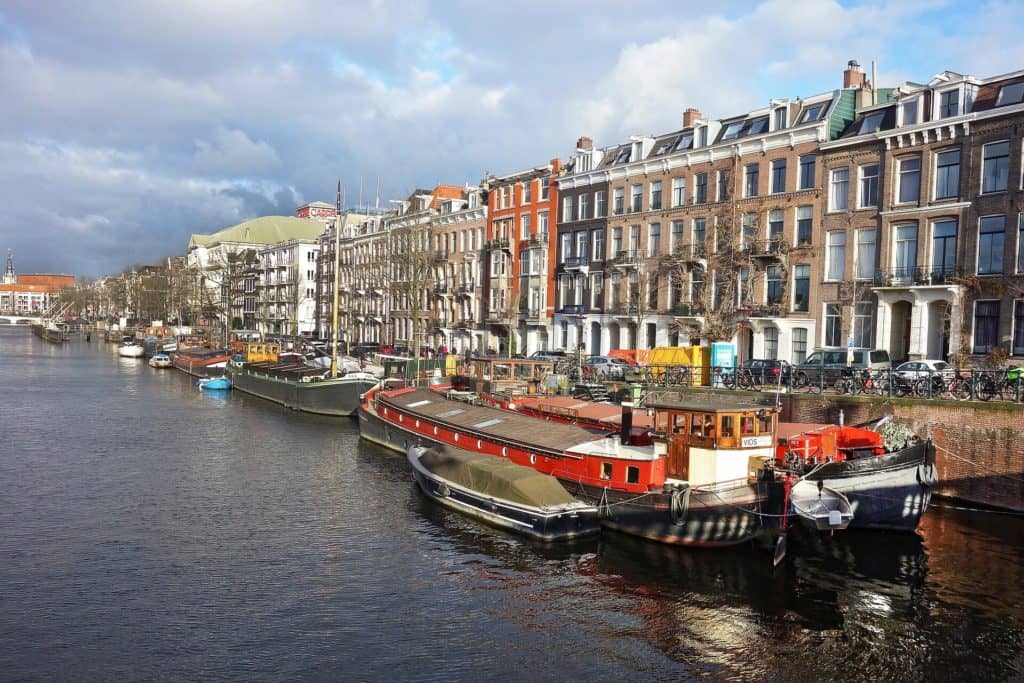 Photo Credit: Anna from Expert World Travel
Once in town, you'll see why Amsterdam is one of Europe's most popular cities to visit with children. It begins with several Speeltuinen, whimsical playgrounds scattered around the city, each with its own unique flavor. Kids will be delighted to discover the "hidden" playgrounds.
Consider purchasing a Museumkaart for access to Amsterdam's museums such as the Rijksmuseum and the Van Gogh Museum without standing in long lines. Take in all the delights of the Netherlands at Madurodam, a theme park that's like a shrunken replica of the whole country.
Be sure to check out the ARTIS Amsterdam Royal Zoo centrally located in the city. It features over 750 different kinds of animals and emphasizes animal protection and conservation.
You'll find so much to do within the city of Amsterdam, but don't leave before spending an afternoon in the Amstelpark outside of town. It features a huge playground, petting zoo, and a theme park with rides.
With so many great cities in Europe that cater to kids, choosing one to visit can be daunting. Of course, there are more prominent cities like London and Paris, but this list was created for a more unique European experience.
Whether you take public transportation around to explore or find other ways to get around, you are sure to have a great time.
Pin for Later: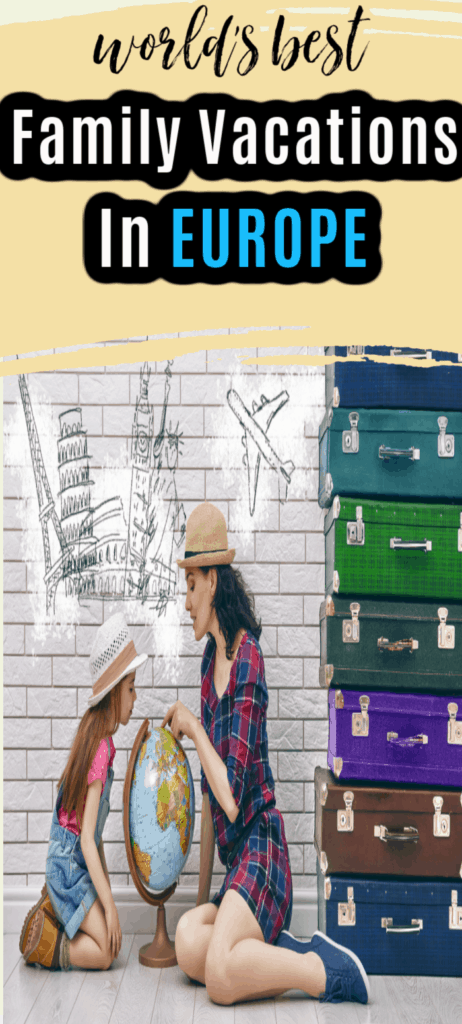 2023 Update: Originally written in 2020 by Anna from Expert World Travel. Anna was born to travel the world having studied languages all her life. Although she has traveled the world, she now calls Switzerland home and has provided us with the ins and outs of exploring Kid-Friendly Destinations in Europe! You can follow her on Facebook, Twitter and Pinterest. Anna gave us insight on: Copenhagen, Gothenburg, Prague, Krakow, Dubrovnik, Munich, Zurich, and Amsterdam. So we decided to ask other parents for advice on new cities.