If you are looking for an amazing experience, Hiking the Skyline Trail in Cape Breton is just the ticket. This easy hike provides amazing views coupled with plenty of chances to see wildlife and is a great experience for the entire family. Erin and her best friend toured the Cape Breton Trail and highly recommend the Skyline Trail as a Must See Activity if you are visiting the Cabot Trail.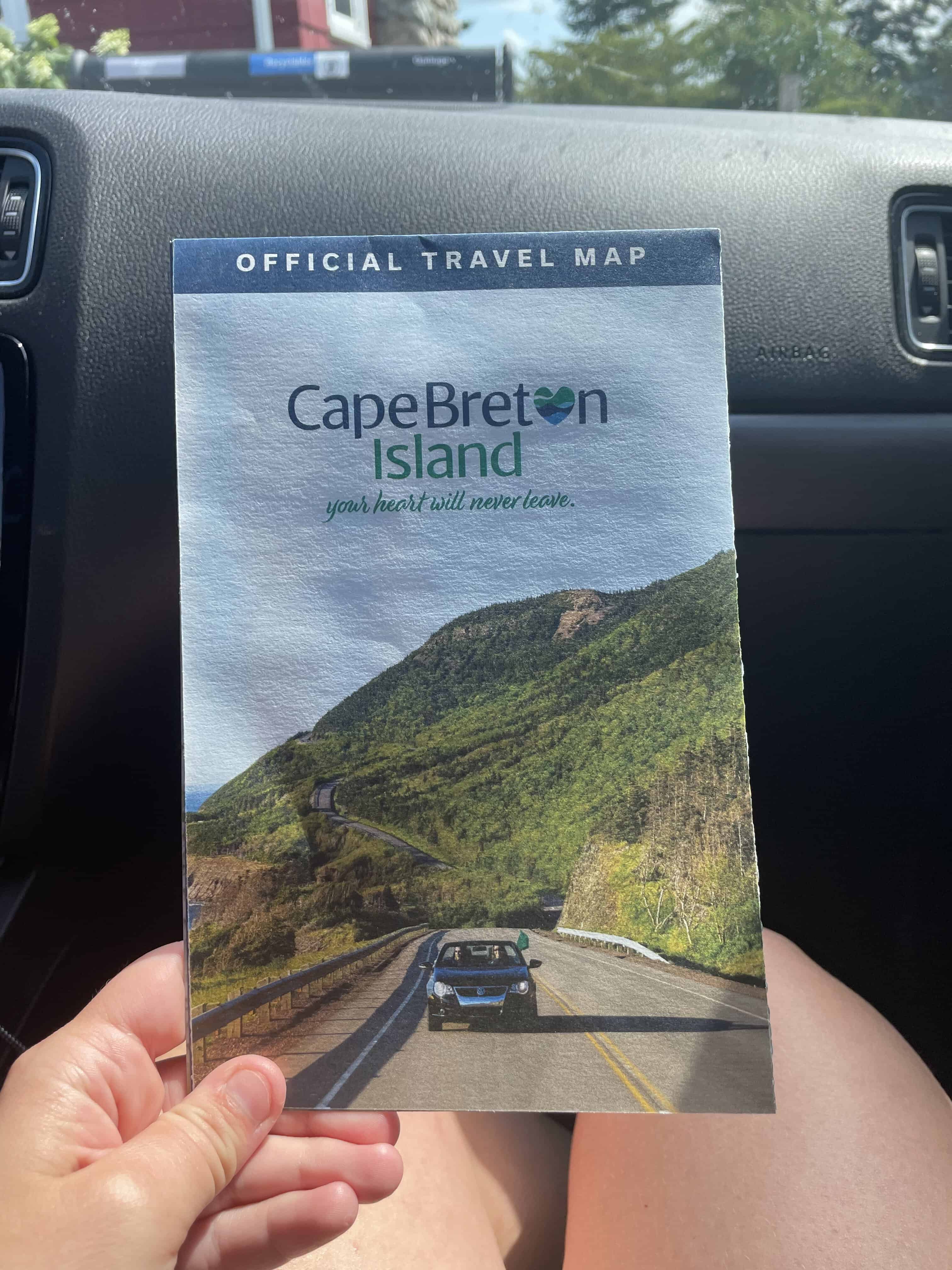 Hiking this easy trail is a wonderful way to experience the beauty of Cape Breton. With beautiful views of the Cabot Trail and the Gulf of St. Lawrence, your entire family can enjoy this hiking experience. In fact, the Skyline Trail is perfect for sunset hikes, a great vantage point and scenic views.
The skyline trail is family-friendly as the entire trail is flat, mainly dirt and some sections of boardwalks. However you will want to keep younger kids close by as there are some cliff edges along the trail.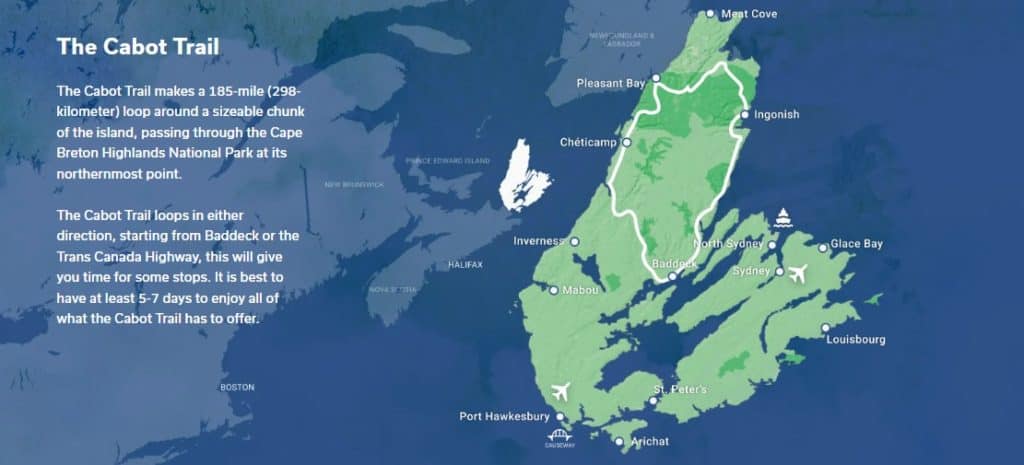 Where is the Skyline Trail in Cape Breton?
The Skyline Trail in Cape Breton is located in the Cape Breton Highlands National Park which is part of the Cabot Trail Loop. This is one of Nova Scotia's most enthralling locations. With over 950 square kilometers of gorgeous wilderness, this gorgeous national park allows you to choose from several hiking trails, experience stunning views and more. 
The Skyline Trail is one of the most exciting hikes. It runs along one of the most beautiful stretches of highway in the entire world. Lying on the western side of the Cabot Trail, near French Mountain's summit, can be accessed from the large parking area near the trailhead.
To access the Cape Breton Skyline Trail, you will need to pay a park entrance fee or have a Parks Canada Pass. This is the best way to gain access to the trails.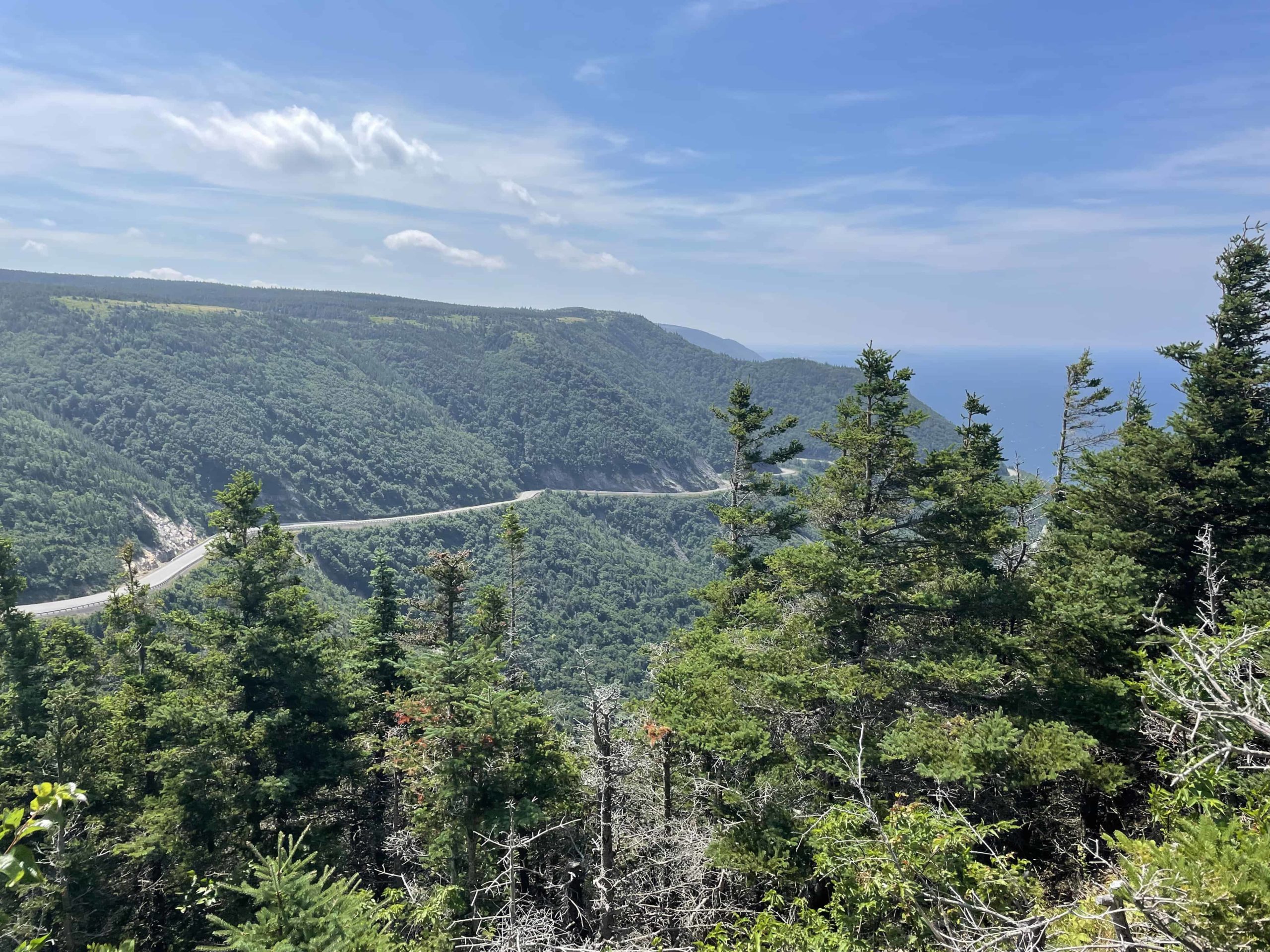 How Long is the Skyline Trail in Cape Breton?
This Cape Breton Hiking trail actually varies in length. If you choose to do the return hike, it is approximately 6.5 kms long. If you decide to do the entire Skyline Trail loop the trail length adds up to 8.2 kms.  No matter what you choose, the trail is somewhat easy to moderate to navigate and is generally level. 
The trail can feel even longer on a hot day as Erin hiked the trail in above 30C and highly recommends bringing lots of water.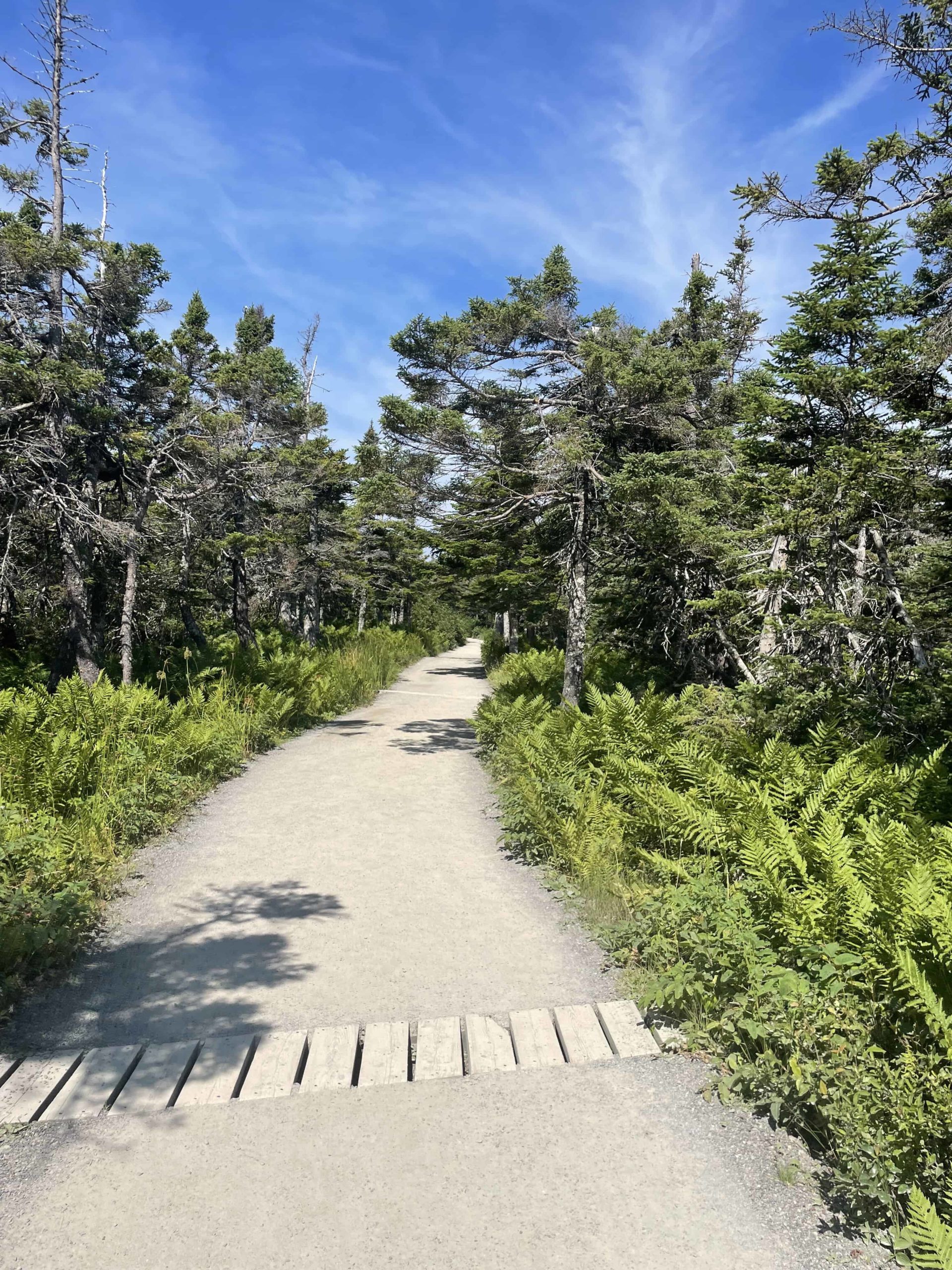 How Long Does it Take to Hike the Skyline Trail?
Of course, how long it takes to navigate this Cape Breton Trail varies based on speed. However, generally speaking, it takes approximately 2 hours and 46 minutes to complete. It is a good idea to pack some refreshments and wear good shoes. While it can take 2-3 hours to hike, it does depend on whether you are going for the entire loop or just the return hike.
How to get to the Skyline Trail?
The Skyline Trail is located in the Cape Breton Highlands National Park. Between the towns of Pleasant Bay and Cheticamp, on Cape Breton Island, This beautiful trail is generally easy to get to. The parking lot is located just north of Cheticamp on the Cabot trail. Once you arrive at the parking lot, you can access the Skyline Trail by taking a short walk through a short path.  You will also cross through a fenced area that is designed to keep Moose out.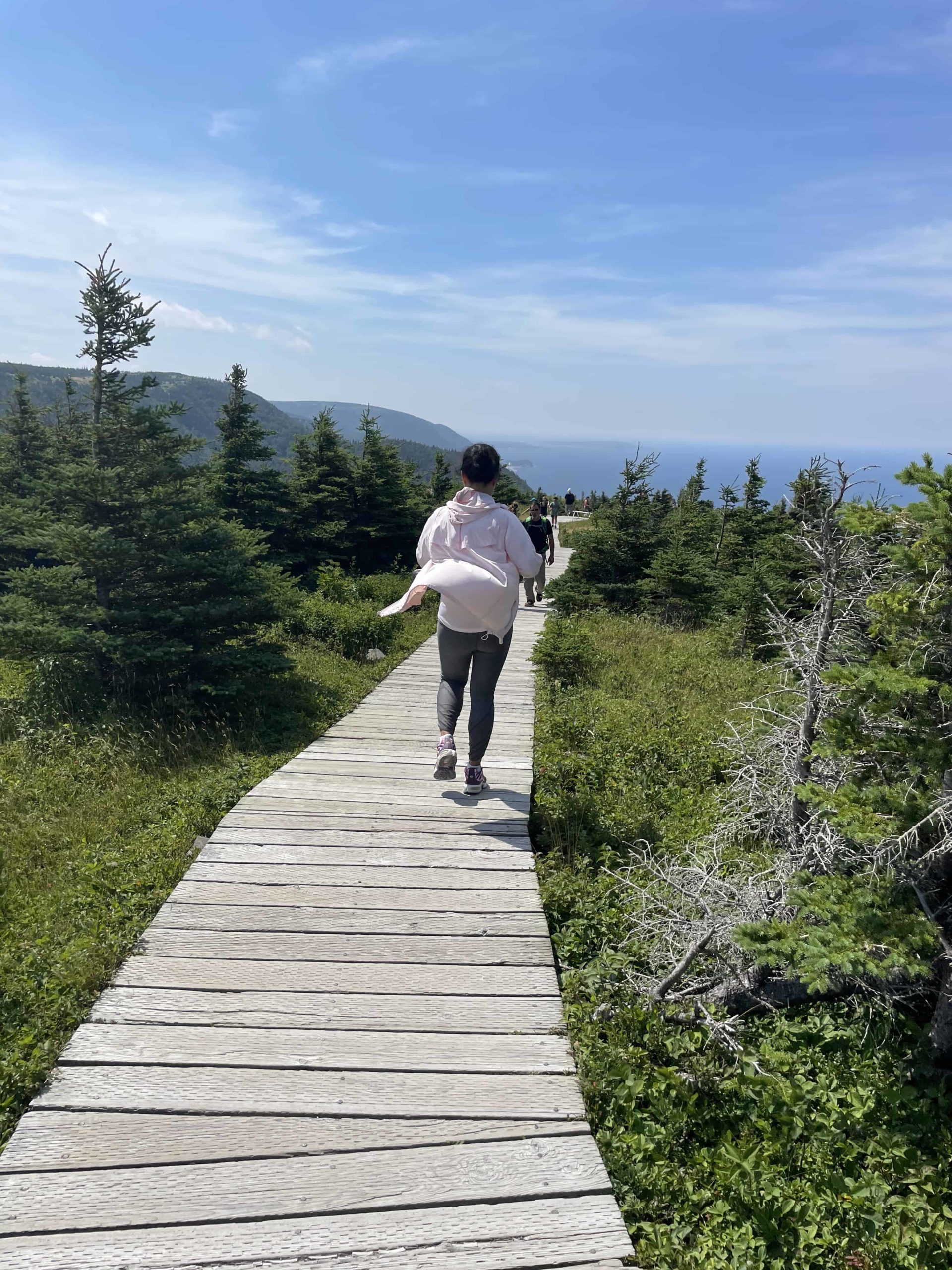 Tips for Hiking the Skyline Trail
Be Prepared for it to be Busy
The skyline trail is one of the most popular hiking spots on the island of Cape Breton. It is important to note that it can get extremely busy. Depending on the season or day of the week, you may find the trail becomes a little congested on the boardwalk so it is a good idea to plan your hike for a weekday. One of the first things to note is the huge parking lot. If it's full, chances are the main trail is quite busy.
Pay Attention to Safety and Rules
There are no railings on the boardwalk on the Skyline Trail. Keep in mind that there are some areas along the boardwalk with steep drop offs. You will want to ensure that you keep your children away from the edge. Fines can be issued if you stray from the boardwalk.
There is plenty of wildlife in the Cape Breton Highlands National Park. It is a good idea to keep your eyes peeled. While it is unlikely that you will run into a moose while hiking the trail, be aware of your surroundings.
Pack Some Snacks and Beverages
Make sure to bring plenty of snacks and water. The hike can last up to 3 hours, so you will want to have something on hand, especially if you're hiking with kids.
Go the Bathroom Before you Go
There are no bathroom facilities located along the trail so make sure to use one of the vault toilets located along the edge of the parking lot before you get going.
Choose Good Footwear
Wear really good hiking boots to tackle the Skyline Trail. While the trail isn't overly difficult to navigate, you aren't going to want to wear open toed shoes.
Pack Bug Spray
Bring along some bug spray on your hike. This is especially true if you are hiking in the spring or summer. There are plenty of bugs along the trail, so you will want to protect yourself.
Bring Along Money
The Skyline Trail is located within the Cape Breton Highlands National Park. This means there is a fee to enter. You can either buy a day pass, or buy a Parks Canada Pass for access.
Where to stay near the Skyline Trail
There are several places near the Skyline Trail in Cape Breton where you can stay. The trail is located close to the Cheticamp Campground where you can camp, or even glamp in a oTENTik.
You can also stay at the Corney Brook Campground. It is a small campground that has no reservation and no facilities, making it first come first serve. If you enjoy an authentic camping experience, this is a great place to stay.
There are also several places to stay in Cheticamp or Pleasant Bay if you want to take a road trip.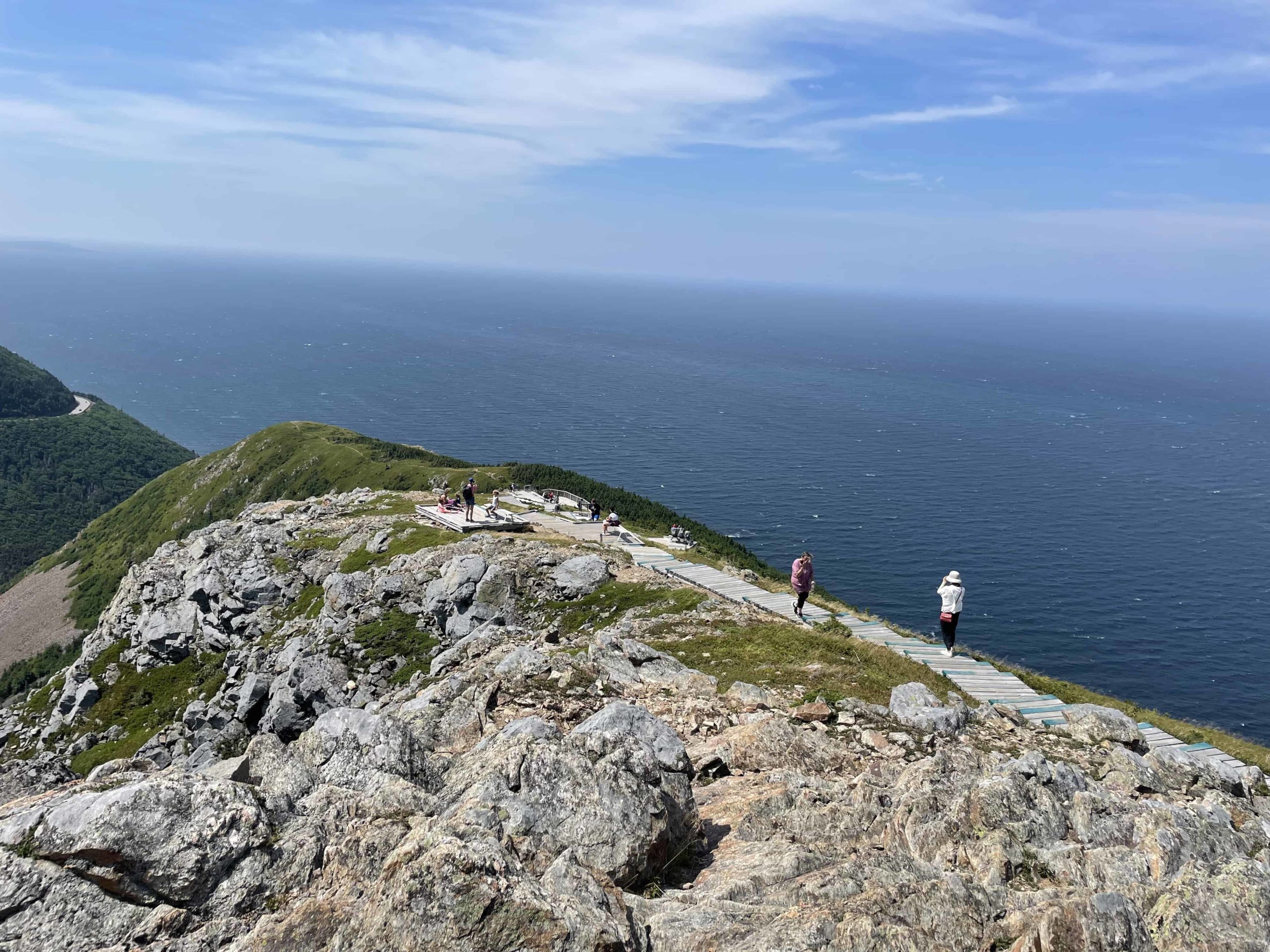 Best time to Hike the Skyline Trail
The best time of day to hike the Skyline Trail, is at sunset. Especially if you visit on a clear day. The crowds dissipate and the west facing views are absolutely stunning. Plan your hike to take place just before sunset so you can enjoy great views, lesser crowds and more. This will give you plenty of room to navigate the boardwalks to reach the viewing decks.
Hikes Near the Skyline Trail
If you are looking for other great hikes to experience near the Skyline Trail, there are quite a few. There are trails of varying difficulty and more that you can choose from.
Le Buttereau Trail
Inverness County, NS B0E 2P0 – Le Buttereau Trail overlooks the Cheticamp River and the Gulf of St. Lawrence. You will trek through forests and fields to a small hill to enjoy amazing views. This trail is generally short and takes about 40 minutes to finish.
Corney Brook Trail
18573 Cabot Trail, Petit Étang, NS B0E 2M0 – Corney Brook Trail is a great place to see a waterfall and gorgeous forests. This trail is about 6.5km and takes about 2 hours to complete. You will follow a stunning brook toward an amazing waterfall and loop back around.
Benjie's Lake
National Park, Cabot Trail, Pleasant Bay, NS B0E 2P0 – Benjie's Lake is a fantastic hiking experience. This short hike is located just past the Skyline Trail. There are boardwalks, forests and an amazing opportunity to enjoy nature. In fact, you may even see a moose.
Gypsum Mine Hike
Cheticamp Back Rd, Chéticamp, NS B0E 2M0 – The Gypsum Mine Trail is located just outside the National Park. This is a stunning hike complete with a difficult climb up a dirt path. Once you get to the destination though, it is worth the hike. After you navigate the trail and the dirt path, you will end up at the old gypsum mine, that is now filled with water. You can even take a swim if you so choose.
The Cape Breton Skyline Trail is a popular hike to take when in Cape Breton. Whether it is your first time visiting this great spot or you have been before, you are sure to feel a sense of accomplishment when you reach the end of the trail.
You will love the spectacular views of the Cabot Trail, enjoy a sunset moment and love the wooded areas. This hike is a must take while in Cape Breton.