From shopping for a special birthday gift to refreshing your closet there always seems to be something to be out shopping for.  But what are the options for Shopping Malls in Brampton or Outlet Malls in Brampton?  There are 3 major shopping malls in Brampton that have a combination of big name stores and independent retailers as part of them.  No matter if you want to do window shopping or have a list to cross off, you will be able to find what you are looking for at the Brampton Outlet Malls or Brampton Shopping Malls.
Best Malls in Brampton
Bramalea City Centre

Shoppers World

Trinity Commons
Looking for outlet malls?  Keep going, they are listed below the Malls.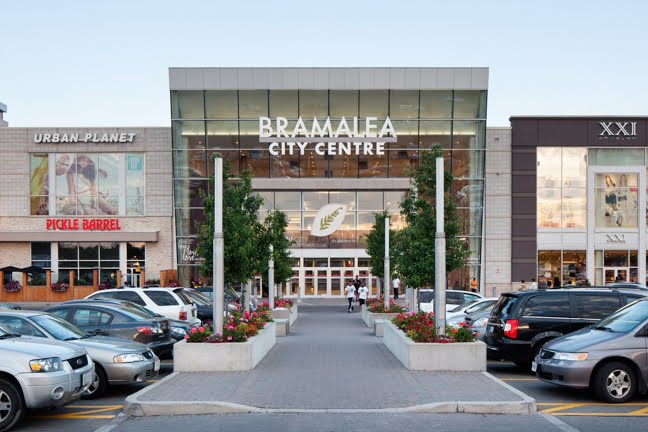 Bramalea City Centre
Location: 25 Peel Centre Dr, Brampton, ON L6T 3R5
Number of Stores: Over 300
Bramalea City Centre (BCC) is Brampton's largest mall, with an impressive expansion in 2010, it offers 1.5 million sq. ft of shopping paradise.  This 2 level mall features department stores, groceries, big name retail stores, and pop-up shops.  If you are looking for a traditional department store then you will be headed to the The Bay located on the East side of the mall. You will find all sorts of electronics at Best Buy on the upper level of the south side of BCC.  If clothing is what you are looking for then head to H&M, Old Navy, Roots, Forever21, or Urban Planet just to name a few. Need to grab some groceries while you are out then Metro will have what you are looking for.  There is also a large food court as well as many other restaurants including The Keg and Moxie's that are located in stand alone buildings around Bramalea City Centre.  You can find the full BCC Store Directory to check out the details for your favourite stores.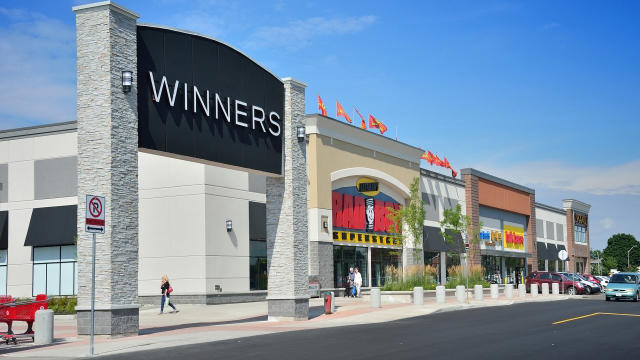 Shoppers World
Location: 499 Main St S, Brampton, ON L6Y 1N7
Number of Stores: 190
Located on the South side of Brampton Shoppers World offers a variety of stores both inside the mall and shops with exterior entrances around the mall.  From outside you can access stores like Carters/Oshkosh, Bulk Barn, Staples, Jysk, Giant Tiger, Canadian Tire and Kitchen Stuff Plus Outlet.  Inside you will have access to Winners, Urban Planet, Dollarama, and Fabric Land to name a few shops.  You can find the full store directly and map on their website.  Also make sure you check out their events as they often have fun community events including craft workshops, paint nights, activities for kids and more.  And if you are feeling hungry there is a full food court, iSpoonful Buffet, or my personal favourite…. Cinnabon!
Trinity Commons Mall Brampton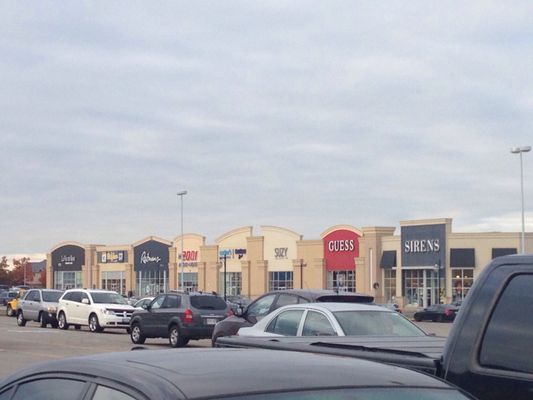 Location: 210 Great Lakes Dr, Brampton, ON L6R 2K7
Number of Stores: 60
Located in the North end of Brampton Trinity Commons Mall is an outdoor mall.  This expansive mall has a wide variety to do all types of shopping.  From shopping for home improvement and decor at Home Depot, Bath Depot, Ashley Furniture or Home Sense to picking up some clothing for yourself at Guess, Moore's, Marks, La Vie En Rose or Tommy Hilfiger Trinity Commons has it all.  Need a bite to eat then you can grab lunch at one of the many fast food restaurants located around the plaza, or enjoy dinner at Montana's, East Side Marios or more.  And don't forget to get a cool ice cream treat at Marble slab.  If it is entertainment you are after, then stop by Cineplex for a movie (and popcorn!).  You can browse the store directory to plan your visit, this is one mall you won't likely be walking to every store.
Outlet Malls near Brampton
Toronto Premium Outlets

Dixie Outlet Mall

Heartland Town Centre
EXTRA – While it's not a full outlet mall, Brampton is home to a  Siren's outlet located at 10086 Hurontario Street, across the street from Wal Mart.
Heartland Town Centre
Location:  Corner of Mavis and Britannia, Mississauga, ON
Number of Stores:  100+

Located just South West of Brampton Heartland Town Centre is an outdoor mall that spans across all 4 corners of the Mavis and Britannia intersection.  With a huge variety of restaurants and stores you will eat well while shopping.  They have everything from quick take out to specialty desserts spots.  If you know the stores you want to go to, make sure you check out the mall map, so you know which section to drive to.
Toronto Premium Outlets
Location: 13850 Steeles Avenue W.  Halton Hills, ON L7G 0J1

Number of Stores:  130+

Looking for an outlet mall with all the big brands?  Then Toronto Premium Outlets is your one stop shop.  Don't let the name fool you, it is not in Toronto, it is just West of Brampton on Steeles Ave.  With shops like Coach, Kate Spade, Aritzia, Under Armour, Michael Kors, Nike, Guess and so many more you can shop till you drop.
Dixie Outlet Mall
Location: 1250 S Service Rd, Mississauga, ON L5E 1V4
Number of Stores: 100+

Located 20 minutes South of Brampton in Mississauga Dixie Outlet Mall boasts over 100 different retailers for your perusal.  Stores include Nike Outlet, Urban Planet, Laura, Winners, Adidas Outlet, Calvin Klein, Aldo, Puma, Guess and more.  If you need some pampering you can get your hair cut or your nails done at the salons and spas within Dixie Outlet Mall as well.  This mall often runs fun events and activities such as wreath making, Drive-In movies in the parking lot and more so be sure to check out the events going on.
What is the biggest mall in Brampton?
The biggest mall in Brampton is Bramalea City Centre is home to 1.5 million square feet of retail space and more than 300 outlets. It is on the list of the Top 10 Largest Shopping Malls in Canada. Bramalea City Centre is home to stores such as: Hudson's Bay, Best Buy, Metro, FreshCo, Joe Fresh, Shoppers Drug Mart, Melonhead, Sport Chek, GoodLife Fitness, Old Navy, H&M, American Eagle Outfitters, Dollarama, Hollister, Sephora, Urban Planet, Aldo, Forever 21, Sunrise Records, West49, La Vie en Rose, Soft Moc, Journeys, The Body Shop, Ricki's.
Want to stay in the know with all things local?  Don't forget to join our locally focus Facebook group:  Peel Parents Resource