Dominion Gardens is located a few minutes from Downtown Georgetown. This park offers two beautiful pavillions perfect for a picnic, a playground, community garden, splash pad and a fun walking trail. Located only a few minutes away are many of my favourite local businesses including Silver Creek Socialhaus which is perfect to grab a beverage or even lunch, Mill Street Cheese Market which offers many varities of cheese and smoked meats (perfect for your next charcuterie board), and The Hooded Goblin which is my favourite local board game store. Come with us as we take a tour.
ONE OF GEORGETOWN'S BEST PLAYGROUNDS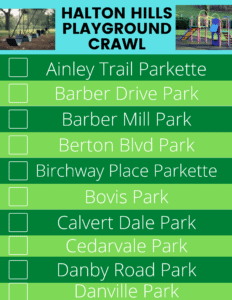 Join us in Completing a Playground Crawl – Click here for a Printable List of Playgrounds in Halton Hills 
Dominion Gardens Park
Location: map
Address: 118 Guelph St, Georgetown, ON L7G 4A3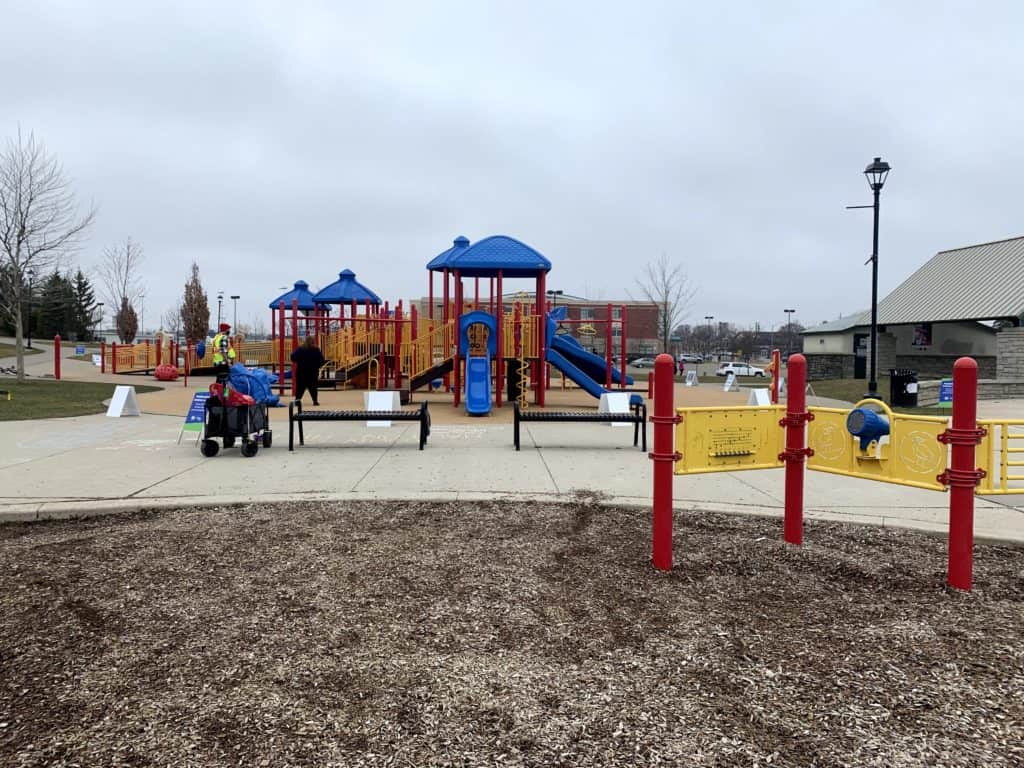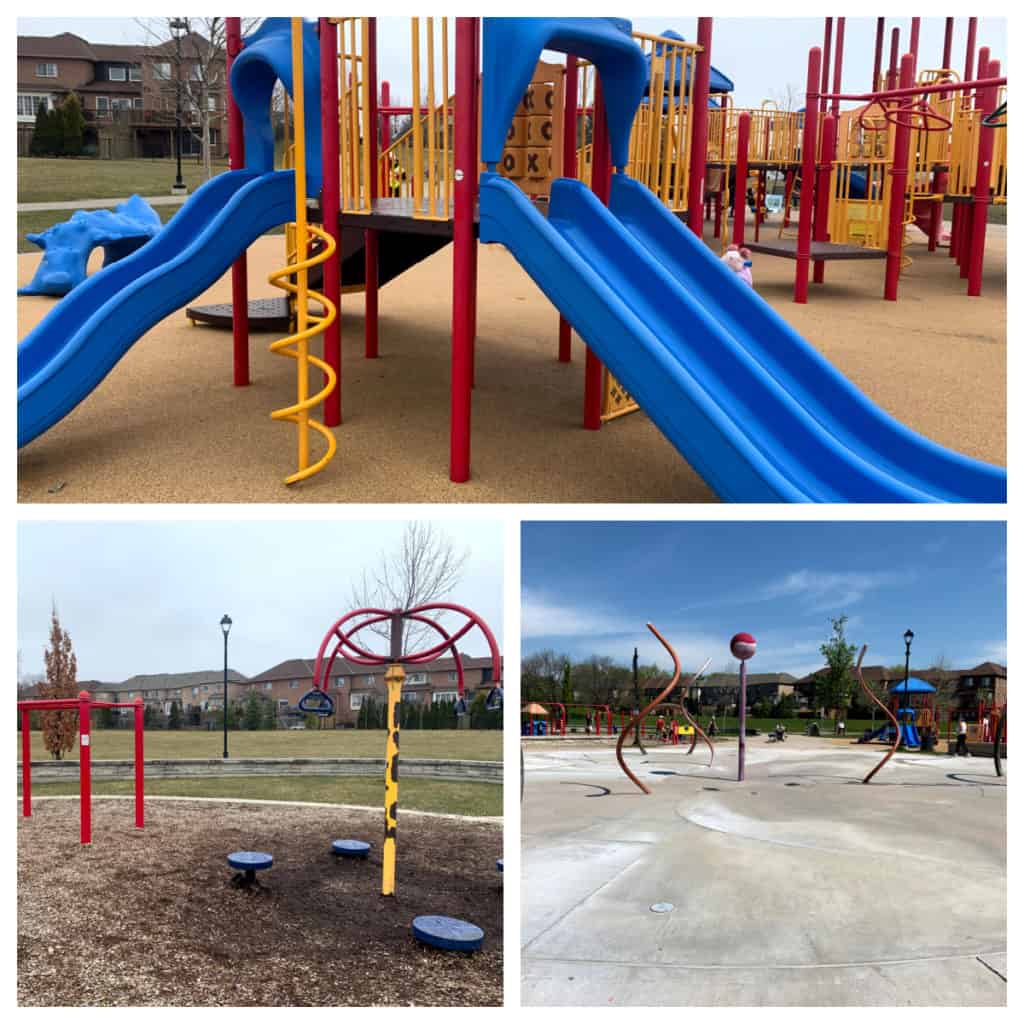 Age Range: 2-10 years, I love that this playground is super easy for toddlers to explore and adventure with very little parental support but also has lots of options for the bigger kids as well.
Features: Monkey bars, hanging pole, baby swings, swings, bid kid slides including a curly slide, toddler slides, tic tac toe board, pirate ship, and much more.
In the summer, Dominion Gardens also has a large splash pad for kids to enjoy.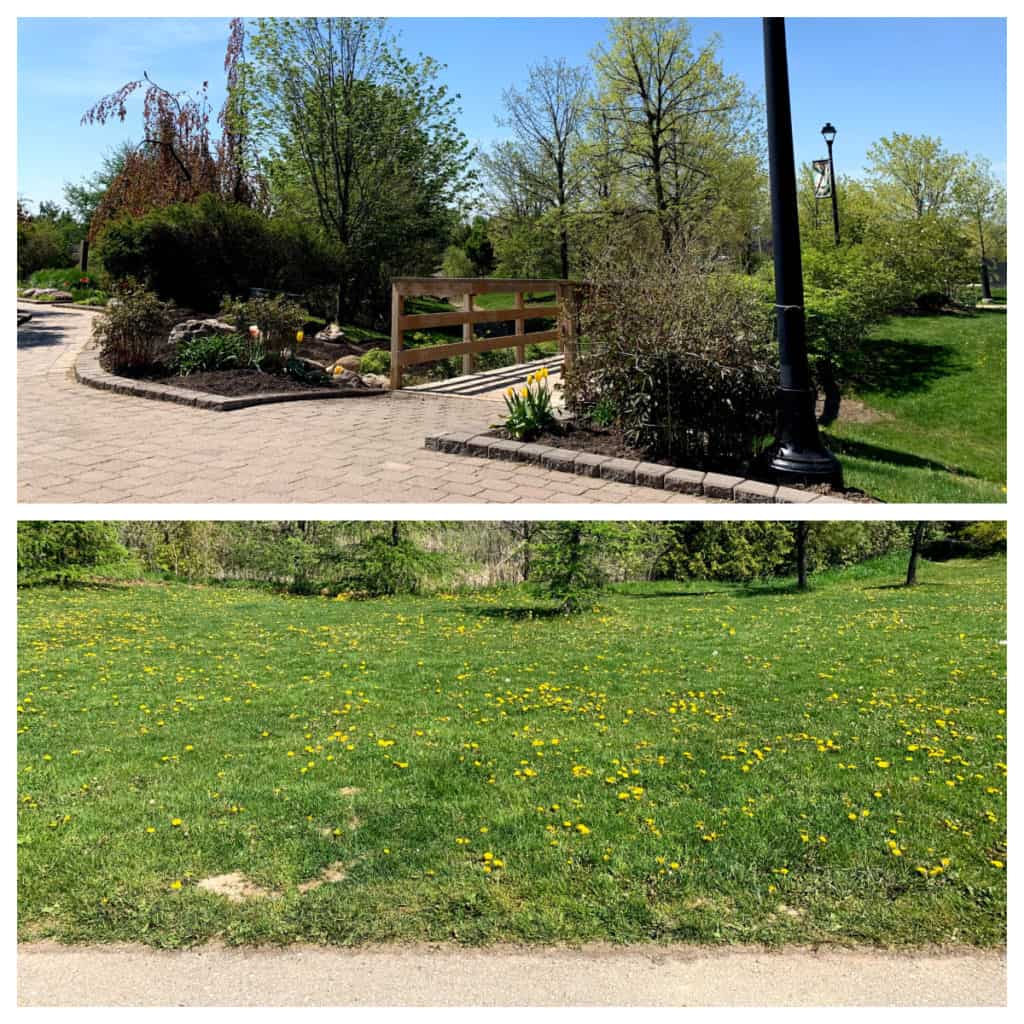 Surrounding park area: Dominion Gardens is a beautiful spot in Georgetown that not only offers a great playground but has an awesome natural environment where you can visit a pond and see fish and geese, multiple beautiful flower garden displays, and a community vegetable garden. In the winter time, Dommion Gardens acts as home to Light up the Hills – a large christmas light display. Check out all the Best Christmas Light Displays in Brampton, Caledon, Georgetown, Milton and Surrounding Areas. 
Accessibility: Dominion Gardens is very accessibility friendly as the entire park is surrounded by paved pathways that allow you to walk around the park, pond and flower gardens. This is the perfect park to bring grandparents too if they use walkers or wheelchairs as they can get really close to the park to be able to watch their grand kids.
Shade: There is a large Gazebo located right next to the park that has a picnic table underneath it making for the perfect snack location. In the gazebo are also washrooms/changerooms (not open due to covid). Located a short walk from the park is a large gazebo with 3 benches that allows you to view the park, community garden and small pond.
Seating: There is lots of seating located right around the park, including both benches and rock boulders. The splash pad is surrounded by a rock ring which is prefect for parents to sit on while they watch their littles splash around in the Splash Pad.
Overall Assessment: This is one of my favourite parks to visit as it is only a 5 minute drive from where we live and it is the perfect playground for my three year old daughter as she can explore the whole park unassisted which is really important to me right now with a newborn as well.
LOOKING FOR MORE PLAYGROUNDS TO VISIT?
We love visiting a playground! And when we do, we make sure to tell YOU all about it! Here are some more reviews of parks and playgrounds in Georgetown.
You may also be interested in Brampton Parks or Mississauga Parks.
Don't forget to join our group of Parents in
Parents Resource – Open to any parents in Peel and Halton Region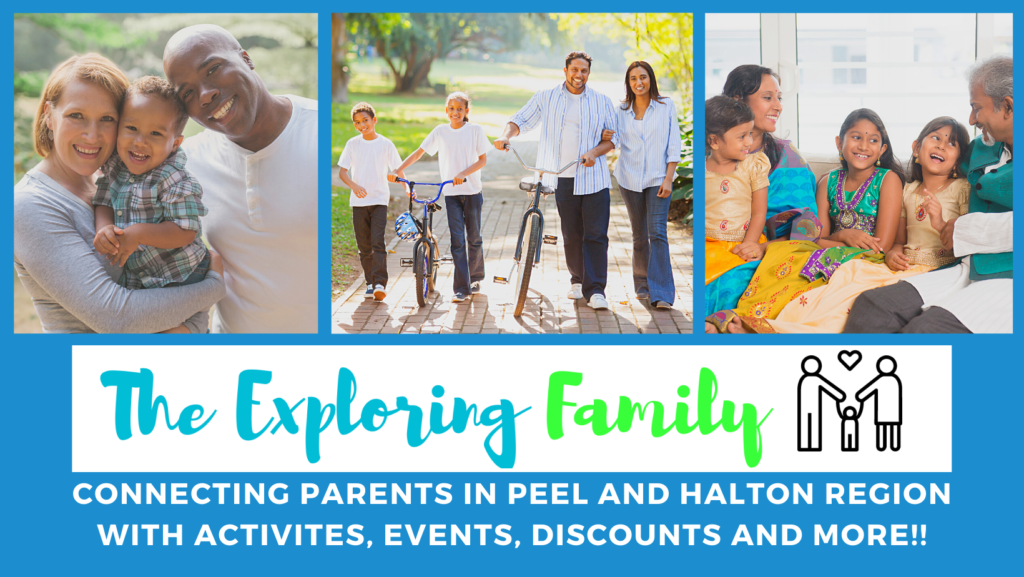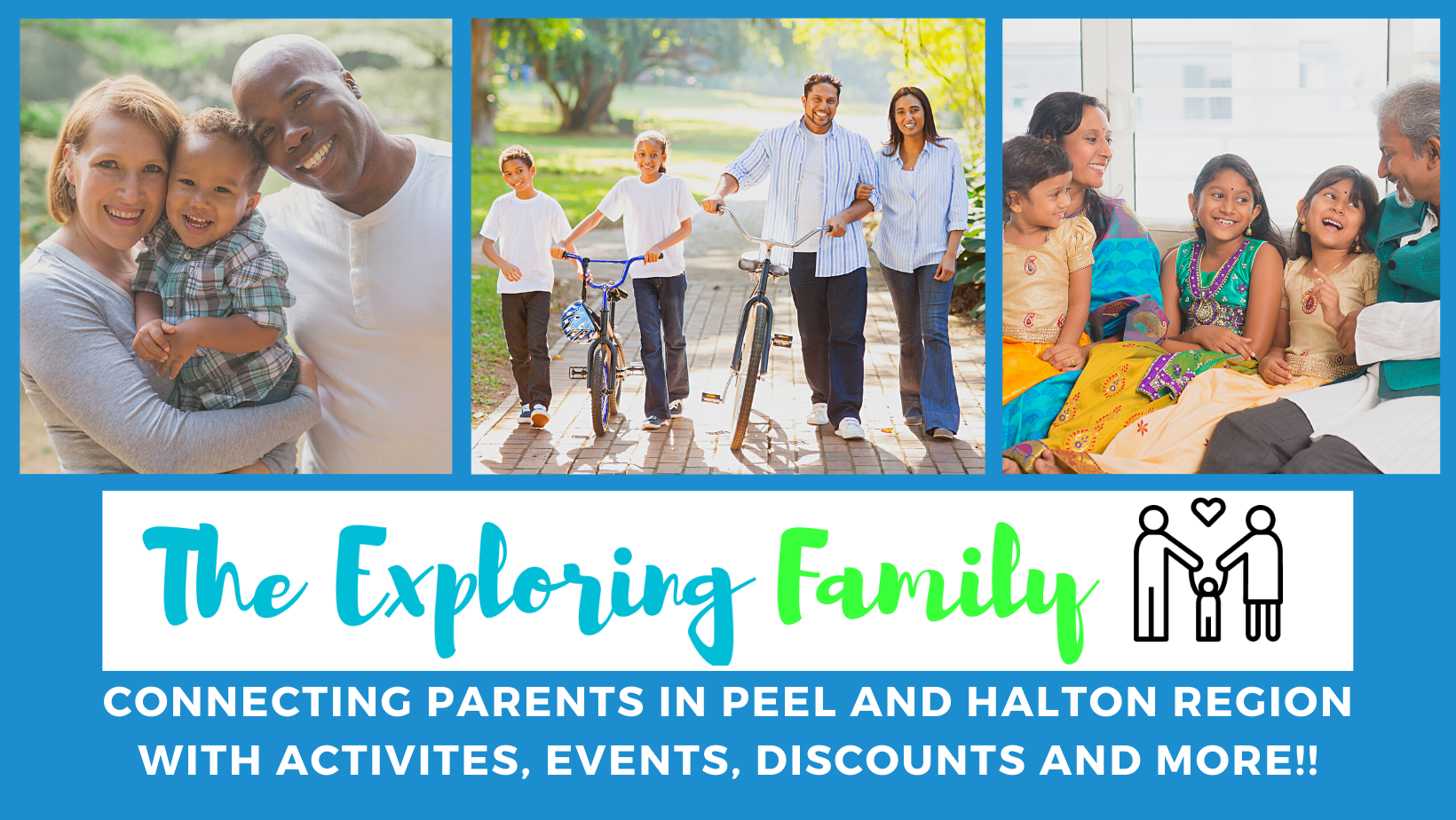 Please Note:
We do our best to ensure the information on The Exploring Family is accurate, however information and events are subject to change.
Can you help make this article better?
If you have noticed an error, have additional information or would like to share a comment you can:
E-mail us at info@thexploringfamily.com
Find us on Facebook: The Exploring Family
Find us on Instagram: The.Exploring.Family