As a busy mom it is important that I take time to come up with easy meal ideas that taste great and work well for the weeknight rush.  In the Little Miss Kate household I like to try to infuse our menu with international flavours now and again to help us keep out of the "Meat and Potatoes" rut.  Classic Shepherds pie is an easy freezer meal idea as it still includes the meat and potatoes but brings a little something more to the table.   One of my favorite products to go to for a little inspiration is VH Sauces.  They offer a great line of internationally inspired sauces that are guaranteed to help make getting dinner on the table a little easier and add great flavour at the same time.  This recipe for Asian Inspired Shepherd's Pie Recipe made with ground beef is one that the whole family enjoys.

Asian Inspired Shepherd's Pie Recipe With Ground Beef
When browsing the VH Sauces website I was intrigued by the Asian 5 Spice Shepherd's Pie.  We make Shepherd's Pie in our house fairly often as it is a hearty and filling meal, that tastes as good the next day as it does fresh out of the oven.  This comfort food recipe included one of the VH Asian Inspired Sauces – Asian 5 Spice Stir Fry Sauce, and I put it to the test against Hubby's "I don't like change" taste buds.
This blog post may contain affiliate links. What does that mean? I get a little commission if you purchase using my link, at no extra cost to you.
While it might seem odd to venture out from the classic shepherd's pie recipe, there are lots of different shepherds pie recipes out there to try.  Don't get stuck on just one.  If you have ever heard someone talking about a cottage pie recipe, they are likely referring to shepherd pie.
Homemade Shepherd's Pie Recipe With Ground Beef
Asian Inspired Shepherd's Pie Recipe
Ingredients
2

tbsp

vegetable oil

1

onion

finely chopped

3

stalks of celery

finely chopped

2.5

lb

ground beef

3

tbsp

flour

3

tbsp

VH® Soya Sauce

1

bottle (355mL)

VH® Asian 5 Spice Stir-Fry Sauce

1

cup

Tomato Sauce

1

cup

water

1

can

Peas

drained

1

can

Corn

drained

2 1/2

lb

potatoes

peeled and chopped

1/2

cup

milk

3

tbsp

butter
Instructions
In a large frying pan cook oil, onions and celery over medium heat for 5 minutes. Add in ground beef, cook until fully browned.

In the meantime, place potatoes in a large pot of boiling water. Boil until cooked through, and then drain. Add in butter and milk, mash.

Once meat is browned, drain any excess fat. Add flour, stir until well mixed. Add Soya Sauce, VH® Asian 5 Spice Stir-Fry Sauce, Tomato Sauce and 1 cup water. Bring to a boil, reduce heat and simmer for 10 minutes, partially covered, until slightly thickened.

Spray 9"x13" baking dish with oil. Spread meat mixture in dish. Layer with peas and corn. Top evenly with mashed potatoes.

Bake covered with foil at 350°F oven until heated through and bubbling around edges, about 25 minutes. Remove foil, and bake for an additional 5-10 mins to brown the top if desired.
Easy Shepherd's Pie Recipe
Ingredients needed to make homemade Shepard's Pie with a twist.  You probably have most of these in your fridge or freeze already.  We buy the family packs of ground beef when they go on sale and then freeze them to take them out when we need them.  It helps with keeping our grocery budget in line, and we always have something in the freezer to pull out to cook.
Cook the sheppard's pie in 9×13 glass baking dish, or if aluminum containers that come with lids which are perfect for storing as a freezer meal.
Variations of Shepherd's Pie
You could also use sweet potatoes instead of  white potatoes if you prefer.  There are so many different variations of Shepherd's Pie you can adjust this recipe to fit your preferences and diet.  Want a lower calorie option?  Use ground chicken instead of ground turkey, or a mix of both if you don't want only ground turkey.  This is an easy Shepherd's Pie Recipe that you can adapt to include veggies that your family loves.  If you kids are crazy for carrots added a peas/carrots mix or chop up cooked carrots to add to the middle layer.
How to Make Shepherds Pie
The end result: We LOVED it (even hubby)!  I was not sure how the Asian 5 spice sauce would work with the tomato sauce to create the meat base, but the combination is perfect – just a little sweet with a great combination of spices.  The leftovers are perfect for me to take to work for lunch.  I know this will be a recipe that we will be making again.

You can find VH Sauces on facebook and twitter – be sure to follow them for meal ideas and inspiration for your kitchen.
This Asian Inspired Shepherd's Pie Recipe With Ground Beef Recipe makes a GREAT freezer meal.  Prepare in glass baking dishes with lids or pick up aluminum containers with lids for easy prep.  These are also great if you are giving the freezer meals away to friends or family.  We have lots of other freezer meal ideas on Little Miss Kate, check them out below.
Kids Friendly Freezer Meal Ideas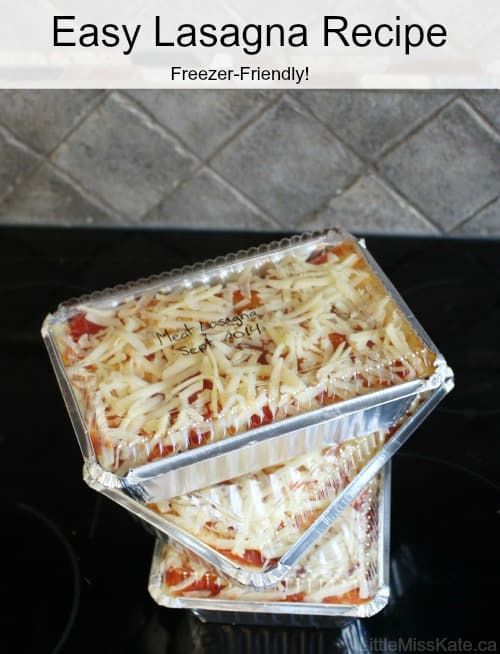 Disclosure:  This shop has been compensated as part of a social shopper insights study for Collective Bias.  All opinions are strictly my own #CBias
Originally Posted August 2012