Is is a HOT one outside this week in Ontario… there is now doubt that we are in full summer time mode! What a better way to celebrate summer then with a cold beverage! I had the opportunity a couple of weeks ago to try some scrumptious and refreshing summer drinks from Minute Maid. Perfect for your summer BBQ, girls night out or trip to the cottage these drinks will be sure to impress. With so many variations including a punch recipe you will be coming up with excuses to make them all!
We were greeted with Summertime Sangria when we walked in the door and oh was it ever refreshing! Make this summertime favorite in both alcoholic & non-alcoholic versions for everyone at your gathering to enjoy.
Love watermelon? Then the Watermelon Grapefruit Fizz if for you! Break our your blender and have fun creating this cool smooth beverage that both kids and adults will love.
Want something a little sour more then sweet – the Pucker-Up Granita is perfect. You do have to plan ahead for this one to give it time to freeze, but it will be worth the wait!
My favorite drink of the evening was the Peachy Sparkler – you likely have everything you need this refreshing drink at home already. Quick to make up I know I will be serving this at my next Girls Night In!
Whenever we have a big BBQ I always make punch, and every time someone asks me for the recipe. It is SO simple to make and refreshing even on the hottest day (I know, we just tested it at Monkey's birthday party). Here it is!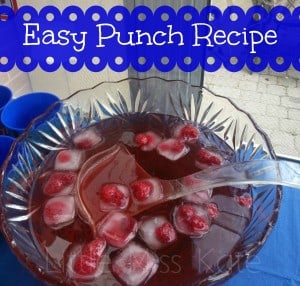 Easy Punch Recipe:
Ingredients:
2 Cans of Minute Maid Frozen Concentrate Juice – Pick any flavours you like I usually combine 2 different ones like Peach Punch and Berry Punch
1L of Club Soda
1L of Ginger Ale
Directions
1 – Thaw Minute Maid Frozen Juice and place in large punch bowl
2 – Add equal parts Club Soda and Ginger Ale. My punch bowl fits 1L of each perfectly.
3 – Add Ice cubes and frozen berries as garnish and serve.
Make sure you are staying hydrated in this hot weather! These summer drink recipes should get you off to a good start, Enjoy!