December is here and so are all things peppermint – from Candy Canes to Peppermint Mocha this festive flavour is popping up everywhere.  Why not change up the classic delicious Oreo Truffle to become a little more festive this holiday season.  These Peppermint Oreo Truffles are fun to make with the kids, and travel well to take for baking exchanges or dinner parties.  And right now Philadelphia Cream Cheese has released a new product for the holiday season that is a must have for your holiday baking – Philadelphia Chocolate Brick Cream Cheese.  Because you know my motto "There is no such thing as too much chocolate" it makes the perfect creamy addition to this tasty yet simple recipe.  Here is what you need to make Peppermint Oreo Truffles yourself:
Easy Peppermint Oreo Truffles Recipe
Peppermint Oreo Truffles Recipe
Ingredients
1

pkg

350g Oreo cookies

1

pkg.

250 g Philadelphia Chocolate Brick Cream Cheese, softened

2

tsp

Peppermint Extract

1

pkg

300g Milk Chocolate Chips

1

Tbsp

Oil

1

Candy Cane

crushed
Instructions
Finely crush the Oreo Cookies with a rolling pin between 2 sheets of wax paper and transfer to large mixing bowl.

Mix in the cream cheese and peppermint extract until well blended. Shape dough into 1 inch balls and refrigerate for 30 minutes.

Melt milk chocolate in microwave on medium power stirring often. Add in oil a little at a time until chocolate runs easily off a spoon, and is the right consistency to coat the truffles.

Dip balls in chocolate, allow excess chocolate to drain off and place on a waxed paper covered cookie sheet. Sprinkle with candy cane before chocolate sets completely.

Refrigerate for a minimum of 1 hour prior to serving.

Store in a sealed container in the fridge.
Tips and substitutions:  Use regular Oreos, not double stuffed.  Don't have chocolate cream cheese on hand?  Regular plain cream cheese will work just as well.
Have fun decorating the truffles with crushed candy canes, sprinkles or even just a drizzle of melted white, red or green chocolate.  The truffles store well for up to 1 week in a sealed container in the refrigerator.  I like to take them out of the fridge about 15 minutes before serving so they are still chilled, but not too cold.  Peppermint Oreo Truffles make the perfect dessert after a festive dinner as they are a bite size treat that everyone will love.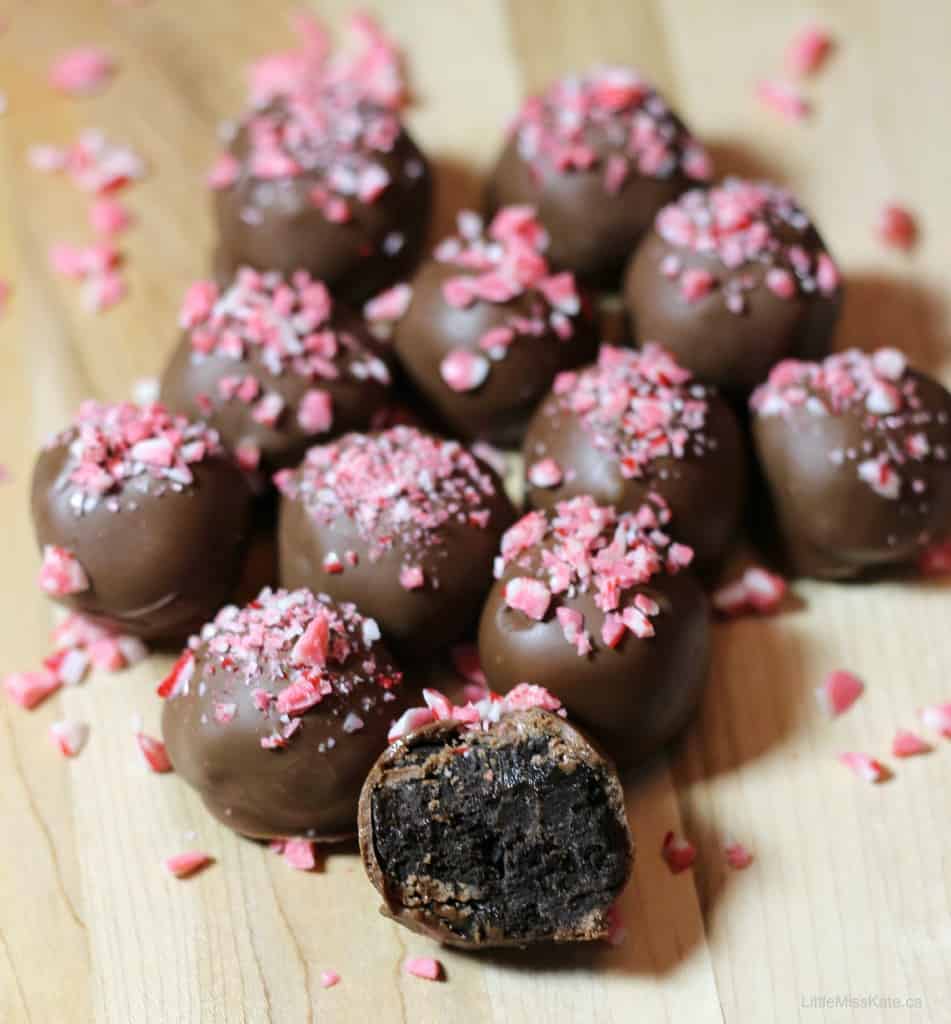 Enjoy how easy it is to make cookie balls?  Try different variations including Peanut Butter Cookie Balls and  Chocolate Chip Cookie Balls too.  Add these Peppermint Oreo Truffles to your baking list this Christmas and watch how fast they disappear!
PIN it for later
More Easy Baking Exchange Recipes
Mint Chocolate Fudge – If you love mint like I do then this easy mint chocolate fudge will quickly become a favourite for your baking exchanges
Homemade Chocolate Chip Cookies – You can't go wrong with everyone's favourite cookie!  This tasty chocolate chip cookie recipe is perfect to scale up for a baking exchange.
Maple Butter Tarts – a delicious twist on a classic dessert.  This Maple butter tarts are easy to make and you can use store bought or homemade pastry.  The infused maple flavour will quickly make these a family favourite.
Two-Layer cookie Crunch Fudge Recipe – This fudge recipe is the "sister" recipe to the mint fudge recipe above.  If you are looking for a tasty fudge recipe without the mint, then look no further.
Chocolate Peppermint Cookies Recipe – These bite sized cookies will disappear before your eyes.  Made from scratch they are the the perfect pairing to a hot chocolate.
 Disclosure:  I am part of the Kraft's Whats Cooking ambassador program.  All opinions are strictly my own.