To say life is chaotic these days feels like the understatement of the decade.  Work, traveling for work, 3 kids, volunteering with the kids school, husband, home, blog, weight training and heading to the gym.  Like I am running and running and never catching up.  Just when I *think* things are going to slow down life is throwing me another curve ball to deal with.  Right now my mantra has been "Breathe, just Breathe.  It will all work out.".  Right???  While dealing with all of the chaos I am working to find moments of calm, moments to connect with the kids to just talk and laugh.  This weekend our calm moment came with pudding, strawberries and whipped cream… and it was amazing. 
While I like to be busy and on the go, the level that we are all running at right now is not sustainable for long.  So instead of feeling bad or guilty about sleeping in and missing a ball hockey game, we are celebrating take time to just slow down and enjoying a delicious Strawberry Chocolate Pudding Parfait.
The combination of smooth creamy Hershey's Chocolate Pudding, strawberries and whipped cream is a summer combo made in heaven.  And it took under 5 minutes from start to finish to put these tasty treats together. 
The fact that the these are so easy to make and yet so tasty make them a great go-to option for busy moms (and dads) if you have guests coming over and need a simple dessert.
I have never been one to hide my love of chocolate, and the Hershey's chocolate pudding cups did not disappoint!  Made with real Hershey' chocolate and skim milk they are a dream to enjoy on their own or in combination with some fresh summer fruit.  You can find the Hershey's pudding cups in the refrigerated dessert section in your local grocery store.
Easy Strawberry Chocolate Pudding Parfait
Strawberry Chocolate Pudding Parfait Recipe
Ingredients
1

pkg Hershey's Chocolate Pudding

1/2

cup

Strawberries

sliced

Whipped Cream
Instructions
Layer pudding strawberries and whipped cream in small cup or dish

Top with strawberry (you could get fancy and make a strawberry rose)

Serve immediately and ENJOY!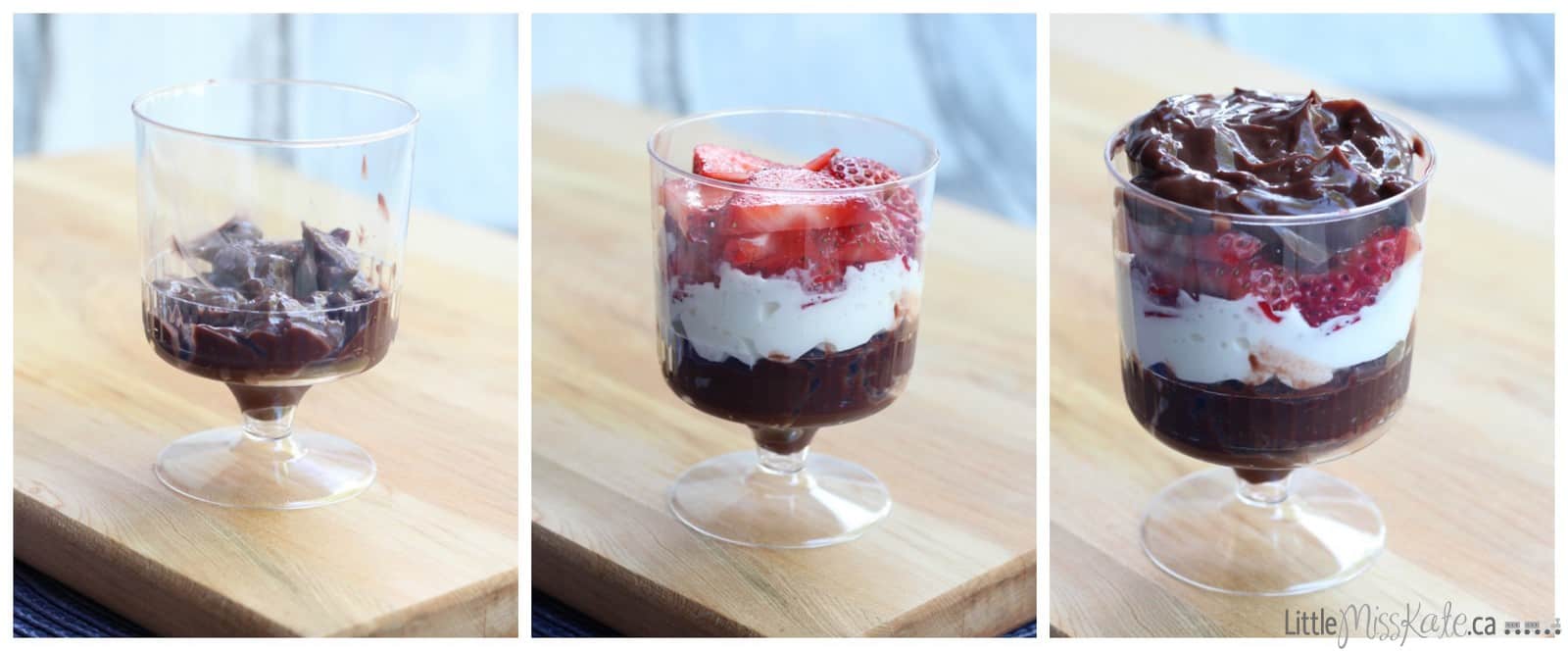 So run to your nearest grocery store to pick up a pack of Hershey's Chocolate Pudding or Hershey's S'mores Pudding!  Remember you are going to find it in the refrigerated dessert section of the grocery store, and don't to grab your Hershey's Pudding Coupon before heading out and SAVE $0.50 on your purchase!  Little Bear can attest that it is good to the last drop!
I wish I could say that thing are turning a corner and calming down a little.  But work seems to have different plans for the next 2 months.  So while I am reminding myself to keep putting one foot in front of the other and this too shall pass I will keep stealing small moments of calm with the little people I love the most…. over pudding!
Disclosure: This post was sponsored by KraftHeinz Canada.  All opinions are strictly my own.
Save
Save
Save