March is a funny month, isn't it? In like a lion out like a lamb, isn't that what they say? It's also the month that brings Spring. And my need for Spring to come sooner rather than later has inspired me to share a side dish that will have you thinking of the warm weather that is to come.  We have shared some recipes that are some seriously wintery vegetable dishes including roasted kale, roasted cauliflower, and pumpkin soup. So, now it's time to turn to the 'lamb' part of March. It's really Spring now and so it's time for some really Spring inspired vegetables including this tasty boiled Asparagus recipe.  Only 3 ingredients needed to make this vegan Asparagus with Lemon and Mint Recipe. All set? Here we go!
This blog post may contain affiliate links. What does that mean? I get a little commission if you purchase using my link, at no extra cost to you.
Easy Side Dish Recipe for Spring and Summer
So, when you think of a quintessential Summer veggie, do you think about asparagus? Crazy! Me, too! We love asparagus at our house. My kiddos love to dip the spears in mustard and munch away. I just wanted to pack a little extra Spring punch into the whole scene. I was inspired by this dish from Relish and substituted asparagus for the snap peas. It's super quick and easy and extra extra tasty.
Best Way to Cook Asparagus
There are many ways to cook asparagus including roasted asparagus in the oven, baked asparagus, sauteed asparagus and boiled asparagus.  There is no one best way to cook asparagus, as a each produces its own unique flavour depending on how you cook and what seasonings or sauces you add.  If you are looking for fat free asparagus recipes or vegan asparagus recipes then this one would fit the bill perfectly.
How to Choose Asparagus at the store
When picking out your asparagus look for nice green stalks that are firm with closed and compact tips.  You will find that stalks may be thick or thin, which one your choose is more of a personal preference.  Don't forget to store your asparagus upright in a container or cup with about 1 inch of water in the bottom and keep refrigerated until use.  When ready to cook snap off the bottom of the stems, usually the bottom 1-2 inches will snap off easily.  Discard the bottoms and cook up the rest.
Healthy Easy Vegan Side Dish Recipe
If you are struggling to add more greens into your diet incorporating asparagus is a great way to get in the added benefits of all of nutrients this vegetable holds. Unique asparagus recipes can be hard to find, but this recipe is one of the best way to cook asparagus. 
Easy Asparagus Recipes – Asparagus with Lemon and Mint Recipe
Asparagus with Lemon and Mint
A quick and easy Asparagus recipe perfect for spring and summer - Asparagus with Lemon and Mint
Ingredients
1

lb

Asparagus

1

lemon

zested and juiced, keep separate

1/3

Cup

mint

chopped

salt and pepper
Instructions
Bring a pot of salted water to boiling. Add the asparagus and cook for about 3 minutes. Drain and return to the pot.


Add the salt and pepper and lemon zest.


Allow the asparagus to cool just slightly then toss with the lemon juice and mint.


Serve and Enjoy! (I served mine with a crumpet and an egg).
Fun fact 1 – a grater like the one in the photo above is the only thing standing between you and a perfectly zested lemon in under 20 seconds.
Fun fact 2 – after the lemon is zested it's easier to juice. Once the you've got all your zest, roll the lemon around on the counter for a bit under a sturdy pressure from your hand until you feel it softening a bit. Then cut it and juice it.
Fun fact 3 – if you squeeze the juice into a bowl first you can use a spoon to rid yourself of the pesky pips before pouring the juice onto your asparagus.
Need Vegan Recipes?
This easy recipe for asparagus works perfectly as a vegan or vegetarian asparagus recipes for any gathering.  With no butter, oils or meats this is one recipe that you can make to please any crowd no matter what the dietary requirements may be.  It is a healthy asparagus recipe that is simple and won't require a lot of preparation in the kitchen.   This asparagus vegan recipe is perfect for the non-vegan who needs a recipe idea 🙂
I hope you enjoy this Asparagus dish with Lemon and Mint Recipe! What other interesting asparagus recipes do you enjoy?  Do you prefer a sweet asparagus recipe or something a little more savoury?  I hope you give this recipe a try as it is a delicious way to use fresh asparagus either from your garden or from your local farmers market or grocer.

As the snow has melted away my brain has completely kicked into Spring mode. I've been cleaning out all of the closets and on top of craving more green veggies, I've been craving smoothies. It's been smoothie heaven over here at my place. It happens every Spring. What's new this year – veggie smoothies. I tested out this spinach and almond milk smoothie three times already! I'm a fan.  I also enjoy Strawberry Mango Smoothie and Pineapple Mango Smoothie.  Just toss in a handful of spinach to get more greens in your day.   But.. I'm guessing that spinach smoothies aren't on everyone's favorite springtime food. If you need more ideas how to add Vegtables in to your diet checkout these Snack Recipes.
So, let us know in the comments this week: does your eating change with the seasons and what food are you looking forward to enjoying again, with Spring just under way? (and it's totally ok if your answer is Mini Eggs. Because Easter = Mini Eggs!)
Vegetable Side Dish Recipe Ideas
Corn off the Cob with Cilantro and Lime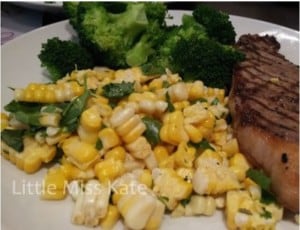 Maple Bacon Roasted Brussels Sprouts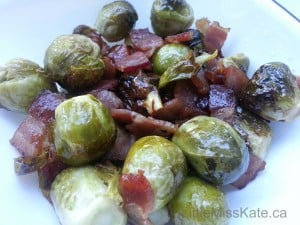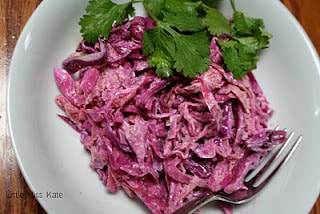 Originally Posted March 2012