Those delicious Pizza Buns you can buy at the store are a wonderful snack. Now, you can make them at home. This Homemade Pizza Buns Recipe is sure to impress. The best part? It's super easy and done in 10 Minutes.
These Homemade pizza buns make for delicious snacks, school lunches, and more. They are easy to make, super yummy, and kids and adults alike love them. Serve them any time of the day and you are sure to impress.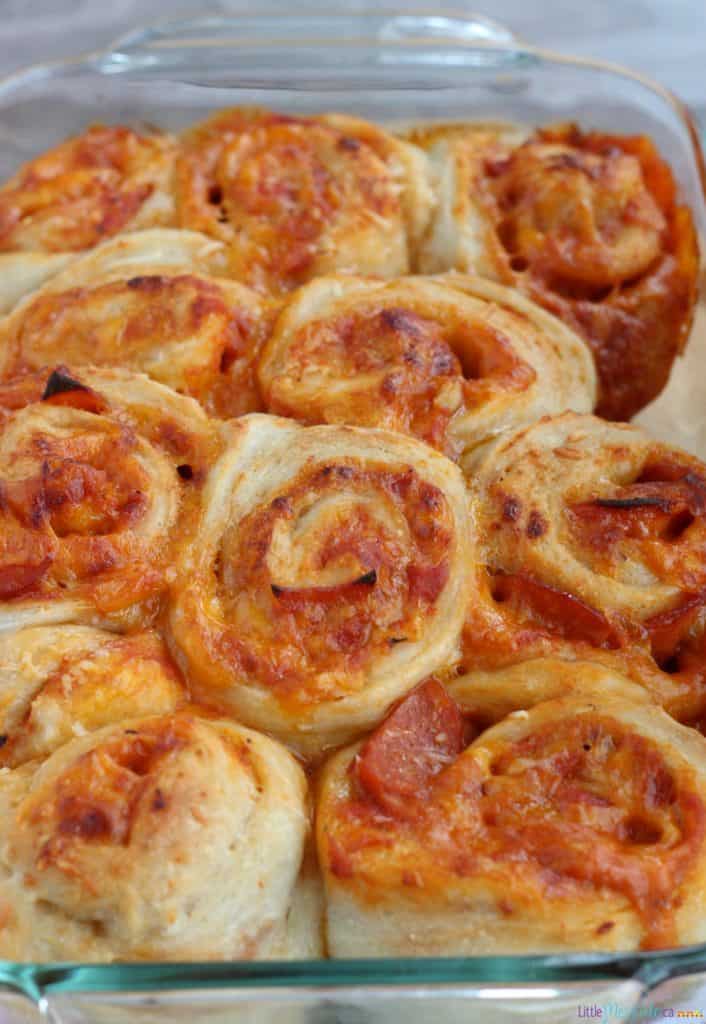 Homemade Pizza Buns
Looking for an easy yet tasty homemade lunch or snack idea? It can be hard to recreate delicious store-bought items. These pizza buns are not one of those items. In fact, they are incredibly easy to make.
With this easy homemade pizza buns recipe, you will be enjoying hot fresh pizza buns in no time. What is the secret to making these pizza buns so tasty? It is in the sauce! The new line of RISERVA by CLASSICO pasta sauces is perfect for making mouthwatering meals at home.
The Pizza Sauce
These easy Homemade Pizza Buns inspired by Kraft Whats Cooking were a hit with the family and took under 10 minutes to prepare. The RISERVA by CLASSICO pasta sauces is made with high-quality ingredients and offers a restaurant-quality taste right at home. 
I love garlic, and the aroma of the RISERVA Roasted Garlic always has my stomach growling as soon as I open the jar. Made with extra virgin olive oil and sea salt with no preservatives or added sugars, this pasta sauce has a full flavor that will take any recipe to the next level.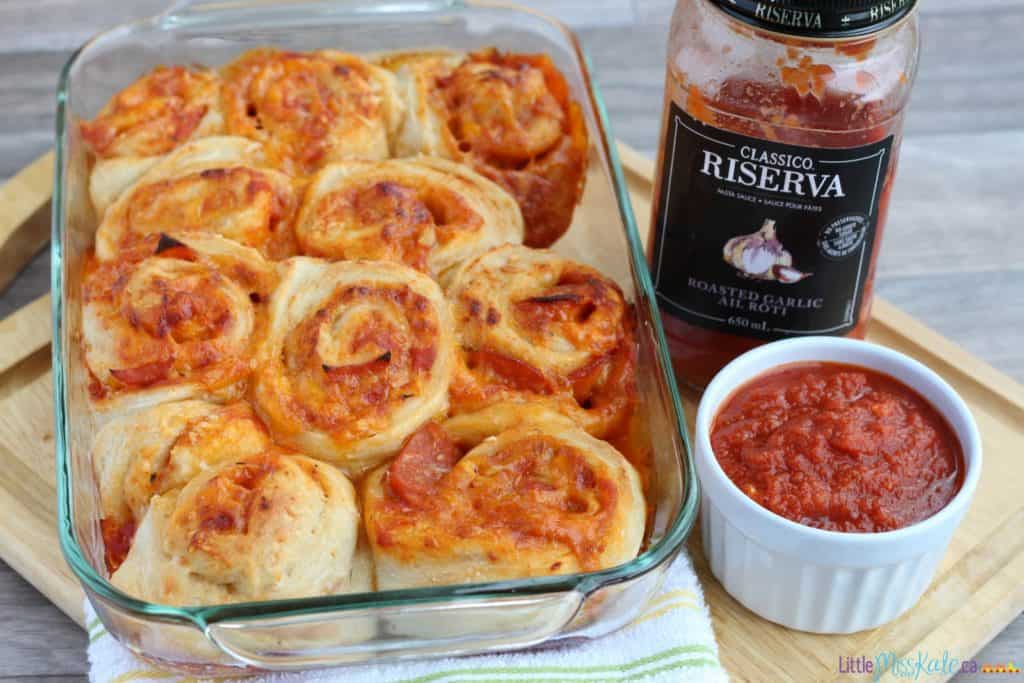 Homemade Pizza Buns for School or a Snack
I love getting the kids involved in the kitchen, and this recipe is a great one to let them help out.  From rolling the dough to layering the toppings there are lots of ways to get the kids involved in making this tasty snack. 
Getting your kids involved in the kitchen has several benefits. Teaching your kids important life skills, building fine motor skills, and teaching math through measurements is important. This recipe makes it easy to foster your little one's love of cooking.
How to Store Pizza Buns
You can make this recipe ahead of time and store it in the fridge. In fact, you can even put them in the freezer and pop them out to thaw before serving.
Send these pizza buns with the kids to school as lunches. They can even enjoy them as an after-school snack. 
Don't be fooled though, adults love these pizza buns just as much as the kids, making them a great option for potlucks as well.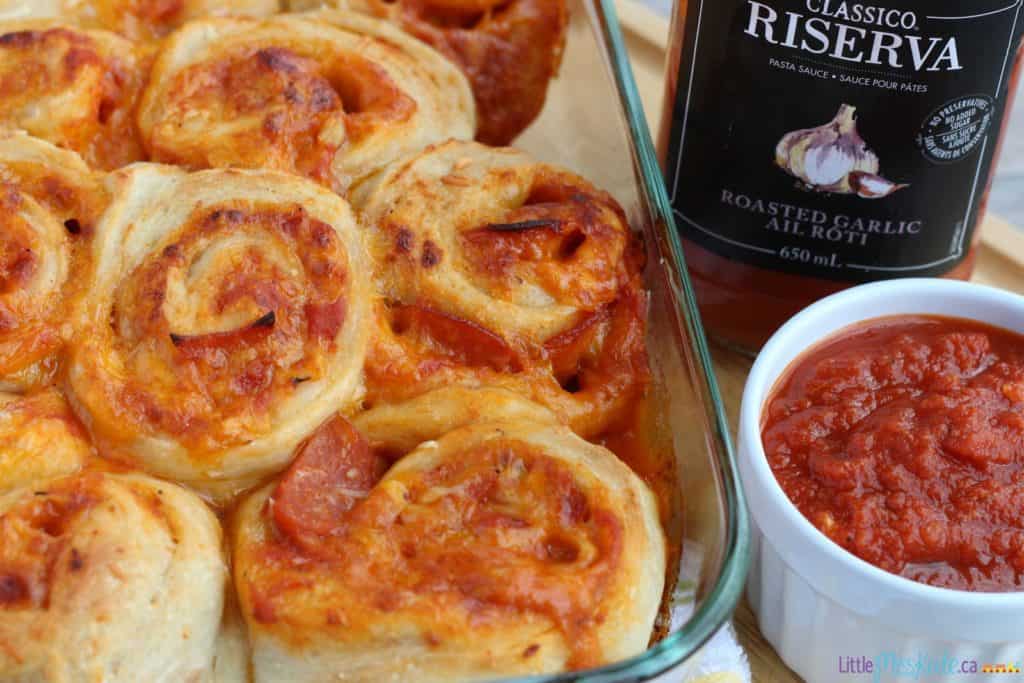 Homemade Pizza Buns Recipe
As we said before these Homemade Pizza Buns are super easy to make. All you need are a few simple ingredients and 10 minutes. This fantastic recipe is a great snack that can be made in almost no time.
Ingredients
1 Lb room-temperature pizza dough
2 Tbsp Olive Oil
3/4 Cup Classico Riserva Roasted Garlic Pasta Sauce
1 Cup Cheese, Grated (You can use any type of cheese you desire)
3 TBSP Kraft 100% Parmesan Aged Grated Cheese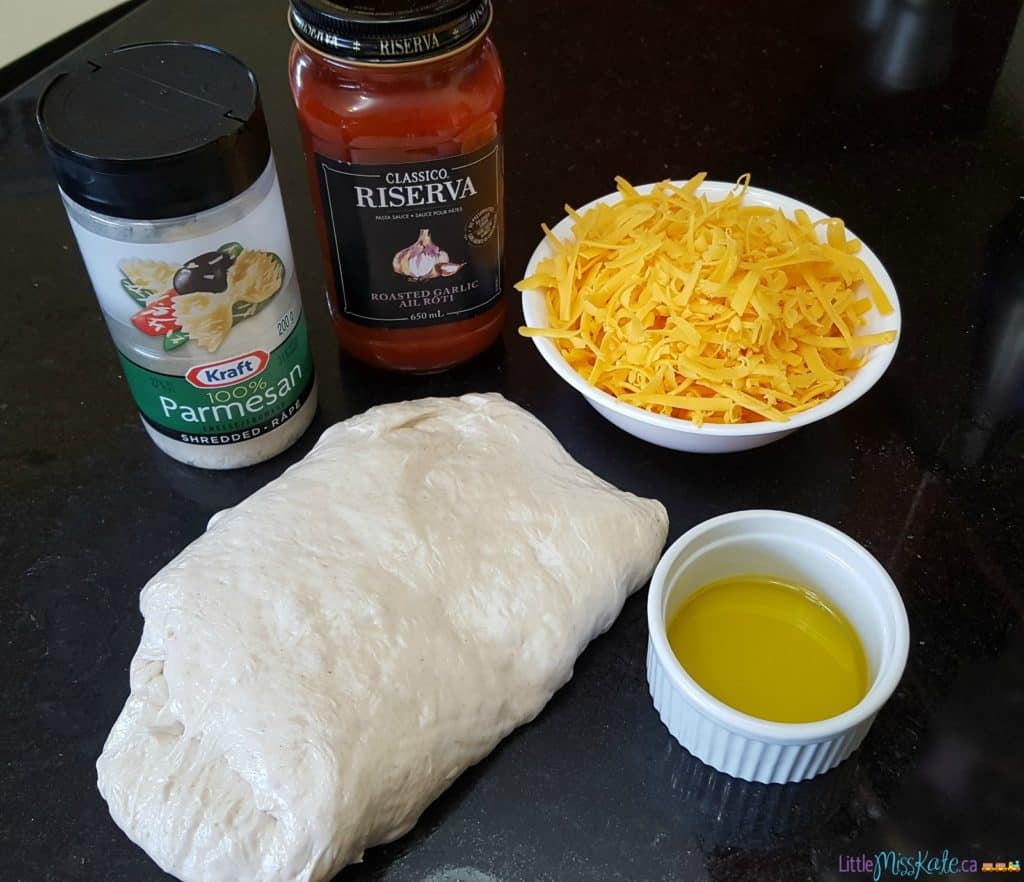 Directions
There are a few simple directions that need to be followed to create this delicious recipe. In no time you will be enjoying some delicious pizza buns.
Step 1
Pre-heat your oven to 425ºF. Spray your baking dish with cooking spray.
Step 2
Roll out your pizza dough to form a 12-inch square. Lightly flour your surface so the dough does not stick.
Step 3
Brush your rolled-out dough with oil and then layer pasta sauce, toppings, and cheeses within half an inch of the edges.
Step 4
Roll up your pizza dough to create a log. Cut the log into 1-inch thick slices and place them cut-side down into your baking dish.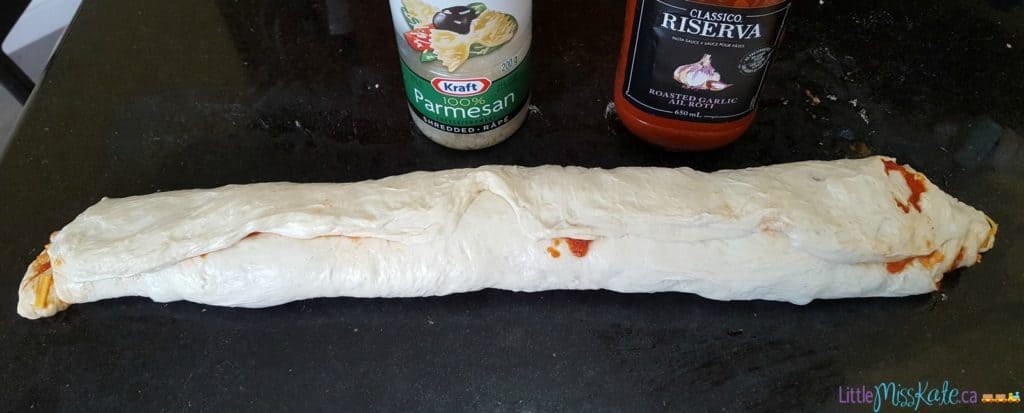 Step 5
Bake in your preheated oven for 15 – 18 Minutes or until your pizza buns become golden brown.
Step 6
Cool your pizza buns for 5 minutes and then use a knife to gently cut apart the buns to serve.
Tips for Homemade Pizza Buns
There are some tips that can make this recipe turn out well. Make sure to follow them if you want to ensure a delicious result.
Make sure the pizza dough is at room temperature before rolling it out. This will allow for easy rolling.  If it is too cold it will not stretch out properly. This could cause problems with the dough when it comes time to cook it.
Short on Time? Warm the dough in the microwave on 50% power for 20-second intervals, and flip each time until it is soft.  Just make sure not to allow it to cook for too long. You want your dough to be set properly when creating the pizza buns.
You can customize these homemade pizza buns with any toppings you desire.  Add in pepperoni, diced onions or peppers, and fresh basil to add more flavor and create variety. You can even choose whatever type of cheese you desire. Cheddar, mozzarella, or whatever your heart desires works perfectly.
Serve with the pizza buns with a side of warmed Classico RISERVA Roasted Garlic sauce for dipping. With the Classico RISERVA sauces, you can't go wrong. 
If you follow these easy tips, you are sure to be pleased with the result. Delicious, easy, and a fantastic snack. What more could you ask for?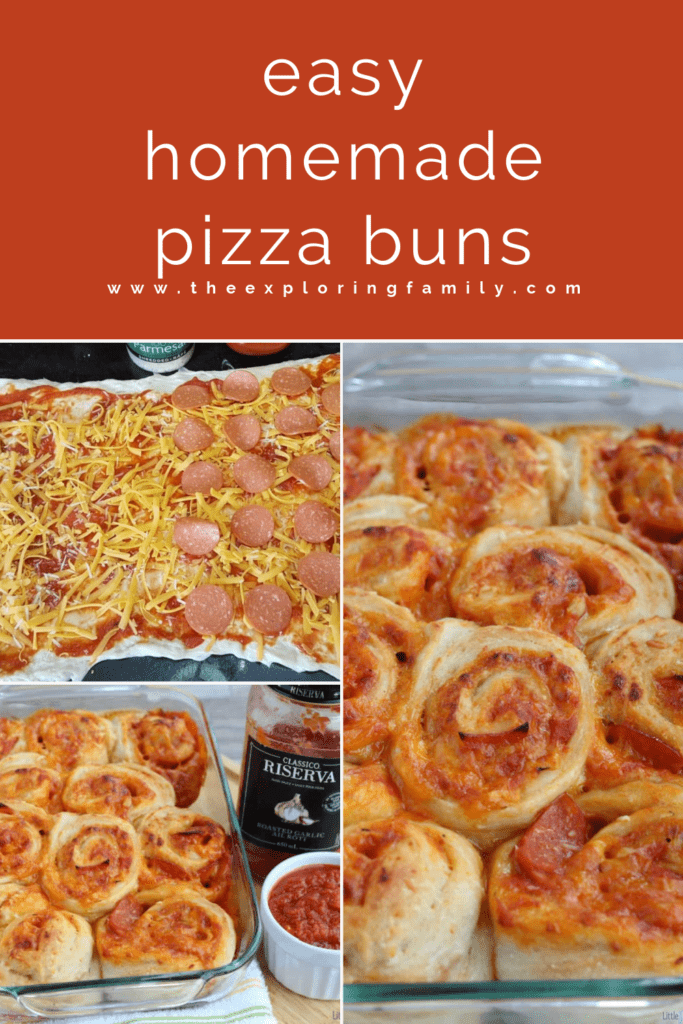 Take this recipe to your next potluck and watch them get devoured in no time.
Easy Homemade Pizza Buns Recipe In Under 10 Minutes
Ingredients
1

lb.

Pizza dough

at room temperature

2

Tbsp.

Olive oil

3/4

cup

Classico Riserva Roasted Garlic Pasta Sauce

1

cup

Cheese

grated (Mozzarella or cheddar, your choice)

3

Tbsp.

Kraft 100% Parmesan Aged Grated Cheese
Instructions
Pre-heat oven to 425ºF.

Roll out pizza dough to 12-inch square. Can lightly floured surface so dough dos not stick

Brush rolled out dough with oil and then layer pasta sauce, toppings (optional), and cheeses to within 1/2 inch of edges

Roll up up pizza dough to create a log and cut into 1-inch-thick slices. Place, cut sides down, in baking dish sprayed with cooking spray.

Bake 15 to 18 min. or until golden brown.

Cool for 5 minutes then use a knife to gently cut apart the pizza buns to serve.

Enjoy!
For more recipe inspiration check out the RISERVA by CLASSICO Recipes.  These simply delicious sauces and recipes will have you cooking tasty meals in no time. It tastes delicious, adds great flavour to your dishes and is sure to please everyone that gathers around your table.
Need more tried and tested family-friendly recipes? Take a hop over to Fiesta Chicken Enchiladas, Meat Lovers Meatballs Subs, and One Pan Lasagna Skillet recipes.
Disclosure: This post was sponsored by KraftHeinz Canada.  All opinions are strictly my own.Save