Nova Scotia is a beautiful province located in Eastern Canada, known for its stunning landscapes, charming towns, and rich cultural heritage. Glamping in Nova Scotia, a more luxurious form of camping, is becoming increasingly popular in Nova Scotia.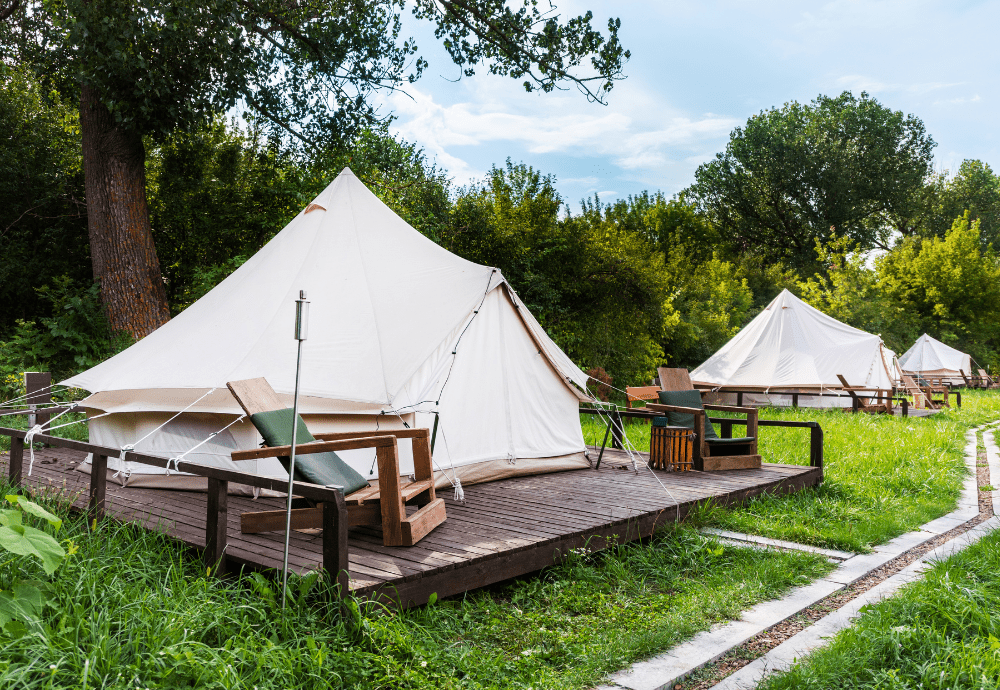 Nova Scotia is an amazing place to visit. The best part? You don't have to stay in a traditional hotel or Bed and Breakfast. In fact, there are several exciting ways to go glamping in Nova Scotia.
From glamping in domes, yurts, tipis, oTENTik structures and everything in between, Nova Scotia offers several chances to enjoy a glamping experience. With so many unusual and creative places to spend a night, Glamping in Nova Scotia is an amazing way to enjoy a getaway.
Why choose Glamping?
One of the great things about glamping in Nova Scotia is that there are so many beautiful natural areas to explore. From the rugged coastline to the rolling hills of the interior, there are plenty of options for outdoor activities like hiking, biking, kayaking, and whale watching. Some glamping locations even offer on-site activities like yoga classes, cooking classes, or guided tours.
Another advantage of glamping in Nova Scotia is that it allows you to enjoy the outdoors in comfort and style. Unlike traditional camping, which can require a lot of gear and planning, glamping accommodations are typically fully equipped with comfortable beds, linens, and often heating or air conditioning. Many glamping sites also offer private bathrooms, outdoor showers, or even hot tubs for an extra touch of luxury.
In addition to the natural beauty and comfort of glamping, many locations in Nova Scotia also offer opportunities to learn about the province's rich cultural heritage. From the Mi'kmaq First Nations to the Acadian and Scottish settlers who came later, Nova Scotia has a long and fascinating history that can be explored through museums, historic sites, and cultural events.
Overall, glamping in Nova Scotia offers a unique and memorable way to experience the province's natural beauty, culture, and hospitality. Whether you're looking for a romantic getaway or a family vacation, there's a glamping option in Nova Scotia that's right for you.
Nova Scotia Glamping
Click through the links to find the best glamping in Nova Scotia.
What is Glamping?
Glamping simply means a form of glamorous camping. It mixes both words perfectly, creating a one of a kind experience that combines the great outdoors with glamorous accommodations.
When you go glamping, your campsite is already prepared for you upon arrival. It usually includes pods, domes, yurts and more. These accommodations can include luxurious beds, bathrooms and even sometimes televisions and lighting.
Depending on where you choose to stay while glamping, the accommodations can be rather large. Much bigger than a traditional tent. In fact, they are usually so big that at a minimum they can fit a double bed and more.
The Best Time to Go Glamping?
Glamping can be an exciting experience no matter the season. In the spring and summer season you can take advantage of the warm weather, enjoying several beautiful views, soaking up some sun and even taking a swim.
In the fall months, you can nestle in among the changing leaves and enjoy breathtaking views, campfires and more. The winter season offers stunning views of the falling snow, several world class outdoor activities like snowshoeing or ice fishing and warm, luxurious accommodations to return to.
Glamping tents, cozy seating and more, make glamping amazing no matter what time of year you go. Who doesn't want to go camping while sleeping on a real bed?
No matter what season you decide to go glamping, your experience is sure to be a beautiful one. Especially if you choose the ideal location. There are several glamping experiences that are open year-round.
Tips for Glamping
When you choose to go glamping, you can make your experience even more enjoyable with a few essential tips. Whether you are glamping in a yurt, treehouse or anything in between, there are some great places to make your experience unique and unforgettable.
Bring toiletries from home that you enjoy. This includes lotions, shampoo and everything in between.
Pack a heated blanket, especially if you are glamping in the winter. This will ensure that you stay warm no matter the weather.
Bring along cooking gear, utensils, a cooler and water jugs.
Pack indoor shoes or slippers.
Light sources like flashlights are a great idea to add to your packing list.
Plan some great outdoor activities to participate in while on your glamping excursion. See what nearby parks offer during your stay.
Bring some supplies to make s'mores. No glamping trip is complete without some delicious campfire treats made on your own fire pit.
Choose your glamping experience carefully. Read what each glamping site has to offer and choose the one that suits your needs.
Plan delicious meals and snacks ahead of time to ensure you know what you need to bring.
Do your research. Prior to setting out on your glamping trip, you will want to research the site, the advantages offered and any extras you may require.
Glamping in Nova Scotia
There are several different options for Glamping in Nova Scotia. Whether you choose yurts in Nova Scotia, Geodesic Domes in Nova Scotia, or anything in between, you are sure to have a fantastic time.
Check out these awesome glamping options, and book your trip today. East Coast Glamping is sure to provide spectacular ocean views, a private setting, comfy beds, and a strong focus on creating a brand-new glamping experience.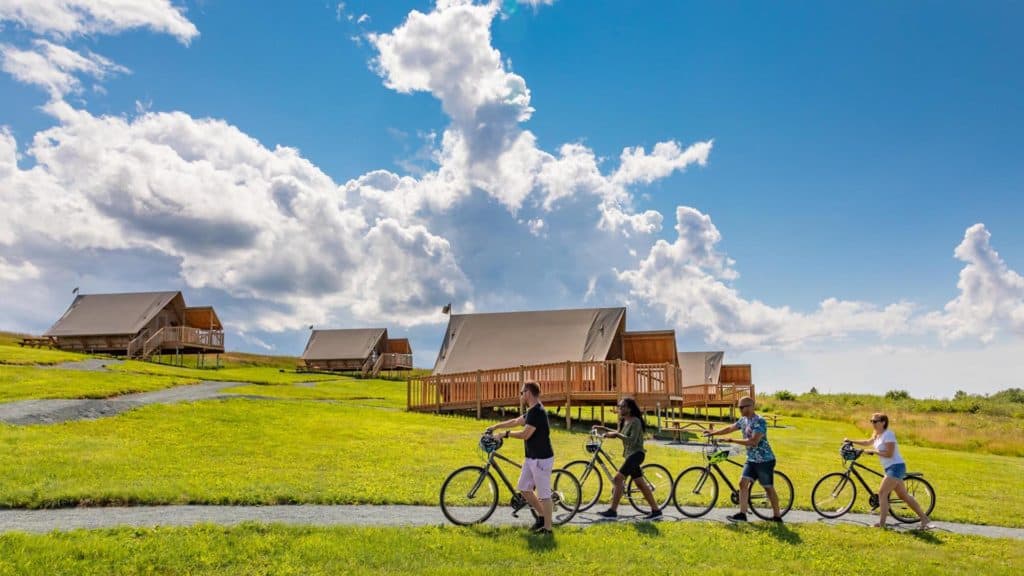 oTENTik
If you want a little extra comfort in the great outdoors, oTENTik is a great option. They are the ideal mix of an A-frame cabin and a traditional tent. With cozy beds, raised floors, and fantastic furniture, it is the perfect way for families and friends to enjoy camping without the fuss. Whether you choose one of Nova Scotia's National Parks or another option, you are sure to find the comforts of home. Some of them can even fit a queen-size bed.
oTENTik Glamping Nova Scotia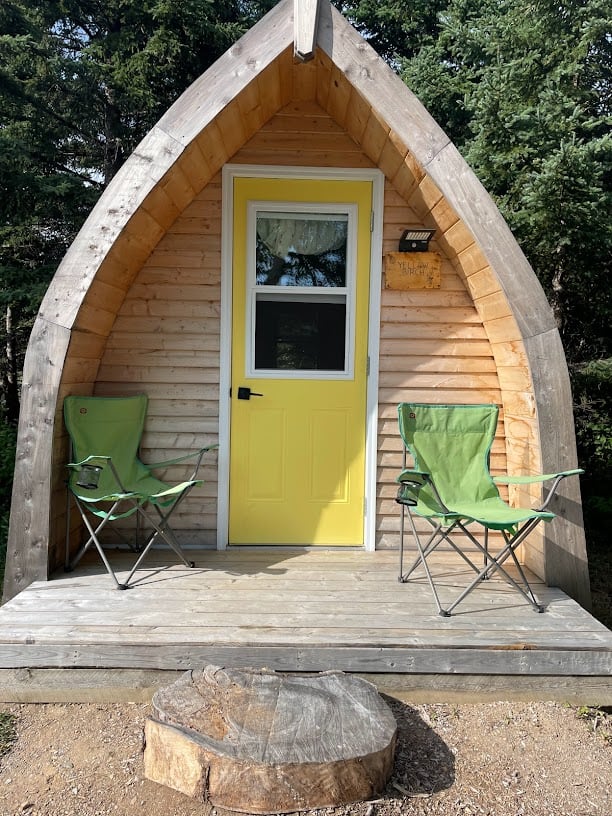 Camping Pods
Camping pods are often created in shapes that are somewhat reminiscent of a traditional tent. These pods offer up just enough comfort and space to enjoy yourself without being cramped in a cold tent. You will still get an authentic camping experience, with just a little more luxury. Some Camping pods include small washrooms, a full bathroom, kitchenettes, heaters and more.
Erin personally stayed in the camping pods below and enjoyed her experience and would recommend either location. The accommodations were clean, comfortable, and affordable for her trip to visit Cape Breton with a friend in the Summer of 2022.
Camping Pods Nova Scotia
Geodesic Domes
These Domes also known as Glamping Dome, revolutionize traditional camping. Geodesic domes in Nova Scotia are fully enclosed, insulated, waterproof and well-ventilated. They include several comfortable amenities such as great furniture, washrooms, kitchenettes, heat and even televisions. Many Geodesic domes offer up stunning views of the sky above, all while creating a comfortable environment for it's visitors.
Geodesic domes often include a large panoramic window, stargazer moonroof, and so much more. The full geodesic dome experience is a fantastic one.
Geodesic Domes Nova Scotia
Valley Sky Luxury Camping – 850 Grand Pré Rd, Wolfville, NS B4P 2R3
Sissiboo River – 1361 Riverside Rd, Weymouth, NS B0W 3T0
Cabot Shores Wilderness – 30 Buchanan Dr, Indian Brook, NS B0C 1H0
As the River Bends Retreat – 1828 Bishopville Rd, Hantsport, NS
Archer's Edge Luxury Camping – 1660 Shore Road, Judique, NS
Oceanfront Treehouses
These oceanfront treehouses are an experience for all. Perched upon the ocean's edge and nestled in amongst the tree, they are an amazing luxury accommodation. These amazing treehouses include several amenities like a kitchenette, king sized bed, air conditioning and heat, TV, Fireplace and more. All while giving you a stunning view of the Ocean from your private deck.
Oceanfront Treehouses Nova Scotia
Luxury Camping
If you are looking to go glamping in Nova Scotia, there is a great luxury camping spot that everyone can enjoy. Here you will experience beautiful sunsets, the gorgeous night sky and more. Built on a cliff overlooking the Gulf of St. Lawrence, each of these amazing glamping domes allows for panoramic views of the unspoiled beauty Nova Scotia has to offer.
Located on Cape Breton island, there is so much to experience when visiting Archer's Edge. Glamping maritimes is so much fun. Experience luxury camping at its finest all while participating in exciting activities, enjoying the beauty and culture of the island.
Luxury Camping Nova Scotia
Yurts at the Seacoast
Glamping in a Yurt is a fantastic experience. These beautiful Yurts at the Seacoast offer several different experiences, accommodations and amenities. Located in a private oceanside vineyard, these gorgeous Canadian Made Yurts are a great way to enjoy Nova Scotia's Eastern Shore.
These yurts in Nova Scotia have varying sizes of beds, shared washrooms, shared showers, furniture, private decks with chairs, a picnic table, and more. In fact, you will have access to your very own BBQ and kitchen supply kit to make cooking easier. All yurts have free wifi, interior lighting, and wood stoves.
Some of the yurts will offer on grid power and bunk beds, and some are also pet friendly.
Yurts at the Seacoast Nova Scotia
There are several places to go glamping in Nova Scotia. In fact, Nova Scotia Glamping is a great way to enjoy the great outdoors all while remaining comfortable and safe from the elements.
Glamping is the ideal option when looking for modern amenities coupled with natural beauty. Enjoy some of the amenities of a traditional hotel adding a more adventurous experience to the mix.
Enjoy some of the best glamping in Nova Scotia and you are sure to leave with amazing memories. Glamping is a fantastic way to live life in the perfect place.
East Coast Glamping:
East Coast Glamping Company – Bedford/Halifax, Nova Scotia
This company offers a variety of glamping options in Nova Scotia, including luxury tents, domes, and cabins. Their tents come equipped with comfortable beds, cozy linens, and even heating for cooler nights. They also offer packages that include activities like kayaking, hiking, and whale watching.
Locations:
Valley Glamping – Go Glamping in the lush Annapolis Valley, at Blomidon Provincial Park which is close to Cape Split and the Bay of Fundy.
Lahave Island Glamping – Island hop by kayak through clear waters, past colourful fishing communities, and to white sand beaches.
South Shore – Oceanview unserviced camping sites, grassy and open each with it's own fire pit and picnic table. Close to Chester and Mahone Bay.
​Highland Glamping Margaree River- Adventure awaits at this eco-camping hostel offering a natural setting, overlooking a picturesque valley.
Highland Glamping at Kluskap Ridge – Highland Glamping at Kluskap Ridge Campground, over-looking St. Ann's Bay, offers an idyllic cultural setting, rich with Mi'kmaq heritage and the beauty that makes Cape Breton Island a visitor's paradise.
Overall, glamping in Nova Scotia is a great way to experience the province's natural beauty in comfort and style. Whether you prefer to stay in a luxurious tent or a cozy cabin, there are plenty of options to choose from.